By Robert Israel
The Lyric Stage Company's The Little Foxes is taut, tense, and eerily reflective of our own uneasy, pernicious times.
The Little Foxes by Lillian Hellman. Directed by Scott Edmiston. Staged by Lyric Stage of Boston, 140 Clarendon St., Boston, MA, through March 17.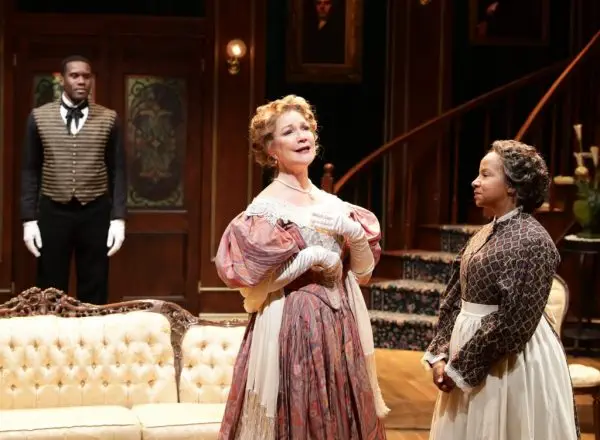 The Lyric Stage production of Lillian Hellman's 1939 three-act drama The Little Foxes features a strong ensemble cast of ten players who are given every opportunity to make an indelible impression. Under Scott Edmiston's insightful direction, and attired in shimmering costumes by Gail Astrid Buckley, the cast faithfully serves Hellman's imaginative world of schemers and victims. The plot is set in a specific milieu: post-Civil War South, circa 1900, its airs of polished gentility barely masking the rise of raw capitalistic greed. This is the Gilded Age, when America, according to Theodore Dreiser, took its tragic fall by rejecting its idealistic roots and embracing an unapologetic materialism.
The production is led by veteran lead players Anne Gottlieb as Regina Giddens and Remo Airaldi as Benjamin Hubbard. The cast does not merely support the staging's lead players, but reinforces their power by dramatizing how these dominating personalities shape, distort, and manipulate those around them. Edmiston times the movements of the connivers and their marks like a chess game, with kings and queens beheading pawns — or pushing them off the board. The result is an evening that is taut, tense, and eerily reflective of our own uneasy, pernicious times.
This production follows two superb productions of classic American realism previously delivered by Edmiston. Both plays were penned by Eugene O'Neill (Anna Christie, last year at the Lyric, and Long Day's Journey into Night at New Rep in 2012). By choosing to present this melodrama by Hellman, he dares to ask, in his director's note, why a woman playwright of her stature — a contemporary of Tennessee Williams, O'Neill, and Arthur Miller – has not been admitted "to that esteemed men's club."
It's a viable question: there are few productions of her dramatic works staged today, her male contemporaries bypassing her in terms of  attention. The last time I saw her work produced was as a student in Providence in 1976 (Hellman died at age 79 in 1984, at her home in Martha's Vineyard), via a double-bill of Little Foxes and Another Part of the Forest at Trinity Rep, under Adrian Hall's direction.  Hopefully, the Hellman drought on American stages has come to an end.
The narrative is one of decline and dreamed of return to glory. A family that once enjoyed the trappings of wealth is now reduced to resorting to backroom schemes to reclaim the glitter and the gold. (Their hunger for the trappings of the good life is voracious). Brothers Benjamin (Airaldi) and Oscar (Will McGarrahan) have already curled their tentacles in a death grip around what is left of the family money, taking advantage of sister Regina (Gottlieb) who grovels on the periphery, relying on her husband Horace's (Craig Mathers) money, because she was not named in her father's will.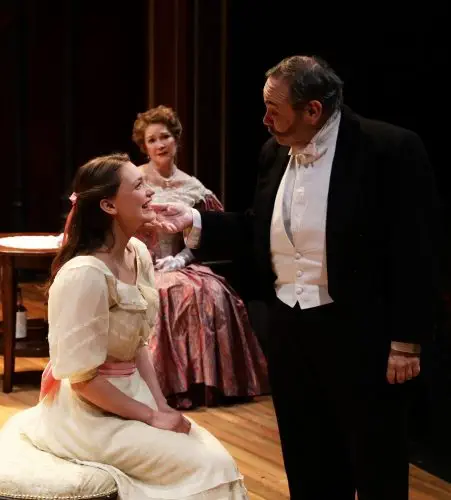 Without disclosing the plot further, suffice it to say that Regina is a Darwinian tigress who knows how to stalk her prey. She is not about to allow the shenanigans of others to bring her down and, through a series of cunning maneuvers, spreads her claws. Gottlieb is mesmerizing as the deftly cold-hearted conniver. Trussed up satin gowns may swish smoothly across the Lyric Stage space, but do not be fooled. Regina will not be denied her prize; beneath those frills and sashes she harbors the raw emotion, nerve, and muscle she needs to collect the lucre that she sees as hers.
The supporting cast contributes mightily to the intensity of the avarice, with special kudos to Ameilia Broome as Birdie Hubbard, Rosa Procaccino as Alexandra Giddens, Cheryl D. Singleton as Adele, Bill Mootos as William Marshall, and Kinson Theodoris as Cal. Praise should also go to lighting designer Karen Perlow for creating a beautifully nuanced atmosphere of light and shadow — chiaroscuro is rarely so effectively unobtrusive.
Hellman once declared she wanted to write a trilogy about this conniving and fascinating Southern family. She only finished two scripts, however. So, with the success of this play, perhaps next season Edmiston will agree to stage Hellman's Another Part of the Forest, which looks at the same family seven years later. After all, our current crop of 'little foxes" show no signs of letting up.
---
Robert Israel writes about theater, travel, and the arts, and is a member of Independent Reviewers of New England (IRNE). He can be reached at risrael_97@yahoo.com.