But make no mistake about these two novels; they are not just delicious, hilarious capers. They glow in the mind because they are informed by Elizabeth Jolley's understanding of our common loneliness and her sympathy with the myriad, ingenious connections we make to try to alleviate it.

The Sugar Mother by Elizabeth Jolley. Persea Books, 210 pages, $15.
Foxybaby by Elizabeth Jolley. Persea Books, 261 pages, $15.
By Roberta Silman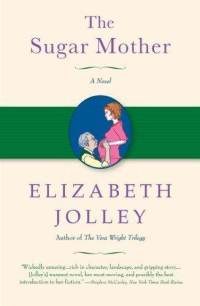 Continuing its ambitious project of reviving the novels of Elizabeth Jolley, Persea Books has now given us two earlier novels, The Sugar Mother (1988) and Foxybaby (1985) since The Vera Wright Trilogy, which I reviewed last June. Unlike Vera these two novels are less autobiographical and not as somber nor as ambitious as that trio but just as brilliant in their own eccentric ways. Indeed, readers may find them an easier introduction to this versatile Australian writer who was born in England in 1923, emigrated to Australia when still a young woman, and died there in 2007.
Called her "warmest novel" by earlier critics, The Sugar Mother sometimes feels like a Beckett or Pinter play and sometimes like an engrossing Agatha Christie detective tale without the important linchpins, Miss Marple or Hercule Poirot. Wherever you are in this disarming book, you keep reading because the premise is so bizarre yet also so possible.
Edwin Page, an academic much older than his gynecologist wife, Cecilia, has chosen not to accompany his wife on her year away in Europe and North America and looks forward to staying in his home in Australia where he will be looked after by the formidable Daphne, their close friend, and some of the other couples who are involved in a social group where all sorts of games, including sexual ones involving keys in a basket, are played. Although Edwin seems amenable to sexual risks, he dislikes change and is also a hypochondriac beyond compare, so travel of any kind is more than daunting to him. He has not one, but
three books of the body in which he kept notes. The books were the external, the internal and the intangible. The book of the skin (the external) had separate pages for different places on the body. . . Faithfully he kept the records, three valuable conditions of human data. There were no limits to the notes he was able to make. He often imagined Cecilia's pleasure at receiving the copies, handsomely bound, at some time in the future after he was dead.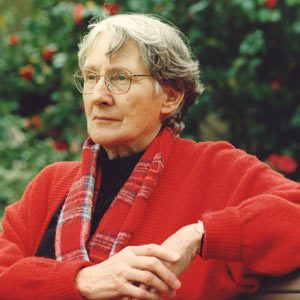 Questions abound, and Jolley refuses to answer any of them. She merely presents this satire-cum-fantasy with enormous flair, plunging the reader into the sometimes radiant, sometimes bleak Australian landscape, the orderly Page house, and even the bed of Edwin and Leila until we are dizzy with surprise and, strangely, exhilaration. Add to that the reader's compassion for poor Daphne whose plans are foiled and also perplexity at the submissive Leila and repulsion towards her exasperating and devious mother, and you have a very strange mix that pushes you away and pulls you in at the same time.
Jolley is very interested in the relationships between parents and children, sexual relationships of any kind, e.g. Cecilia's constant reporting about herself and her old friend Vorwickl from Vienna with whom she is traveling, and the extramarital sex that occurred before this year and during it. She can be very funny while describing such escapades—one man on drawing a certain key says, either reluctant or repelled, "It's my time of the month." Yet within a few sentences, you have Edwin berating himself for the misery of pretending during all the years of playing this repulsive and often ridiculous game. And just before that, around the middle of the book, when Edwin finally seems to be taking stock of what he has done or what has happened to him—depending on your point of view—he muses, while on the telephone with Cecilia
If he and Cecilia had had children, if they had a daughter, would their lives, life itself, be different? Would there be more meaning in the antics which were part of the daily performance of living? Or would it simply be a different set of antics, as meaningless as the present ones?
But into what has promised to be a peaceful year of exploring his subject, which seems to include a lot of reading in and around Euripides, comes Mrs. Botts and her 20-something daughter Leila. They are locked out of their house next door and stay with Edwin for a night, then two, and one thing certainly leads to another. Before he knows it, Edwin has conceived the brilliant idea of impregnating Leila so that she can be a surrogate mother—or sugar mother in Mrs. Botts's own particular language—for a baby for him and Cecilia. Or has he merely gotten the idea from Mrs. Botts, or, even more tantalizing, and this occurs to him only after the baby has been born, was he merely duped by this woman and her already pregnant daughter?
Like the ancient writer Terence, Jolley seems to be saying, "Nothing human is alien to me." That she can keep the momentum going so long and so well in a tale that has so many twists and turns, with prose that is so vivid and never boring, is reason enough to read this novel. But when you close it and begin to realize all that she has tackled (which may be a send-up of Nabokov's Lolita in the bargain), you will be filled with admiration for a writer who seems afraid of nothing.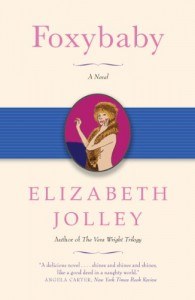 Although I was certainly mesmerized by The Sugar Mother, I must confess that it was a relief to go from Beckett and Pinter territory to the lighter, more rambunctious delights of Foxybaby, which bears some resemblance to Michael Frayn's farce Noises Off or Angela Carter at her very best, or even to some of the later stories of our very own Grace Paley, who is almost Jolley's exact contemporary. I must also confess that I have never been a fan of Humbert Humbert, and Edwin Page struck me as too clueless and inert, although entirely believable, to root for.
Alma Porch, the protagonist of Foxybaby, is another story. A highly intelligent writer who is perennially short of money (What's new?), Alma has decided to teach at Trinity College's "Better Body Through the Arts," a summer program in the Australian outback for overweight women. She arrives after a chaotic auto accident and once again we are in the midst of an outrageous satire/dream that at times hardly seems real and at other times has such insight into the travails of living that the reader feels foolish even questioning it.
As a teaching tool, Alma has brought along Foxybaby, her novel about a man trying to rescue his wayward daughter and her unwanted baby from a life of drugs and rock music. In an attempt to interest the students in playwriting instead of the food they are yearning for, the director of the program insists that they create a play out of Alma's novel and act in it. The results are comical, sometimes confusing, but, in the end, as each of them starts to connect the events of the story to her own life, we are astonished at how these caricatures have metamorphosed into real people who have the power to move us.
As in The Sugar Mother, the details of character and setting and dialogue are impeccably rendered. But it is Alma, herself, who is most interesting—and as we watch her initial contempt for her students turn into real compassion for them and for herself, the book grows more and more compelling.
What is so remarkable about this novel are the simultaneous things happening within it: we have Alma's past embodied in the shabby fox fur she has brought with her and in her novel Foxybaby with its suggestion of something suspicious between father and daughter; we have her ideas for her fiction germinating in her well-read mind; we have the rehearsals in which the actors transform Alma's work into a script; and we have the daily life at the college with people changing rooms and complaining about the accommodations and food and services; we have the general mayhem, down to the misspelled items on the menus and the way the help talk and plot against the administration and the students and the bawdiness they lapse into when they think they are alone or even off-duty; we even have Alma trying to find a place for herself in a wholly uncharacteristic way that leads to a disastrous encounter in a bohemian attic.
And at the end, when life seems to be imitating art and an unexpected birth (a baby again!) actually takes place and one of the students, an older rich widow, decides to help the young, fatherless family, Alma thinks
There are times . . . in life when one might be walking towards oneself. Either the child towards the adult or the other way around. Either way it was a confrontation, not recognizable until it was over.
Watching Alma change and realize that she has the stamina to face all that awaits her—at Trinity and afterwards—even if all that we have read is merely a dream, as Jolley suggests at the end, is one of the real pleasures of Foxybaby. But make no mistake about these two novels; they are not just delicious, hilarious capers. They glow in the mind because they are informed by Elizabeth Jolley's understanding of our common loneliness and her sympathy with the myriad, ingenious connections we make to try to alleviate it.
==========================================
Roberta Silman is the author of Blood Relations, a story collection; three novels, Boundaries, The Dream Dredger, and Beginning the World Again; and a children's book, Somebody Else's Child. She has recently completed a new novel, Secrets and Shadows. She can be reached at rsilman@verizon.net.