By Jonathan Blumhofer
Conducting Lumina, Andris Nelsons was entirely in his element, capably drawing out the music's shimmering gestures — string flourishes, brass fanfares, woodwind filigrees, and the like – from a locked-in BSO.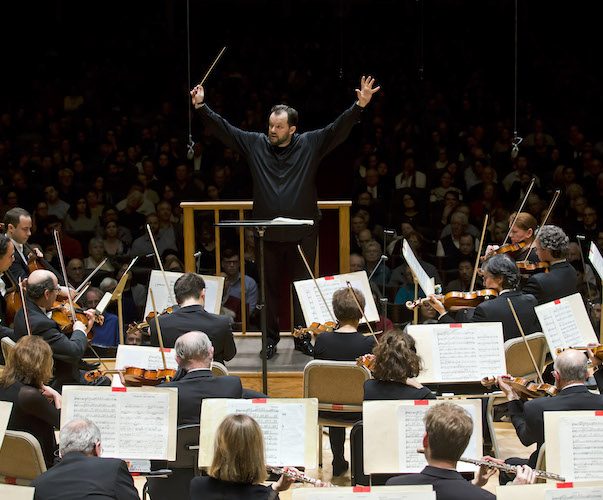 It was the best of Szymanowski's, the most intriguing of Olly Wilson's, and the not finest of Copland's. Such was a takeaway from the Boston Symphony Orchestra's (BSO) latest concert at Symphony Hall on Thursday night.
In his first five seasons at its helm, BSO music director Andris Nelsons has conducted his share of 20th– and 21st-century music. Relatively little, though, has been by American composers and, as far as the country's handful of epochal figures go, the results have been mixed. So it was with Aaron Copland's iconic Symphony no. 3 on Thursday.
To be sure, Nelsons' account of Copland's 1946 score had its moments. The first movement evinced a strong sense of momentum. And the third, with its intense, exposed high string writing; plangent reed solos; and dancing central episode, came across with purpose.
But too often Nelsons' reading of the piece lacked warmth and electricity; felt tentative and episodic; was tonally blunt-force and monodynamic; or some combination of the above.
That first movement, for all its welcome drive, required more dynamic and structural definition than it received; too much of its duration rested in the nexus of mezzo-forte and fortississimo.
The second suffered from an opposite problem, tempo-wise, opening very broadly before eventually settling into a plodding pace that just kept the music from ever coming to life. Even so, its snappy rhythmic gestures sounded hesitant and scrappy. In terms of volume, the outer thirds were of a kind with the opening movement, namely loud and louder; the concluding tattoos simply sounded shrill.
And the finale, a noble account of the Fanfare for the Common Man at its start notwithstanding, suffered from a general lack of dramatic tension that only served to play up the music's bombastic populist tendencies. Nelsons conducted Copland's original version of the score (which reinstated ten bars near the end that Leonard Bernstein wisely, if presumptuously, cut without consulting the composer). In the event, Lenny was proved right: those measures add little of expressive value to the proceedings, mainly serving to draw out the music's grandiloquence.
If Nelsons' take on the Copland suggested a conductor not entirely at home in the style and syntax of one American composer, his reading of Olly Wilson's Lumina presented a contrasting argument.
The St. Louis-born Wilson's phantasmagoric study of sonority dates from 1981. It takes a single chord as its starting point, viewing it from a variety of angles, some melodic, some harmonic, some rhythmic; all grippingly organized and presented.
Conducting Lumina, Nelsons was entirely in his element, capably drawing out the music's shimmering gestures – string flourishes, brass fanfares, woodwind filigrees, and the like – from a locked-in BSO.
Indeed, the orchestra tapped into the work's highly-involved writing with aplomb, especially its ear-catching brass scoring and lively percussion figures. The lyrical passages, in particular, seemed to allude to Copland, neatly tying together the evening's North American works.
Lumina's subtle instrumental strokes also connected tidily with the night's other offering, Karol Szymanowski's Violin Concerto no. 1. A captivating 1916 essay, the Szymanowski is among the most opulent of concerti, with a fiendishly-difficult but largely lyrical solo line hurtling over a lush, discreetly-scored orchestral part.
Thursday's reading was, perhaps, more dreamy than exotic or mysterious. But, given the velvety tone and sumptuous command that Lisa Batiashvili brought to the solo part, that was just fine. Hers was a benchmark performance: note perfect, cleanly articulated, vigorously rendered, and fired with passion. Catch it if you can.
Nelsons led the BSO in an accompaniment that was equal parts delicate (the music's glinting colors, like the sul ponticello strings and woodwind/piano fanfares at the opening, were magical) and, at the work's climactic moments, full-blooded and brash. Throughout, the big orchestra didn't once cover Batiashvili – a most impressive technical and expressive feat – but, at the same time, never gave the sense it was holding anything back.
---
Jonathan Blumhofer is a composer and violist who has been active in the greater Boston area since 2004. His music has received numerous awards and been performed by various ensembles, including the American Composers Orchestra, Kiev Philharmonic, Camerata Chicago, Xanthos Ensemble, and Juventas New Music Group. Since receiving his doctorate from Boston University in 2010, Jon has taught at Clark University, Worcester Polytechnic Institute, and online for the University of Phoenix, in addition to writing music criticism for the Worcester Telegram & Gazette.