By Mary Paula Hunter
RISD Museum's well-curated show Bona Drag is a powerful act of remembrance.
Bona Drag: An Incomplete History of Drag and Cross-Gender Performance in Film and Video Art at the RISD Museum, Providence, R.I., through March 3.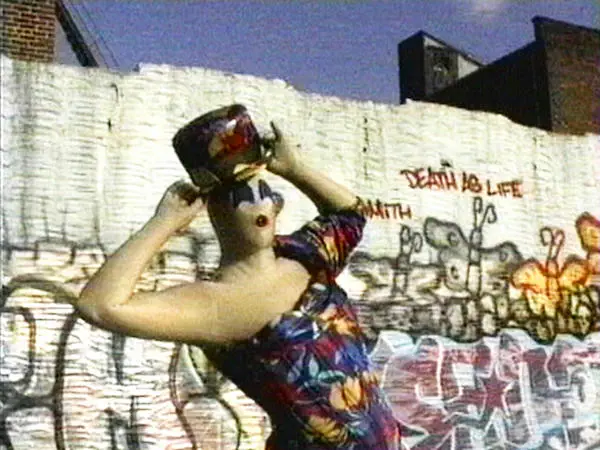 Tucked away behind the Design Gallery on The RISD Museum's first floor, you'll find the captivating Bona Drag, a video and film exhibit that presents examples of drag performance from the '60s to the present.  From Andy Warhol's Mario Banana #2 (1964) to Pirate Jenny (2018) by visual artist Sasha Valour, the show succeeds at exploring the flexibility and variety of what continues to be a subversive performance practice.
Suzie Silver's Freebird is a send up of how traditional gender roles how been created, honed, and promoted by mass mainstream media. In a virtuoso turn, Silver performs every role in this compact video, slipping with ease from a lesbian Academy Award winner to the rocker Ronnie van Zant of the Southern rock band Lynyrd Skynyrd, finally ending up as a blackface lounge swinger. Silver keeps the camera tight on the film's portrayal of Van Zant — the '70s icon of carefree, beer guzzling masculinity. With a boyish smile, glazed eyes, and pretty curls, Silver manages to be — all at once — feminine and masculine, challenging the kind of male privilege that excludes women from a devil-may care lifestyle and attitude.
Charles Atlas' video, Mrs. Peanut Visits New York (1999) features a solo turn from the much celebrated performance artist Leigh Bowery (1961-1994). As Mr. Peanut Man — the Planters Peanut mascot — Bowery wanders Manhattan in stilts, much to the indifference of New Yorkers (a few wave to him). Strutting like a model on a runway, Bowery saunters through the urban landscape, an alluring and colorful oddity high stepping through a drab world of garbage and detritus.  Near the end of the short video, Bowery pauses beneath the graffiti warning: "Death is Life." A perfectly enigmatic ending to  Mr. Peanut Man's journey.  Could he/she be a step in evolution, the beginning of a new species?
Sasha Velour's Pirate Jenny is set in Weimar Germany, a time of queer awakening in that country. The video switches from Velour's touching performance of Kurt Weill's song Pirate Jenny to views of groups of drag performers walking the streets at night. Power means being part of a collective when it goes public, despite the seduction of a single beautiful voice.
In this company, the simplicity of Warhol's Mario Banana #2 appears out of place. The black and white film gives us Warhol star Mario Montez (drag persona of Rene Rivera) in repose, carefully eating a banana. His gaze fixed on the viewer, Montez dares us to watch as he seduces the banana, a disciplined performance of food pornography. Amidst the restless cutting back and forth between images in the other films and videos in the show, Mario Banana #2 teaches that less can be more — even in an exhibition dedicated to the subversiveness of the more.
All in all, Bona Drag pulls off a neat trick: it is both entertaining and historically significant. AIDS took the lives of far too many luminaries in the drag world.  RISD's well-curated Bona Drag is a powerful act of remembrance.
---
Mary Paula Hunter lives in Providence, RI. She's the 2014 Pell Award Winner for service to the Arts in RI. She is a choreographer and a writer who creates and performs her own text-based movement pieces.
Reader Interactions