By James Marcus
At its best, an opera about the death of Spanish writer Federico Garcia Lorca is a tour-de-force.
Ainadamar, an opera by Osvaldo Golijov. (Deutsche Grammophon)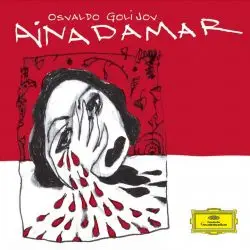 For most composers, geography is destiny. Even Schoenberg — whose innovations were supposed to release music not only from its tonal prison but from the local idiom of late Romanticism — always sounds, well, German. Still, no living composer has demonstrated this truth as emphatically as Osvaldo Golijov.
Born in La Plata, Argentina in 1960, he was weaned on a distinctive musical diet: part Bach, part Astor Piazzolla. Yet his parents were both Eastern European Jews, and Golijov's curiosity about his bifurcated heritage brought him to Jerusalem in 1982. Later he moved to the United States to study with George Crumb, whose dissonant procedures are still audible in an early piece like the "Yiddishbbuk" (1992) for string quartet. What characterizes his mature sound, however, is a freewheeling fusion of Latin rhythms and Sephardic cantillation, plus a kitchen-sink approach to technique. If it works, he embraces it–and this hearty pragmatism extends to the laptop computer, which Golijov has called "a folkloric instrument of our time."
He has also shown a killer instinct for vocal music, producing an exquisite song cycle ("Ayre") for Dawn Upshaw and the roof-raising liturgy of "La Pasion Segun San Marcos." So it was no surprise when Golijov unveiled his first opera, "Ainadamar," in 2003. Since then it has been heavily revised and performed in both Santa Fe and New York. Yet the new Deutsche Grammophon recording offers the first opportunity to linger over the details, and to consider the music on its own terms.
This may be an advantage, since "Ainadamar" boasts a rather clunky dramatic structure. To a great extent the opera is about the death of Spanish poet and playwright Federico Garcia Lorca, who was murdered by fascist thugs in 1936. Yet these events are refracted through the memory of Margarita Xirgu, a Catalan actress who collaborated with Lorca during the 1930s and was lucky enough to survive the murderous whirlpool of Falangist Spain.
Despite its skittish cutting between the present (meaning 1969) and the past, "Ainadamar" is really Margarita's story. In fact, Golijov originally planned to omit his putative subject from the opera altogether. What inspired him to bring Lorca back into the picture was the physical resemblance of mezzo-soprano Kelley O'Connor to the martyred poet.
Strange, isn't it? So is the oddity of having a woman play a guy. What keeps your ears glued to the speakers, however, is the glorious ingenuity of Golijov's score. The very first thing you hear is a deep, ominous pedal point. Then comes the sound of gurgling water (which reminds us that 'ainadamar' means "fountain of tears" in Arabic), followed by offstage trumpet fanfares, hoofbeats, and a weird salvo of processed percussion. This last touch is especially brilliant. The chattering rhythms suggest flamenco dancing, a manual typewriter, and gunshots–which is to say, a sonic snapshot of Lorca himself.
Yet the pleasures here are hardly limited to musique concrete. "Mariana, tus ojos" begins with a simple bass vamp, which is soon reinforced by percussion, clarinet, and plunger-muted brass straight out of Duke Ellington. Atop this increasingly seductive rumba, Dawn Upshaw's Margarita weaves in and out of a young female chorus–which happens to be singing the opening ballad from Lorca's "Mariana Pineda." There's nothing showy about this compositional juggling act.
It makes perfect sense in an opera about the simultaneity of past and present, where the antipodes of beauty and horror keep colliding. So we accept the flamenco fire of "Bar Albor de Madrid" and the stately ornamentation of Kelley O'Connor's first big aria, "Desde mi ventana." And we accept, with fear and fascination, the amplified hoofbeats and ululating cries that come next, as the poet is summoned to his death by a Falangist hood. (Just imagine the Commendatore from "Don Giovanni" with jackboots and a revolver.)
There are moments, to be sure, when Golijov's postmodern vocabulary falters. A piece like "Quiero cantar entre las explosiones" can sound generic, not quite transformed by the composer's harmonic mojo or timbral tinkering. I had the same problem with "Crepusculo delirante," which apparently accompanies a sound-and-light interlude. It's very pretty, very Iberian, but to these jaded ears it could have been a throwaway by Rodrigo or Falla.
When Golijov thoroughly digests his influences, though, he's hard to top. The entire sequence of Lorca's arrest and execution is a tour-de-force: as the poet is led away, the fountain (represented by a hushed chorus) begins to weep. Upshaw sings arching, agonized phrases that keep curving upward, like jets of water, while the chorus descends and descends.
Next comes "Confesion," where the poet is urged to beg for absolution before his captors put a bullet in his brain. Golijov adds a marimba, anxious glissandi from the strings, and a field recording of indigenous Mexicans praying to the Virgin of Guadeloupe (obviously a favorite, since he used the same sample in a different composition five years ago.) The effect is impossible to describe. We no longer know exactly what we're hearing, yet the dread and tenderness and resignation have a kind of holographic clarity. What comes next, alas, is very easy to identify: an interlude of gunshots, complete with the tinkle of brass cartridges hitting the ground.
There's only one problem. The opera isn't over yet. Dramatically speaking, there's no reason "Ainadamar" has to end with Lorca's assassination: logic, in fact, dictates that we return to 1969 and let Margarita wrap things up. But after the preceding sublimity, a whiff of anticlimax hangs in the air. It's effectively banished only during the final trio, when the dying actress is subsumed into the voices of her pupils–in other words, into human memory and eternity. As death scenes go, this one is notably more cheerful than Lorca's, and it slides straight into an oceanic finale. Still, deprived of any visual spectacle, it feels a little limp. Perhaps, as the saying goes, you had to be there.