By Lucas Dean
One of the key reasons that Sex Education works is due to its frank depictions of what sex, or lack thereof, is actually like in high school.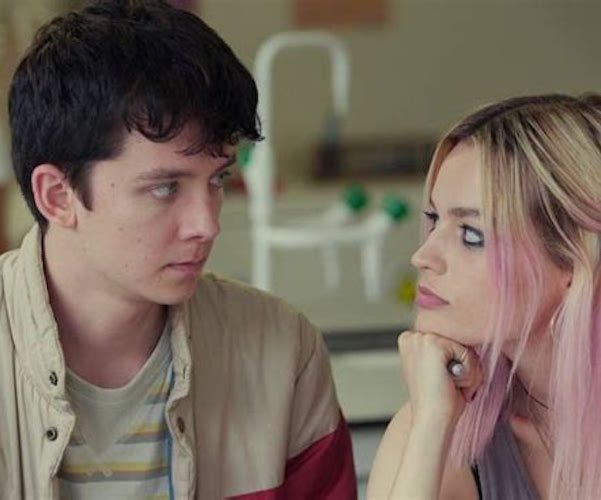 In one of the first scenes of Netflix's raunchy yet heartfelt series Sex Education, sexually repressed teen Otis Milburn reclines in bed, set on making it seem like he's "one of the guys" — magazines, lotion and all — before he's interrupted by one of his mother's many sexual conquests who's looking for the bathroom. This interruption becomes a running joke, encapsulating the dichotomy between the confident facades of the show's characters and their more private, inward struggles.
Sex Education, which was created by Laurie Nunn, tracks the relationship between 16-year-old Otis and his mother Jean, a sex therapist and helicopter parent whose concerns for her son do not always align with his own desires and needs. The series also follows Otis' friendship with Eric, his queer longtime friend, and the outwardly rebellious Maeve, whose trailer park trappings (and dysfunctional, absent family) give her a reputation that overshadows the young woman's obvious intellect.
A strange turn of events, involving the notoriously well-endowed school bully Adam and his girlfriend, lead Maeve to realize that Otis is far more knowledgeable about sexual psychology than one might assume. So the two embark on a mission to make money by holding sex therapy sessions for their peers.
Otis Wilburn is played by the likeably dorky Asa Butterfield (The Boy in the Striped Pajamas, Hugo) and Jean Wilburn is inhabited by Gillian Anderson (The X-Files, The Fall). Other key players include the vivacious Ncuti Gatwa as Eric and Emma Mackey as Maeve, who emits the aura of a grungy Margot Robbie.
One of the key reasons Sex Education works is due to its frank depictions of what sex, or lack thereof, is actually like in high school. Many popular teenage shows like 90210 and Gossip Girl, and more recently Riverdale, tend to romanticize adolescent life past the point of reality. In Sex Education, viewers won't find perfectly toned college graduates posing as high schoolers; instead, they're immersed in an environment where sex and romance are often as uncertain and uncomfortable as the characters are in their own skins. It's refreshing to see a TV series mine sexual experiences for comedic and emotional treasures in a way that's reminiscent of some of the funnier moments in Lena Dunham's polarizing Girls.
Many viewers will also be pleasantly surprised to find that the experiences and characters in Sex Education represent a diversity of backgrounds and situations. Otis' longtime friend Eric is a proudly queer person of color who doesn't shy away from conversations about gay sex. Maeve is rebellious yet misunderstood, isolated yet popular, at one point saying she's into "complex female characters" — qualities that she exhibits. The storylines also view sexuality as a spectrum, touching on the different sexual situations that that realization means, even if these narrative efforts attain varying degrees of success (more on that later).
The Wales-based series thrives when it attempts to balance comedy and weighty themes. This is best exemplified by the issue of abortion. Similar to Jenny Slate's Obvious Child, the course of action following the discovery of a pregnancy is clear. The woman wants an abortion and will succeed in getting one, despite the jeers of pro-life protesters who picket outside the clinic. Despite the turn toward the serious, comedic relief comes in the form of Otis' missteps and the sweet, if a bit abrasive, personality of another patient at the clinic. The humor doesn't downplay the weight of the emotions generated by such difficult decisions, but highlight the silver lining of finding support in unlikely people and places.
All of this said, Sex Education is by no means flawless. Some storylines feel disingenuous and predictable. (Spoiler, maybe.) Most notably, there's the character arc of Adam, the school bully and head master's son who relentlessly targets Eric because of his sexuality and calls him "Tromboner," only to later realize this defensive response reflects his own feelings toward Eric. The homophobic-straight-man-turned-gay trope is tired at this point; we have already seen characters like Glee's Dave Karofsky, who bullies Kurt but is later revealed to be gay. Time to find more creative, subtler ways to explore the confusion that comes with being queer in a heteronormative world, especially in one's adolescent years. Sex Education takes the easy way out. Another questionable plot line involves Otis trying to fix a lesbian couple's sexual incompatibility by teaching them to scissor while they are kept afloat in the school's pool, which is filled with noodles. Have we really learned nothing from the backlash against Blue Is The Warmest Colour?
Some stories are also given too much screen time when others are probably more deserving of attention. Later in the season, when Jean begins falling for her handyman, the relationship begins to overtake other, more interesting, aspects of Anderson's multifaceted character. This redundancy stifles what had been, to that point, the brilliant actress' establishment of a compelling adult character.
Sex Education is mostly successful in its goal to find the humor in teenagers' lives, without downplaying their feelings of angst and awkwardness. Our complicated relationships with ourselves and those around us are explored with sensitivity and hilarity, making this sex-minded series an enjoyable learning experience.
---
Luke Dean is a journalist whose focus ranges from the arts to LGBTQ issues and religion. He loves hanging out with dogs and watching horror movies.