By Steve Elman
Part one of this survey looked at one upcoming performance and five CDs where music takes the leading role. This post looks at the other side of the coin, where the words are the wellspring for the music.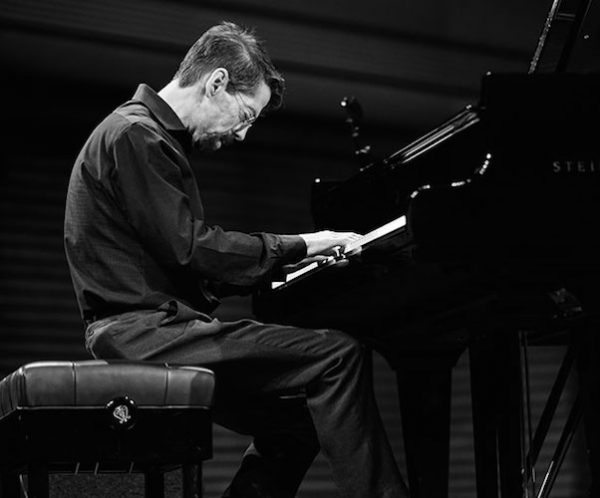 In my previous post, I noted that 2018 saw the release of four ambitious and powerful jazz releases driven by poetic texts, with two others in the same spirit in 2017, and three more in the two years before that. This seemed to be a call to consider the many ways in which poetry and music can be combined, and to highlight some recent efforts along these lines.
That first survey looked at one upcoming performance and five CDs where music takes the leading role. This post looks at the other side of the coin, where the words are the wellspring for the music. We'll begin with three live performances coming up in the next months (and some notable CD realizations) that show off dramatically different approaches, and then we'll move on to CDs that feature four eminent wordsmiths.
Pianist Fred Hersch is responsible for Leaves of Grass (on texts of Walt Whitman), a landmark effort of this type. It really must come first, because of the great original recording, a milestone in Hersch's career, and because a revival of the cycle in live performance is coming up in Boston just as spring should be springing.
Although others have written song cycles on works of individual poets with success (see Steve Lacy's Futurities and Vespers in the discography at the end of this post and a discussion of Matt Wilson's Honey and Salt, just below), Hersch is the first jazz musician to create a song cycle outside of the classical forms that successfully follows in the footsteps of Franz Schubert, building melodies around a selection of poetic texts designed to plumb a range of emotion and fill a listener's soul with the cumulative effect. He wrote Leaves of Grass in 2004.
There is a great divide in projects like this, which Hersch straddles gracefully. Composers usually opt to set their chosen texts to music, either as "songs" or hybrid jazz-classical lieder, or to use spoken texts as launching pads for instrumental music. In Leaves of Grass, Hersch has most often called for the words to be sung, amplifying and enhancing the poems sympathetically, but at three strategic moments, he refocuses the listener's ear by calling for the singers to speak the texts.
It's a compelling experience taken as a whole, although you can appreciate some of its depth when you hear individual numbers. If you don't know the original work, get over to Spotify and listen to "A Child Said, 'What is the Grass?'" or "Why Should I Wish to See God."
Music that is so heartfelt and so lovingly infused with Whitman's ecstatic humanism ought not to be relegated solely to the record shelf. I'm happy to report a revival of the cycle in a live concert at the Berklee Performance Center on March 23, at 8 p.m., sponsored by World Music / Crash Arts.
It's entirely appropriate that Hersch revisit Leaves of Grass in 2019, the year that marks the 200th anniversary of Whitman's birth. Some of the original cast from the 2004 CD are reuniting with him for the upcoming performance, notably singers Kurt Elling (who has the primary role) and Kate McGarry, plus fellow composer John Hollenbeck playing drums. And stellar players are filling the brass chairs — Nadje Noordhuis playing trumpet and flugelhorn, and Alan Ferber playing trombone.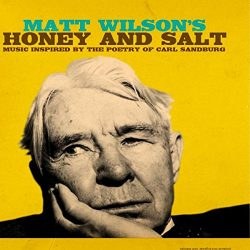 But first, go to Scullers on February 7 for Matt Wilson's "Salt and Honey" Band, in a tribute to Carl Sandburg, with shows at 8 and 10 p.m.
Wilson's Sandburg concept bears strong resemblance to Hersch's work in Leaves of Grass — but the two projects feel very different in their realizations. In both, we have a single poet, a Major American Man of Letters, with texts both spoken and sung, being interpreted by a mature jazz musician who has a defined personal esthetic. In each case, the choice of poet is a reflection of the personality of the musician.
Although both Hersch and Wilson are Midwesterners (Hersch from Cincinnati, Ohio and Wilson from Evansville, Illinois), they take their heritage in different directions.
Hersch is an openhearted and passionate interpreter of song and a convincing improviser, intellectual but never smart-alecky. For Hersch, Whitman is a hand-in-glove match.
In contrast, Wilson's work is snappy and bouncing, often puckish or tongue-in-cheek, occasionally in-your-face, and a little suspicious of too much extroversion. He usually asks you to look past his winks to the sincere messages underneath. For Wilson, Sandburg's ironic and wry poems are reasons to smile and think, and they complement his musical philosophy. Another variation from the Hersch approach: he gives each poem a distinctly different sound. This makes for a diffuse whole, but there are many fine moments, and the quality of the individual pieces means that the Scullers show should have plenty of interesting variety.
The full Sandburg cycle was premiered on Wilson's 2018 CD, Honey and Salt. (Arts Fuse review) The personnel at Scullers will be almost the same as that on the CD — Wilson on drums, with Dawn Thomson singing and playing guitar, Jeff Lederer taking the saxophone solos, and Martin Wind supporting the band on bass. By happy chance, the one ringer will be Nadje Noordhuis, who also takes the trumpet parts on Hersch's gig a few weeks after.
On nine of the CD tracks, Wilson calls on fellow musicians — Christian McBride, John Scofield, Carla Bley, Rufus Reid, Joe Lovano, and others — to read a Sandburg poem, on which he then provides an instrumental commentary. On one (the famous "Fog"), he uses the poet's own voice, at first "straight," and then broken into pieces over the music. At Scullers, Wilson and other band members will presumably fill in for the guest readers.
When Wilson opts for the texts to be sung, he taps guitarist Thomson, who is usually jazzy but occasionally countryish in her vocal approach. She is also adept at spanning different styles when she plays. The seven pieces spotlighting her voice are mostly "songs," as much as Sandburg's poems can be turned in that direction.
There are quite a few serious jokes here. Example: Sandburg's poem "Snatch of Sliphorn Jazz" almost has to be included in a project like this, but it's read on the CD by Jack Black, a figure not exactly first in mind when the word "jazz" is in the title, and its centerpiece is duet for soprano saxophone and drums rather than a feature for trombone, which is what you might expect from "sliphorn."
My favorite moments on the CD are the opener, "Soup," an ironic comment on a famous man "putting soup in his mouth with a spoon," just like everyone else, with a sharp Thomson fuzztone solo, and the closer, a New-Orleans-parade interpretation of "Daybreak," with cornetist Ron Miles and clarinetist Jeff Lederer adding joy to Sandburg's "Night is getting ready to go / And Day whispers 'Soon now, soon.'" You can hear selections from the CD at Scullers, and sample more of the repertoire via Spotify.
Addendum: Two other recent releases devoted to the works of single poets are Jane Ira Bloom's Wild Lines, on texts of Emily Dickinson, featuring actress Deborah Rush, and Norbert Stein's Das Karussel, on texts of Rainer Maria Rilke, featuring Ingrid Noemi Stein. I reviewed Stein's CD in the Fuse in 2016 and discussed Bloom's work in performance and on disc in two other posts, one from 2016 and one from 2017.
And here's one more date to put on your calendar: in April, former Poet Laureate Robert Pinsky will read his work with jazz accompaniment by Stan Strickland playing reeds, cellist Catherine Bent, percussionist Yedidyah Syd Smart, and Hankus Netsky anchoring the ensemble with various keyboards. This is a brunch event at City Winery (80 Beverly Street, at Canal Street) on April 14 at Noon. This promises to be yet another ambitious mix of text and music with some outstanding and sensitive players. Pinsky has two CDs in the same spirit, with pianist Laurence Hobgood (see discussion below).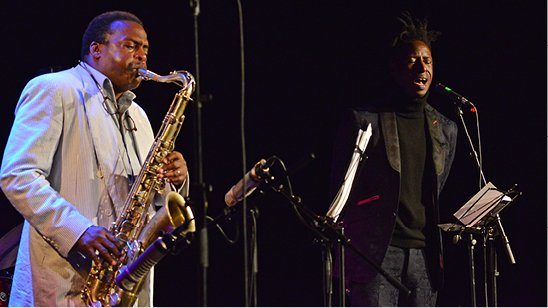 A living poet shares the spotlight with a major figure in contemporary jazz in David Murray's Blues for Memo. Saul Williams, who has a multi-dimensional career as rapper-poet-actor, is featured reciting his own texts on nearly every track, and there are also several sung vocals of Williams's words by Pervis Evans. The result is a completely successful melding of uncompromised jazz and uncompromised poetry.
Even though the rhythms here are nothing like those of hip-hop, the esthetic result is analogous — full-throated words on a full-throated foundation. The music and the words in Blues for Memo run on parallel tracks, both providing forward motion in similar directions, but without direct correlation.
Murray's band is outstanding here. It's anchored by pianist Orrin Evans, bassist Jaribu Shahid, and drummer Nasheet Waits, with guest spots for Jason Moran playing electric piano, Craig Harris playing trombone, and Aytac Dogan playing kamun, a Turkish stringed instrument, used very effectively on the instrumental title tune.
It is no slight to Williams to say that Blues for Memo can be appreciated as a jazz product with words that provide interesting points of color, and truth be told, it probably will be appreciated on that level by many listeners — just as many casual listeners to hip-hop only occasionally pay attention to the words. But, for full effect, in this case full attention must be paid, because Williams's texts flash by like billboards momentarily glimpsed on a highway. In "Obe," he asks provocative questions about contemporary culture: "Fulfilling people's unwanted desires / Making them feel they can't live without something they've always lived without / Is it self- actualization or self-image actualization? . . . What if the truth is not enough?" In "Kush," he offers a series of surreal "personal ads," for example: "Armless conductor of Styrofoam orchestra seeks brass section robot radio broadcast of new symphony written in blood." Although he is an excellent presenter with a superb speaking voice, not everything he says is immediately perceptible, because his words are always supported by an active rhythm section, and often by soloists as well, none of whom are trying to "interpret" what he's saying. You can hear these and the other tracks on Spotify.
Historical notes: This combination of Williams's poems and Murray's music fits into a long history of topical comment married to jazz. A few examples:
Max Roach and Oscar Brown, Jr. created We Insist! / Freedom Now Suite in 1960, with Abbey Lincoln singing Brown's lyrics; Amiri Baraka (known at that time as LeRoi Jones) recited his "Black Dada Nihilismus" with bass and drums for an ESP-Disk session in 1964 that eventually appeared as New York Art Quartet; Archie Shepp recited his poem "Scag" at the Newport Jazz Festival in 1965 over accompaniment by members of his group at the time, including vibist Bobby Hutcherson, and it appeared as part of an Impulse set called New Thing at Newport; and the late Gil Scott-Heron provided a full discography of poetry and song on recordings like Winter in America (Strata-East, 1974), Small Talk at 125th and Lenox (Flying Dutchman, 1970), Pieces of a Man (Flying Dutchman, 1971), The First Minute of a New Day (Arista, 1975) From South Africa to South Carolina (Arista, 1975), and I'm New Here (XL / Young Turks, 2011).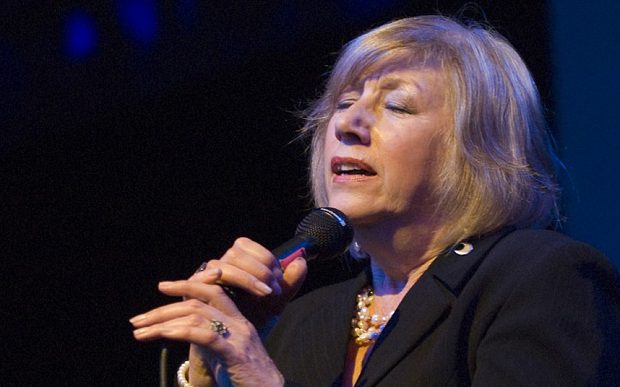 For a poet who sings, let's turn to Norma Winstone, If you don't recognize the name, you're not alone on this side of the pond. American critics and fans alike have yet to appreciate her greatness fully, although Britons know and revere her as a singer of major stature. Fred Hersch is familiar with her work; in the notes for Leaves of Grass, he thanks her "for inspiring and premiering the female voice part" of his song cycle. And the two of them (with guest artist Gary Burton) recorded eleven of Hersch's songs with her lyrics in 2002, for a CD called Songs & Lullabies, well worth your attention.
It would be fair to describe her as an artist following in the footsteps of Sheila Jordan, but Winstone, who turns 78 this year, long ago set out on her own path. Some Americans may know her through her 1970s work in the cooperative trio Azimuth, with trumpeter Kenny Wheeler (1930 – 2014) and pianist John Taylor (1942 – 2015), both of whom are deeply mourned by British jazz fans. Over the years, she has written lyrics to many songs and, on the strength of that consistently fascinating work, she could be considered a poet of better-than-average gifts. Which brings us to two recent releases: a new recording from 2018, Descansado: Songs for Films, with her frequent partners pianist Glauco Venier and Klaus Gesing, doubling on soprano sax and bass clarinet; and the 2017 re-issue of Like Song, Like Weather, a 1996 duet date with John Taylor.
Twenty-two years separate the two recording dates, and there is no question that Like Song, Like Weather shows off Winstone's voice at its peak. But Descansado is no autumnal equinox; Winstone still chooses material with fastidious taste, still challenges herself, and now writes with even more grace and beauty than she has in the past. Both releases are hearable on Spotify, and both are worth owning by anyone who loves great singing.
If you don't know Winstone, where should you start? Try "Everybody's Song but My Own," an original by Wheeler from Like Song, Like Weather, made even more poignant by Winstone's lyrics: "Somehow the words never fit / Somehow the song isn't right / Although the day may be good / I've learned it ends in the night / . . . All I hear is like a memory / Life intended for someone, but not for me / Everyday you'll find me playing / Everyone's song, but not my own." Move on to her version of Dave Brubeck's "Strange Meadow Lark," almost transformed into an art song, and Carla Bley's "Sing Me Softly of the Blues," which Winstone lyricizes by using lines and titles from dozens of well-known songs, both blues and bluesish.
Then segue to Descansado. You know Nino Rota's theme for Federico Fellini's Amarcord, even if you think you don't. Winstone's lyric for that theme perfectly captures the sweetness and the sadness of the film. And then listen to the title tune of the new CD, Armando Trovajoli's theme for Vittorio DeSica's film Ieri, Oggi, Domani (known in the US as Yesterday, Today, and Tomorrow). Winstone's lyrics here have a motto that underpins much of her writing: "Tomorrow becomes today / How quickly we're swept away / . . .We'll gather rosebuds if we're lucky / And enjoy living for today."
And finally, I'd like to point to recent CDs by two contemporary poets with jazz sympathies.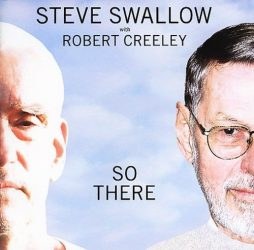 The late Robert Creeley, twenty of whose poems were set in a ballet score by Steve Lacy called Futurities, also had a long relationship with bassist Steve Swallow. Their last work together was So There, a cycle that creates a distinctive sound-world.
Swallow and Creeley selected eighteen short poems and built them into little suites, using musical themes that move from foreground to background, as introductions, segues, punctuation marks, and poems without words. Swallow has long been one of the most lyrical writers in jazz, but this recording is particularly evocative. The only improvisation comes from his own electric bass and Steve Kuhn's sensitive piano, but he provides additional tone color from written parts given to the Norwegian Cikada String Quartet.
Creeley reads his pithy texts in a flat and uninflected way, which will present a surprising contrast to the other verbal presentations surveyed here. It doesn't take long to realize that the poet wants his words to do all the work, and that he seems to consider any "drama" in his readings to cheat the listener of the opportunity to engage directly with each poem as an entity. Even so, the cumulative impact of the music and words together is exquisite.
Swallow often uses the rhythms of Creeley's spoken lines to inspire his melody lines and, when he does so, the two elements are juxtaposed artfully, coordinated just enough to demonstrate Swallow's purpose, but never violating the spirit of either element. A fine example of this approach can be heard on "I Know a Man." Some other settings draw on the message of the poem for their musical atmosphere (example: "Sad Advice," a poem that was set by Lacy as well). But perhaps the most beautiful of the pieces is saved for last — "A Valentine for Pen," Creeley's unsentimental love poem in a setting that can bring you to tears in a little more than a minute.
Historical note: Creeley is sometimes thought of as a fellow-traveler with some of the beats, although his work puts him well beyond Ginsberg and Ferlighetti and all the rest. In one sense, however, Creeley has advanced something that the beats pioneered — they often read their poetry to jazz accompaniment. Jack Kerouac did it more than most of his contemporaries (though Kerouac considered "beat" a shoddy adjective for the whole of his work). Despite a good deal of naysaying about Kerouac's Blues and Haikus from armchair critics, I think the LP ought to be noted as a worthy ancestor to all the projects catalogued here. Kerouac's interaction with saxophonists Al Cohn and Zoot Sims on his "American Haikus" shows genuine give-and-take, with the saxophonists often imitating or commenting on the images Kerouac spins out.
Robert Pinsky, former US Poet Laureate and Director of the Creative Writing Program at Boston University, has a love for jazz and sometimes refers to it explicitly in his work. His partnership with pianist Laurence Hobgood has resulted in two CDs so far, Poemjazz (Circumstantial, 2012) and House Hour (Circumstantial, 2015). They also did live shows behind each one at the Regattabar in Cambridge, in February 2012 and November 2015.
The rapport between poet and pianist is extraordinary. Hobgood has an excellent feel for the rhythms inherent in Pinsky's language, and he brings each setting to a satisfying resolution, following the poet's words as he would a musical score. Since Pinsky writes longer pieces than many of the other poets here, most of these settings are a continuous flow of words and music together, but the two artists think so sympathetically that they never get in one another's way.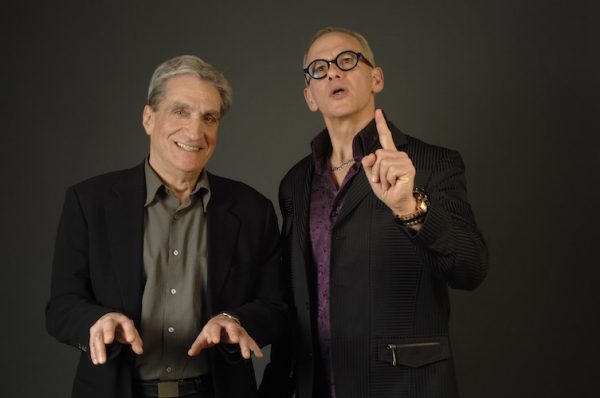 To sample their work, listen to two from PoemJazz. "Hearts" shows Hobgood maintaining a strong walking bass that matches Pinsky's pace, and it contains these brilliant lines: "Romeo says he'd like to be her bird / And Juliet says, 'Sweet, yes. Yet I should kill thee with much cherishing,' / Showing that she knows already / As Art Pepper / That first time he takes heroin / Already knows that he will go to prison and knows he'll suffer / And he says he needs to have it or die." Or listen to "Horn," another poem with jazz references, including the line "'Listen,' says the Dante of bop." That Dante can be no other than Jon Hendricks, and the reference must be to George Russell's New York, N. Y.
Historical note: For those who don't know it, New York, N. Y. is one of the greatest examples of the combination of poetry and jazz, and it could be spotlighted in either part of this survey, since the music and the poetry are equally important to its success. Russell, who pioneered so many ideas in jazz, did it again in 1958 with this suite of singularly beautiful original compositions and Russell arrangements, introduced by texts written and spoken by the hippest of the hip, singer-poet Jon Hendricks.
Which may be as good a place as any for this survey to end. Here are Hendricks's original lines, the ones Pinsky refers to in "Horn," including a piece of advice to you when you decide to attend the performances below or sample any of the CDs:
I wrote the shortest jazz poem ever heard
Nothin' 'bout huggin' or kissin'
Just one word:
Listen.
More:
Disclosures: I listened to "Black Dada Nihilismus," Poemjazz, and So There via Spotify.
Thanks for the inspirations: Michael Ullman of The Arts Fuse; Pamela Espeland of NPR's "A Blog Supreme."
---
A selected discography of projects marrying poetic texts and jazz, chronological by recording date. Releases in bold are CD releases highlighted in the survey above: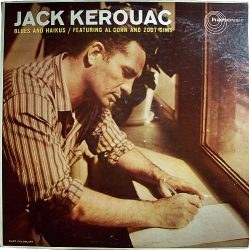 Jack Kerouac (vo): Blues and Haikus, with texts by Kerouac, w. Al Cohn (ts / p), Zoot Sims (ts) (Recorded spring 1958, released on Hanover, 1959; reissued on CD by Rhino, 1990). Hearable via Spotify.
George Russell (comp / arr / chromatic drums): New York, N. Y., with texts by Jon Hendricks, w. Hendricks (vo), John Coltrane (ts), Bob Brookmeyer (vtb), Bill Evans (p), Max Roach (dm), et al. (Recorded November 1958 – March 1959; released on Decca, 1960; reissued on CD by Impulse, 1998). Hearable via Spotify.
Max Roach (comp / dm): We Insist! / Freedom Now Suite, on texts by Oscar Brown, Jr., w. Abbey Lincoln (vo), Coleman Hawkins (ts), Booker Little (tp), Julian Priester (tb), James Schenk (b), Michael Olatunji (per), et al. (Recorded August – September 1960; released on Candid, 1961), Hearable via a Spotify playlist created by James Edwards Leland, where, for no discernible reason, it is followed by Wilson Pickett's The Wicked Pickett.
Charles Mingus (comp / p / vo): Oh Yeah, on texts by Mingus, w. [Rahsaan] Roland Kirk (fl / ts/ manzello / stritch), Booker Ervin (ts), Jimmy Knepper (tb), Doug Watkins (b), Dannie Richmond (dm) (Recorded November 1961; released on Atlantic, 1962; reissued on CD by Atlantic, 1988, with additional tracks from the same session, on which Mingus plays bass and does not sing, originally released in Tonight at Noon, and a live recording of "Ecclusiastics"). Hearable via Spotify.
Amiri Baraka [as LeRoi Jones] (vo): "Black Dada Nihilismus" (text by Baraka), w. Lewis Worrell (b), Milford Graves (dm), from New York Art Quartet (Recorded November 1964; released on ESP-Disk, 1965) [The New York Art Quartet also included Roswell Rudd (tb) and John Tchicai (as), but they lay out on "Black Dada Nihilismus."] Hearable via Spotify.
Archie Shepp (vo): "Scag," on text by Shepp, w. Bobby Hutcherson (vib), et al., from New Thing at Newport (Recorded July 1965; released on Impulse, 1966). Hearable via Spotify.
Charles Mingus (comp / vo): "The Chill of Death" (text by Mingus), with small orchestra, from Let My Children Hear Music (Recorded 1971; released on Columbia, 1972). Hearable via Spotify.
Gil Scott-Heron (vo / p) & Brian Jackson (kb): Winter in America, on texts by Scott-Heron (Recorded September – October 1973; released on Strata-East, 1974). [Scott-Heron had an extensive recording career, including Small Talk at 125th and Lenox (Flying Dutchman, 1970), Pieces of a Man (Flying Dutchman, 1971), The First Minute of a New Day (Arista, 1975) From South Africa to South Carolina (Arista, 1975), and I'm New Here (XL / Young Turks, 2011). He died in 2011.] The Flying Dutchman and XL releases are hearable via Spotify.
Steve Lacy (ss): Futurities, Part I and Futurities, Part II, on texts by Robert Creeley, w. Irene Aebi (vo), Steve Potts (as / ss), George Lewis (tb), Jean-Jacques Avenel (b), Oliver Johnson (dm), et al. (Recorded 1984; released on Hat Hut, 1989 [Part I] & 1990 [Part II]), Hearable via Spotify.
Hal Willner (prod / elecs): Weird Nightmare: Meditations on Mingus, incorporating texts by Charles Mingus, w. Robbie Robertson (vo), Elvis Costello (vo), Chuck D [Carlton Douglas Ridenhour] (vo), Henry Rollins (vo), Keith Richards (vo), Diamanda Galás (vo), Leonard Cohen (vo), Dr. John [Mac Rebennack] (vo), et al., arranged by Michael Blair, Henry Threadgill, Greg Cohen, Vernon Reid, Bill Frisell, The Uptown Horns, Bobby Previte, Art Baron (Recorded 1991 – 1992; released on Columbia, 1992)
Steve Lacy (comp / ss): Vespers, on texts by Blaga Dimitrova, w. Irene Aebi (vo), Steve Potts (as / ss), Ricky Ford (ts), Tom Varner (Frh), Jean-Jacques Avenel (b), John Betsch (dm), (Recorded July 1993; released on Soul Note, 1993), Hearable via Spotify. Arts Fuse review, with comparison to the December 2011 Jordan Hall recreation.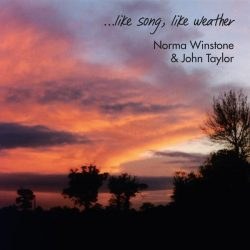 Norma Winstone (vo): Like Song, Like Weather, w. John Taylor (p). Includes Winstone's texts on Dave Brubeck's "Strange Meadowlark," Kenny Wheeler's "Everybody's Song but My Own," Steve Swallow's "Ladies in Mercedes," and Carla Bley's "Sing Me Softly of the Blues." (Recorded March 1996; released on Enodoc, 1997; reissued on Sunnyside, 2017). Hearable via Spotify.
Norma Winstone (vo): Songs & Lullabies, w. Fred Hersch (p), Gary Burton (vib). Includes Winstone's texts on eleven songs by Hersch (Recorded July 2002; released on Sunnyside, 2003). Hearable via Spotify.
Norma Winstone (vo): Dance Without Answer, w. Glauco Venier (p), Klaus Gesing (ss / bcl) Includes Winstone's texts on compositions by Gesing, Ralph Towner, and Tomas Mendez, plus tunes by Nick Drake, Tom Waits, Fred Neil and others. Hearable via Spotify. (Recorded December 2012; released on ECM, 2013)
Steve Lacy (comp / ss / vo): Last Tour, w. Irene Aebi (vo), George Lewis (tb), Jean-Jacques Avenel (b), John Betsch (dm). Includes pieces based on texts by Bob Kaufman, William Burroughs, Robert Creeley, Ann Waldman and Andrew Schelling (Recorded at the Institute of Contemporary Art, Boston, March 2004; released on Emanem, 2015)
John Hollenbeck (comp / arr / dm): Joys & Desires, w. Theo Bleckmann (vo, elecs), Jazz Bigband Graz. Includes "The Bird with the Coppery Keen Claws," on a text by Wallace Stevens; "The Garden of Love," on a text by William Blake, and "Maxfield" [inspired by Maxfield Parrish], on a text by Hollenbeck. (Recorded April 2004; released on Intuition, 2005). Hearable via Spotify.
Fred Hersch (comp / p): Leaves of Grass, on texts by Walt Whitman, w. Kurt Elling (vo), Kate McGarry (vo), Ralph Alessi (tp / flug), Mike Christianson (tb), Bruce Williamson (cl / as / bcl), Tony Malaby (ts), Erik Friedlander (cel), Drew Gress (b), John Hollenbeck (dm), (Recorded October 2004; released on Palmetto, 2005). Hearable via Spotify.
Steve Swallow (comp / e-b): So There, on texts by Robert Creeley, w. Creeley (vo), Steve Kuhn (p), Cikada String Quartet, (Recorded March 2005; released on ECM, 2006). [Creeley died during the recording sessions. Swallow had a long relationship with the poet, setting his texts on three previous recordings (Home, with Sheila Jordan (vo) [ECM, 1980]; Have We Told You All You'd Thought to Know? with Creeley (vo) and Forever Sharp & Vivid [Cuneiform, 2001]; and The Way Out is Via the Door with Creeley (vo) [462 Music, 2002]).] The ECM releases are hearable via Spotify.
Robert Pinsky (vo) & Laurence Hobgood (p): Poemjazz, on texts by Pinsky and Ben Jonson (Circumstantial, 2012), via Spotify. [Pinsky and Hobgood did a followup CD, House Hour (Circumstantial, 2015), and live shows at the Regattabar in Cambridge, on February 24, 2012 and November 13, 2015.] Poemjazz is hearable via Spotify.
David Murray (comp / ts): Blues for Memo, on texts by Saul Williams and Ishmael Reed, w. Williams (vo), Pervis Evans (vo), Craig Harris (tb), Orrin Evans (p), Jason Moran (e-p), Mingus Murray (g), Jaribu Shahid (b), Nasheet Waits (dm), Aytac Dogan (kanun), in memory of Mehmet Uluğ and Butch Morris (Recorded 2015; released on Motéma, 2018). Hearable via Spotify.
Norbert Stein (ts): Das Karussel, on texts of Rainer Maria Rilke, w. Ingrid Noemi Stein (vo), et al., (Recorded June 2015; released on PATA Music, 2016) Arts Fuse review.
Robert Glasper (prod / p): Everything's Beautiful, incorporating texts spoken and inspired by Miles Davis, w. Davis (vo / tp), Bilal [Oliver] (vo). Illa J [John Derek Yancey] (vo), Erykah Badu (vo), Phonte [Coleman] (vo), Nai Palm [Naomi Saalfield] (vo), Laura Mvula (vo), KING [Amber Strother, Anita Bias, Paris Strother] (vo), Georgia Anne Muldrow (vo), Ledisi [Young] (vo), DJ Spinna [Vincent Williams] (vo), et al., (Recorded October 2015; released on Columbia / Blue Note / Legacy, 2016). Hearable via Spotify.
Matt Wilson (comp / dm / vo): Honey and Salt, on texts by Carl Sandburg, w. Dawn Thomson (g, vo), Jeff Lederer (reeds / vo), Ron Miles (cnt), Martin Wind (b), Jack Black (vo), Christian McBride (vo), John Scofield (vo), Carla Bley (vo), Bill Frisell (vo), Joe Lovano (vo), Rufus Reid (vo), (Recorded October 2016; released on Palmetto, 2017). Hearable via Spotify.
Norma Winstone (vo): Descansado: Songs for Films, w. Glauco Venier (p), Klaus Gesing (ss / bcl), et al. Includes Winstone's texts on five film themes written by Nino Rota, Bernard Herrmann, William Walton, Armando Trovajoli, and Luis Bacalov (Recorded March 2017; released on ECM, 2018). Hearable via Spotify.
Jane Ira Bloom (comp / ss): Wild Lines, on texts of Emily Dickinson, w. Deborah Rush (vo), Dawn Clement (p), Mark Helias (b), Bobby Previte (dm) (Recorded April 2017; released on Outline, 2017) Arts Fuse reviews: https://artsfuse.org/149014/fuse-performance-and-cd-review-commentary-jane-ira-blooms-wild-lines-and-early-americans/ and https://artsfuse.org/164061/cd-reviews-ghost-train-orchestras-book-of-rhapsodies-vol-ii-and-jane-ira-blooms-wild-lines-improvising-emily-dickinson-second-thoughts/. Hearable via Spotify.
Edward Simon (p): Sorrows & Triumphs, w. Gretchen Parlato (vo), Imari Winds, on texts by Simon and Parlato (Recorded September 2017; released on Sunnyside, 2018). Hearable via Spotify.
William Parker (comp / b): Voices Fall from the Sky, on texts by Parker, w. Omar Pavano (vo), Raina Sokolov-Gonzalez (p / vo), Andrea Wolper (vo), Bernardo Palombo (vo), Jean Carla Rodea (vo), Kyoko Kitamura (vo), Fay Victor (vo), Amirtha Kidambi (vo), Timna Comedi (vo), Morley Shanti Kamen (vo), Ernie Odoom (vo), Ellen Christi (vo), Lisa Sokolov (vo), Leena Conquest (vo), Mola Sylla (vo), Sangeeta Bandyopadhyay (vo), AnnMarie Sandy (vo), (Recorded from October 1991 to January 2018; released on Centering, 2018). Hearable via Spotify.
Florian Ross (comp / p): Swallows & Swans, w, Kristin Berardi (vo), on texts by Henry Wadsworth Longfellow, Robert Louis Stevenson, Sir Samuel Ferguson, Kristin Berardi, Orlando Gibbons (Recorded June 2018; released on Deutschlandfunk, 2018). A sampler of excerpts from the CD is available on YouTube [https://www.youtube.com/watch?v=F1gqiz095Rk].
---
Steve Elman's four decades (and counting) in New England public radio have included ten years as a jazz host in the 1970s, five years as a classical host in the 1980s, a short stint as senior producer of an arts magazine, thirteen years as assistant general manager of WBUR, and currently, on-call status as fill-in classical host on 99.5 WCRB since 2011. He was jazz and popular music editor of The Schwann Record and Tape Guides from 1973 to 1978 and wrote free-lance music and travel pieces for The Boston Globe and The Boston Phoenix from 1988 through 1991.