Arts Fuse critics select the best in film, dance, visual art, theater, music, and author events for the coming weeks.
By The Arts Fuse Staff
Film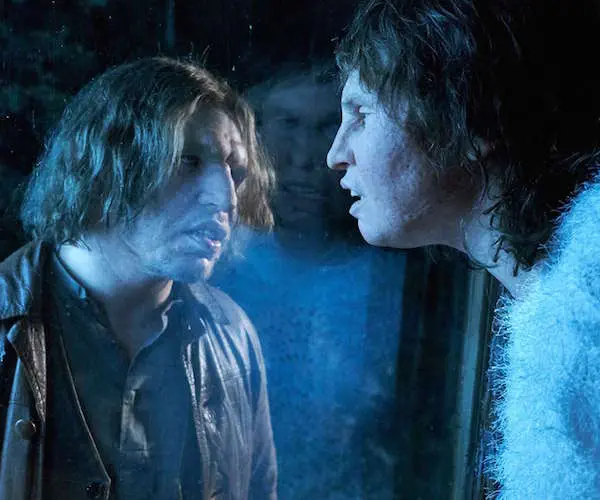 Border
January 2 – 13
Museum of Fine Arts, Boston, MA
This Gothic Swedish fable is on my Best Films of 2018 list, a grotesque allegory about man and nature, good and evil, acceptance and fate. It is an unnerving film with shocks and surprises that will keep you enthralled. Arts Fuse review
Human Flow
January 9 at 7:30 p.m.
Museum of Fine Arts, Boston, MA
Ai Weiwei, one of our most important living artists, has created this urgent film to provide perspective on the enormity of the refugee crisis and "its terrifying, world-swallowing immensity . . . from one heartbreak to the next, he passes through Gaza, drops into Pakistan, spends time in Turkey and ambles along the border separating (somewhat) Mexico and the United States, where an American border guard rather ridiculously tries to explain where Mr. Ai can and cannot go. Mr. Ai also visits a number of refugee camps that range from the squalid to the unimaginable and, as he does throughout, he shows you both the dignity and the misery at street level before using drones to soar over the camps."
Monrovia, Indiana
January 13 at 7 p.m.
Brattle Theatre, Cambridge, MA
An opportunity for those who missed the latest masterwork from Frederick Wiseman. This is Trump's America rendered without judgment, a place where a gun lobby ad reads: "Welcome to Indiana, home to a million concealed carry permits; enjoy your stay." "Wiseman's camera follows the good folks into church at weddings and funerals. . . barber shops, beauty parlors and restaurants, and town council meetings where the lack of workable fire hydrants is seriously and lengthily considered. Trump is never addressed directly. . . Still, the thought persists that just maybe this portrait of a closed-off and threatened heartland is indicative of what goes on in the polling booth where folks vote their fears in silence. And that is a scary proposition, indeed." (Peter Travers, Rolling Stone) Arts Fuse review
3 Days in Quiberon
January 13 at 11 a.m.
Coolidge Corner Theatre, Brookline, MA
One year before her tragic death at the age of 43, Romy Schneider posed for photographs and gave an extensive interview to a German journalist while staying at a Breton spa hotel in Quiberon. "Her magnetic personality and evanescent moods were memorably captured; the interview turned into an unvarnished, emotional self-appraisal at a time when the actress was roiling in insecurities. That's the setting of Emily Atef's respectful, by-the-numbers semi-recreation 3 Days in Quiberon, a fictionalized treatment inspired by those sessions."(Variety) A Goethe Institute Boston series presentation.
— Tim Jackson
---
Jazz
Bert Seager's Tetraptych
January 2 at 7:30 p.m.
Lilypad, Cambridge, MA.
One of the best ongoing monthly residencies at the Lilypad is that of pianist and composer Bert Seager with saxophonist Hery Paz, bassist Max Ridley, and drummer Dor Herskovits. Seager likes going out on a limb, and he encourages his cohort in Tetraptych to mess with his varied, lyrical tunes. The give-and-take makes for detailed, transparent textures as well as heft and groove.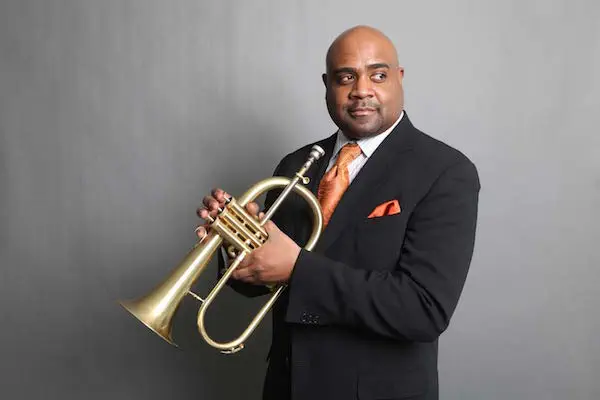 Terell Stafford Quintet
January 5 at 8 p.m. and 10 p.m.
Scullers Jazz Club, Boston, MA.
Terell Stafford has technique to spare and a gleaming sound, but, more important, he plays solos with compositional intent, so that they actually go somewhere. He comes into Scullers with a superb, seasoned post-bop quintet: saxophonist Tim Warfield, pianist Bruce Barth, bassist Peter Washington, and drummer Chris Beck..
Cutout + Porch Trio
January 9 at 7:30
Lilypad, Cambridge, MA.
Drummer Eric Rosenthal continues his .01 Percent series with another double-bill of free and freely inclined improvisers and composers. First up is Cutout, with saxophonist Jorrit Dijkstra, trombonist Jeb Bishop, pianist Pandelis Karayorgis, bassist Nathan McBride, and drummer Luther Gray. The Porch Trio is Dijkstra, McBride, and Rosenthal.
Jerry Bergonzi Quintet
January 10 at 7:30 p.m.
Peabody Hall, Dorchester, MA.
Master saxophonist Jerry Bergonzi's regular weekly gig is the first set every Monday night at the Lilypad (followed by the Fringe), so call this gig at the Parish of All Saints in Dorchester a special engagement. Bergonzi will be with his usual front-line partner, the fine trumpeter Phil Grenadier, as well as pianist Plamen Karadonev, bassist Greg Loughman, and drummer Austin McMahon.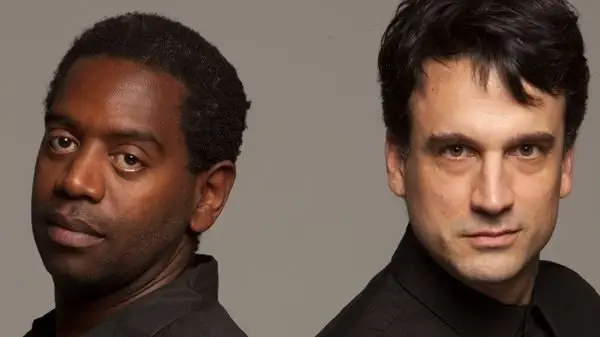 Yosvany Terry & Baptiste Trotignon
January 10 at 8 p.m.
Scullers Jazz Club, Boston, MA.
Cuban-American saxophonist-percussionist Yosvany Terry and French pianist Baptiste Trotignon call their partnership "Ancestral Memories." With nods to Terry's grandmother's Haitian roots, it's a cross section of Afro-Cuban and Francophone traditions, with a very pronounced American jazz accent. And, yes, they can play. The band includes veteran drummer E.J. Strickland.
Frank Carlberg
January 15 at 7:30 p.m.
Jordan Hall, Boston, MA.
One of the best jazz CDs I heard in 2017 was pianist Frank Carlberg's Large Ensemble recording, Monk Dreams, Hallucinations and Nightmares. Thanks to New England Conservatory, Carlberg is offering this solo piano free faculty recital at Jordan Hall. (NEC now asks that people reserve tickets for free concerts at the school's website.)
— Jon Garelick
Ben Allison's Herbie Nichols Project
January 2 and January 3.
The Stone, East 2nd Street and Avenue C, New York City
Yes, you'll have to get on Amtrak and go to Manhattan, but it will be worth it. This combination is the latest in Allison's series of tribute bands. The players in these aggregations are always A-list — Ron Horton (tp / flug), Ted Nash (ts), Frank Kimbrough (p), Matt Wilson (dm) — and the tunes are always played with intelligence and grace. For this round, Allison is interpreting the compositions of a revered master pianist, Herbie Nichols. Frank Kimbrough, tapped for the crucial piano chair, has just completed his survey of all 70 of Thelonious Monk's compositions, which should be ideal prep for interpreting the music of Nichols, who took many cues from Monk's music in fashioning his own work.
Editorial aside: In 2018, Allison covered Lennie Tristano's music. In late May 2019, he'll bring an all-star group (with Donny McCaslin and Tom Harrell!) to Birdland (NYC again) to play the music of Ornette Coleman. What smart booker in our area will give Ben the chance to treat New Englanders to a few nights of really great music by Nichols or Ornette?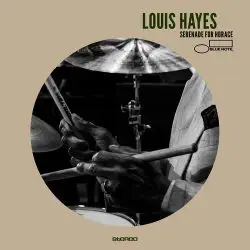 Louis Hayes, in a tribute to Horace Silver
January 4, 8 p.m. & 10P.
Scullers Jazz Club, Boston MA
Hayes is a master of the hard bop scene of the '60s, and he anchored one of Horace Silver's great small groups. His current tour is called "Serenade for Horace," named after Hayes's May 2018 CD. They'll play "Song for My Father," of course, and probably "Silver's Serenade," one of Horace's most beautiful tunes, but the CD also includes "Señor Blues," "Lonely Woman," and even some stellar items from Silver's early career – "Ecaroh" and "Room 608." Hayes knows exactly how Silver's music should sound, so this date should be very worthwhile.
— Steve Elman
---
Dance
Salute to Vienna New Year's Concert
January 4 at 8 p.m.
Symphony Hall
Boston, MA
Ring in the new year with a festive celebration of singing and dancing in Boston's Symphony Hall. Now in its seventh year, the Salute to Vienna New Year's Concert recreates the beauty and elegance of Vienna's golden era. "Enjoy Strauss waltzes and sweeping melodies from beloved operettas, performed by acclaimed European singers, champion ballroom dancers, gorgeous ballets, and a live symphony orchestra."
Sand
January 11 and 12 at 7 p.m.
Abigail Ogilvy Gallery
Boston, MA
Directed by Victoria Lynn Awkward, Sand features dancers JoJo Boykins, Tabitha Hanay-Reaves, Michayla Kelly, and Jessy Zizzo in an intimate art gallery setting. Inspired by the multitude of grains that make up sand, this performance piece emphasizes diversity by utilizing varying body types to explore how different varieties of people can coexist. Also on view in the gallery: Sand, The Photo Book, which displays portraits of individuals standing in front of artwork by New England-based artist,Ellen Oliver. The performance returns to Boston's Fountain Street Gallery in April.
New Work for Goldberg Variations
January 15 at 7:30 p.m.
The Hanover Theatre for the Performing Arts
Worcester, MA
In this one-night performance, live music and dance combine to enrich Simone Dinnerstein's performance of Bach's Goldberg Variations.  The choreography is provided by Pam Tanowitz, who is renowned for work that is influenced by Merce Cunningham and classical ballet.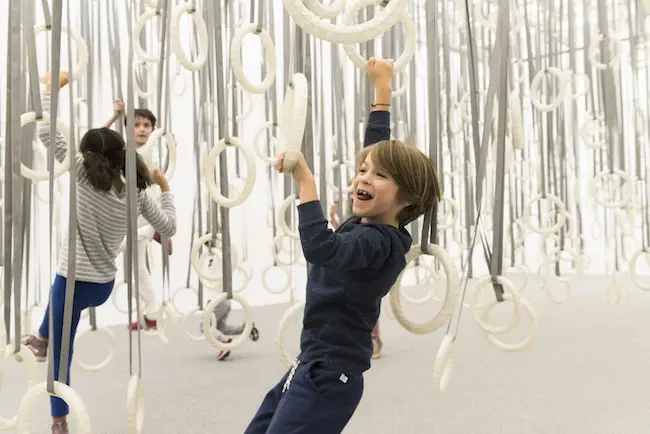 William Forsythe: Choreographic Objects
Through February 24, 2019
Institute of Contemporary Art/Boston , Boston, MA
Whether you're a long-time fan of William Forsythe's world-reknowned choreographic works or hearing his name for the first time, the ICA encourages you to step inside his choreographic world through this unique installation (the first of its kind in the U.S.). Spanning over two decades, this major exhibition includes room-size interactive sculptures, participatory objects, and video installations inviting viewers to confront and engage with the fundamental principles of choreography, which Forsythe calls "Choreographic Objects." This exhibition was organized by Eva Respini, Barbara Lee Chief Curator, with Jeffrey De Blois, Assistant Curator. Arts Fuse review
— Merli V. Guerra
---
Visual Arts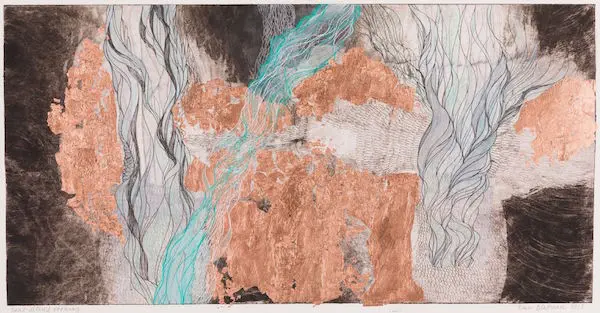 Dark Sea
Childs Gallery, 169 Newbury St. Boston MA
January 3 – February 24, 2019
Resa Blatman's colorful mixed media works contrast delicate lines with dense encroaching blocks of color and value. She beautifully dramatizes the precarious position of the natural world vis-a-vis invading pollution. In these works, Blatman successfully weaves a narrative that mirrors the uncertainty, loss, and anxiety permeating contemporary environmental concerns.
Ansel Adams In Our Time
MFA Boston, 465 Huntington Avenue, Boston MA
Through February 24, 2019
Renowned as the premier photographer of the U.S. national parks, Ansel Adams is a legend in American photographic history. His legacy is revisited in this exhibit, which juxtaposes his majestic landscapes with works by those who influenced him, as well as those  who were influenced by him. This lens highlights and contrasts social and environmental observations of the 19th, 20th, and 21st centuries.
Context: Language, Media, and Meaning
Fuller Craft Museum, 455 Oak Street, Brockton, MA
Through February 24, 2019
This juried exhibition explores various methods of incorporating text into textile-inspired visual art and design. Juried by Bruce D. Hoffman, the show employs traditional, nontraditional, and contemporary practices in an exploration of conceptual connections between written and visual language.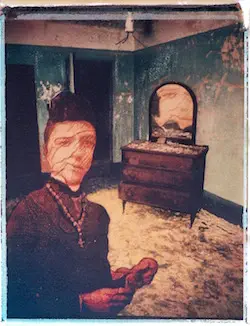 Shadows and Traces: The Photography of John Reuter
Griffin Museum, 67 Shore Road, Winchester MA
January 10 – March 3, 2019
John Reuter's distorted, flattened photomontages generate a dissociative experience, raising doubts about photography as a medium of "truth." Combining the grainy aesthetic of the photo-transfer with watercolor, digital editing, and various media retouching. Reuter transforms original images into his own hybrid creations, transporting the viewer into a surreal world of severed, composite images and altered perspectives.
Wild Designs
The Peabody Essex Museum, Salem
Through Aug. 4, 2019
As technology continues draw on space-age designs which seem to increasingly reflect 1950s imaginings of the future, this exhibition focuses on technological innovation rooted in designs as old as time. Bio-inspired artwork suggest how nature-based solutions might solve human problems. Featured designs range from the simple hook-and-eye fastener to a cutting-edge personal robot, while others address concerns such as water collection and air purification.
–- Rebekah Bonner
Preserved Pages: Book as Art in Persia and India, 1300-1800
Through January 6, 2019
Worcester Art Museum, 55 Salisbury Street, Worcester, MA
The vibrant colors and wealth of detail in these pages of Iranian and Indian art supply glorious hints of the ways these treasured books reflect interconnections between visual art and literature. Co-curated by Hannah Hyden and David J. Roxburgh, the exhibition examines how manuscript pages were used to illustrate epic poetry and important public events — as well as how they were popularly collected as bound albums.
— Aimee Cotnoir
---
Theater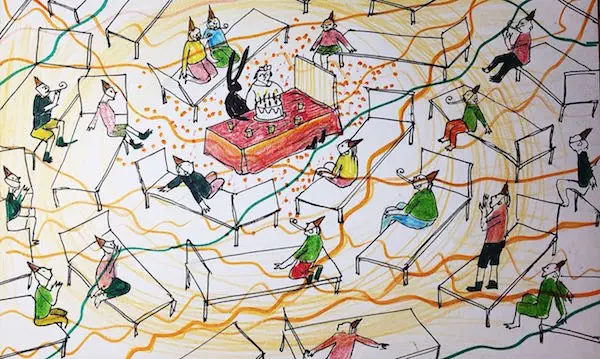 The Miraculous Journey of Edward Tulane, an original adaptation written and directed by Alexander Huh. Staged by the Arlekin Players at 368 Hillside Avenue, Needham, MA, through March 3.
"This unique production is presented in Russian and English simultaneously. The ability to love can either be a gift or a curse. What brings us together or prevents us from understanding each other? These are the challenging questions that our main character, a porcelain rabbit, will grapple with on his miraculous journey." Arts Fuse review
A Doll's House, Part 2 by Lucas Hnath. Directed by Les Waters. Staged by the Huntington Theatre Company in a co-production with Berkeley Repertory Theatre at the Huntington Avenue Theatre, 264 Huntington Avenue, Boston, MA, through February 3.
Do we really need a sequel to Ibsen's once shocking play? Have we been wondering what happened to Nora once she slammed the door on her kids and her marriage? Apparently so, because this is "America's most produced play of the season," according to the Huntington Theatre Company press release. The script imagines Nora 15 years later as a successful writer and independent woman. She is urgently seeking to finalize her divorce, but first her estranged family has grievances to air." Here is an Arts Fuse review of a production of the script at Barrington Stage last July.
Small Mouth Sounds by Bess Wohl. Directed by M. Bevin O'Gara. Staged by SpeakEasy Stage Company in the Roberts Studio Theatre in the Stanford Calderwood Pavilion at the Boston Center for the Arts, 527 Tremont Street, Boston, MA, January 4 through February 2.
The script "follows six strangers on a spiritual retreat for what they hope will be a life-changing week. In the overwhelming quiet of the woods, they struggle to abandon technology and embrace silence under the tutelage of an unseen guru, who is having her own challenges with inner peace. Though it employs little dialogue, there is definitely nothing quiet about" this play, which "asks how we address life's biggest questions when words fail us."
The Burn by Philip Dawkins. Directed by Logan Serabian. Presented in conversation with More Weight: A Derivative New Work inspired by Arthur Miller's The Crucible by Serabian. Staged by the Wilbury Theatre Group at 40 Sonoma Court, Providence RI, January 10 through February 3.
Receiving its New England premiere, The Burn "is a thrilling blend of Arthur Miller's The Crucible and the online world that serves as modern telling of the way social media blurs the lines of truth and fiction and paves the way for a new kind of witch hunt in today's world." Written and conceived by Serabian, "More Weight is a minimalistic work inspired by Arthur Miller's original text that at a breakneck pace re-tells the entire original Salem witch trials with just five actors."
Miss You Like Hell. Book & lyrics by Quiara Alegría Hudes. Music & lyrics by Erin McKeown. Directed by Summer L. Williams. Staged by Company One Theatre, in collaboration with American Repertory Theater at OBERON, 2 Arrow Street, Cambridge, MA, January 10 through 27.
The plot: "Sixteen-year-old Olivia hasn't seen her mother Beatriz in years, but—surprise!—mom just showed up in the middle of the night, with a pickup truck, the promise of the open road . . . and an immigration hearing looming at journey's end."
Slow Food by Wendy MacLeod. Directed by Sean Daniels. Staged by the Merrimack Repertory Theater at the Nancy L. Donahue Theatre at Liberty Hall, Lowell MA, January 9 through February 3.
The world premiere of a new comedy that takes aim at aging foodies and existential restaurant service: "A couple of empty nesters just want to have a nice meal out on their big anniversary in Palm Springs, but their highly neurotic waiter will have them examining everything from their menu choices to their very future together. In this scenario, there's no escaping the world's worst waiter."
— Bill Marx
---
Classical Music
Boston Artists Ensemble
January 4 at 8 p.m.
At Hamilton Hall, 9 Chestnut Street, Salem, MA
January 6 at 3 p.m.
At St. Paul's Church Brookline, 15 St. Paul Street, Brookline, MA
(more) Art of the String Quintet: on the program, Mozart 's String Quintet No. 5 in D, K 593; Dvořák's String Quintet in E-flat, Opus 97.
Boston Chamber Music Society
January 6 at 3 p.m.
At Sanders Theatre/Harvard University, 45 Quincy Street, Cambridge, MA
On the program: Franz Schubert' String Trio in B-flat major, D. 471; Wolfgang Amadeus Mozart's Trio in E-flat major, K. 498 "Kegelstatt," and Olivier Messiaen's Quartet for the End of Time.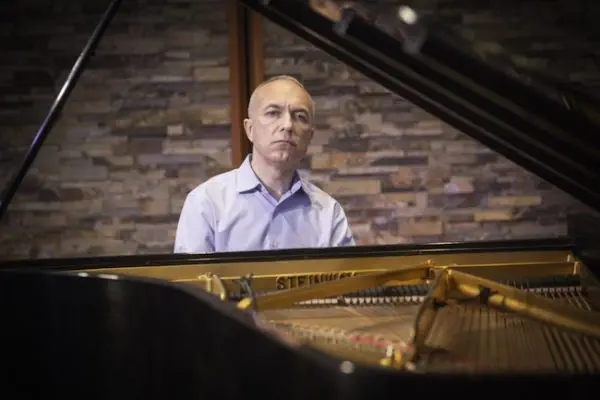 Glissando Concert Series presents "Music of the Spheres"
January 13 at 4 p.m.
First Church in Boston, 66 Marlborough Street, Boston, MA
Pianist performs Bach's "The Goldberg Variations."
— Susan Miron
---
Roots and World Music
Mdou Moctar
January 2, at 8 p.m.
Columbus Theater, Providence, RI
The desert blues guitar phenom Moctar made his own African remake of Prince's Purple Rain and appears here with Heavy Connection, a homegrown tribute to the Afro-psych Ngozi Family.
Barrence Whitfield and Four Piece Suit
January 3, at 7 p.m.
Thunder Road, Somerville
Just as the '90s exotica crazy was starting to take shape, Boston's Four Piece Suit burst on the scene with their smoky surf noir instrumental sound. The core of the band spent years writing, recording, and touring with R&B shouter Barrence Whitfield, and they'll be reunited on Thursday night.
Tammi Savoy and Chris Casello
January 4, at 10 p.m.
Atwood's Tavern, Cambridge, MA
One of the undisputed highlights last September was the jump blues band led by vocalist Savoy and guitarist Casello. Fans of '50s R&B divas like Ruth Brown and LaVern Baker will be delighted how well Savoy and Casello keep the sound alive with passion and creativity. Their Swelltune Records peers Sean Mencher, Jittery Jack, and Miss Amy will join them.
Hamilton de Holanda
January 12, at 7 p.m.
David Friend Recital Hall, Berklee College of Music, Boston, MA
De Holanda is the global ambassador of the bandolim, the mandolin-descendent instrument brought to Brazil by Portuguese colonizers. De Holanda's dexterity and improvisational skills have earned him fans in the jazz and bluegrass worlds. At Berklee he'll be joined by another virtuoso who straddles many musical worlds, Boston fiddler Jason Anick.
— Noah Schaffer
---
Rock, Pop, and Folk
The Sheila Divine with Mint Green and Bethlehem Steel
January 4
Great Scott, Allston, MA (doors at 1, NO COVER); The Sinclair, Cambridge, MA (doors at 7, show at 8)
Since forming in Boston in 1997, The Sheila Divine has released four albums, three EPs, and a handful of singles, including two–"Time To Set it Off" and "Melancholy, MA"–in 2018. Despite this limited output, the trio can always sell out shows in its hometown, as evidenced by the capacity crowds that they played for at several intermittent reunion gigs since first breaking up in 2003. On Friday, the Sheila Divine will perform an afternoon set at Great Scott and an evening one at The Sinclair. The former will be hosted by Vanyaland writer Michael Marotta and the latter will include Boston's Mint Green and Brooklyn's Bethlehem Steel as opening acts.
The Young Americans
January 5 (doors at 8, show at 9)
Thunder Road, Somerville, MA
David Robert Jones, who was beloved by millions around the world as David Bowie, shuffled off this mortal coil on January 10, 2016. The Boston Bowie tribute band The Young Americans will mourn his passing and celebrate his immortal legacy at Union Square's Thunder Road five days before the third anniversary of his death. The set is sure to delight fans of all stripes with universally loved classics and lesser-known personal favorites.
Not a Wasted Night: A Benefit for Chris Doherty of Gang Green
January 11 (doors at 6)
Paradise Rock Club, Boston, MA
The Dogmatics, Evan Dando, The F.U.'s, The Outlets, Slapshot, Springa (of SSD), TREE, Unnatural Axe, White Dynomite, Worm, and the Skate to Hell Band will populate this all-star gala to benefit Chris Doherty, the lead singer and guitarist of the legendary Boston rock band Gang Green. Proceeds from this concert and a GoFundMe campaign will aid Doherty as he recovers from a stroke. Great music for a great cause.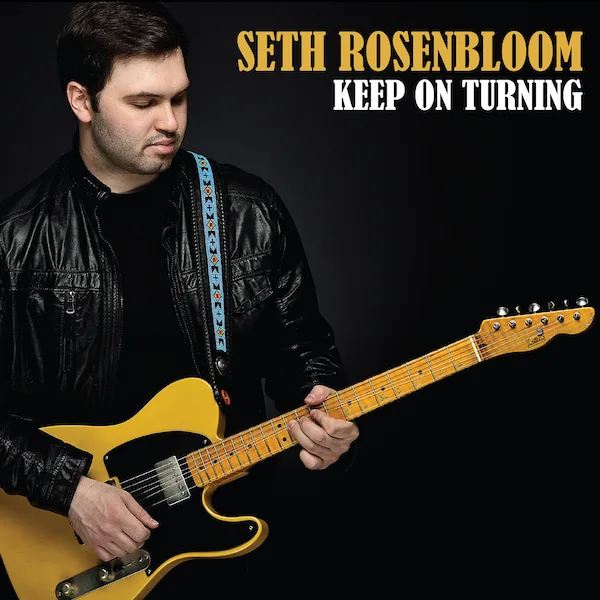 Seth Rosenbloom with Sonya Rae Taylor & Ryan Taylor
January 12 (show at 7)
The Burren, Somerville, MA
Blues singer, songwriter, and Telecaster-slinger Seth Rosenbloom will follow up his 2017 debut EP with his first LP, Keep On Turning, on January 18. Among the album's nine tracks are the Waltham native's versions of songs by B.B. King, Elmore James, and Freddy King and original compositions that were written or co-written by Sonya Rae Taylor. Taylor and her husband, Ryan, will support Rosenbloom at his CD release show at The Burren on January 12.
— Blake Maddux
---
Author Events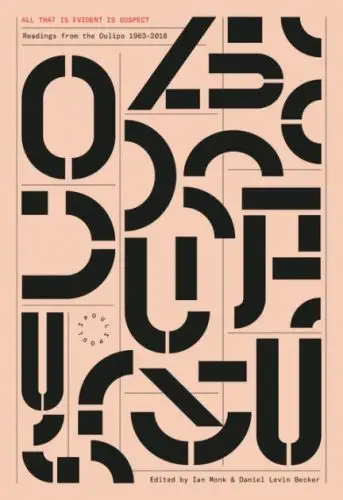 Daniel Levin Becker
All That Is Evident Is Suspect: Readings from the Oulipo 1963- 2018
January 8 at 7 p.m.
Harvard Book Store, Cambridge MA
Free
"Since its inception in Paris in 1960, the OuLiPo―ouvroir de littérature potentielle, or workshop for potential literature―has continually expanded our sense of what writing can do. It's produced, among many other marvels, a detective novel without the letter e (and a sequel of sorts without a, i, o, u, or y); an epic poem structured by the Parisian métro system; a story in the form of a tarot reading; a poetry book in the form of a game of go; and a suite of sonnets that would take almost 200 million years to read completely. All That Is Evident Is Suspect is the first collection in English to offer a life-size picture of the group in its historical and contemporary incarnations, and the first in any language to represent all of its members (numbering 41 as of April 2018).
Jeremy N Smith
Breaking and Entering: The Extraordinary Story of A Hacker Called "Alien"
January 9 at 7 p.m.
Harvard Book Store, Cambridge MA
Free
"This taut, true thriller dives into a dark world that touches us all, as seen through the brilliant, breakneck career of an extraordinary hacker—a woman known only as Alien. When she arrived at MIT in the 1990s, Alien was quickly drawn to the school's tradition of high‑risk physical trespassing: the original "hacking." Within a year, one of her hallmates was dead and two others were arraigned. Alien's adventures were only just beginning."
Susan Lanzoni
Empathy: A Memoir
January 10 at 7 p.m.
At Porter Square Books, Cambridge MA
Free
"Empathy: A History tells the fascinating and largely unknown story of the first appearance of "empathy" in 1908 and tracks its shifting meanings over the following century. Despite empathy's ubiquity today, few realize that it began as a translation of Einfühlung or "in-feeling" in German psychological aesthetics that described how spectators projected their own feelings and movements into objects of art and nature. Remarkably, this early conception of empathy transformed into its opposite over the ensuing decades. Social scientists and clinical psychologists refashioned empathy to require the deliberate putting aside of one's feelings to more accurately understand another's."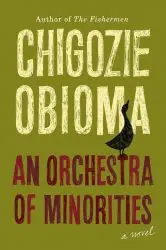 Chigozie Obioma
An Orchestra of Minorities
January 10 at 7 p.m.
Harvard Book Store, Cambridge MA
Free
"Set on the outskirts of Umuahia, Nigeria and narrated by a chi, or guardian spirit, An Orchestra of Minorities tells the story of Chinonso, a young poultry farmer whose soul is ignited when he sees a woman attempting to jump from a highway bridge. Horrified by her recklessness, Chinonso joins her on the roadside and hurls two of his prized chickens into the water below to express the severity of such a fall. The woman, Ndali, is stopped her in her tracks."
Katya Apekina & Kirsten Allio
The Deeper the Water the Uglier the Fish & Buddhism for Western Children
January 16 at 7 p.m.
Newtonville Books, West Newton MA
Free
Two singular styles of narrative will be on display at Newtonville Books. Apekina's book moves through "a selection of first-person accounts and written with a sinister sense of humor, The Deeper the Water the Uglier the Fish powerfully captures the quiet torment of two sisters craving the attention of a parent they can't, and shouldn't, have to themselves. In this captivating debut, Katya Apekina disquietingly crooks the lines between fact and fantasy, between escape and freedom, and between love and obsession." Allio's book is "set on the coast of Maine and in the high desert of New Mexico in the late 1970s through the early '80s, Buddhism for Western Children is a universal and timeless story of a boy who must escape subjugation, tell his story, and reclaim his soul. In search of community and transcendence, ten-year-old Daniel's family is swept into the thrall of a potent and manipulative guru."
— Matt Hanson