Kamasi Washington's music connected viscerally with a Royale audience that was packed with young people — or at least way younger than those normally seen at a jazz concert.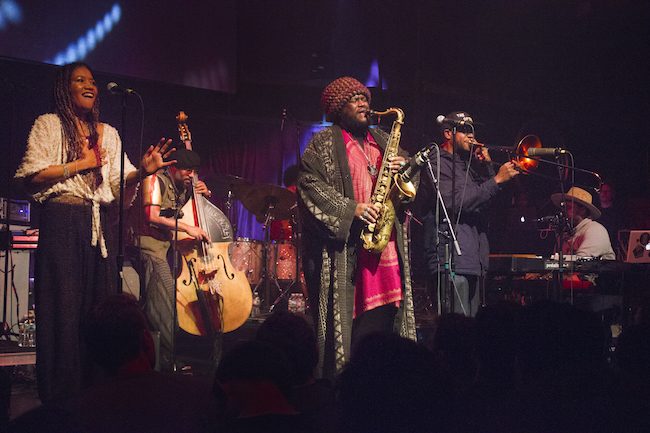 By Scott McLennan
"Diversity," saxophonist Kamasi Washington declared from the stage of Royale nightclub, is not "something to tolerate, but rather something to celebrate." His electrifying two-hour concert on November 8 put those words into action as the performance explored contrasting themes that ran from militancy ignited by injustice to unity inspired by empathy.
Juxtaposition powered the performance: one moment Washington drew chuckles talking about what it was like to be space cadet (with its evocations of Sun Ra), the next he ruminated on a gut-wrenching eulogy delivered at Malcolm X's funeral.
These clashing dualities were not just heard but also seen: the seven musicians that shaped Washington's vision took the stage in wild, flamboyant garb as if they were dressed for a raging party —  in reality, they clearly came to work.
Washington is on tour to support Heaven and Earth, his second full-length (or should we say super-length, since he is given to releasing multiple-disc titles) album. After a couple of self-released projects, Washington's 2015 label debut, The Epic, turned the now 37-year-old saxophonist into a rising star in jazz. Here was a player who could play, compose, and lead in a manner that tapped into the music's heritage yet was nimbly crafted for the tastes of the modern era — without making compromises to commercial trends.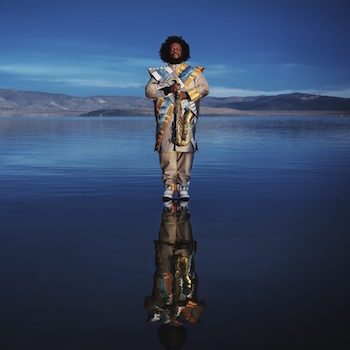 The Epic was no fluke. Heaven and Earth is another brilliant album, and its material connected viscerally with a Royale audience that was packed with young people — or at least way younger than those normally seen at a jazz concert. The band Butcher Brown delivered a fierce opening set, laying out more fresh ideas inspired by contemporary jazz.
Washington and his ensemble opened with Heaven and Earth track "One of One." A breezy, Latin-tinged rhythm courses through the tune, as Washington and trombonist Ryan Porter built out the melody while also making space for the ethereal talents of vocalist Patrice Quinn. It was a solid opener that gave everyone a moment or two to shine and established the band's MO of patiently constructing its performances. That was one of the show's compelling musical dualities — the balance of passionate, spontaneous improvisation with self-conscious composition.
The band then played "Malcolm's Theme," which merges a melody by Terence Blanchard with words Ossie Davis delivered at Malcolm X's funeral. Quinn became otherworldly as she ratcheted up the intensity of the song, eventually transforming a eulogy into an anthem of endurance.
The band shifted gears and next played "Walk Free," a song by Washington's keyboard player Brandon Coleman. The tune gave the group a chance to swing and bring in some R&B underpinnings — Washington and Coleman contributed spirited solos.
Washington's comment about diversity preceded the song "Truth," which he released last year. The tune uses the power of music to illustrate how harmony can be generated when disparate elements are invited to work together. The horns, keys, and vocals each wove different melody lines that co-existed in the welcoming rhythmic atmosphere laid down by drummers Tony Austin and Ronald Bruner, Jr. and bassist Miles Mosley. Washington's solos burst with yearning beauty; it was as if he was reaching for the better world imagined in the composition.
The concert closed with two more songs off of Heaven and Earth. First came the cinematic "The Space Travelers Lullaby," which featured Porter blasting out wonderfully nuanced solos that galvanized the rest of the band.
The powerhouse "Fists of Fury" closed the night, conveying the expansive breadth of Washington's vision. Quinn was in turns gentle and wrathful. Mosley deployed a thundering low end that shook the room as if those fists of fury were raining down on us. But, at heart, Washington is an optimist, so the tune's darker, more dangerous elements gave way to the joy of victory as he dove into soaring solos. So, in the end, we had a taste of heaven and earth — just not necessarily in that order.
---
Scott McLennan covered music for the Worcester Telegram & Gazette from 1993 to 2008. He then contributed music reviews and features to The Boston Globe, The Providence Journal, The Portland Press Herald and WGBH, as well as to the Arts Fuse. He also operated the NE Metal blog to provide in-depth coverage of the region's heavy metal scene.