These are not stodgy actresses, but a diverse of group of women proffering salty temperaments, glowing façades, and the exquisite articulation that reflects decades on the stage.
Tea With the Dames (formerly Nothing Like a Dame), directed by Roger Michell. Screening at West Newton Cinema, Coolidge Corner Theatre, and Kendall Square Cinema. Also streaming on Amazon.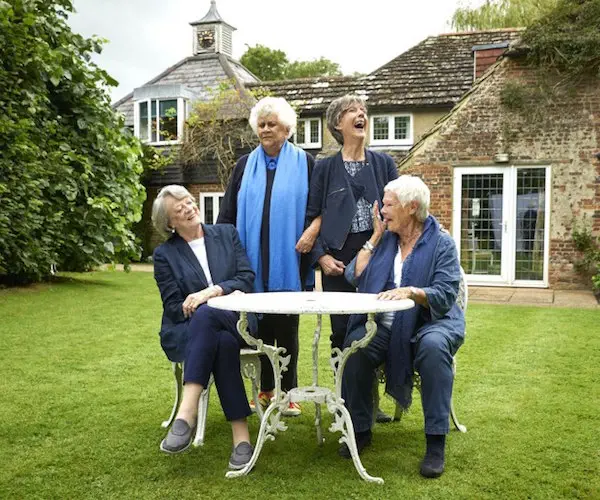 By Tim Jackson
"We are not in the first rank of great beauties" declares Joan Plowright as she converses with Eileen Atkins, Judy Dench, and Maggie Smith in the wonderful new film Tea With the Dames. Atkins follows up with some advice given to her by her mother: "You're no oil painting, my girl, but you have a spark, lovely expressive eyes, and thank goodness you have my legs and not your father's." Such bon mot are typical products of this glorious gabfest featuring four of Britain's finest actresses. Octogenarians all, the women are filled with stories about life in the theater, love of their craft, and the wisdom of age. "We're all 'Dames,'" observes Dench, discussing their honorary damehoods. She then asks teasingly of Plowright, who was given the formal title of Lady Olivier when she married the late Sir Laurence, "Is it so much nicer to be a "Lady?" To which Dame Maggie Smith observes, "What does it mean, really? You can still swear." Dench replies, "I'd say you can swear more."
The women have played all the great stage roles, have known one another for 60 years, and gather every year for an afternoon at Plowright's home in Essex. Atkins, perhaps less known for her film work than stage performances, boasts an impressive theater resume: she has received four Tony Award nominations. She also co-created TV's Upstairs-Downstairs series. For the most part retired due to failing eyesight, Plowright (Baroness Olivier) has had a distinguished career on stage and television. At 83, and the youngest of the Dames, the celebrated Shakespearean Dench gained international fame as M in 1995's GoldenEye. She has received multiple British and American honors with seven Academy Award nominations. In addition to a stunning list of theater credits, Smith has secured her place in popular culture as the iconic dowager Countess of Grantham in Downton Abbey. "I have the box set," she says. "I have never really watched it."
Filming a free form conversation of personal and professional reminiscences sets an amusing directorial challenge. Roger Michell (Notting Hill, Venus) is patient with his subjects, giving screen time to both the silences and the rambling anecdotes. Rarely seen archival footage from decades old theatrical performances testifies to their amazing acting chops as well as to the reasons for their longevity. During one pause, the director tries to spark some conversation with an invitation: "Talk about working with your husbands." There's a long silence until (Atkins, I think) pipes up, "Which one?" Plowright finally responds, "Obviously mine was the most difficult." To which Smith responds dryly, "We all found him tricky, Joan." Their stories about working as young actresses during one of the heydays of the British theater (the '50s and '60s) opposite the era's greatest actors are priceless. As is the delight of hearing some of  finest actresses of the century talk about the basics of craft and career.
These performers had to be more than gifted; resilience and determination was just as necessary. These are not stodgy actresses, but a diverse of group of women proffering salty temperaments, glowing façades, and the exquisite articulation that reflects decades on the stage. Even now, performing is never easy. Anxiety about going onstage is still tangible. "Fear is the petrol," Atkins proclaims. "On the way to the theater, I always think, 'Would you like to be run over now?' And I only just come out on the side of no."
One particularly marvelous question is asked: What would you tell your younger selves? It brings a long silence. Finally, Plowright, the most serious and reflective of the group, pipes up with simple but profound advice for the working artist: "You find a way to make it happen and to make it spontaneous. That's the difference between truth and illusion."
---
Tim Jackson was an assistant professor of Digital Film and Video for 20 years. His music career in Boston began in the 1970s and includes some 20 groups, recordings, national and international tours, and contributions to film soundtracks. He studied theater and English as an undergraduate, and has also has worked helter skelter as an actor and member of SAG and AFTRA since the 1980s. He has directed three feature documentaries: Chaos and Order: Making American Theater about the American Repertory Theater; Radical Jesters, which profiles the practices of 11 interventionist artists and agit-prop performance groups; When Things Go Wrong: The Robin Lane Story, and the short film The American Gurner. He is a member of the Boston Society of Film Critics. You can read more of his work on his blog.