Jonathan Nott does right by Ligeti and Herbert Blomstedt does the same for Mozart. You didn't know that Evgeny Kissin, the piano virtuoso, was also a composer? Join the club.
By Jonathan Blumhofer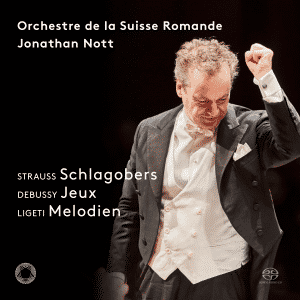 "A first-class second-rate composer" is how Richard Strauss is alleged to have described himself. When it comes to the man's ballets, it's hard to disagree.
Actually, in those works, he might have been being speaking generously: if the top-drawer is reserved for the likes of Tchaikovsky and Stravinsky, Strauss's ballets Josephslegende and Schlagobers arguably belong in the third or fourth tier. They are brilliantly scored pieces – no argument on that count – but lack nearly all the compelling ingredients that make Strauss's other theatrical scores come to life. Indeed, maybe the most striking thing about the 1923 ballet Schlagobers (and its subsequent Suite) is the music's utter triviality. Is there a forty-minute-long score by a 20th-century giant that does less and leaves a smaller impression than it does? I'm at a loss to think of one.
That said, Pentatone's new recording of the Suite from Schlagobers, featuring the Orchestre de la Suisse Romande (OSR) and conductor Jonathan Nott, is quite well played: the many notes are in place, textures are cleanly articulated, and the OSR digs into the music with spirit and panache. That such a performance doesn't elevate this score above a pedestrian level says more about Strauss than it does the ensemble.
Debussy's Jeux, on the other hand, is a far better piece and it receives a wonderfully balanced – if, in spots, a slightly literal – reading. There's a warmth and coherence to Nott's interpretation that might not be to all tastes, but his interpretation is well-shaped, full of character, and deliciously colorful in its own right.
Nott and Co. are most impressive, though, in Ligeti's Melodien, which gets a rounded, songful run-through. As a piece, it's plenty weird: the sour brass chorale around the middle stings and the music's echoes of Minimalist riffs rather jump out. But lush and often beautiful, too. indeed, Nott – who's something of a Ligeti specialist, draws an invigorating reading here, one especially so when heard in the peculiar context of lesser-Strauss and Debussy. Both earlier composers do, in fact, seem to be pointing vaguely towards Ligeti, even if they didn't know it and if their techniques and ideas don't necessarily lead directly to him.
So, the disc's an intriguing conceit. Not always the best music, perhaps, but strongly played and with some fetching juxtapositions.
---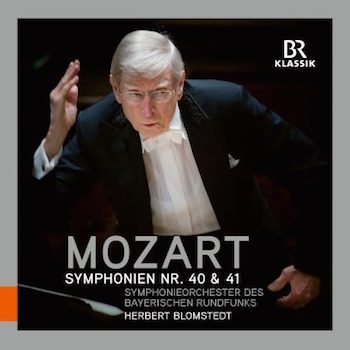 One of the musical highlights of 2018 has been Herbert Blomstedt's appearances conducting Mozart with the Boston Symphony, both at Symphony Hall and at Tanglewood. If you missed those concerts, a new release from BR Klassik – taped in Munich in 2013 and '17 – captures much of the excitement around Blomstedt's Mozart.
In a way, Blomstedt's Mozart interpretations are decidedly Old School. He employs a healthy-sized orchestra of modern instruments. There's no skimping on warmth of tone or vibrato.
At the same time, his performances are anything but staid or fusty. Tempos are brisk. The orchestra's rhythmic energy is electrifying. Textures are lean and inner voices rise to the fore. All repeats are taken.
The end result here is a recording of two of the most-recorded symphonies in the canon, nos. 40 and 41, that are breathtakingly fresh, brimming with drama and life.
Blomstedt draws out the contrasts of character in the G-minor with a good deal of excitement. Has that familiar, pulsing first theme of the opening movement sounded more threatening or mysterious? Or the minuet come across with more sinister energy? Possibly and probably – but that's beside the point: this is a performance of a canonic pillar that genuinely engages. The slow movement floats by with effortless purpose and the finale bristles.
In the "Jupiter" Symphony, Blomstedt's swift tempos and cleanly-balanced sonorities result in a similarly inviting account of a repertoire stalwart. I'm not one to wax overlong about yet another take on canonic favorites, but this one's special. From Blomstedt's interpretation to the BRSO's receptive playing, this is Mozart done right.
---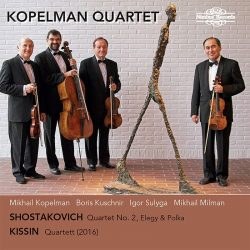 You didn't know that Evgeny Kissin, the piano virtuoso, was also a composer? Join the club. Not only that, but to judge from Kissin's 2016 String Quartet, he's a serious composer, at that. What else to make of this stern, four-movement, roughly twenty-minute-long piece? Well, a few things actually, chief among them that Kissin's extraordinary keyboard gifts don't fully extend into the realm of composition.
Still, to his credit, Kissin knows how to craft a piece in the style of late Shostakovich that at least doesn't overstay its welcome. At its best, his writing is expressive, thoughtfully structured, and well-proportioned. He uses gestures effectively: there's a diabolically involved, scherzo-like second movement; a finale filled with slashing, dance-like figures; and more than a few episodes of shadowy desolation in the first and third movements. While most of its first three quarters is severe and, sometimes, dour, the closing moments of the finale turn heaven-ward and offers something of a cathartic epitaph.
Overall, though, its lack of emotional freshness and obvious stylistic debts do it in. Even so, it's a piece that, by virtue of its pedigree, you want to (and should) respect. Loving it, though, is another matter.
That said, it's next to impossible to fault the playing of the Kopelman Quartet in the Kissin Quartet's debut recording. The ensemble plays it with a mix of fiery passion and, over the closing bars, affecting tenderness.
Alas, these qualities – when they do emerge – don't salvage the rather listless reading of Shostakovich's String Quartet no. 2 that opens the album. Here, problems seem to largely center on matters of tempo, which veer towards the lethargic: the Overture never really lifts off; neither does the second-movement Recitative and Romance. Things pick up nicely in the third-movement Waltz, which proceeds with a stronger sense of direction, though its overriding atmosphere might be more menacing. But the finale returns to the approach of the first two movements, lacking a through-current of intensity. For a piece that's so widely recorded, these are, interpretively speaking, fatal flaws.
There's a bit more spirit to be found in the pair of short Shostakovich works that fill out the disc (on Nimbus), the Elegy from Lady Macbeth of the Mtsensk District and the Polka from The Age of Gold. To these ears, though, they weren't quite enough to redeem what came before.
---
Jonathan Blumhofer is a composer and violist who has been active in the greater Boston area since 2004. His music has received numerous awards and been performed by various ensembles, including the American Composers Orchestra, Kiev Philharmonic, Camerata Chicago, Xanthos Ensemble, and Juventas New Music Group. Since receiving his doctorate from Boston University in 2010, Jon has taught at Clark University, Worcester Polytechnic Institute, and online for the University of Phoenix, in addition to writing music criticism for the Worcester Telegram & Gazette.