Mothers and Sons is one of veteran playwright Terrence NcNally's finest works.
Mothers and Sons by Terence McNally. Directed by James Warwick Staged by Shakespeare & Company, at the Elayne P. Bernstein Theatre, Lenox, MA, 95 minutes no intermission, through September 9.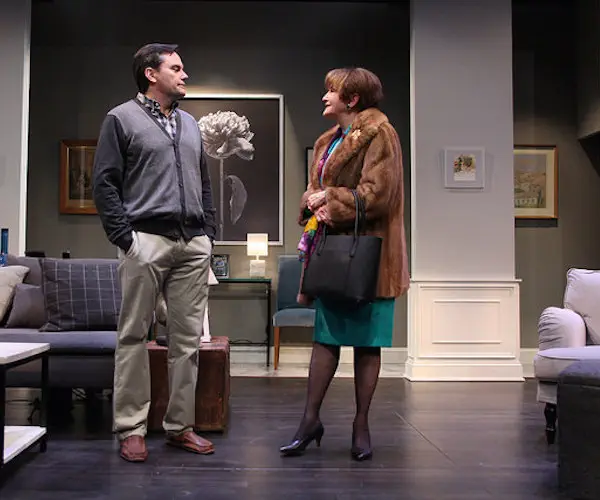 By Helen Epstein
Terrence McNally will turn 80 this November. A veteran of the socio-political movements and many kinds of theater of the twentieth century, he has been writing plays (And Things that Go Bump in the Night, Frankie and Johnny in the Clair de Lune), musicals (Ragtime, Kiss of the Spider Woman), librettos, and films since the early '60s.
Mothers and Sons is one of his best works, and it is a script with a particularly interesting history. In 1987, McNally (along with some 30 playwrights, including Arthur Miller, Wendy Wasserstein and David Mamet) submitted an eight-minute sketch to the Manhattan Theater Club to be part of a revue about living in Manhattan called 'Urban Blight.' Titled Andre's Mother, McNally's submission featured a grief-stricken, nameless mother attending a memorial service for her son, who died of AIDS. She is so filled with sorrow and rage that she is unable to speak.
A couple of years later, McNally expanded Andre's Mother into a 50-minute WGBH-produced television film for American Playhouse. Set at Andre's memorial service in Manhattan (a Texan by birth, he was buried in Dallas), the film features Andre's mother Katharine Gerard, his gay lover Cal Porter, and several other characters.
McNally won an Emmy Award for the script and thought he was done with the piece. But in 2013 he returned to its themes and concerns with Mothers and Sons, an elegiac meditation on love, massive loss, homosexuality, AIDS, regret, disappointment, parenthood, disconnection, hate, and forgiveness — all centered around the figure of Katharine Gerard, 20 years after that memorial service.
The play opens on Patrick Brennan's set of Cal Porter's comfortable Central Park West apartment with Mrs. Gerard (Annette Miller) gazing east as Cal points out the Delacorte Theater, where her son performed the role of Horatio and dreamed of playing Hamlet, the Metropolitan Museum (not to be confused with the Metropolitan Opera House), and 1040 Fifth Avenue — the building where the late Jacqueline Kennedy Onassis lived. It is 20 years after her son's death, her husband has also died, and Mrs. Gerard has unexpectedly dropped in before catching her flight to Rome for Christmas.
McNally's strong, spare writing, adroit use of silences, and Miller's acrid delivery suggest that Mrs. Gerard's rage has not abated in the two decades since her son's burial. In the 8-minute play, Katharine was amorphous and entirely silent; in Mothers and Sons she is hard-edged and articulate. "I'm not staying," she replies when Cal offers to take her coat. And, angrily, "Andre wasn't gay when he came to New York." And "Who do you think gave Andre AIDS? I would have found out who did that to Andre and killed him."
Cal, as becomes clear from McNally's carefully crafted and durable script, tended his (unfaithful) partner until he died, and then mourned him for eight years. During those years Cal left acting and learned to manage investments; he moved from Perry Street in the Village to the Upper West Side. He met and married writer Will Ogden, with whom he had a six-year-old son by a surrogate named Bud. Of course, the changes in Cal's life mirror the enormous changes that took place in American society. The AIDS epidemic (among younger circles) has become history. Two men and a stroller "still merit more than passing interest, even in Manhattan," notes Cal, but he is comfortable saying that he has a "husband," rather than a "boyfriend" or a "lover" or a"partner." As played by Bill Mootos, Cal comes off an eminently sympathetic, attractive, and intelligent survivor of a massive psychic trauma, patient beyond measure with his older ex-"mother-in-law," his much younger husband, and his energetic son.
David Gow's Will Ogden is a playful and convincing millennial husband. "Should I alert you when I'm bantering?" he asks the stiff Katharine. Behind her back he demands "What's she doing here? All these years you told me what a monster she was!" As the six-year-old Bud, Evan Miller is charming, though not always intelligible. The child's relationship with Mrs. Gerard brings out some of the character's repressed humanity.
It's unusual — and rewarding —  to see such a wide generational spread in a four-person play and director James Warwick does an excellent job bringing out the quartet's contradictory qualities and conflicts. Though McNally's script, on occasion, veers very close to being a textbook exposition of the AIDs epidemic, it remains surprisingly fresh. The themes of love, loss, and regret never lose their relevance; neither does the complicated relationship between mothers and sons.
---
Helen Epstein is the author of the memoirs Where She Came From: A Daughter's Search for her Mother's History and The Long Half-Lives of Love and Trauma, both available from Plunkett Lake Press. She has reviewed for The Arts Fuse since 2010.