The BSO seems to have taken to heart complaints about its lack of programming diversity, devoting two full programs to underrepresented groups: racial minorities and composers from south of the Rio Grande.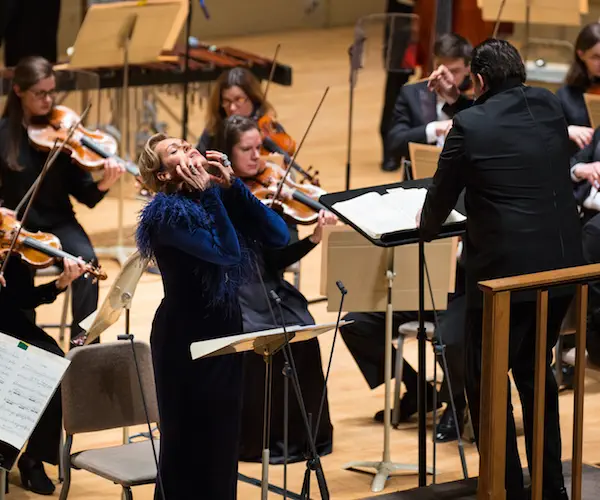 By Jonathan Blumhofer
The Boston Symphony Orchestra's (BSO) programming over the first four seasons of Andris Nelsons' directorship has been all over the place: full of healthy doses of new music and off-the-beaten-trail fare some seasons, in other ones frustratingly timid and incurious. The 2018-19 season, announced Thursday, is Nelsons' fifth and it strikes out decidedly in the former fashion.
This time around, the BSO seems to have taken to heart complaints about its lack of programming diversity, devoting two full programs to underrepresented groups: racial minorities (Adolphus Hailstork's An American Port of Call, Roberto Sierra's Concerto for Saxophones, Florence Price's "Symphonic Reflection," and Duke Ellington's A Tone Parallel to Harlem) and composers from south of the Rio Grande (Paul Desenne's El Caimán, Alberto Ginastera's Piano Concerto no. 1, and Antonio Estévez's Cantata Criolla). It also ups the number of women composers on the season schedule to six (from a paltry one this year).
Those are all good things, even if it still means that 87% of the composers the orchestra's playing are men; at least almost a quarter of them, total, are (as of this writing) still alive. Given the glacial rate of change in the orchestral landscape, that's a fact worth celebrating.
And Nelsons surely deserves some credit for it. His own concerts often lead by example. Four of the six programs he conducts in the fall (when he'll be in residence with the orchestra for more than a month, from late October to early December) feature a contemporary piece: Maija Einfelde's Lux aeterna (paired with Mahler's Resurrection Symphony), Mark-Anthony Turnage's Remembering: In Memoriam Evan Scofield, Andris Dzenitis' Mara, and H.K. Gruber's Aerial.
His winter residency, which runs all of February and into March, has its fresh quirks, too, including programs of music by Olly Wilson, Karol Szymanowski, and Copland; works by Lili Boulanger, Debussy, and Puccini (Suor Angelica); and Dvorak's Stabat Mater. He closes the season with a pair of concerts: Daniil Trifonov joins the orchestra for Rachmaninoff's Piano Concerto no. 3 (Shostakovich's Symphony no. 15 shares that bill) one week and Baiba Skride gives the world premiere of a violin-orchestra piece by Sebastian Currier the next (to be heard alongside works by Richard Strauss and Stravinsky).
In addition to the Fifteenth Symphony, Nelsons' complete-Shostakovich-symphony survey next year also tackles the First during his fall residency.
Highlights of the rest of the season include Gustavo Dudamel's two-week-long BSO subscription series debut in April, conducting music by Schumann (Symphony no. 1) and Stravinsky (Le sacre du printemps) the opening week and the first all-Latin BSO program in recent memory the next. Thomas Wilkins conducts the Hailstork-Sierra-Price-Ellington quadruple bill, which is, alas, a one-off show on March 23rd; that the orchestra couldn't see fit to make it into a full subscription series is disappointing.
In all, then, the BSO's next season looks promising. Though there's still way too much redundancy of repertoire.
Click To Tweet
Other concerts to anticipate include Garrick Ohlsson playing Rachmaninoff's Piano Concerto no. 1 in October; Sir Andrew Davis leading music by John Harbison, Mozart, and Vaughan Williams (Symphony no. 5) in January; Herbert Blomstedt's return (also that month) conducting works by Haydn and Brahms (Symphony no. 1); the world premiere of Thomas Adès' Piano Concerto (with Kirill Gerstein as soloist) in March; and Andrew Manze's BSO debut (in music by Grażyna Bacewicz, Mozart, and Mendelssohn) in April.
Other conductors appearing with the BSO next season include Hannu Lintu (in his BSO debut), Ken-David Masur, Shi-Yeon Sung (the season's lone female conductor), John Storgards (making his subscription series debut), Juanjo Mena, Adès, and Wilkins (making his subscription series debut).
In addition to the ones mentioned above, soloists with the orchestra include pianists Ingrid Fliter (playing Mendelssohn's First Concerto in January), Alessio Bax (performing Mozart's 24th, also in January), Martin Helmchen (in Mozart's 22nd, again in January), Yuja Wang (Schumann, in February), Sergio Tiempo (Ginastera, in April), and Francesco Piemontesi (Mozart 19, also in April). Truls Mork is the season's lone cello soloist (playing Haydn with Blomstedt in February), while Julian Rachlin (Mendelssohn) and Lisa Batiashvili (Szymanowski no. 1) are the season's other violinists. Hakan Hardenberger performs the Gruber in November, James Carter is the saxophonist in the Sierra, and Renee Fleming sings Richard Strauss (the last two both in March).
The Tanglewood Festival Chorus joins the BSO on four programs, singing Mahler, Bach (the Christmas Oratorio in November/December), Puccini, and Dvorak. Also making a more-than-welcome return is the Lorelei Ensemble, which joins the orchestra for Debussy's Nocturnes in February.
In all, then, the next season looks promising. Yes, there's still way too much redundancy of repertoire (Schumann's First and Beethoven's Fifth Symphonies return for the first time since…the current season; Brahms's First, Tchaikovsky's Fourth, the Enigma Variations, Schumann's Piano Concerto, and Mozart's Piano Concerto no. 24 were last heard in 2016-17; Prokofiev's Romeo and Juliet in 2015-16; and Beethoven's Fourth in 2013-14). And, where and when the BSO could make a bold statement (like with the Hailstork-Sierra-Price-Ellington concert) it proceeds with some caution.
But, with the upcoming season, the orchestra's at least taking some serious steps in the right direction. Let's hope it doesn't lunge two or three back again in 2019-20 – but that's a conversation for another time, if necessary. Until then, the next twelve months (counting a lively summer at Tanglewood) look bright.
---
Jonathan Blumhofer is a composer and violist who has been active in the greater Boston area since 2004. His music has received numerous awards and been performed by various ensembles, including the American Composers Orchestra, Kiev Philharmonic, Camerata Chicago, Xanthos Ensemble, and Juventas New Music Group. Since receiving his doctorate from Boston University in 2010, Jon has taught at Clark University, Worcester Polytechnic Institute, and online for the University of Phoenix, in addition to writing music criticism for the Worcester Telegram & Gazette.