Ada/Ava is an impressive theatrical feat that finds a new, and invigorating, way of telling a story on stage.
Ada/Ava, written and performed by Manual Cinema. Directed by Drew Dir. Score and Sound Design by Kyle Vegter and Ben Kauffman. The Manual Cinema staging presented by Arts Emerson at Emerson Paramount Center's Robert J. Orchard Stage, 559 Washington Street, Boston, MA, through January  14.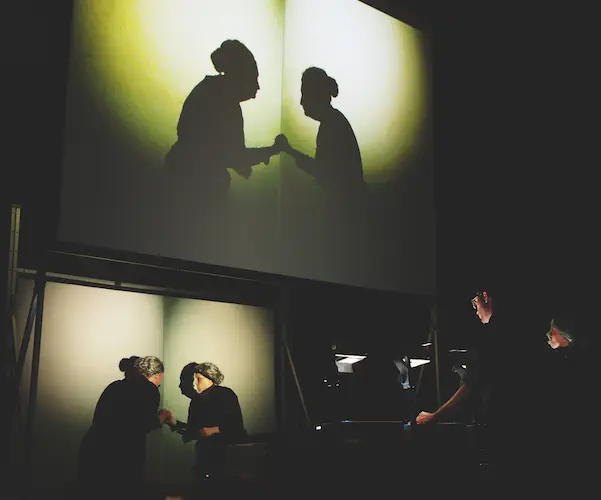 By Bill Marx
Manual Cinema's Ada/Ava kicks off Limitless Possibilities: The ArtsEmerson Multimedia Trilogy. Of course, the branding should come with a warning, and I will provide it. Yes, multimedia presents enormously exciting opportunities for the stage, but it also poses many dangers. Are technology, animation, and film being used to enhance the power of live drama? Is the machinery brought in to push living and breathing actors up front? Or are human beings being kicked to the curb? I have seen plenty of 'multimedia' stage productions in which the organic has pretty much come off as an afterthought. And shows in which video screens have been introduced in a strained attempt to make stale proceedings look 'hip.' In a visual-crazed culture that is becoming increasingly addicted to consuming its information, stories, and art through screens of various sizes, multimedia can be a hearse as well as a bandwagon.
I wanted to get that vital point out of the way, because the heartening news is that the Chicago-based Manual Cinema escapes the above pitfalls by making the men (and women) behind the technological curtain an integral part of its productions. Ada/Ava turns out to be an inspired re-invention of silent cinema/animation, as well as a refreshing modernization of the venerable art of shadow puppetry. Live musicians perform during the deft creation of a 'film' right before our eyes – the result of a dazzling number of visual layers (hundreds of shadow puppets as well as live-action silhouettes) projected (in reverse) on a screen onstage and then projected (turned around) on a large overhead screen. In truth, I am not quite sure I have described the group's creative set-up adequately – but you are invited on stage to talk to the artists after the show to discuss just how they did what they did.
What I can testify to with confidence is that the movements of the five puppeteers (Julia Miller, Lizi Breit, Drew Dir, Sam Deutsch, and Sarah Fornace) are marvelously balletic.  And that the dramatic interaction between the (mostly) black-and-white images in motion and the live performers is snappily synchronized.  Ironically, it turns out that viewing the 'film' as it is being put together (choreographed, really) provides a Brechtian sting – you see how the hocus pocus is pulled off and it only increases your enjoyment because it makes you think about the craft that is shaping the experience — as you are experiencing it.  The vim and vigor of the puppeteers' flickering hands and snapping wrists on the four projectors in front of them strengthens your admiration for Manual Cinema's quicksilver artistic strategy. For once, multimedia itself has become a powerful part of the theatrical experience (rather than being competition); the result, at least this time around, turns out to be an evening of drama that is both childlike yet strangely adult.
That said, my major reservation, at least with this particular Manual Cinema production, is that while the chiaroscuro visuals and musical score are striking, even haunting, the storyline is somewhat … thin. Set in a lighthouse that sits in a New England-inspired landscape, the narrative focuses on two aging sisters who are in charge of keeping the big lamp lit. One dies, leaving the other bereft, to the point of deep depression. The theme is plain — the struggle to adequately mourn the loss of a loved one — and Manual Cinema takes it in a genially gothic/horror direction, including a juicily dark fantasia about the return of the dead sister – with the predictable ghoulish fallout. Think Edgar Allan Poe crossed with W.W. Jacobs' great 1902 horror story "The Monkey's Paw," a masterpiece (I hope it is still read) about being careful about what you wish for. To its credit, the group doesn't conjure up a happy ending – the melancholic wind-up is reasonably New England stoic. Still, the conventionality of the narrative, in contrast to the playfulness of the shadow puppets, the dance of the puppeteers, and the startling changes in the film's visual perspectives, suggests that it is not only the possibilities of multimedia that need to be explored — we must also look for more challenging dramatic stories.
Still, Ada/Ava is an impressive theatrical feat that finds a new, and invigorating, way of telling a story on stage. Those who are interested in where theater and multimedia might be going (in a good way) should take a look. You will be reassured — the imagination has yet to be outsourced to AI.
---
Bill Marx is the editor-in-chief of The Arts Fuse. For over three decades, he has written about arts and culture for print, broadcast, and online. He has regularly reviewed theater for National Public Radio Station WBUR and The Boston Globe. He created and edited WBUR Online Arts, a cultural webzine that in 2004 won an Online Journalism Award for Specialty Journalism. In 2007 he created The Arts Fuse, an online magazine dedicated to covering arts and culture in Boston and throughout New England.