One thing the traditional Nutcracker doesn't do is funny, though it can be charming and even amusing.
Peter DiMuro's Funny Uncle Cabaret & the Bang Group's Nut/Cracked at Boston Center for the Arts, December 14 through 16.
Anthony Williams's Urban Nutcracker at John Hancock Hall, Boston, MA,  through December 28.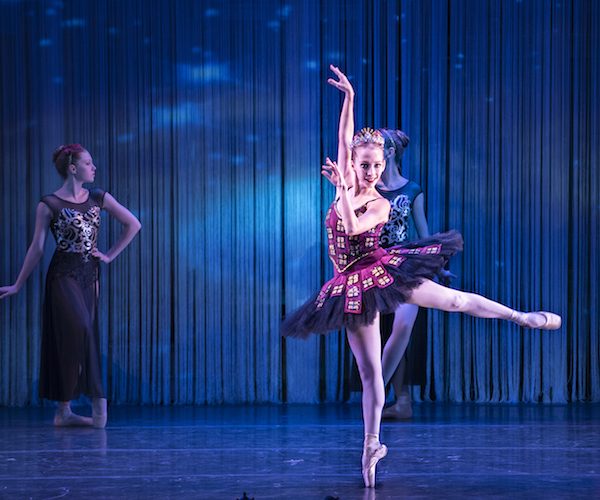 By Marcia B. Siegel
The Nutcracker can undergo any number of variations, additions and disguises without losing its basic appeal. We've had at least half a dozen major productions in town this season, not to mention countless school performances and small renditions.
Peter DiMuro only glances at the icon, introducing the Funny Uncle Cabaret with a monologue about his younger days in dance. Unexpectedly, he thinks, since he was trained as a modern dancer, he was typecast years ago as Drosselmeyer in Boston Ballet's Nutcracker when Bruce Marks was running that company. Now he considers himself the funny uncle to the company he runs at the Dance Complex in Cambridge. Following the idea of the Nutcracker as a family show, Funny Uncle Cabaret is a portable format that can absorb dancers of many ages and types. For this installment, the regulars at DiMuro's home base invited a group of youngsters from the multi-genre School of Classical Ballet, which lives in the same building as the Complex. The cast also included jazz singer Jenny Herzog and keyboardist Utsav Lal.
Thursday night, after several more or less multicultural dance-skits, they all convened for a demented dinner. Ann Brown Allen sat at the table and performed a finger-dance with two popovers speared on forks. Eventually the whole cast was wielding the cutlery to Dvorak's "Humoresque."
One thing the traditional Nutcracker doesn't do is funny, though it can be charming and even amusing. At the BCA, Funny Uncle shared an evening with the Bang Group's celebrated and ever-evolving Nut/Cracked. This dance has plenty of real dancing, sparked by choreographer David Parker's intelligent musicality and flagrant wit. Nut/Cracked had its local premiere nearly 15 years ago at Concord Academy's Summer Stages Dance, and went on to a big international success. It's become something of a franchise. Parker himself was in New York last week with some of the Bangs, performing excerpts from the Nut/ with the Gay Men's Chorus. Co-director Jeffrey Kazin carried on here with the rest of the group plus six students from Cambridge Rindge & Latin School.
Parker junked the traditional Nutcracker story but retained Tchaikovsky's score in approximately the usual order, with a few authentic symphony orchestra recordings The rest were big bands in swing arrangements, with a few tunes rendered by bell ringers or vocalists. The dancers, wearing white T-shirts, running pants and red watch caps, alternated between toe shoes and bare feet. They danced accordingly, with the help of goofy props. To begin, they streaked in and out to snatch packages from three small heaps of presents on the floor. The only Christmas tree in evidence was a toy, slyly hoisted from the midriff of guest artist Peter DiMuro, who was lying on the floor.
The show has memorable ensemble jokes. To Glenn Miller's jazzed-up "Waltz of the Flowers," Amber Sloan throws herself onto a carpet of bubble wrap, after she's worked up the audience's expectations by dancing around the edges. Later Nic Petry upstages her, dancing on his own miniature piece of bubble wrap. The group attempts the "Waltz of the Snowflakes" but they keep falling on an imaginary icy floor, escaping collisions in a riot of choreographed slides.
In a spoof of a grand ballet pas de deux, Kazin and Petry entangle each other in knots of ostentatious arm gestures leading with their thumbs. Inevitably, right on the music, they end with their thumbs in each other's mouth—only to begin a different trajectory to the same destination. Six other dancers appear and, lying on the floor in a corps de ballet formation, slowly do an arm dance with stuck-out thumbs.
Besides the clever use of balletic mannerisms, Parker inserts balletic steps and tricks throughout: pirouettes, splits, fouettés, changements of the feet during a shoulder stand, fits of sneezing when the dancers have to carry bouquets of flowers, gender-free pointe work. The dancers carry it all off heroically.
I saw another perennial holiday show, Anthony Williams's 17th edition of the Urban Nutcracker, at the John Hancock Center on Sunday afternoon with an auditorium full of children and their guardians. Williams treats the original scenario as a way of introducing "strangers" of many descriptions. The whole of his Urban Nutcracker is inhabited by insistently odd characters.
According to the original story, at a family Christmas party, one of the guests, Herr Drosselmeyer, enthralls the children with his magic tricks. He presents Clara with a nutcracker doll in the shape of a soldier. Dreaming, Clara and the Nutcracker fight a battle with marauding mice. The Nutcracker turns into a prince, who takes her off to the Kingdom of Sweets where she's entertained by dances from China, Arabia, Spain, groups of Candy Canes, Flowers. In the Urban Nutcracker, the story takes place not in a cozy European parlor and the Kingdom of Sweets but in the noisy modern city of Boston. The characters are a contemporary mix of ages and races, not only dancing together but socializing together.
Before the opening curtain, Ramiro Vaughan struts in and delivers an inspirational rap sermon. The rest of the cast appears, to introduce the main characters and dance styles: tap, hip hop, break dancing, doo wop, mime and ballet, as if they were meeting on a street under the CITGO sign. The confusion of this scene carries over into the party and beyond.
With Gianni DiMarco presiding as Drosselmeyer in a large cape of many colors, the family welcomes its guests. There's not much sense of a plot, but a few characters stand out. The mother (Erika Lambe) and her friend (Claire Johnson) hug and bicker. The friend swigs from the punch bowl. Clarice (Iris Goldson) is a polite little girl; so is her friend Samantha (Echo KIrke-Sofer). Brother Omar (Marcus Colimon), who zips around on a scooter, seems cute rather than bratty. Guests dance to Duke Ellington. Drosselmeyer gets Omar to drag in a steamer trunk, out of which he conjures doll dancers (a Raggedy Ann and Andy, Avery Saulnier de Reyes and Molly McGivern; and a soldier, Ramiro Vaughan).
After that, it all gets busier. I know I'm supposed to love the intercultural and intergenerational goings-on and the backdrops signifying Boston landmarks. These were best appreciated by the audience of parents and Tony Williams fans. I wasn't able to overlook the clumsy stagecraft and the overdetermined acting. My favorite number was the Marzipan (Molly McGivern on pointe) and her six kid apprentices bouncing on their blue polka-dotted beach balls. For the revisionist conclusion Clarice, now ensconced on the couch with her doll, is awakened by her father (Ronnie Thomas), home on furlough in his desert camouflage uniform. In this fairy tale, all is well in a land where there's no politics and everyone can dance.
---
Internationally known writer, lecturer, and teacher Marcia B. Siegel covered dance for 16 years at The Boston Phoenix. She is a contributing editor for The Hudson Review. The fourth collection of Siegel's reviews and essays, Mirrors and Scrims—The Life and Afterlife of Ballet, won the 2010 Selma Jeanne Cohen prize from the American Society for Aesthetics. Her other books include studies of Twyla Tharp, Doris Humphrey, and American choreography. From 1983 to 1996, Siegel was a member of the resident faculty of the Department of Performance Studies, Tisch School of the Arts, New York University.