What is surprising is that, along with the extraordinary power of her voice, Jamie Barton's luminous smile won me over before she sang a note.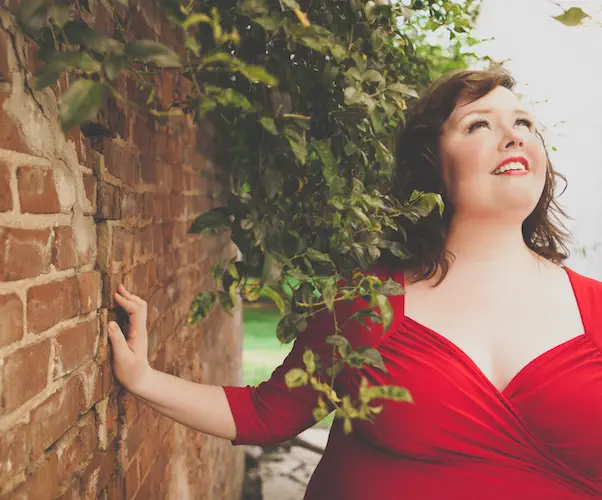 By Susan Miron
Now in its sixth year, the Celebrity Series' Debut Series has kept up a terrific batting record. I've enjoyed many of its concerts, held in the intimate Pickman Hall at Longy School of Music, happily watching musicians at the early stages of their careers, sometimes right before they are about to hit it big. Thursday night's concert, featuring mezzo-soprano Jamie Barton and pianist Kathleen Kelly, was booked three years ago, well before Barton attained stardom at New York's Metropolitan Opera. Two nights before, she co-starred in New York in a production of Norma. A few lucky people at this concert had gone there to hear her.
To say she is just another prizewinner seriously underestimates her talents. Though let it be noted that she has earned an impressive number of first prizes in major competitions — the 2015 Richard Tucker Award, two first prizes in the 2013 Cardiff Singer of the World Competition, the 2007 Metropolitan Opera Council Auditions — along with the 2017 Beverly Sills Artist Award. So, I knew this was going to be no ordinary "debut." Barton is, at the age of 36, a fixture at the Metropolitan Opera and in demand worldwide. As Peter Gelb, the Met's General Manager acknowledges, "Hopefully, there won't be a season she won't sing at the Met…. Singers who are electrifying are few and far between."
What is surprising is that, along with the extraordinary power of her voice, Barton's luminous smile won me over before she sang a note. Barton's radiant joy in performing was obvious. as was the special synergy she shared with her excellent pianist, Kathleen Kelly. The other surprising thing was the originality of the program, which included music very few in the audience had either known of or had heard. The truth is, even without Barton's keen musical intelligence – and that radiant voice – this song recital would have been worth hearing because of her wonderfully imaginative choice of music.
Songs by four women composers began the program: the first, "Heather," by Elinor Rick Warren (1900-1991), text by Marguerite Wilkinson (1883-1928) was lovely, although I had never heard of either the composer or poet. In the next song," Attente" by Lili Boulanger (1893-1918), text by Maurice Maeterlinck (1862-1918), Barton's voice opened up, becoming deeper, more lustrous, marked by a vocal majesty that characterized all of her French selections. Amy Beach's (1867-1889) "Ah, love, but a day!" (text: Robert Browning) served up a relatively unknown song by a composer who is receiving well deserved attention this year. Nadia Boulanger (1887-1979), one of the great composition teachers of the twentieth century (text by Emile Verhaeren 1855-1916), was represented by "S'il arrive jamais," which gave us an opportunity to hear the full, gorgeous power of Barton's voice.
The first half closed with a piano arrangement of Franz Haydn's (1732-1809) cantata "Arianna a Naxos."  (It's sometimes performed with a chamber orchestra.) Here Barton alternated between recitatives and arias, singing ever more imploringly "Theseus, my beloved, where are you?" Barton turns out to be quite a good actress; she expressed anger, disappointment, and heartbreak. By the time she sang "Chi tango amai s'invola, barbarous ed infidel" ("The man I loved so much flees from me, cruel and faithless.") our hearts were breaking, as well.
Barton greeted us with "Hi!" after intermission, her fabulous smile on full display. "This is the first time we're doing this in front of people!" She was palpably excited about the program because it featured women composers and poets that are important to her. Barton's next performance choice invited us see her in a more playful mood: "Love after 1950," a song cycle by American composer Libby Larsen (b. 1952). Rita Dove's poem "Boy's Lips" is deeply bluesy. "A boy's lips are soft as baby's skin, Mmm, soft as baby's skin," Barton crooned. "I think I ought to warn you that I hate blonde men before you break your heart," runs a line in "Blond Men," a strikingly sassy poem by Julie Kane (b. 1952). Other fun songs in the cycle include the honky-tonk "Big Sister Says, 1967 " and "The Empty Song," (text by Liz Lochead, born 1947) in which a woman bids adieu to the last of her Spanish shampoo, my favorite song of the evening — until the encore.
Barton had a ball with Maurice Ravel's (1875-1937) drinking song, "Chanson a` boire" from "Don Quichotte a` Dulcinée" (text by Paul Morand (1888-1976). She was amusingly mischievous at the end of the tune, proclaiming "I drink to joy! Joy is the one aim To which I go straight… When I am drunk!" At this point she cheekily descended to a very low contralto.
Two other songs ended the program: Henri Duparc's (1848-1833) peaceful "Phidylé" (poem by Leconte de Lisle, 1818-1894) and a fabulous performance of Richard Strauss's (1864-1949) "Cäcilie" (text by Heinrich Hart, 1855-1906). Listeners bounded to their feet, as they would for any deserving opera star. The singer and her pianist hugged and kissed each other, celebrating their very successful collaboration. Barton, who seems to be far from a diva, told us that the first song she ever sang was "Tender Shepherd" from Peter Pan when she was five years old. She then treated her adoring audience to another gem from the same musical, "Never, Neverland." As I listened to her sing "And that's my home where dreams are born, And time is never planned. Just think of lovely things. And your heart will fly on wings" I suspected I was enjoying the loveliest thing I'll hear this holiday season.
---
Susan Miron, a harpist, has been a book reviewer for over 20 years for a large variety of literary publications and newspapers. Her fields of expertise were East and Central European, Irish, and Israeli literature. Susan covers classical music for The Arts Fuse and The Boston Musical Intelligencer.