Dorothy Mackaill is riveting as Gilda, a wronged working woman turned prostitute in the no-options depths of Depression-era New Orleans.
Safe in Hell – Directed by William Wellman. Screening at The Harvard Film Archive on Sunday, November 19 at 5 p.m. Part of the series The Legends of William Wellman.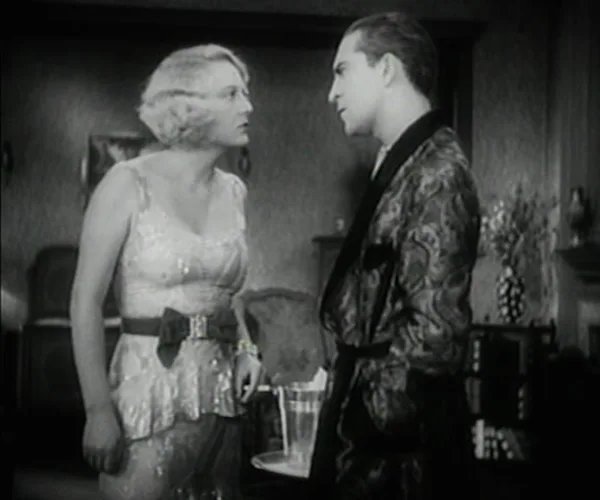 By Betsy Sherman
The Boston film community mourns the loss of Harvard Film Archive programmer David Pendleton, who passed away on November 6. We can still savor the fruits of David's hard work up on the HFA screen—though, sadly, without his warm welcome and presence at the lectern before the screenings (he had long alternated introduction duties with HFA director Haden Guest).
A signature of Pendleton's years at the archive was the auteur retrospective, a series of (sometimes complete) works by a distinctive filmmaker. Often, in displaying a director's versatility beyond the genre that he or she was known for, the series would effect a shift in audience perception of that artist. This pleasurable phenomenon is already underway in the current HFA series The Legends of William Wellman, which started in late October and ends on November 26 (just about all titles are shown on 35mm film prints, and there have been some gorgeous ones).
The Brookline-born Wellman (1896-1975) is best known for James Cagney's breakout movie The Public Enemy (1931) and the socially conscious Western The Ox-Bow Incident (1943). "Wild Bill's" experiences as a World War I aviator informed his 1927 Wings, the first winner of the Best Picture Academy Award. But he didn't only work in the manly-pursuits sphere. The series has already shown off Wellman's classic screwball comedy Nothing Sacred (1937), with Carole Lombard, and to come is his biting A Star Is Born (1937), starring Janet Gaynor. In addition, the director worked several times with Barbara Stanwyck.
For his hugely enjoyable foray into the pre-Code fallen-woman genre, Safe in Hell (1931) (screening on November 19), Wellman partnered with an actress nearly forgotten today, Dorothy Mackaill. The Yorkshire-born Mackaill retired in 1937 (in her later years as a Honolulu resident, she appeared in a couple of episodes of Hawaii Five-O). Mackaill is riveting as Gilda, a wronged working woman turned prostitute in the no-options depths of Depression-era New Orleans. Fleeing the police for a crime she commits in desperation, she's taken by her sailor boyfriend to the hell of the title, a Caribbean island whose no-extradition policy makes it a magnet for the dregs of the world.
This crackling feature opens with the languorous Gilda in her scanties, getting a call from her madam. She ventures to a hotel wearing the hardboiled armor of a dame but cracks when she finds the john is Piet, the former boss who raped her, and whose wife then blamed and badmouthed her (the actor is Ralf Harolde—never up to any good). Gilda snaps, and Piet ends up crumpled on the floor. As further sign of this woman's fury, the apartment goes up in flames.
Almost immediately afterwards, Gilda's fiancé Carl (clean-cut Donald Cook) comes back from over a year at sea, unaware of Gilda's misfortune. Mackaill's eyes take on a child-like sparkle as she envisions a clean life again—then she looks at herself in the mirror, says she can't marry him, and confesses all. Carl, a religious man who believes in redemption, hides her on his ship (in a cell that mocks her flight to freedom) and stashes her in the hotel that will be the cauldron within which the rest of the story unfolds.
From here on, the fallen woman picture combines with a sleazy buddy movie, as Gilda comes under the oppressive scrutiny of a quartet of sweaty fugitives (well, everything there is sweaty) who bust each other's balls in '30s slang as each tries to figure out a way into this reclusive woman's bed (Gilda vows to be virtuous for her husband-to-be, so stays in her room). There's some audaciously naughty staging in the hotel's theatrical set-up (the movie was adapted from a play). The landing of the hotel's second floor is visible to the ground floor, with a pair of antlers mounted just below Gilda's door, their curvy v-shape like free-standing fallopian tubes. The four deplorables line up their wicker chairs facing the landing and that door, slumped down in their seats, their laps at the ready. One night, the fever breaks, when Gilda, sick of playing solitaire, dolls herself up and descends the stairs to meet her (yuck) admirers.
Meanwhile, the island's sinister hangman, Mr. Bruno (Morgan Wallace), can't seem to decide whether he wants to get into Gilda's tap-pants or get his noose around her neck. A visitor from the States arrives to complicate matters and it looks like Mr. Bruno might get both his wishes.
If you want to be grand, you can compare Gilda to America after the Crash, having lost her innocence and her confidence, unable to see a way forward. Too worldly for the 19th-century platitudes espoused by Carl, she nevertheless recovers her dignity rather than sliding into the depravity exhibited by the amoral drifters who surround her.
Mackaill is refreshingly without affect, lending her physical sturdiness to Gilda and making us care about her as more than just a victim. A shout-out is deserved as well for two of the finest African-American performers working in Hollywood in the 1930s, Nina Mae McKinney and Clarence Muse. McKinney, as erstwhile N'Orleans gal Leonie, the hotel proprietor, exhibits some sly humor and gets to sing "Sleepytime Down South" using Louis Armstrong's inflections. Muse, as the porter Newcastle, uses a British accent and subtly communicates his character's aversion (beneath the poker face) to the nonsense going on around him.
---
Betsy Sherman has written about movies, old and new, for The Boston Globe, The Boston Phoenix, and The Improper Bostonian, among others. She holds a degree in archives management from Simmons Graduate School of Library and Information Science. When she grows up, she wants to be Barbara Stanwyck.