An Arts Fuse regular feature returns (temporarily): the arts on stamps of the world.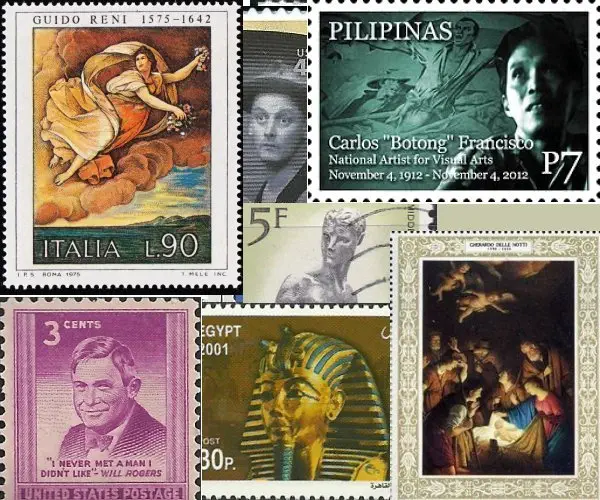 By Doug Briscoe
During last year's run of The Arts on Stamps of the World, the Arts Fuse web server went down for three days in early November, and we lost three whole days of the beloved feature. This year we make up for the oversight with Arts on Stamps of the World: The Lost Episodes. The inadvertent delay means we get to celebrate the centenary today of Art Carney, but we begin in a much earlier time.
When Guido Reni (4 November 1575 – 18 August 1642) was nine years old, he was apprenticed to the transplanted Flemish painter Denis Calvaert, who had established a studio in Reni's native Bologna. Two other apprentices who would one day be prominent painters, Francesco Albani and Domenico Zampieri (Domenichino) joined him. After a decade all three left Calvaert for his rival Ludovico Carracci, and about five or six years later, in 1601, Reni and Albani went to Rome to work for Carracci's cousin Annibale Carracci, whose birthday we celebrated just yesterday. Within a few more years, Reni would become the preferred artist of the Borghese family, in particular Camillo Borghese, who became Pope Paul V in 1605. By the time Reni returned to Bologna in 1614, his reputation was running high, and he founded his own busy and influential studio, and he would remain in his birthplace for most of the rest of his life. The earliest of the pieces I found on stamps forms the background of a souvenir sheet from Côte d'Ivoire; it is The Coronation of the Virgin (c1608). The two stamps on that sheet show Venus and Cupid (c1639) and the first of Reni's three treatments of Saint Joseph and the Christ Child, this one from about 1635, housed at the Hermitage. The recent (2013) Italian stamp next to it shows the version of c1642. (For the sake of completeness, here's the second version of 1640 housed at the Houston Museum of Fine Arts.) Beneath that is another of Reni's earlier pieces, Young Bacchus (c1615-20). The group of four stamps issued by Aitutaki gives us four details from the lovely Nativity of the Blessed Virgin Mary (c1608). In the second collage, we find Head of Christ Crowned with Thorns (c1622-23) on a 1969 Easter stamp from St Lucia, Flora, on an Italian stamp of 1975, and a Flagellation Of Christ (1640-42) on a Burundian issue. The final row is devoted to two of Reni's three representations of The Adoration of the Shepherds. The first one, on the stamp from Anguilla, is dated 1608, and the other one, made around 1640, appears on stamps of Dominica and the Central African Republic.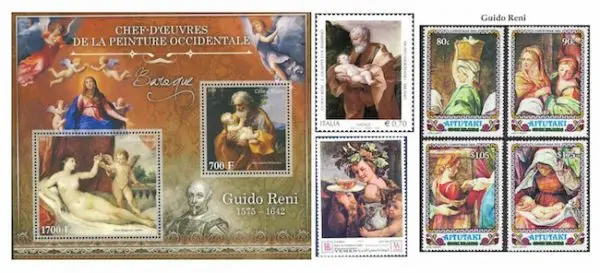 Guido Reni's younger contemporary, the Dutchman Gerard (or Gerrit) van Honthorst (4 November 1592 – 27 April 1656), is also represented on stamps by three (!) of his interpretations of the same subject. This Utrecht-born artist was also known as Gherardo delle Notti ("Gerard of the nights") on account of his tendency to portray scenes in artificial light, an example being found on the stamp from Ajman (where indeed the name Honthorst is nowhere to be seen). This Adoration of the Shepherds (1622) is also shown on a stamp from the Cook Islands. From the same year comes this version on a stamp of Guinea-Bissau. Honthorst was in Italy from 1616 to 1620. Around that year he painted another nativity, Adoration of the Child, and in the bottom row are three stamps, from Monaco, New Zealand, and the Vatican, all showing that same work. Back in Utrecht, Honthorst made good to the extent that he would eventually open a second studio in the Hague. I don't want to leave Honthorst without touching on his numerous musical pictures, and having run out of room on today's Collage #2, I spill over Honthorst-wise onto #3 with his buoyant Concert on a Balcony of 1624. Honthorst, who in 1623 was named president of the Utrecht Guild of St Luke, drew the attention of England's Charles I, at whose invitation the artist went to London in 1628. There he painted many portraits along with a huge allegory of the king and his queen as Diana and Apollo that hangs at Hampton Court. He had a brother Willem (1594-1666) who was also a portrait painter.
From the 17th century we proceed to the late 19th and early 20th, from Holland to France, and from painting to sculpture. Charles Despiau (1874 – October 30, 1946) began exhibiting his work in 1898 and was hired as Rodin's assistant in 1907. He was a co-founder, with Antoine Bourdelle, of the Salon des Tuileries in 1923. Despiau had a very successful one-man show in New York in 1927. Probably his most celebrated work is the statue Assia (1937), inspired by his muse Assia Granatouroff and seen on a stamp of Belgium.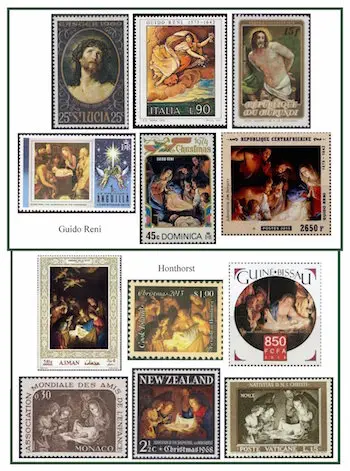 American icon Will Rogers (November 4, 1879 – August 15, 1935) was born in Indian Territory (today Oklahoma). He was about ¼ Cherokee and grew up around horses. He became adept with the lariat and went with a friend to the Pampas of Argentina to try to make a living as a rancher. That didn't work out, and on returning home he joined a circus as a trick roper. Restless, he tried Australia for a while before finding himself in New York in 1904, working in vaudeville, eventually winding up in the Ziegfeld Follies. Then Hollywood beckoned, and Rogers got work in 48 silent films, but hit his stride with the advent of the talkies, where, of course, he could employ his gift of homespun gab to best effect. This led to lectures, and lectures led to a newspaper column (Rogers wrote 4,000 of them) and radio. Rogers loved airplanes and within days of a devastating earthquake in Nicaragua he flew down to see if there was anything he could do. The American Minister in the country, Matthew E. Hanna, wrote two days later, "His visit brought cheer to this saddened community and has given new hope to the despondent. He has snapped us out of our morbidness and given us a saner spirit to carry on our work of reconstruction. We all owe him a profound debt of gratitude." Nicaragua was indeed grateful enough to issue a set of airmail stamps in 1939, eight years after the earthquake and four years after Rogers's death. In 1935, looking for material for his column, Rogers asked to accompany his friend Wiley Post on a flight to Alaska. Both men were killed instantly shortly after takeoff. Will Rogers famously said, "I never met a man I didn't like." I never found that credible. But with his genial humor I can well believe he never met a man who didn't like him.
If this feature had indeed run on November 4, 2017, we would have missed our next subject, as I didn't learn about him until later. Influenced by Matisse, Gauguin, and Cézanne, Hungarian-Jewish artist Bertalan Pór (1880 – 29 August 1964) took part in first exhibition of the Fauvist-inspired Hungarian Society of Impressionists and Naturalists in 1908. He had already given his first solo show three months earlier. In 1915 a large number of his pieces were sent to San Francisco and after the US entered World War I were stranded there, as they couldn't be returned to enemy Austria-Hungary. Pór himself served as a war artist during the conflict. He supported the short-lived Hungarian Soviet Republic, creating political posters for the movement, and was compelled to flee Hungary when it was overthrown. Pór remained an exile until 1948, having managed to escape the Holocaust in Paris. His loyalty to the Revolution was rewarded with an appointment to Hungarian Academy of Fine Arts, and in later years he was an exponent of Socialist Realism. The stamp, however, from 1980, offers his early self-portrait titled Portrait of a Man (1912).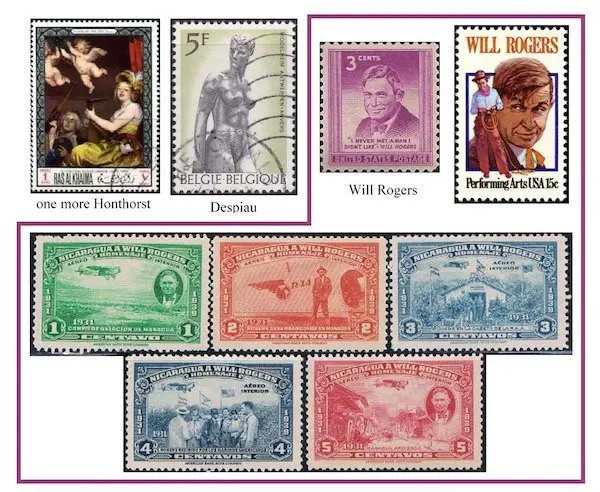 Greek stage actress Eleni Papadaki (1903 – 21 December 1944) was born in Athens in comfortable circumstances and had the opportunity to study music, philology, and phonetics at Athens Conservatory. She started acting at age 22, her debut being made in Pirandello's Six Characters in Search of an Author. For twenty years she enjoyed a highly successful career, but during the war she was accused of collaborating with the Germans and was murdered by Greek Communists at age 41. Her funeral was grand, her memory lamented.
By contrast, Croatian poet Dragutin Tadijanović (1905 – 27 June 2007) lived to be 101. His poetry first saw print when he was 16. He worked in journalism, teaching, and publishing. His poem "Balada o zaklanim ovcama" ("Ballad of Slaughtered Sheep"), composed in the 1930s, is considered a masterpiece of Croatian literature. In 1953 he became the director of the Croatian Academy of Sciences and Arts's Literary Institute, a position he held for twenty years. His works have been translated into more than twenty languages.
Walter Howard looks like an English name but this sculptor, born in Jena on 4 November 1910, was German, so it should be pronounced VAHL-ter HO-vahrt. I could find relatively little online about his life. His open opposition to fascism led to a two-year incarceration during the Third Reich. After the war he continued his studies in the Kunsthochschule Berlin-Weißensee, where he subsequently taught. He moved to Dresden in 1961, so the stamp comes from the DDR. It portrays his sculpture of politician Rudolph Duncker (1874-1960). Howard died on 9 May 2005, aged 94.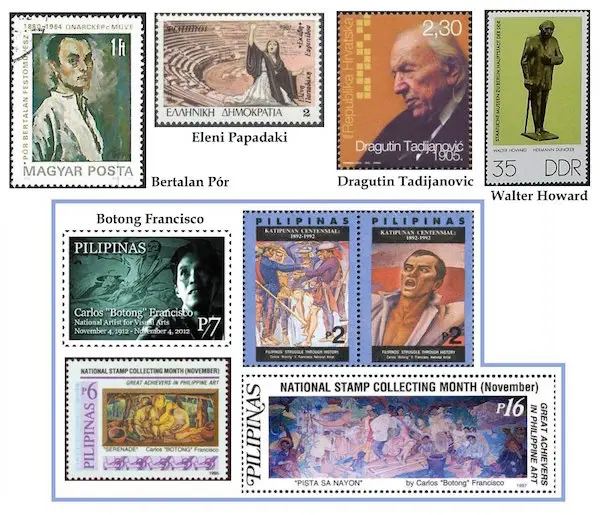 Carlos Modesto Villaluz Francisco (November 4, 1912 – March 31, 1969) was a Filipino painter of murals who was popularly known as Botong Francisco. A modernist, he was among the first to break away from the dominant romantic style of the Philippines' Fernando Amorsolo. The centennial stamp with his image gives us a glimpse of Francisco's Attack Leader, a detail of which also appears on one of a pair of stamps from 1992. The other of these shows a detail from Preparing for Battle, otherwise titled Katipunan. This was a revolutionary society founded in 1892 to overthrow Spanish rule in the Philippines. The organization's name was (quite innocently) abbreviated to KKK. The other two stamps offer Pista sa Nayon (a town festival) and Serenade (Harana, 1957). Quite apart from his original work, Francisco earns a place in the history of art for having discovered the Neolithic Angono Petroglyphs in 1965 while on an outing with a boy scout troup. He also worked in film as a costume designer. More of Francisco's work can be seen here.
Long before The Honeymooners, Art Carney (November 4, 1918 – November 9, 2003) sang and did impersonations on radio and acted in movies. He moved into television on The Morey Amsterdam Show in 1948. Two years later he worked with Jackie Gleason for the first time. Carney won six Emmys for his work as Ed Norton on The Honeymooners, but he was at the same time appearing on other TV shows, including his own (1959-60). His career had a second act in cinema after he won the Best Actor Oscar for Harry and Tonto in 1974. He remarried his first wife after divorcing his second. His final film role was a small one opposite Arnold Schwarzenegger in the parody Last Action Hero. (His dying line, "I'm outta here," is delivered to a quotation of the funeral march from Beethoven's Eroica.)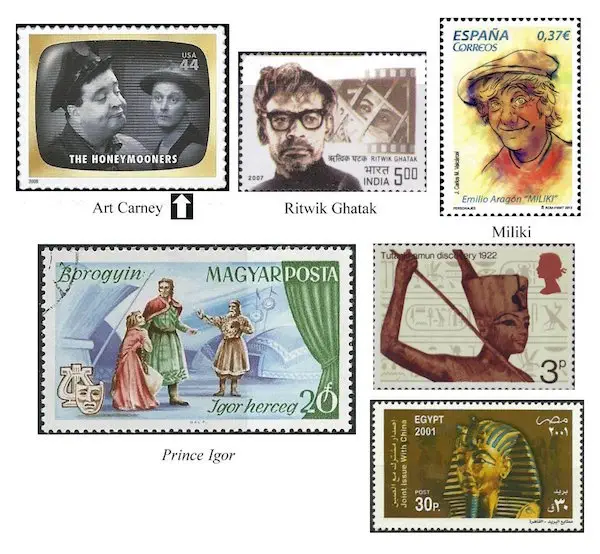 Bengali filmmaker Ritwik Ghatak (4 November 1925 – 6 February 1976) was born in Dhaka, the son of a poet and playwright. He wrote his own first play in 1948, then went on to direct and act and to translate Brecht and Gogol into Bengali. Ghatak began in cinema as an actor and assistant director in 1950 and completed his own first directorial effort, Nagarik, in 1952. He had a triumph with his screenplay for Bimal Roy's Madhumati (1958). Ritwik Ghatak himself directed eight features, always eschewing sensationalism and commercialism (songs, flashy dance numbers, melodrama, etc.). He was also a writer of many short stories, poems, and essays on film.
Throughout the entire year-long run of AoSotW, I think this is the only occasion we had to salute a famous clown. Emilio Alberto Aragón Bermúdez (4 November 1929 – 18 November 2012) was the son of a clown and a horseback acrobat, born in Seville on this date in 1929. So the circus was in his blood. The name by which he came to be known, Miliki, he adopted in childhood, when he formed a trio with his brothers. Much later he was a fixture on Spanish television with an innovative and extremely popular program that ran from 1972 to 1983. At that point he turned to music, formed a band, and recorded a number of albums with his daughter Rita Irasema. He directed a movie, Yo quiero ser torero, in 1987 and wrote a novel, La providencia, in 2008. In the meantime he returned to television as a host of children's programs with daughter Rita.
No classical music birthdays on stamps for today, but Borodin's opera Prince Igor received its world première at the Mariinsky Theatre in St. Petersburg on November 4 (23 October O.S.), 1890. The stamp comes from a set showing scenes from various operas, a 1967 Hungarian issue. Borodin's birthday is coming up on the 12th, by the way.
On this day in 1922, British archaeologist Howard Carter discovered the entrance to Tutankhamun's tomb. Fifty years later, the UK issued a stamp for the anniversary, and I also include an Egyptian King Tut stamp because it would be rude not to.
I hereby predict that there will be no American postage stamp issued for Robert Mapplethorpe (November 4, 1946 – March 9, 1989) in our lifetimes.
---
A graduate of the University of Massachusetts with a B.A. in English, Doug Briscoe worked in Boston classical music radio, at WCRB, WGBH, and WBUR, for about 25 years, beginning in 1977. He has the curious distinction of having succeeded Robert J. Lurtsema twice, first as host of WGBH's weekday morning classical music program in 1993, then as host of the weekend program when Robert J.'s health failed in 2000. Doug also wrote liner notes for several of the late Gunther Schuller's GM Recordings releases as well as program notes for the Boston Classical Orchestra. For the past few years he's been posting a Facebook "blog" of classical music on stamps of the world, and last year that project was expanded to encompass all the arts for The Arts Fuse.