Edgar Allan Poe: Buried Alive does an honorable service for the writer who embodied, as well as created, "The Imp of the Perverse."
Edgar Allan Poe: Buried Alive, written and directed by Eric Stange. Screening on PBS's American Masters on October 30 at 9. p.m. (check local listings).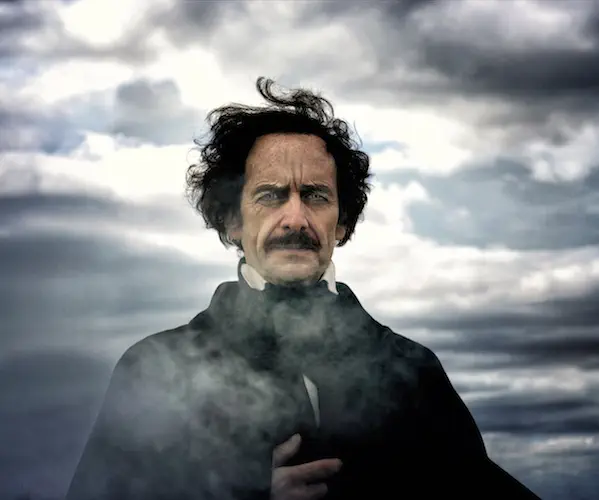 By Bill Marx
Eric Stange's documentary about the life and career of Edgar Allan Poe is valuable because it cuts against the popular image of the writer as a spooky reprobate, an alcoholic druggie mess who had a thing for self-destruction and very young women. We are given glimpses of Poe as a young athlete and competent solider, the creator of horror and detective genres, as a hard-working journalist and editor trying (and failing) to make a living in the rough-and-tumble world of American letters. He was nicknamed the 'tomahawk' critic, mercilessly fighting for high standards of evaluation at a time that makes the back-rubs and character assassination of Amazon User reviews look tame. In that period most criticism of the arts was anonymous; publishers often mailed review copies with $5 bills tucked between their pages (a respectable bribe for puffery in the 1840s and '50s) – with the promise that there would be more where that came from.
The welcome revisionism is packaged in the standard documentary format. We get readings of bits and pieces of Poe's poetry and better known tales; actor Denis O'Hare lends sturdy assistance in the role of a serenely histrionic Poe. Historical and lit-crit context comes via talking heads (mostly scholars) who tie a nice articulate bow around Poe's exceptionally knotty life. There are admirable attempts to place his writings and attitudes in the context of his tumultuous time: Poe's obsession with death reflects a time of high mortality. Stange's decision to create an overarching conflict with frenemy Rufus Griswold, whose slanderous memoir of Poe after his death did enormous damage, is fine. But it undercuts the frenzied contradictions and negativities that drove Poe. The writer believed that he was a fallen aristocrat, a noble soul martyred in an egalitarian society. He insisted, idealistically, that his honest, take-no-prisoner reviews were there to elevate American taste; yet he hated the tyrant 'Mob," proclaiming that "democracy is a very admirable form of government — for dogs."
Of course, this is PBS, so things never get out of hand. Poe the reactionary isn't around for long; there's a quick wink-and-nod reference to him as a "Southern gentleman" type. Neither is there enough of the cut-and-slash critic in the documentary, at least for me. I know mine is very much a minority taste, but because of my avid interest in American arts criticism it is Poe the reviewer (rather than the creative artist) who fascinates me the most, the man who single-handedly gave birth to a tradition of cultural dissent, a (self-indulgent) fearlessness that runs from Ambrose Bierce and H. L. Mencken to Edmund Wilson and beyond. Those interested in that neglected Poe should turn to 1963's Poe's Literary Battles by Sidney P. Moss, a juicy volume filled with the fierce jabs and counter-jabs, insulting blasts and counter-blasts of the era. Of course, Poe's militant campaign for "a free, out-spoken, and responsible criticism" brought him only poverty and defamation. Moss's final verdict: the writer was "fundamentally a literary reformer, a rather lone figure on the American scene who, wanting to maintain a high literary tradition, waged a career-long war against those commercial forces that today have become so conspicuous." Forces that have become increasingly powerful in their dedication to marginalizing quality.
My favorite critical observation in the documentary comes from Harvard University's Jill Lapore. She remarks that Poe's horror tales are a hat trick: they were penned as money-making entertainments for the masses, as parodies of horror tales, and as meditations on the nature of horror tales. Poe's reviews often have that same onion-layered quality: Is he writing for himself, as a sort of psychological exercise?, for an imaginary elite he believes he belongs to?, or for the common reader, who he often treats with disdain? The fact is, Poe was not always in control of who he thought he was writing for; for example, his admiring (and perceptive) review of a volume of Nathaniel Hawthorne short stories ends with the charge that Hawthorne stole some of his ideas for the tales … from Poe! Edgar Allan Poe: Buried Alive does an honorable service for the writer who embodied, as well as created, "The Imp of the Perverse."
---
Other screenings of Edgar Allan Poe: Buried Alive in the Boston area: Sat 11/04 at 1 p.m at the Boston Public Library (Presented in conjunction with the Boston Athenaeum. Q&A with director Eric Stange and president of the Poe Studies Association Paul Lewis and an exhibit of production photos by Liane Brando.
Thurs 11/09 at 7 p.m. Presented by Emerson College at Bright Lights screening series,
Q&A with director Eric Stange and exhibit of production photos by Liane Brandon.
Sat 11/18 at 7 p.m. at Royalston Public Library, Royalston, MA
Q&A with producer Jennifer Pearce and DP Boyd Estus, and exhibit of production photos by Liane Brandon (on display 11/13 to 12/31/17).
Wed 12/06 at 7 p.m. at the Newton Public Library, Newton, MA
Exhibit of production photos by Liane Brandon (on display 12/2 to 12/28/17).
---
Bill Marx is the editor-in-chief of The Arts Fuse. For over three decades, he has written about arts and culture for print, broadcast, and online. He has regularly reviewed theater for National Public Radio Station WBUR and The Boston Globe. He created and edited WBUR Online Arts, a cultural webzine that in 2004 won an Online Journalism Award for Specialty Journalism. In 2007 he created The Arts Fuse, an online magazine dedicated to covering arts and culture in Boston and throughout New England.