Comparisons and guesses about influence aside, poet Richard Hoffman's voice is individual, original, and strong.
Noon until Night by Richard Hoffman. Barrow Street Press, 74 pages, $16.95.
By Merrill Kaitz
There are a multitude of pleasures to be had from Richard Hoffman's new collection of poems, Noon until Night. The poems range in tone from the sunlit joys of noon to the shadows of evening and the prophetic chants of dreams. There is politics and there is philosophy in these poems, but nearly all start with and return to the close-up and personal vision that inspired them.
"Pax Humana" illustrates this sometimes stunning movement, from microscope to telescope and back. The poem begins at a party: it zooms in on a tray of hors d'oeuvres, then creeps in still closer to spy on the olives: "…green and purple and black;/ salty, sour, oily, with garlic,/ hot peppers, pimientos." Looked at closely, the olives send the poem off on a trip: "… from Greece, Sicily, Palestine,/ Israel, Syria, the Azores, Italy,/ shipped…/against the background of the news:/ who's firing rockets across whose/ borders, who's now in civil war,/ who threatens and who threatens/ retaliation…." And then the verse returns to the party: "…What peace there is,/ including the people dancing here/ in the center of the room to the song/ a captive in a strange land sings,/ arrives in one place, not another,/ with olives packed in brine or oil."
The volume opens with "Envoi from a Headland." Like Pound's "Envoi," which begins "Go dumb born book," the lines appear to instruct the book on what it should accomplish, though words could just as well be the poet instructing himself, or telling the reader what to expect: "Honor my dead/ …Speak/ in the urgent voices I am able to hear sometimes/ …let the broken/ halves be not opposed/ but angled…/ to look far down/ …at jagged rocks, the suck and/ boom, moil, hiss and foam." Envois usually come at the end, but this one serves as both an afterword and introduction. The last five monosyllables evoke what may be the hope of all poets, to capture in language the crashing tide of reality.
After the envoi, Noon until Night is divided into four parts, the second made up of the 12-page title poem. The 13 poems in part one deal mostly with domesticity: parents, childhood, and generations. Many of the poems examine the difficulty and the necessity of forgiving parents, moving on, and being a parent oneself. In "Patrimony," Hoffman observes, "A lot can go wrong, so/ he pretends to know/ what a man is, and love."
The effort is exhausting, as described in "The Wave," a fine poem that lives up to its epigraph from Yeats: "Grant me an old man's frenzy/ myself I must remake.":
… if all I haveis this one heavy life, then let me heave
it, somehow, all of it, into the future,
the way a swell becomes a wave.
Part two, as noted, contains the title poem, "Noon until Night," which is made up of four three-line stanzas on each of its dozen pages. The poem has an epigraph from Dante, in both the original and in W.S. Merwin's translation, reading in part, "…I am still in my/ first life, seeking another with this journey." Given these sources and this message, it would be hard to imagine how a poet could declare a higher ambition for the poem that follows. "Noon until Night" bears the weight of expectation gracefully — it does not fail. It would take too much space and time in this review to do the poem justice here, but a few quotations will indicate something of its tone and breadth.
The first stanza gives both the poem and the book their title:
Even were I the sun I knew that I would be afraid
from dawn to noon that I would never make it
and from noon until night that I might die…
The first section of the book explored childhood, parents, and generations, so its inviting to read the word 'sun' proffering a pun on 'son.' The colloquial "afraid… that I would never make it," followed by the speaker's confession of his fear of mortality pull the reader, at least this one, right into the journey.
The third section takes us to the heart of a problem that can be read both political and domestic: "…there are many unexamined lies bequeathed/ us all that only serve the ends of some, and it is/ even harder for the ones who benefit to see it."
In this poem, as he does throughout the book, Hoffman brings a light touch to heavy matters. A nice line is [I should] "labor to make a music that might reconcile/ the three dimensions with my foursquare heart." And the count is continued two sections later with "A fifth of whiskey a day's no way to look for anything."
Images of rain and water recur throughout the book, and none of their appearances is more satisfying than the powerful ending of the title poem:
I …close my eyes,
consent to being one ring on the river in unending rain.
A short poem in part four, called "Downpour," revisits the rain imagery. Its assonances and alliterations flow beautifully: "…It has been a long time/ since its billion bubbles rattled on/ the blackened street." "Downpour" ends with another liquid affirmation, in a way that recapitulates the conclusion of the title poem:
Now you can hear the flood below
the streets and sidewalks, power
you feel through the soles of your feet,
and I am drenched again in gladness.
Hoffman's wit is often on display in these poems. It might seem showoff-y to some, but he has much on his mind and has mastered his means of asserting it. His vision is essentially tragicomic; humor is often his way of transcending sadness and anger. A poem called "The Road" is a technical tour-de-force that succeeds on all levels.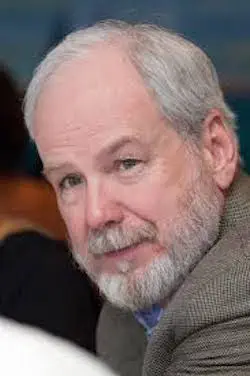 A vision of refugees, "The Road" is written in rhymed couplets, arranged in four stanzas of three couplets each; it spreads over the page as if it needed to take the form of a wandering path. The final couplet of each stanza is a perfect rhyme (in other words, a full repetition of sound, such as 'mind' and 'mined.') The result is entrancing and moving.
"The Road" opens by evoking a simple scene, in plain words: "Mothers with newborns in knotted slings,/ on their heads impossible towers of things/ the old in carts…/ are more than metaphor/ but they are also metaphor…." The scene's seriousness and horror is then compounded: "Corpses plowed under, mined/ roads and fields, the groves and orchards/ poisoned, fathers and brothers tortured,/ …it isn't much of a road, the future,/ if you don't know where/ it goes or it goes nowhere."
In addition to the poet already named (Yeats, Dante, Merwin), I thought I heard whispers of poets as disparate as Wallace Stevens, William Carlos Williams, John Hollander, and Rilke. But comparisons and guesses about influence aside, Hoffman's voice is individual, original, and strong. His poems engage with the world in the fullest sense. Struggle in its myriad forms are here, from childhood and loving to parenting, culminating in coming to grips with the social blights of homelessness and oppression.
---
Merrill Kaitz is a poet, editor, and writing consultant. He wrote The Great Boston Trivia & Fact Book and published Zeugma, A Magazine of Poems (now defunct). He is co-translator of The Silence of the Beloved, poems by Korean Buddhist monk Han Yong-un, and has reviewed novels and poetry for The Boston Globe