This staging, in terms of quality, surpasses any previous Flat Earth Theatre production I have attended.
A Bright Room Called Day by Tony Kushner. Directed by Dori A. Robinson. Presented by Flat Earth Theatre at the Mosesian Center for the Arts, Watertown, MA, through October 14.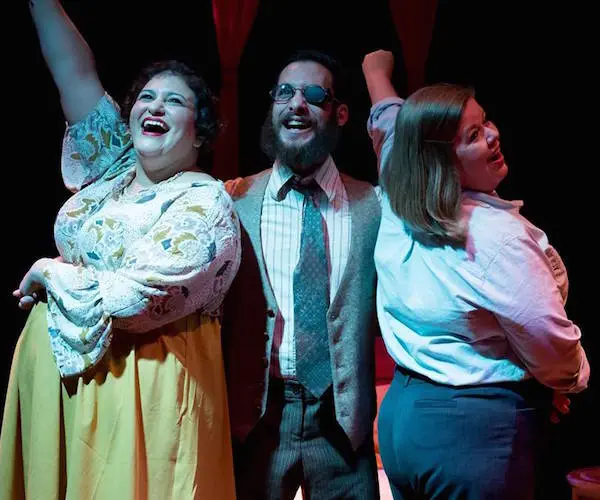 By Ian Thal
It is the '80s,and Zillah Katz (Kim Klasner), a Long Island punk rocker with two-tone hair, apologizes  to the audience that the only German she knows is "Ich bin ein Berliner"  Soon enough, projections on screens (diagonally opposed to each another in this arena-style staging) announce that we are being transported back to Berlin in 1932. A group of artists with left-wing sympathies are celebrating the new year in the flat of Agnes Eggling (Lindsay Eagle), an actress. Joining in the festivities are her lover, a one-eyed Hungarian cameraman with Trotskyite sympathies, Vealtninc Husz (Isaiah Plovnick), an openly gay sexologist Gregor Bazwald (Noah Simes), his philosophical sparring partner Annabella Gotchling (Juliet Bowler) a graphic artist and committed communist, and Paulinka Erdnuss (Nancy Finn), another actress whose glamorous career is accented by an enthusiasm for opium and psychoanalysis.
The bohemians speak with alarm about the rhetoric of the fascists, but only Gregor sees that Hitler's virulent talk is capturing the public's imagination. Artists talk about the working class, he insists; but Gregor actually has sex with the proletariat. Annabella, in contrast, takes it as an article of faith that the working class is driven by its economic concerns. For her, the Nazis are mere puppets of capital; fascism shouldn't be taken seriously because it lacks a coherent economic theory. Little does she suspect that this lack of coherence will be one of fascism's strengths.
As the Nazis gain and consolidate power over the next two years, these friends alternately become hopeful about their chances for resistance and increasingly horrified by the Nazis' gains. Meanwhile, back in the '80s,  Zillah can't help but see parallels between Hitler and Reagan. Of course, Annabelle depends on Marxism's economic and class analysis while Gregor draws on Freudian analysis of sexual repression. (Both schools of thought failed to account for Nazism; it would take the heterodox thinkers of the Frankfort School to fuse the two theoretical approaches.) Only well into the second half of the play does it even occur to any of the characters (and only one) the central role that anti-Semitism plays in Nazi ideology and policies – neither the ideologues of the Communist Party, their masters in Moscow, nor the more moderate Social Democrats had the vocabulary (or the urge) to discuss anti-Semitism.
Meanwhile, just over half-a-century later in the Reagan Era, Zillah turns out to be the worst sort of autodidact. She brags about how she reads history books, but her analysis of current events relies mostly on numerology, conspiracy theories, and a love of coincidence. By comparing and contrasting resistance in both milieux, Kushner generates a sly critique of the left. He clearly sympathizes with liberal and leftist moral outrage, but he is well aware of its tactical failures and frequent lapses into anti-intellectualism. It's a strategy that Kushner has made use of as recently as An Intelligent Homosexual's Guide to Capitalism and Socialism with a Key to the Scriptures.
By no means is A Bright Room Called Day an example of agitprop, but it is an early Kushner work and lacks the discipline and maturity of Angels in America and the plays that followed. There is an urgency here that borders on desperation: it is as if the young Kushner feared he would never be allowed to write a play ever again. But Kushner is one of the deepest thinkers working in the American theater.  Even at his most frisky and unruly, the staging and prosody remain magical. Indeed, the fledgling Kushner still has more of signficiance to tell us about morality, politics, and human tragedy than the easy-to-digest "well-crafted-plays" the American new play sector currently churns out.
Who could question the play's relevance? We have a president who believes that 'some' neo-Nazis and white-supremacists are "fine people," and draws on xenophobic, anti-Semitic, racist, Islamophobic, and transphobic symbols, buzzwords, rhetoric, and policy positions to connect to his rabid base. And then there is Trump's clear contempt for democratic institutions, including a free press and the judiciary.  Thankfully, Flat Earth Theatre is up to this play's complex challenge: the troupe displays an impressive level of technical skill, dramatic smarts, and understanding.  In fact, this staging, in terms of quality, surpasses any previous Flat Earth production I have attended.
The cast is talented, and there is an ensemble dexterity that suggests they have rehearsed together at great length and with considerable intensity. We sense a shared purpose; this is not merely a collection of skilled actors. Eagle holds the performers together in much the same way that her character Agnes tries to hold the actress's friends together as they navigate treacherous political commitments and realities. And when Agnes's friends become enveloped in their off-stage struggles, she decides to embrace political theater in order to help the cause. Ironically, she finds herself chaffing under the authoritarianism of party officials Emil Traum (Eric McGowan) and Rosa Malek (Alissa Cordeiro), who find her work lacking the requisite didacticism. The Reds are prepared to abandon Germany to the Nazis because the Comintern doesn't consider any other party to be ideologically pure enough to form a united front with (shades of the anti-Clinton left!).
Klasner's performance is particularly admirable. Her Zillah is almost solipsistically disconnected from the other characters – she doesn't even care to know their names, even if their struggles, at least in her zealous imagination, parallel her own. Extraneous characters who are an expression of Kushner's youthful indulgence, like Die Alte and Herr Gottfried Swetts, are made the most of via enchanting performances from Lizzie Milanovich and Matt Arnold.
Part of the credit for the ace ensemble work must go to director Dori A. Robinson, who has crafted performances that engage with the special demands of arena-style seating — hers is sensibility that is admirably choreographic and sculptural.
Christine A. Banna created the production's cartoon projections (not just inter-titles). These animations recall the expressionist style adopted by a number of radical left artists between the wars. (Art that was  condemned as "degenerate" by the Nazis.) Monica Giordano's sound design is an impressive collage of archival materials (one of many places where the dramaturgical work of Elizabeth Singer Goldman most likely contributed) that dramatize the ideological conflicts going on just beyond Agnes's flat in the '30s as well as in Zillah's era. Regarding the latter, the Reagan Administration's alliance with the religious right ensured that governmental response to AIDS would be anemic.
Costume designer Lila West does some fine period work for the scenes set in the '30s, paying close attention to the cuts and the textures of the period's clothing. Punk rock fans will be pleased to see that Zillah is wearing a t-shirt featuring the cover art for Discharge's 1980 EP Fight Back.
For today's milk-fed theater audiences, A Bright Room Called Day is a pretty demanding script — it has a large cast, makes disturbing historical allusions, and packs lots of intellectual depth. The play is too risky for even large, more monied, stage companies to attempt. But Flat Earth Theatre's production has more than enough dramatic charge to light up the Mosesian Center's Black Box – and to illuminate, at least for a couple of hours, the dark times we are living through today.
---
Ian Thal is a playwright, performer, and theater educator specializing in mime, commedia dell'arte, and puppetry, and has been known to act on Boston area stages from time to time, sometimes with Teatro delle Maschere. He has performed his one-man show, Arlecchino Am Ravenous, in numerous venues in Massachusetts and Rhode Island. One of his as-of-yet unproduced full-length plays was picketed by a Hamas supporter during a staged reading. He is looking for a home for his latest play, The Conversos of Venice, which is a thematic deconstruction of Shakespeare's The Merchant of Venice. Formerly the community editor at The Jewish Advocate, he blogs irregularly at the unimaginatively entitled The Journals of Ian Thal, and writes the "Nothing But Trouble" column for The Clyde Fitch Report