Arts Fuse critics select the best in film, dance, visual arts, theater, music, and author events for the coming weeks.
By The Arts Fuse Staff
Film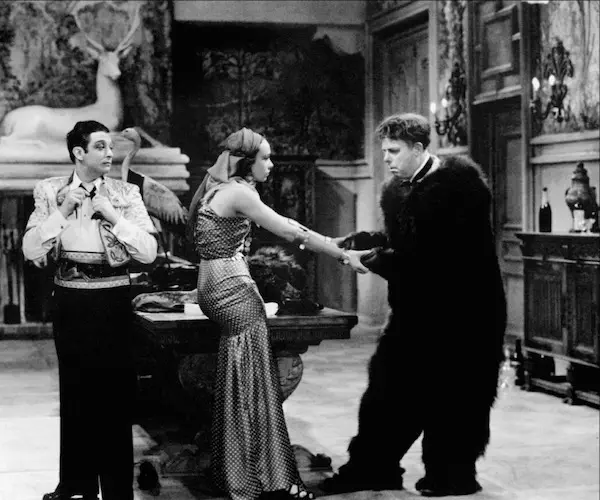 The Complete Jean Renoir
June through August
Harvard Film Archives, Cambridge, MA
The HFA presents a retrospective of works from one the masters of cinema. Arts Fuse feature.
The 22nd Annual Boston French Film Festival
Through July 30
Museum of Fine Arts, Boston, MA
This year features 17 feature films. Festival highlights include:
Frantz on Sunday, July 16, 6:30 pm and Friday, July 28, 5:30 pm
François Ozon's drama is set in Germany and France in the immediate aftermath of the First World War. Anna (a wonderful Paula Beer) is German woman whose fiancé, Frantz, was killed during trench warfare. She forms a close friendship a young French veteran who appears in town to place flowers on Frantz's grave. This is a slow burn of a film with unexpected twists and a powerful conclusion. Highly recommended. Frantz won the César Award for Best Cinematography and was nominated for eight more, including Best Film, Best Director, and Best Original Score. Arts Fuse review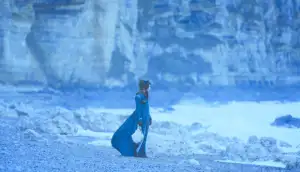 A Woman's Life on July 20 at 8 p.m. and July 21 at  3 p.m.
Adapted from the novel Une vie by Guy de Maupassant, this is a delicate portrait of a young aristocrat, Jeanne, living in 19th-century Normandy. After finishing her schooling in a convent she is compelled by her parents to marry local Viscount Julien de Lamare who soon reveals himself to be unkind and unfaithful.
Swagger on July 22 at 7 p.m. and July 30 at 4:30 p.m.
Swagger takes us inside the astonishing minds of 11 teenagers living in underprivileged housing projects in Aulnay and Sevran, France. Using a mix of genres including science fiction, musical, and teen movie, Babinet brings the words and fantasies of these extraordinary kids to life. The result is a surreal documentary that focuses on the talents and aspirations of its subjects, rather than their hardships and fears. Musician Jean-Benoît Dunckel, half of the electronica duo Air, provides a dreamy soundtrack. Swagger was nominated for Best Documentary prize at the 2017 César Awards.
Tomorrow at July 23 at 7 p.m. and July 29 at 2 p.m.
Mélanie Laurent (director of Breathe, and lead actress in Inglourious Basterds) teamed up with author and environmental activist Cyril Dion to create this uplifting film about climate change that focuses on solutions rather than problems.
Slack Bay on July 27 at 5:30 p.m. and July 28 at 8 p.m.
From the mind of Bruno Dumont (Li'l Quinquin) comes a beautiful, pitch-black comedy about cannibalism and class warfare in an idyllic seaside village, starring Fabrice Luchini, Juliette Binoche, Valeria and Bruni Tedeschi. Slack Bay becomes both magical and gruesome—but the brilliant slapstick never stops.
The Midwife on July 29 at  7 p.m.
Catherine Deneuve gives one of her best performances as a brassy, boozing free spirit in the comedy-drama by Martin Provost (Seraphine).
Closing Night: The Odyssey on July 30 at 7 p.m.
Jérôme Salle's biopic takes a clear-eyed look at the famed explorer, admiring his ambition and magnetism while probing the darker side of his obsessive nature. Crystalline underwater cinematography and sun-drenched shots of Cousteau's boat, the Calypso, set the stage for strong performances. With Lambert Wilson (Of Gods and Men) and Audrey Tautou.
Complete lineup: mfa.org/film
McCabe & Mrs. Miller
July 17 at 7 p.m.
Coolidge Corner Theater, Brookline, MA
A tribute to the late Boston film critic Jay Carr that features a viewing of Robert Altman's anti-western masterpiece on the big screen. There will be a special introduction from Tom Meek, president of the Boston Society of Film Critics.
Back to the Future
July 18, Sunset (Rain date: July 19)
Rose Kennedy Greenway, Boston, MA
Coolidge at the Greenway presents family-friendly movies under the stars. Introduce the kids (or revisit your youth) as Dr. Emmett Brown makes a plutonium powered time-machine out of a DeLorean.
Darna The Wonder Woman of the Philippines
July 21 at 8 p.m.
The Somerville Theatre (Micro Cinema), Somerville, MA
From the event page: "Channel Zero returns, presenting a US Debut! For over fifty years in comics, movies, and TV programs, Darna has been that nation's favorite local superheroine! See our heroine's struggle with her archenemy Valentina, a supernatural Medusa bent on taking over The Philippines via a bizarre religious cult! Plus a few surprises in the unique Channel Zero Style! Long Before Gal Gadot & Lynda Carter, there was…DARNA!" (Presented in Tagalog Language, Subtitled in English.)
Woods Hole Film Festival
Woods Hole, Cape Cod, MA
July 29 through August 5
The 26th Annual Woods Hole Festival boasts a provocative line-up of entries this year. The festival emphasizes movies from emerging and New England filmmakers, with an accent on the work of independent filmmakers who have a relationship to Cape Cod or whose films are relevant to or enhance the quality of life on Cape Cod. The week is filled with guests, panels, and parties. Full Schedule
— Tim Jackson
---
Visual Arts
No Rules: Helen Frankenthaler Woodcuts
Through Sept 24
Manton Research Center, Clark Art Institute, 225 South Street, Williamstown, MA
"There are no rules, that is one thing I say about every medium, every picture… that is how art is born, that is how breakthroughs happen. Go against the rules or ignore the rules, that is what invention is about"– Helen Frankenthaler in a 1994 interview with master printer Ken Tyler. Collaborating with woodcutters and papermakers outside of her studio, she mastered a traditionally graphic, rigid medium to the point that she could create luminous images of abstracted beauty. In tandem with As in Nature: Helen Frankenthaler's Paintings, an exhibit that explores nature in her paintings, Clark Institute will display 17 of the artist's large scale prints on loan from the Helen Frankenthaler Foundation and Williams College.
Memory Unearthed – The Lodz Ghetto Photographs of Henryk Ross
Through July 30
Linde Family Wing for Contemporary Art, Museum of Fine Arts, Boston, MA
"I buried my negatives in the ground in order that there should be some record of our tragedy."  Confined to the Lodz Ghetto in 1940, Henryk Ross was forced to work as a photographer taking photos for identification cards and Nazi propaganda. Placing himself in great peril, he secretly documented the brutality of daily life, providing a provocative, chillingly intimate record of Nazi rule, which would lead to the deportation of thousands to death camps at Chelmno and Auschwitz. In 1944, Henryk buried negatives for upwards to 6000 photographs — over half have been preserved. In this crucial exhibition, the MFA has displayed 200 of these black and white photographs, giving viewers intimate looks into the horrors of history.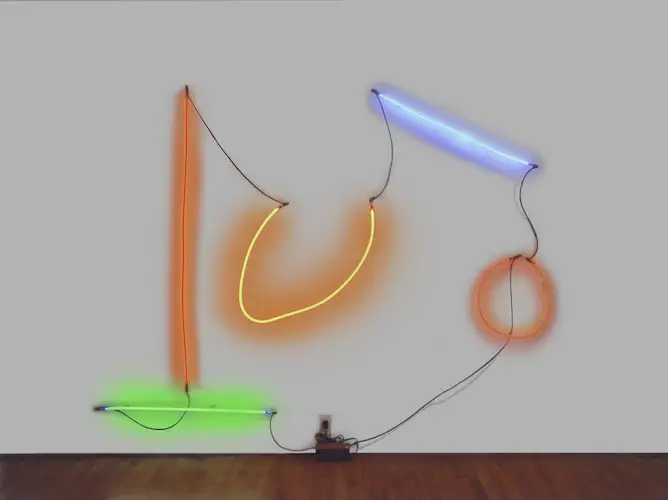 Keith Sonnier – Three Neons/ Three Decades
Through October 8
Wadsworth Atheneum Museum, 600 Main St, Hartford, CT
A trailblazer (for over five decades) in the use of industrial neon as a medium for art, Keith Sonnier  has continuously  experimented with illuminated color. The three works on exhibit showcase three decades of his evolving practice. Expanded Sel IV (1979) plays with neon as signage — not in its traditional form, but as a means to serve up artificial blazes of colored luminance that replicate the strokes of Sel Chinese calligraphy.
Shih Chieh Huang – Reusable Universes
Through November 12
Worcester Art Museum, 55 Salisbury St, Worcester, MA
Taiwanese artist Shih Chieh Huang left the confines of his Brooklyn studio to make use of the Worcester Art Musuem's 18-foot ceilings. The result is his most ambitious improvisational show to date — it is made of over 100 moving parts. He draws on contemporary industrial materials: LED lights, mass produced computer fans, and plastics. The exhibition's robotic, alien-like creations serve as startling bridges between art and technology.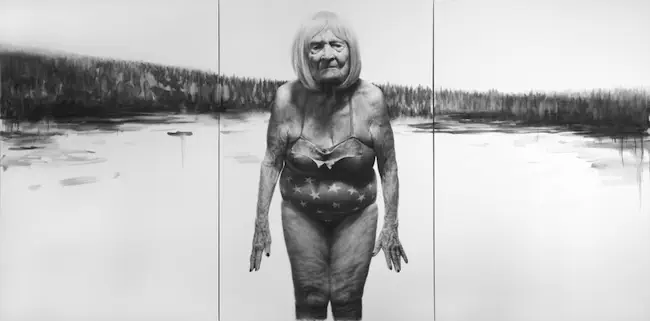 Somewhere: Jason Bard Yarmosky
Through September 2
University of Maine Museum of Art, 40 Harlow St, Bangor, ME
"These large scale portraits study expressions of dementia, confronting the viewer with psychological vulnerability. They respond to the loss of control and the subconscious mind, speaking to a dream-like state – a place intangible to those not experiencing it."- Brooklyn based artist, Jason Bard Yarmosky. The meticulously rendered oil paintings are accompanied by graphite drawings, photographs, and video. The work boldly addresses the universal fear of getting older and comments on art history's negligence to feature the aging. The focal point of the exhibit, a triptych, Wintered Fields (2015), depicts his grandmother poised for action in a 'Wonder Woman-esque' leotard, and superimposed over a gesturally rendered winter field.
Nick Cave – Until
Through August 31
Mass Moca, 1040 Mass Moca Way, North Adams, MA
Entering into this almost football-field-sized utopia, one walks through a ceiling to floor cascade of glistening metallic wind toys, to approach a towering centerpiece of blackface lawn jockeys, and deconstructed chandeliers. "I had been thinking about gun violence and racism colliding," Mr. Cave said. "And then I wondered: Is there racism in heaven? That's how this piece came about." Famous for his wearable sculptures (known as "sound suits"), the artist shocks all with this immersive breathtaking exhibition. It's his largest installation to date, and, sadly, coming down in August.
The Nude in Print
Through August 20
Childs Gallery, 169 Newbury St, Boston, MA
An exhibition on 20th and early 21st century prints of the nude draws well-deserved acclaim to this established gallery located in Boston's Back Bay. The show features work of an edgy modernist twist as well as softer classical depictions. The techniques span from etching and mezzotint to wood graving and lithography. Anders Zorn, Swedish (1860-1920), The Swan, 1915, depicts a softly etched angelic view of a nude woman with the wrappings of her towel emulating folded white wings, while the wood engraving of Rockwell Kent, American (1882-1971), The Lovers, 1928, consists of strong lines and a darker, more provocative, Symbolist-inspired portrayal of an abstracted couple lying outdoors entangled next to one another.
Julie Blackmon – The Everyday Fantastic
Through August 27
Hood Museum of Art, Hood Downtown Exhibition Space, 53 Main Street, Hanover, NH
While Dartmouth's Hood Museum of Art undergoes new construction, the summer exhibitions have been moved to their alternative space downtown. This one features work from Missouri-born-and-raised Julie Blackmon's most recent, and ongoing, series, Homegrown—"a title both revealing and appropriate to the images." The major American photographer's images stage the possibility for darker narratives percolating beneath the unsuspecting locales of suburban family barbecues and garage sales. Her richly detailed mise-en-scènes are inhabited by children busy in their own imaginative worlds of invention. The photographs invite viewers to investigate the all too often overlooked emotional complexities of everyday life.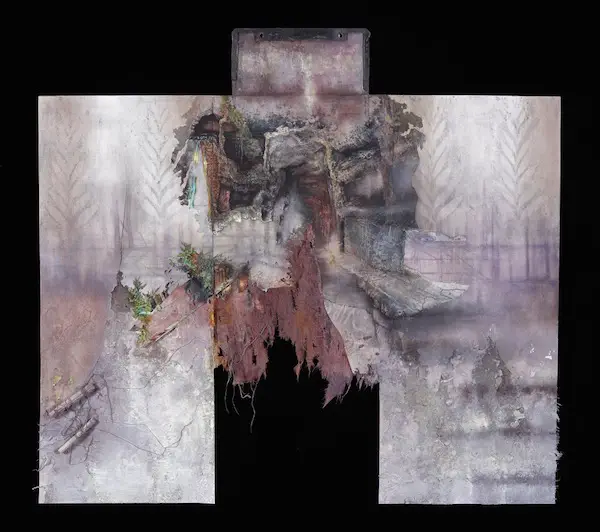 Thomas Lyon Mills
Through August 18
Rafius Fane Gallery, 460C Harrison Ave, Boston, MA
For over twenty five years, Thomas Mills has begun his paintings in the Italian catacombs. Then he returns to his Rhode Island studio to color and re-interpret the images, often with elements of his own dreams. So where is his work located? According to the artist  "… where the visible and the invisible meet, where the observed and the intuitive lie side by side, and where the seen pays a constant debt to the unseen." In his art, worlds dissolve into each another; he makes us of oil, acrylic, conté crayons, pieces of paper, watercolor, charcoal, and glass eyes. Mills's mystical images also feature miniature object; he replaces trees and stumps with old tools and bones.
Nari Ward: Sun Splashed
Through September 4
West Gallery, Institute of Contemporary Art, 25 Harbor Shore Drive, Boston, MA
"My work isn't about abstract society, but is about making us all aware of our role in authoring that society. We are all creators rather than passive receivers." The Jamaican-born, Harlem-adopted rising star presents the largest collection of his work to date, inspired by the Street, the Sky, and the Sun. In the making of these awe-inspiring large-scale installations, he actively engages with local sites, creating from the most unexpected of materials. We The People, 2011, made of dangling colorful shoelaces and installed with the help of the ICA Teens, reinvigorates and personalizes the sleepy text of American history with community and learning.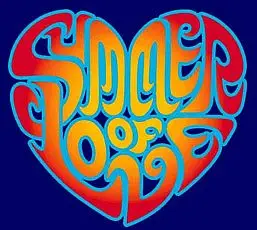 The Summer of Love – Photography and Graphic Design
Through October 22
Edward and Nancy Roberts Family Gallery, Museum of Fine Arts, Boston, MA
In the easy, breezy spirit of summer — and its efforts to expand its programming to a wider audience — the MFA celebrates the 50th anniversary of the birth of the counter culture in San Francisco, when over 100,000 people came together to wear flowers in their hair. On display is a psychedelic explosion of over 120 posters, album covers. and photographs. As drug guru Timothy Leary famously stated: "Turn on, tune in, and drop out." Repression begone! One of the byproducts of freedom was the formation of a new experimental genre of graphic design. At the heart of the exhibition are 32 of Herb Greene's famed photographs of the scene's iconic musicians, The Grateful Dead and Jefferson Airplane, among them.
Listen Hear: The Art of Sound
Through September 5
Isabella Stewart Gardner Museum, 25 Evans Way, Boston, MA
Sound was of profound importance to Isabella Stewart Gardner, who supported musicians and composers and organized frequent musical performances for her friends. Celebrating how sound interacts with space, this group exhibition of seven works has been installed throughout the museum and its contemporary wing, including two off-site pieces of public art at a nearby park and at the Ruggles T station. The Gardner's breathtaking courtyard hosts a charming highlight — a light-hearted installation (Lee Mingwei's Small Conversations) that fills the air with the chirps and whirrs of imagined fauna.
82nd Regional Exhibition of Art & Craft
Through September 3
Fitchburg Art Museum, 185 Elm St, Fitchburg, MA
One of the longest standing juried shows in New England. The aim is to highlight, celebrate, and discover regional talent: skilled local artists are given the opportunity to build new connections through museum exposure. The line-up  — 87 artworks by 67 artists from 41 towns – was juried this year by Leonie Bradbury, the Director of Art and Creative Initiatives for HUBweek. First prize was awarded to Lynda Schlosberg's energetic painting A Messy Cloud of Probability; she will receive a solo exhibition during the 83rd Regional Exhibition. A solo show (Hyper Real Estates) from last year's winner, contemporary photographer Joe Landry, is currently on view.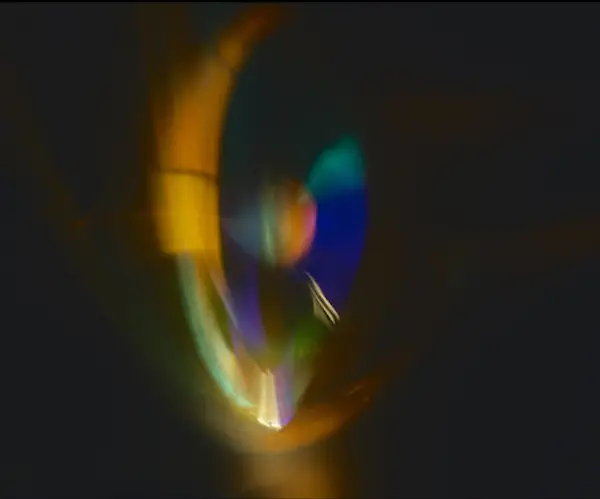 Lumia: Thomas Wilfred and the Art of Light
Through July 23
Yale University Art Gallery, New Haven, Connecticut
This show restores an ingenious light artist to his rightful place in the history of modern art. It shouldn't be missed before it travels to Washington D.C.'s Smithsonian American Art Museum. Thomas Wilfred's retrospective in 1971 at the Corcoran Gallery of Art and MoMA made a splash, but it has largely subsided; surprisingly, his work is still widely neglected. He more than earns his international reputation as a radical innovator who fused modern art with technology. His sculptures (a body of work he collectively called 'lumia') are projections — brilliantly colored kinetic abstractions of light. His mesmerizing compositions, made up of shifting forms colored from a vibrant palette, resemble the aurora borealis performing its transformative dance across the black night sky. Arts Fuse review
Space
Through July 28
Barbara Krakow Gallery, 10 Newbury St, Boston, MA
The current show examines relationships among formalism, psychology, and architecture. Disorienting works from several internationally renowned artists are featured, including a creation of one of my personal favorites, Kiki Smith. Her work Under the Weather intertwines multiple dimensions, making use of dramatic lighting to create shifting perspectives within a digital collage of photographs. Some of the images document a woman lying under her bed, others spotlight a small scale sculpture of an interior space. In this presentation, Kiki asks viewers to question the power of imagery — how do they know that what is real is real?
— Aimee Cotnoir
---
Dance
Boston // Tracks // Where will dance take you?
July 16
Green Street Studios, Cambridge, MA
Tracks // Where will dance take you? provides select artists an opportunity to grow beyond their home cities. The initiative debuted in January 2017 during the Association of Performing Arts Presenters (APAP) conference in NYC and now tours to Pittsburgh, Boston, and Lehigh Valley, PA. This event features four showcases, special classes, and artist talk-backs, all open to the public.
REACH!
Wednesday, July 19, 7-9 p.m. (Rain date: July 26)
Bishop Allen Drive Lot #5 (behind H-Mart), Cambridge, MA
REACH!'s intergenerational dance company presents an energetic and free outdoor performance, showcasing the diversity of their training as well as their personal and cultural backgrounds. The performance highlights the program's 15 teens hailing from neighborhoods both urban and suburban, including Cambridge, Dorchester, Hyde Park, Winchester, Needham, and Sudbury.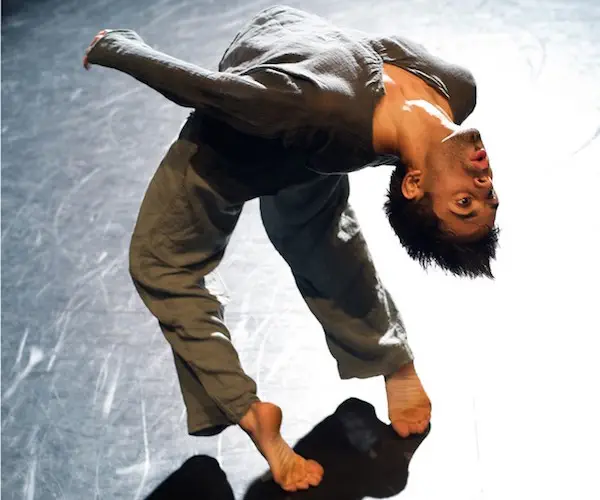 Aakash Odedra
July 19 through 23
Doris Duke Theatre, Jacob's Pillow Festival
Becket, MA
British artist Aakash Odedra makes his Pillow debut with the solo performance piece Rising. It features choreography by Odedra, as well as collaboration with such acclaimed international artists as Akram Khan, Sidi Larbi Cherkaoui, and Russell Maliphant. With roots in the classical Indian dance styles of Kathak and Bharatnatyam, Odedra's contemporary movement style has been described as "simply breathtaking" (The Globe and Mail).
River Spirits
July 28 & 29 at 7:30 p.m.
ArtSpace Gallery
Maynard, MA
Pamela Newton presents River Spirits, a free public performance by the Dreamscape Collaborative at the versatile Artspace Gallery in Maynard. Be sure to arrive early to catch opener singer/songwriter Sasha Milan, who will play original music at 7:05 p.m.
Beantown Tapfest
Master Classes: July 31 through August 6
Deborah Mason School of Dance, Somerville, MA
Performances: August 4 at 6 p.m. & 8:30 p.m.
Boston University Dance Theater, Boston, MA
Julia On Tap brings the eighth year of the Beantown Tapfest back to Somerville. This annual festival highlights tap's finest, with master classes taught by renowned dancers from Boston to Belgium. Not a dancer, but love tap? Attend one of the two culminating performances on Friday, August 4, which showcases the talents of the festival's impressive faculty.
And further afield…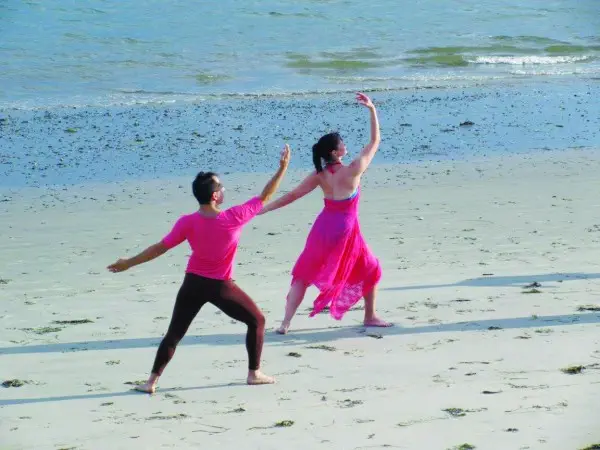 Forty Steps Dance
July 29 at 5 p.m.
Red Rock Park
Lynn, MA
Forty Steps Dance—one of the North Shore's leading modern dance companies—performs new site-specific work — that is inspired by trees and set to live music — outdoors at Red Rock Park. Viewers are encouraged to picnic on the grounds during this 40-minute performance. Rain or shine.
— Merli V. Guerra
---
Rock, Pop, and Folk
Ultimate Painting with John Andrews & the Yawns and Hands and Knees
July 21 (doors at 7)
Sonia, Cambridge, MA
With or without fresh material to display, Ultimate Painting is always welcome in Boston area as far as I'm concerned. Although the duo is without newly released songs this time around, they are playing at the recently opened Sonia, which occupies the space that was formerly T.T. the Bear's Place. John Andrews & the Yawns will continue is stellar streak of opening gigs and Boston's Hands and Knees will kick things off.
Spoon and The New Pornographers
July 21 (show at 8)
Blue Hills Bank Pavilion, Boston, MA
Two of the most popular, critically acclaimed, and consistent indie bands of the past three decades have teamed up for what will undoubtedly be one of the most entertaining double bills of the 2017. All in attendance at Blue Hills Bank Pavilion on Friday automatically get to claim than they had an awesome weekend when asked about it on Monday.
Kendrick Lamar with Travis Scott
July 22 (show at 7:30)
TD Garden, Boston, MA
Kendrick Lamar has the best-reviewed new album of 2017—DAMN., which also topped the Billboard Top 200—and enough cred among fans and critics to make him unstoppable. Therefore, he certainly does not need me to help him sell tickets for his July 22 show at TD Garden. However, I mention it so that I won't have to live with the shame that would accompany my having ignored what will surely be one of the most significant concerts of the summer (and possibly the year).
Diana Ross
July 27 (show at 8)
Blue Hills Bank Pavilion, Boston, MA
No introduction necessary. Diana Ross is the supreme (wink) voice behind many of the 20th century's indispensable songs. It's a shame that she probably won't be able to sing each and every one of them when she visits Boston on July 27. Disappointment in her overall performance, however, seems to be the least likely of all possible scenarios.
Belle & Sebastian and Andrew Bird
August 2 (show at 7)
Blue Hills Bank Pavilion, Boston, MA
Obsessed—for whatever reason—with classic rock as a 90s teenager, I didn't get around to Scotland's Belle & Sebastian until the release of Dear Catastrophe Waitress in 2003. This album instantly made me a fan, so playing catch-up with their previous records and being present at the unveiling of 2006's The Life Pursuit was a pure delight. I am less familiar with the group's 2010 and 2015 releases, but I am confident that their having Andrew Bird along for the ride will make this bill every bit as good as the one at the same venue on July 21.
The Shins with Tennis
August 2 (doors at 7, show at 8)
House of Blues, Boston, MA
The Shins appear more frequently on my list of the best albums of the aughts than do any other band. Fourteen years after its release, I still stand by my claim that Chutes Too Narrow (click for my Amazon.com review) is #1 album of that decade. 2012's Port of Morrow and this year's Heartworms don't measure up to the "old" stuff, but they indicate singer-songwriter James Mercer's willingness to eschew the path of least resistance. The Shins at House of Blues and Belle & Sebastian at Blue Hills Bank Pavilion on the same night is rather unfortunate, but I would be happy to awake from sedation and find myself at either. (Openers Tennis have been headliners in their own right, and are worth getting there in time to see.)
Other upcoming shows include Ride with Froth at Royale (July 19), The Alarm with Goddamn Draculas and Big City Rockers at ONCE Ballroom (July 21), and Blondie and Garbage at Blue Hills Bank Pavilion (July 30).
— Blake Maddux
---
Theater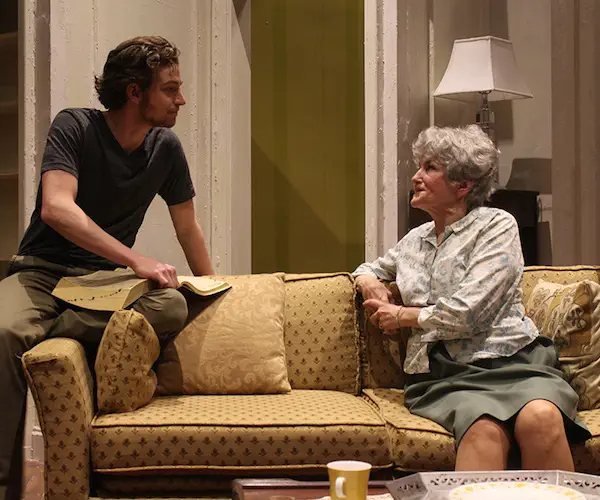 4000 Miles by Amy Herzog. Directed by Nicole Ricciardi. Staged by Shakespeare and Company at the Elayne P. Bernstein Theatre, Lenox, MA, through July 16.
"This Pulitzer Prize finalist and Winner of the 2012 Obie Award for Best New Play explores growing up, growing old and the moments in between." The cast includes Annette Miller and Gregory Bower. Arts Fuse review
Blood on the Snow by Patrick Gabridge. Directed by Courtney O'Connor. Staged by The Bostonian Society at the Old State House, 206 Washington Street, Boston, MA, through August 20.
Historical drama with a kick. Gabridge's play "dramatizes the events immediately following the infamous Boston Massacre and is staged in the Council Chamber of the Old State House, the very room where the discussion took place nearly 250 years ago. This site-specific play sold out its critically-acclaimed World Premiere in the spring of 2016." This is an opportunity to catch an encore presentation.
Dusty and the Big Bad World by Cusi Cram. Directed by MJ Bruder Munafo. At the Vineyard Playhouse, 24 Church Street, Vineyard Haven, MA, through July 29.
This could be interesting: "Based on a 2005 scandal in the world of children's television known as 'Bustergate,'" the script is "a darkly funny, no-holds-barred yet even-handed look at PBS, government censorship, gay marriage, and what it takes to ultimately step up and fight for what you believe in."
The Roommate by Jen Silverman. Directed by Mike Donahue. Staged by Williamstown Theatre Festival in its Main Stage, Williamstown, MA, through July 16.
It is billed as "a comedy about self-discovery." "Empty-nested and alone in her Midwestern home, Sharon (S. Epatha Merkerson) takes on a roommate, Robyn (Jane Kaczmarek), who has just arrived from New York City. Before she has even unpacked, Robyn challenges everything about Sharon's way of life. Book clubs, 80s pop music, and the occasional shared toke complicate their unlikely but enduring relationship, even as they venture into dangerous territory."
Where Storms Are Born by Harrison David Rivers. Staged by the Williamstown Theatre Festival on the Nikos Stage, Williamstown, MA, through July 23.
The world premiere of a drama by a 2016 WTF Playwright-in-Residence: "With wit and empathy, this play reminds us of the courage and resilience it takes to chart a better way forward for the ones we love."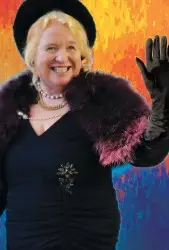 The Visit by Friedrich Dürrenmatt. Directed by Danielle Fauteux Jacques. Staged by Apollinaire Theatre Company/Apollinaire in the Park 2017 at PORT Park, 99 Marginal St., Chelsea, MA, through July 30.
An apt time for a revival of this scathing play about social breakup by a grievously neglected master of the tragicomic. A marvelous tale of greed, revenge, sex, and anarchy — diabolically engineered by a member of the 1%. Ann Carpenter stars.
A Midsummer Night's Dream by William Shakespeare. Directed by Jonathan Croy. Staged by Shakespeare & Company's Northeast Regional Education Tour and Riotous Youth Faculty at The Dell at The Mount, 2 Plunkett Street, Lenox, MA, through August 19.
"In this 40th Anniversary Season, this production brings Shakespeare & Company back to where it all began, honoring the company's inaugural production of A Midsummer Night's Dream at The Mount in 1978."
Cymbeline by William Shakespeare. Directed by Tina Packer. Staged by Shakespeare & Company at the Tina Packer Playhouse, Lenox, MA, July 4 through August 6.
The first time that the Bard's wild, wonderful, and wooly trip has been presented on Shakespeare & Company's Main Stage. The script is in good hands: Tamara Hickey and Jonathan Epstein head the cast, while veteran Tina Packer is at the helm.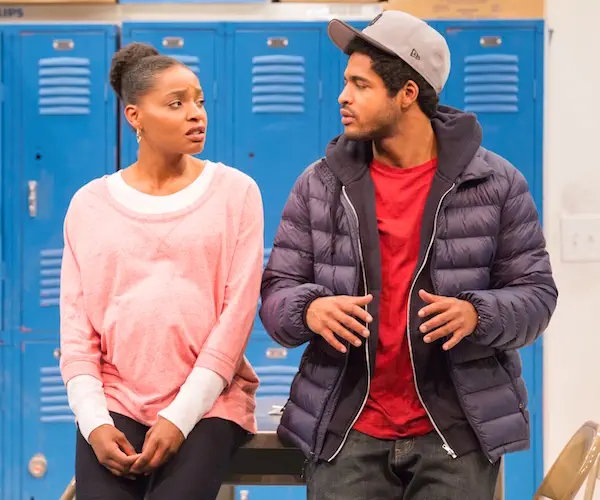 Skeleton Crew by Dominique Morisseau. Directed by Awoye Timpo. Staged by the Chester Theatre Company at the Town Hall, Chester, MA, through July 23.
The New England premiere of play that is "in the spirit of August Wilson's Pittsburgh Cycle." This is "the third play from Dominique Morisseau's Detroit Trilogy, which explores the hard choices facing Americans barely squeezing by." A play that deals with economic inequality? A rarity, so it may be worth a look, if only to see how far it dares to go. Arts Fuse review
Constellations by Nick Payne. Directed by Gus Raikkonen. Staged by the Peterborough Players, 55 Hadley Road, Peterborough, NH, through July 16.
"Science and romance collide in this unusual love story," which is receiving its New Hampshire premiere. "A spellbinding journey begins with a simple encounter between a man and a woman: Marianne and Roland. Their relationship then unfolds across time and space, defying the boundaries of the world we think we know, delving into the infinite possibilities of their relationship and raising questions about the difference between choice and destiny."
Waiting for Waiting for Godot by Dave Hanson. Directed by Paula Plum. Staged by the Hub Theatre Company at Club Cafe, 209 Columbus Ave., Boston, MA, through July 29.
Sounds like an amusing spoof/homage to Samuel Beckett. (Or could it be about Trump's cabinet?) "Hapless yet devoted understudies Ester and Val ponder art, life and theatre while they wait backstage, certain that one day their big break will come. Will tonight be their night? This madcap, laugh-filled love letter to theatre and hysterical homage to Samuel Beckett's classic drama makes its Boston debut after critically acclaimed runs in both New York and London."
American Moor, written and performed by Keith Hamilton Cobb. Directed by Kim Weild. Presented by O.WI. (Bureau of Theatre) at the Plaza Theatre, Boston Center for the Arts, Boston, MA, July 19 through August 19.
The one-man show "examines the experience and perspective of black men in America through the metaphor of William Shakespeare's character, Othello."
Romeo and Juliet by William Shakespeare. Directed by Allegra Libonati. Staged by the Commonwealth Shakespeare Company at the Parkman Bandstand on the Boston Common, Boston, MA, July 19 through August 6.
Apparently all's well that ends (badly?) in this free outdoor production in the Boston Common. Romeo & Juliet proves "that the power of love triumphs over divisions and differences. The Capulet and Montague families have been engaged in a multi-generational feud, causing much distress and havoc in the city of Verona; but when young Romeo, son of the Montagues, meets Juliet, the daughter of the Capulets, their immediate love blossoms and accepts no barriers, with tragic results."
Speech & Debate by Stephen Karam. Directed by Jessica Holt. At Barringon Stage, St. Germain Stage, 30 Union Street, Pittsfield, MA, through July 29.
"Three teenage misfits in Salem, Oregon discover they are linked by a sex scandal that's rocked their town. When one of them sets out to expose the truth, secrets become currency, the stakes get higher and the trio's connection grows deeper in this searching, fiercely funny dark comedy with music."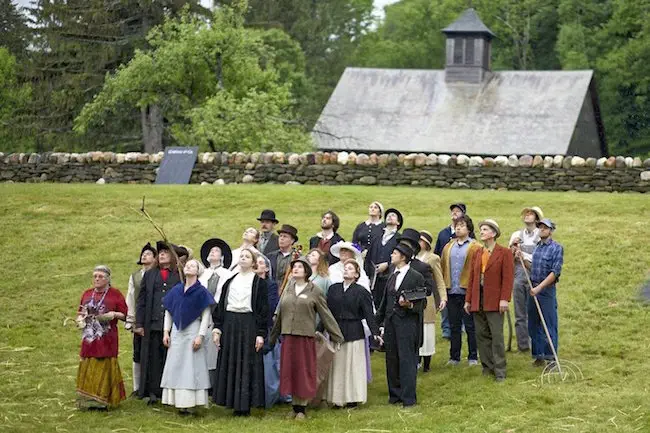 We The People written and performed by the Double Edge Theatre. At The Farm in Ashfield, MA, July 19 through August 6.
"We The People intersects art, culture, and democracy and has its roots in Double Edge's thirty-five-year question of what makes up identity. What are the paradoxes, the stories, the dreams that make up a human being, a community, a society? In We The People, the audience will experience the beauty of the hills, pastures, and gardens of the Farm surrounded by music and flight, weaving through different paths toward a culminating grand scene." The show is currently sold out. "Standing room tickets are now available for most nights: to learn more or to purchase, please call us at 413-628-0277. To join our waitlist for general admission tickets, please contact us at tickets@doubleedgetheatre.org or 413-628-0277."
Edward Albee's At Home at the Zoo by Edward Albee. Directed by Eric Hill. At the Unicorn Theatre at the Berkshires Theatre Group's Stockbridge Campus, Stockbridge, MA, July 19 through August 26.
The evening joins Edward Albee's one-act play The Zoo Story ( 1959), which launched his career, with its prequel, Homelife (2004) written 45 years later. Arts Fuse review of the Zeitgeist Stage's 2011 production of Edward Albee's At Home at the Zoo.
Moscow Moscow Moscow Moscow Moscow Moscow by Halley Feiffer. Directed by Trip Cullman. Staged by the Williamstown Theatre Festival at the Nikos Stage, July 26 through August 6.
A world premiere of a play that sounds as if it couldn't be more relevant — at least in terms of location. Alas, not a political examination of our current mania for all things Russian, but "a contemporary adaptation of Chekhov's Three Sisters. As our heroes search for meaning in their work and love lives — all the while dreaming of their dear Moscow — we are invited to examine our own existential longings and unrequited yearnings."
Glow Festival, presented by the American Repertory Theater at Oberon, Cambridge, MA, July 27 through 30.
"The Glow Festival is a new annual Cambridge live performance arts festival that aims to secure Cambridge a star on the international festival map and to champion progressive artists and performance in a myriad of live stage forms." This incarnation features a line-up of "exceptional storytellers, solo performers, and cabaret and performance artists" brought together by Quinn Cox, curator of the collaborative GLOWBERON series at OBERON and founder of the Afterglow Festival, in Provincetown, MA. The performers include Justin Vivian Bond, Brian King, Marga Gomez, Tammy Faye Starlite, and Penny Arcade.
— Bill Marx
---
Jazz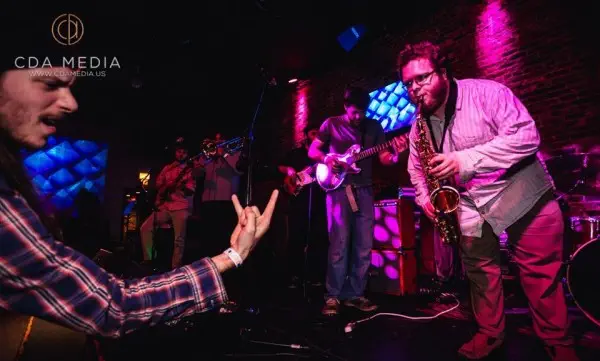 Bradley Goff Band/Strange Changes
July 18 at 7:30 p.m.
Lilypad, Cambridge, MA.
These two bands bill themselves as existing "in the grey area between jazz, fusion, and contemporary music, performing original compositions." To that we'd add that Strange Changes seems to like tightly arranged big-band voicings of helter skelter themes with smart, brawny brass work and bursts of rockist electric guitar. They cite as influences Frank Zappa, Charles Mingus, and Mr. Bungle. Mmm-mm, good!
Alex Snydman Trio
July 20 at 7:30 p.m.
Regattabar, Cambridge, MA.
Drummer and composer Alex Snydman's music has earned comparisons to the Brian Blade Fellowship. He does share the same grand, dexterous technique and capacious narrative approach to composition. His band includes the equally formidable young pianist Keelan Dimick and bassist Ben Tiberio.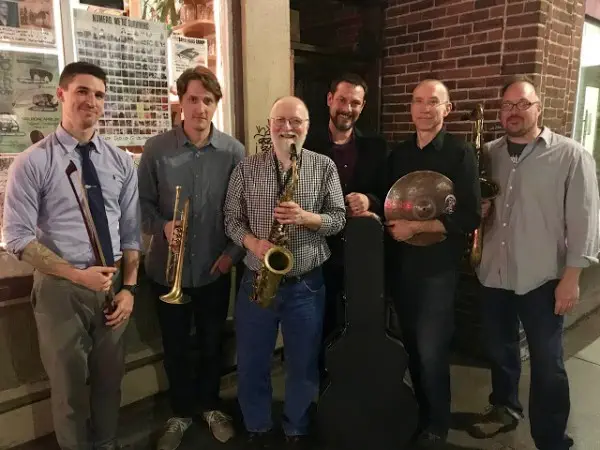 Charlie Kohlhase's Explorers Club
July 20 at 8 p.m.
Outpost 186, Cambridge, MA.
Alto, tenor, and baritone saxophonist and composer Charlie Kohlhase convenes his redoubtable Explorers Club: tenor saxophonist Seth Meicht, trombonist Jeb Bishop, trumpeter and flugelhornist Daniel Rosenthal, tubist Josiah Reibstein, guitarist Eric Hofbauer, bassist Aaron Darrell, and drummer Curt Newton. Music will include pieces by Kohlhase, Hofbauer, Reibstein, Graham Connah, Elmo Hope, Makanda Ken McIntyre, and John Tchicai.
Louis Hayes
July 21 at 8 p.m.
Scullers Jazz Club, Boston, MA.
Having come to the fore in the heart of hard bop, with the Horace Silver Quintet and Cannonball Adderley, Detroit drummer Louis Hayes is now on an 80th birthday tour. His band these days includes saxophonist Abraham Burton, trumpeter Josh Evans, vibraphonist Steve Nelson, pianist David Bryant, and bassist Dezron Douglas.
Jonah Parzen-Johnson/Ryan Dugre
July 21 at 8 p.m.
Third Life Studio, Somerville, MA.
Baritone saxophonist and analog synth player Jonah Parzen-Johnson and guitarist Ryan Dugre venture beyond their Brooklyn digs for a return engagement in the Madorla Music series. Parzen-Johnson, musically nurtured on Chicago's South Side, is touring in support of his new Clean Feed release, I Try To Remember Where I Come From. The show is billed as solo sets, with "a possible collaboration."
Dominique Eade/Ran Blake
July 22 at 2 p.m.
Thelonious Monkfish, Cambridge, MA.
Singer Dominique Eade and composer/pianist Ran Blake have a knack for creating sound worlds both haunting and haunted. The latest, Town and Country, addresses our current historical moment by drawing on the American folk music tradition, Great American Songbook standards, Bob Dylan, Johnny Cash, Blake's beloved film noir (two songs from the Charles Laughton's poison-fairytale classic The Night of the Hunter), and Blake originals.
Charnett Moffett
July 22 at 8 p.m.
Scullers Jazz Club, Boston, MA.
Bassist Charnett Moffett earlier career included stints with Ornette Coleman, Art Blakey, McCoy Tyner, and Sonny Sharrock. These days, moving between electric and acoustic bass, he favors an eclectic overview of jazz — his latest release is Music from Our Soul, with a cast that includes Stanley Jordan, Jeff "Tain" Watts, Pharoah Sanders, and Victor Lewis.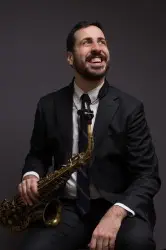 Joe Hunt Quartet feat. Jon DeLucia
July 23 at 8:30 p.m.
Lilypad, Cambridge, MA.
Distinguished drummer and educator Joe Hunt (New England Conservatory, George Russell, Stan Getz, Chet Baker, Bob Brookmeyer, Eric Dolphy, and on and on) features the fine saxophonist Jon DeLucia with a band that also pianist Yuka Hamano Hunt and bassist John Lockwood.
Oscar Stagnero
July 27 at 8 p.m.
Scullers Jazz Club, Boston, MA
Berklee professor Oscar Stagnero has been curating "Latin Jazz Thursdays" at Scullers, featuring artists from a variety of American countries. Tonight the distinguished bassist and composer steps out front himself, exploring the Afro-Peruvian tradition.
Karrin Allyson
July 29 at 8 p.m.
Scullers Jazz Club, Boston, MA.
Bay Area singer Karrin Allyson mixes her singer-songwriterly originals with covers of everyone from Blossom Dearie and John Coltrane to bossa nova, Joni Mitchell, Cat Stevens, and Stevie Wonder.
— Jon Garelick
---
Classical Music
Asbury conducts Elgar
Presented by Tanglewood Music Festival
July 17, 8 p.m.
Ozawa Hall, Lenox, MA
Stefan Asbury leads a welcome performance of Elgar's magnificent Symphony no. 1 with the Tanglewood Music Center Orchestra. Also on the program are Alban Berg's Seven Early Songs and Brahms's Tragic Overture.
Music for a Summer Evening
Presented by Boston Landmarks Orchestra
July 19, 7 p.m.
Hatch Band Shell, Boston
BLO kicks off its summer season with summer-themed pieces by Vaughan Williams, Delius, Verdi, and others. Sonja DuToit Tengblad sings Barber's Knoxville: Summer of 1915.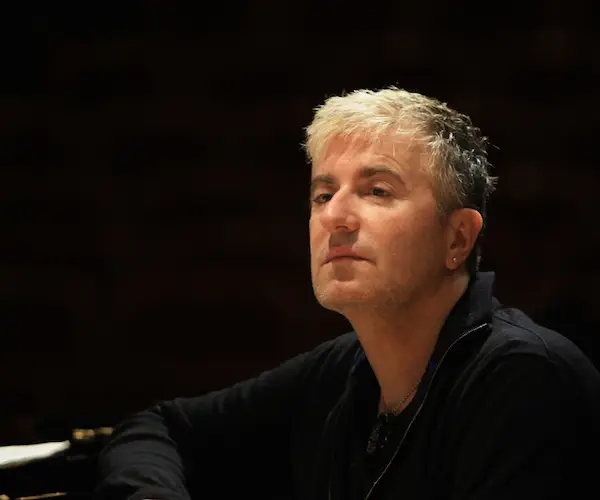 Thibaudet plays Bernstein
Presented by Tanglewood Music Festival
July 21, 8 p.m.
Koussevitzky Shed, Lenox, MA
Jean-Yves Thibaudet is the soloist (as he will be next spring) in Leonard Bernstein's Symphony no. 2, The Age of Anxiety. Gustavo Gimeno also conducts the Boston Symphony in Tchaikovsky's Symphony no. 4.
Our Town
Presented by Monadnock Music
July 22, 7:30 p.m.
Peterborough Town House, Peterborough, NH
The Boston Modern Orchestra Project celebrates the release of its recording of Ned Rorem's Our Town with a concert of American (and New England) vocal music. On the program are pieces by Lukas Foss, Lee Hoiby, Aaron Copland, Rorem, and Heather Gilligan.
Adès and Ax
Presented by Tanglewood Music Festival
July 22, 8 p.m.
Koussevitzky Shed, Lenox, MA
Thomas Adès leads the Boston Symphony in his own …but all shall be well in addition to Britten's Sinfonia da Requiem (which he conducted, brilliantly, at Symphony Hall last fall). Emmanuel Ax joins him for Beethoven's Piano Concerto no. 5.
Adès conducts Adès
Presented by Tanglewood Music Festival
July 24, 8 p.m.
Ozawa Hall, Lenox, MA
Adès continues his Tanglewood residency, conducting the Music Center Orchestra in more music by Britten (the "Four Sea Interludes" from Peter Grimes), plus his own Polaris and a pair of Sibelius scores (The Bard and the Seventh Symphony).
Dutoit conducts Stravinsky
Presented by Tanglewood Music Festival
July 29, 8 p.m.
Koussevitzky Shed, Lenox, MA
Charles Dutoit brings Stravinsky's recently-rediscovered Chant funebre to Tanglewood, along with music by Ravel and Berlioz. Pierre-Laurent Aimard is the soloist in the former's Piano Concerto for the left hand.
Belshazzar's Feast
Presented by Tanglewood Music Festival
July 30, 2:30 p.m.
Koussevitzky Shed, Lenox, MA
Bramwell Tovey conducts Walton's epic, festive cantata with the Tanglewood Festival Chorus. On the program's first half, Pinchas Zuckerman is the soloist in Beethoven's Violin Concerto.
Mozart's Requiem
Presented by Monadnock Music
July 30, 3 p.m.
Peterborough Town House, Peterborough, NH
A new completion of Mozart's Requiem by Michael Ostrzyga highlights this curious program featuring the Harvard Summer Chorus and Boston Modern Orchestra Project. The concert also includes the fragments of the Requiem Mozart completed before his death and a new piece, tegruseR, by Ostrzyga (who conducts).
— Jonathan Blumhofer
Voices and Viols: Music from the Court of Isabella D'Este
July 20 at 7 p.m.
At Brandeis University's Slosberg Music Center, 415 South Street, Waltham, MA
July 22 at 6 p.m.
At Saint James Place, 352 Main Street, Great Barrington, MA
An Aston Magna concert featuring the voices of Deborah Rentz-Moore and Aaron Sheehan.
Seven Times Salt
July 25 through July 27 at 8 p.m.
Presented by the Society for Historically Informed Performance at various locations (check the website).
The Boston-based early music ensemble, which specializes in repertoire of the 16th and 17th centuries (the era of Queen Elizabeth I and Shakespeare), performs a program entitled "Up Merry Mates: Revels at the Inns of the Court."
Elixir of Love
July 26 and 28 at 7:30 p.m. and July 30 at 3 p.m.
At the Mosesian Center for the Arts, 321 Arsenal Street, Watertown, MA
The Boston Midsummer Opera stages Gaetano Donizetti's opera, sung in Italian with English supertitles.
— Susan Miron
---
Roots and World Music
Festival Betances
July 16
Villa Victoria, South End, Boston, MA
Other Latin music events have bigger stars, but this long-running, low-key fest boasts free admission and a huge variety of Latin sounds from bachata to reggaeton. Salsa crooner Jerry Rivera headlines on Sunday night.
American Primitive & Experimental Guitar Summit w/ Glenn Jones, Isasa Guitarra, Joseph Allred, Rob Noyes, & Wendy Eisenberg
July 20
At the Church of the Advent Library, Boston, MA
Four of Boston's best acoustic guitar explorers are joined by Madrid's Isasa Guitarra, a master of the Weissenborn steel guitar. The chances of some one-time-only collaborations are quite high.
Yulia Musayelan Quartet
July 21
At the Armenian Cultural Center, Watertown, MA
Exceptional flutist Musayelan fuses jazz and traditional Armenian music.
Lowell Folk Festival
July 28-30
Lowell, MA
Easily the best annual roots and world music event in New England — and it's free! This year's typically outstanding lineup includes the conjunto of Los Texmaniacs, the free jazz of the Sun Ra Arkestra, Zimbabwe's high-energy Makoomba, Cuban son legends El Septeto Santiaguero and Innov Gnawa, the latter a Moroccan trance unit who were excellent when they performed for the Celebrity Series earlier this year. Often the best acts at Lowell turn out to be the wild cards — possibilities this year include the Crimean Tatar Ensemble and Tibetian opera company Chaksam-Pa. There's probably no way to actually see a full set performed by every band, so the multi-artist workshops can come in handy. And, of course, the food, prepared almost exclusively by local ethnic non-profits, is just as big a draw. Look for a full interview with Los Texmaniacs on The Arts Fuse later this month.
— Noah Schaffer
---
Author Events
Bianca Bosker
Cork Dork: A Wine-Fueled Adventure Among the Obsessive Sommeliers, Big Bottle Hunters, and Rogue Scientists Who Taught Me to Live for Taste
July 18 at 7 p.m.
Harvard Book Store, Cambridge MA
Free
Apparently, wine sales have soared in the past few years, which has made wine culture more popular than ever. Bosker is an award-winning journalist who takes the reader through the obsessive world of professional sommeliers, whose exquisite sense of taste fuels their lifelong pursuit of the perfect bottle of vino.
Julia Glass and Edward Kelsey Moore
A House Among the Trees and The Supremes Sing the Happy Heartache Blues
July 19 at 7 p.m.
Newtonville Books, Newton Centre MA
Free
Two acclaimed novelists will read from their latest work in Newton. Glass's novel concerns an elderly world-famous children's book author and his assistant, who must reckon with his hero's fame and the morally disturbing record of his life. Moore's novel is a family chronicle, tracing the generations that follow from the unlikely union of the owner of a gentleman's club and the woman who used to picket the club with cries of damnation and sin.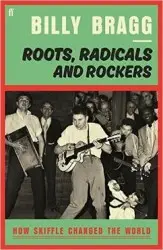 Billy Bragg
Roots, Radicals, and Rockers: How Skiffle Changed the World
July 20 at 7 p.m.
Brookline Booksmith, Coolidge Corner, MA
Free
The great radical British songwriter and activist comes to Brookline to read from (but not, alas, to perform) his new book about skiffle, the often-overlooked genre that mixed country twang with the jittery pulse of rockabilly. Skiffle was all the rage in the fifties and early sixties, especially in England, and its energy inspired the likes of The Beatles, The Rolling Stones, Eric Clapton, and David Bowie to first pick up guitars.
James McGrath Morris
The Ambulance Drivers:
Hemingway, Dos Passos, and a Friendship Made and Lost in War
July 20 at 7 p.m.
Harvard Book Store, Cambridge MA
Free
The adventures of Ernest Hemingway are, at this point, so well-known and well-documented that they hardly need another chronicle. Morris, a bestselling biographer, takes up a lesser-known part of the Hemingway story — his long friendship with the great novelist John Dos Passos, author of the experimental U.S.A. trilogy, which began when the two were ambulance drivers during World War One.
Alice Mattison
The Kite and The String: How to Write with Spontaneity and Control and Live to Tell the Tale
July 23 at 2 p.m.
Newtonville Books, Newton Centre MA
Free
Ever had the uncomfortable feeling of wanting to write but not feeling limber enough to put words on paper? Worry no more! Alice Mattison, a novelist, short story writer, and poet, offers her guidance in using mindfulness (think spontaneity and playfulness) to get the creative juices flowing on the page.
Rosalyn Elder
Exploring the Legacy
July 31 at 7 p.m.
Porter Square Books, Cambridge MA
Free
Now that we are officially in the dog days of summer, it's the perfect time to go exploring the interesting nooks and crannies of our state. Elder is a trained architect and co-owner of Jamaciaway books in JP, whose new book outlines the interesting histories of 742 sites in 141 towns in New England — anyone up for a road trip?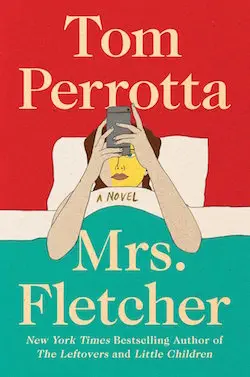 Tom Perrotta
Mrs. Fletcher
August 1 at 6 p.m.
Coolidge Corner Theatre, Brookline MA
Tickets $26 w book, $5 without
In an event co-sponsored by 826 Boston, the bestselling author of Election, Little Children, and The Leftovers will read from his latest novel. It deals with the eponymous Mrs Fletcher, a forty-six year old divorcee whose only child has left for college, and who receives a mysteriously complimentary text about her being a MILF, leading her on a self-conscious exploration of her body in middle age.
— Matt Hanson