What unites country and hip-hop? An outlaw narrative.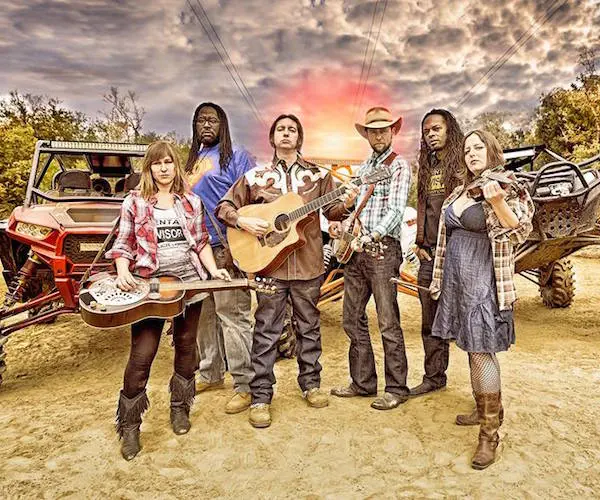 By Noah Schaffer
One of the best moments in the recent American Epic PBS series came when hip-hop veteran Nas collaborated with a Jack White-led string band on an old Memphis Jug Band tune.
It was far from the first attempt at mixing hip-hop with American roots music. While such efforts often end up (even with the best of intentions) parodying both genres, one group has made an impressive career out of the concept: New York's Gangstagrass.
The band was the brainchild of the group's founder and leader Rench, who has spent much of his career recording hip-hop stars at his New York studio while also writing and performing country and string band music. The band has released several recordings, had one of its songs used as the theme for the TV series Justified, and is embarking on a summer tour that comes to Thunder Road in Somerville on Saturday night, July 15.
Recently Rench spoke with The Arts Fuse about the surprisingly vibrant connections between hip-hop and bluegrass, explaining that "these are really my influences. It's not something I was doing as a novelty or dipping me toe into. This is what I'm doing long-term as a musician."
---
The Arts Fuse: You've had a number of both skilled bluegrass musicians and highly-regarded MCs as members as well  as guests on Gangstagrass recordings. Is it ever a tough sell?
Rench: Musicians have been really open to the cross-pollination that happens and the experimentation that you can do. There's either been enthusiasm or at least interest in trying things out. In my initial recording projects I was going to MCs who had recorded at my studio. I asked them if I could take their vocals and put some bluegrass on it. They had no idea what bluegrass was! But they told me to knock myself out and go ahead. Then, once it became something that was drawing fans and crowds, people were more than enthusiastic to be part of it.
AF: So what do the genres have in common?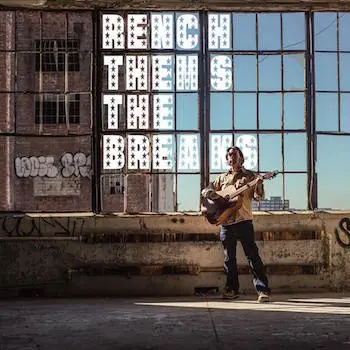 Rench: An outlaw narrative unites both country and hip-hop. This is folk music created by people collaborating together out in the street or in the field. You also have common ground in the sense of public accessibility. At a bluegrass jam you'll have people playing in a circle, and they will be joined by people they've never met before — and they soon will be trading solos. The same with hip-hop: you'll be standing on a street corner and hear someone beat boxing, and then MCs will come in and trade a verse and pass it around. So both country and hip-hop welcome improvisational elements — you can freestyle or pick a solo. The musicians realize they have a common vocabulary —  you can point to the next person over and let them take it.
AF: Do you have any sense if your fanbase is more from the bluegrass or the hip-hop side?
Rench: Our listeners are not what you'd identify as a bluegrass or hip hop audience. There's not that many purists — not that they don't exist, but a huge part of the audience has already heard Johnny Cash and Jay-Z shuffling together. So most of our listeners are already fans of both — so they are already open to what we do.
AF: A lot of attempts to "modernize" roots music often has a DJ playing samples of field recordings. Why did you go with a full acoustic string band in your live shows?
Rench: Having bluegrass players live is essential to our dynamic — we want creative spontaneity, not someone pressing 'play.'  We shake things off and we might play something for a while and then have the structure change as we go along. One of our MCs is R-SIN and he is an incredible freestyler. Several times in a show he will incorporate what he sees in his words, such as what people in the audience are wearing. The band watches him and lets 16 or 24 bars go by. He gives us a signal when he's on the last rhyme, indicating that we can go into the chorus. We couldn't do that without live musicians.
AF: Your new LP Them's the Breaks is a Rench disc, not a Gangstagrass project. Why is that?
Rench: I've written songs that have singing all the way through; there is no need  for rappers. A lot of the influence in those tunes comes from honky tonk country as opposed to bluegrass. My solo stuff is an outlet for my experimental side, a way I can conceptualize a whole song. With Gangstagrass I might write a hook and then hand it over to the MCs to write verses.
---
Over the past 15 years Noah Schaffer has written about otherwise unheralded musicians from the worlds of gospel, jazz, blues, Latin, African, reggae, Middle Eastern music, klezmer, polka and far beyond. He has won over ten awards from the New England Newspaper and Press Association.