A romp in and around a centuries-old Italian convent, acting out a 14th-century story using contemporary American idiom and attitude.
The Little Hours, directed and written by Jeff Baena. At the Brattle Theatre, Boston, MA from July 7 to 13.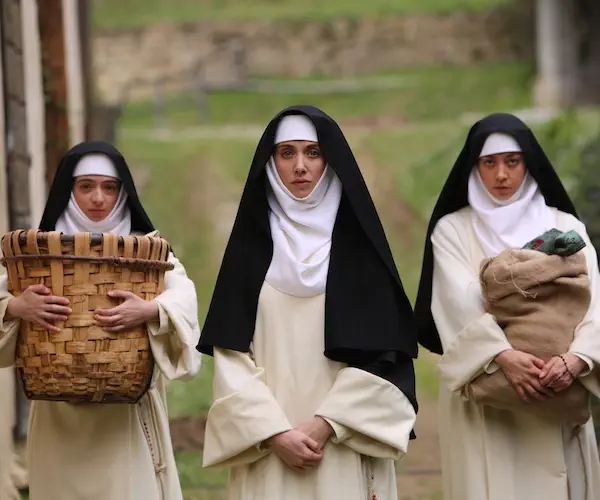 By Betsy Sherman
The donkey sees all. It bears its burdens and looks on impassively at human folly and its consequences. Yet it does not react, it does not chafe. The donkey abides.
That could be a description of the 1966 classic Au hasard Balthazar, in which a donkey achieves saintly stature after bearing witness to man's inhumanity to man (hey, did you hear Tilda Swinton say on Colbert that the donkey's performance in that movie was one of her big influences?).
But for now it's a nod to the bright, funny indie comedy The Little Hours, in which a donkey witnesses, if not inhumanity, then some revolting behavior and stupendous idiocy. The cast of this unorthodox period piece includes choice players from the improv scene, who get to romp in and around a centuries-old Italian convent, acting out a 14th-century story using contemporary American idiom and attitude.
Whereas some pictures that try that tack don't get far past the goof (Your Highness comes to mind), The Little Hours capitalizes on, but goes beyond, the culture clash. Instead, with a nice mix of broad and subtle comedy, it colors in a portrait of an insular little community whose members are going to have to put up with each other for the long haul (and in that case, the epoch's short life spans might be a godsend).
The opening sequence shows off the scenery of the Tuscan location, as Sister Fernanda (Aubrey Plaza of Parks & Recreation and Legion) and that donkey make their way back to the convent one morning (it's revealed later where she sneaks off to late at night). The profanity-spouting Fernanda is part of the core trio of the film, along with Sister Alessandra (Alison Brie of Community) and Sister Genevra (Kate Micucci of Garfunkel and Oates). "Mom" and "Dad" of this ménage are Mother Marea (Molly Shannon), the convent's gentle, put-upon administrator, and the bumbling, well meaning Father Tommasso (John C. Reilly). Marea's hint of longing towards Tommasso is only the first signal that libidos are pretty close to the surface.
Instead of reverence, compassion, and radiant goodness, the characters in The Little Hours exhibit the petty, whiny, self-centered and insecure personas found in today's comedies of awkwardness (albeit one with scratchier clothing and more turnips).
The convent is little more than a holding pen for young women without options. The exception may be Sister Alessandra (Brie has the ingénue-parody role). Her Daddy (Paul Reiser) has been having a bit of trouble putting a dowry together for his darling girl, so she'll have to be stashed here a while longer.
No such hope exists for Sister Fernanda. She's a thrilling Plaza creation, ignoring the rules or bending them to her own use, doing what she pleases when she pleases. She disrupts the "dorm" by sneaking in her sexually worldly pal Marta (played by Jemima Kirke of Girls); soon there's sister-on-sister action. The strain is nearly too much for poor Sister Genevra, who just wants to be one of the gang, but can't stop herself from tattling on the others to Mother Marea. Micucci musters a slim flame of yearning in her eyes, but Genevra has probably never had any expectations of a good life.
Male pulchritude comes into their lives in the form of Massetto (Dave Franco of Neighbors giving a heartily physical performance). He's a servant on the run from the castle of Lord Bruno (Nick Offerman, wonderfully pompous) after he was caught satisfying the urges of Lady Francesca (Lauren Weedman, hilarious in this brief role of a monumentally bored wife). Massetto comes to the aid of Father Tommasso, who offers him the job of gardener at the convent since the previous one quit after being bullied by the sisters. According to Tommasso's wine-addled logic, the nuns will leave Massetto alone if he pretends to be a deaf-mute.
This story of the faux deaf-mute and the horny nuns comes from The Decameron by Giovanni Boccaccio and has appeared in previous movies. There's a wink at the beginning of The Little Hours, with throwback opening credits, to the slew of '60s and '70s soft-core porno Decameron adaptations. Director-writer Jeff Baena's bends toward female empowerment: the young ladies' ravishment of the bound Massetto widens, as well as rocks, their world. Could this madness result in a fairy-tale romance between Massetto and Alessandra?
Complications in the latter stages of the story involve a coven of witches in the woods, the visit by Bishop Bartolomeo (Fred Armisen), and the return of Lord Bruno.
In the absence of a discourse about faith—one could say that's a lost opportunity, but it would also make this a whole other movie—The Little Hours becomes a story about transcending limited choices. There is, however, a nod to the aesthetics of religion, with shots of hands clasped in prayer, and the importance to the story of Father Tommasso's confessional (O'Reilly is especially funny in this space). The performances are to be savored, with the three stars doing great work despite the constraints of their clothing. Special mention goes to the kinetic Micucci, who goes the extra mile after Genevra ditches her habit.
If the donkey got to have the final comment on these folks, it would surely roll its eyes.
---
Betsy Sherman has written about movies, old and new, for The Boston Globe, The Boston Phoenix, and The Improper Bostonian, among others. She holds a degree in archives management from Simmons Graduate School of Library and Information Science. When she grows up, she wants to be Barbara Stanwyck.