The Heath Quartet delivers a triumphant Bartók cycle; Natalie Dessay's Schubert misses the mark widely.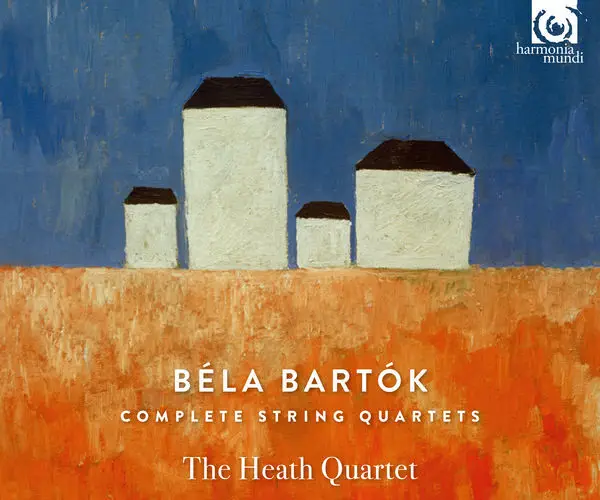 By Jonathan Blumhofer
There's no shortage of fine new recordings of the six Bartók string quartets. Just last year, the Chiara Quartet on the Azica label contributed an electrifying, memorized account of the cycle. And now comes the Heath Quartet with a traversal (on Harmonia mundi) that's astonishing in its textural clarity and sheer virtuosity.
Indeed, the big reveal in these readings is the dizzying invention and complexity of Bartók's counterpoint as his style developed over a little more than thirty years. It's all on full display here, from the lush fugue of the Quartet no. 1 (with its gypsy-infused central section) to the soaring, dissonant lyricism of the Quartet no. 2 and the extraordinary interaction of voices in the Quartet no. 3 to the last three, with their fascinating distillation of earthy and cerebral elements.
And, far from being an abstract talking point, the Heath's close attention to the music's balances results in some particularly fine performances. The first two Quartets, especially no. 2, are superb. The latter's first movement sings with a surprising warmth and the dynamic architecture of the finale builds to moments of remarkable intensity. So does most of the Quartet no. 3. Only parts of the "Seconda parte" might benefit from stronger rhythmic definition.
The same rings true for the outer movements of the Fourth Quartet which, for all their hard-edged attacks and crunching dissonances, come over a bit emotionally antiseptic. Its middle movements, though, are fine, as is the Quartet no. 5, which receives a vigorous workout (especially the third and fifth movements). The enigmatic Sixth Quartet is nothing short of breathtaking, its "Mesto" refrains framing a lively first movement, droll second, and spunky third. The finale, which draws on the primary materials of the first three movements to build to a big climax before unwinding and dying away is, here, played with spellbinding focus.
Throughout, the Heaths simply craft some beguiling sounds. The middle recitative in the Sixth's second movement is bitingly raw, and the ricocheting bows near the end of the "Burletta" are wonderfully spooky. The "night musics" of the Fourth and Fifth are crafted with delicacy, as is the trio of the Fifth's central movement. And, through the six quartets, it's fascinating to trace Bartók's use of certain gestures – the glissando chief among them – as dramatic devices: suffice it to say, in Bartók as in Beethoven, style, technique, and expression all go hand-in-hand. And you hear that brightly and clearly in this set.
In all, then, the Heaths have delivered a triumphant new Bartók cycle. While it doesn't displace any of the classic recordings, it fully holds its own with them – and lets you experience this music in a fresh, new light.
---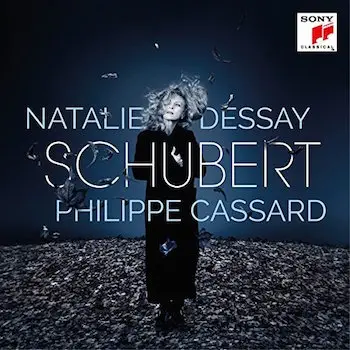 There are some things certain singers just shouldn't dabble in. Like Frank Sinatra attempting to sing scat. Or pretty much any of Pavarotti's cringe-inducing duets with pop singers (which is worse: Sting singing "Panis angelicus," Sheryl Crowe attempting Mozart, or the big man trying to tackle some Elton John?). Now add Natalie Dessay singing Schubert to the list.
Here's a singer who's quite wonderful in certain repertoire – pretty much all things coloratura by 19th- (and some 20th-) century French and Italian composers. American show tunes? Not so much her strength. Ditto German lieder. To call this new album (on Sony Classical) dreadful is, perhaps, to abuse an adjective that, these days, ought to be used sparingly and saved for more important things. Still, what we've got here is, to paraphrase a former American president, some pretty weird stuff.
In short, Dessay seems ill-at-ease in her fourteen selections (there's also one Liszt solo-piano arrangement to be had). Her German diction is inconsistent and not infrequently unintelligible. She demonstrates a rather frustrating habit of sliding into notes rather than hitting them square on. Vibrato sometimes gets in the way, especially on long-held pitches. And there's little sense of character or personality to be found in any of her interpretations.
Her "Erlkönig," for one, is about as scary as a wet rag. Where's the terror? Certainly not in her depictions of any of the four characters, who all (save, at a couple of points, the child) sound pretty much the same. The title one is almost a comic caricature: disembodied but packing no menace whatsoever.
"Du bist die Ruh" is, likewise, vexing, its climaxes shrill and strained; at times, Dessay's vibrato takes over to ungainly effect (as it also does in her monochrome reading of "Gretchen am Spinnrade"). These extremes are reined in for most of "Die Hirt am Felsen," which is Dessay's most overtly dramatic vehicle on the disc; her voice locks in with the spirit and character of the final "Allegretto" better than just about anything else on the album.
But it's hard to escape the fact that all of this music has been done better countless times by other singers. For all the charm of Dessay's "Im Frühling," for instance, Thomas Quasthoff's is far more inimitable. The same goes for her "Geheimes," which isn't nearly as focused as Hermann Prey's (or von Otter's). And you can run through the list of Schwanengesang selections, "Nachtviolen," "Nur wer die Sehnsucht kennt," "Rastlose Liebe," and the rest of the track list and easily come up with a healthy tally of more idiomatic and satisfying performances of all of these songs.
While Dessay's contributions are frustrating, she's accompanied with exquisite musicianship and flair by pianist Philippe Cassard. In his hands, everything that's lacking in the vocal performances consistently turns up in the keyboard accompaniments: they're full of whimsy, character, and melancholy. Appropriately, he gets a solo turn in Liszt's arrangement of "Aus dem Wasser zu singen" and makes the most of it, playing with fluency and color. Thomas Savy is the capable clarinetist in "Die Hirt am Felsen."
Still, none of these positives overcome the shortcomings in Dessay's approaches to these songs. While artistic risk-taking is, often, to be admired, this album misses the mark pretty widely.
---
Jonathan Blumhofer is a composer and violist who has been active in the greater Boston area since 2004. His music has received numerous awards and been performed by various ensembles, including the American Composers Orchestra, Kiev Philharmonic, Camerata Chicago, Xanthos Ensemble, and Juventas New Music Group. Since receiving his doctorate from Boston University in 2010, Jon has taught at Clark University, Worcester Polytechnic Institute, and online for the University of Phoenix, in addition to writing music criticism for the Worcester Telegram & Gazette.