Director Terence Davies read four biographies of Emily Dickinson; the details of her life that he remembered became the basis for his screenplay.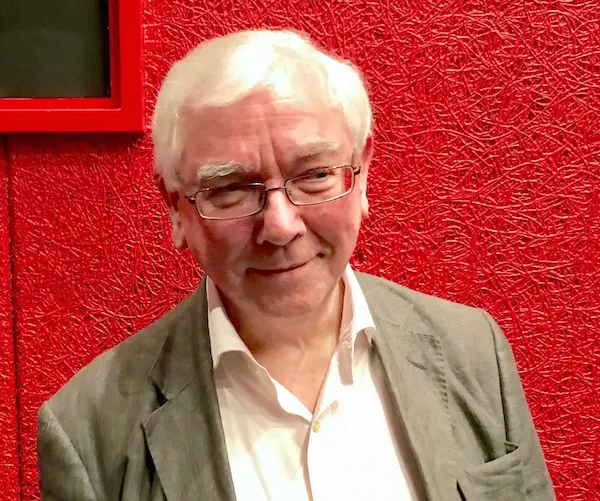 By Tim Jackson
British writer and director Terence Davies was the youngest of 10 siblings and grew up gay in working-class Liverpool. In his case, it is a background that led to an affinity for stories of strong women standing up to social constraints. And an ability to craft memorable performances from his lead actresses: Gena Rowlands in the The Neon Bible, Gillian Anderson in The House of Mirth, Rachel Weisz in The Deep Blue Sea, and newcomer Agyness Deyn in the heartbreaking role as a wife on the Scottish Highlands during WW I in last year's Sunset Song. His latest film, A Quiet Passion, is no exception. (Opening at the Kendall Square Cinema on April 14) Cynthia Nixon, well known for her role on Sex in the City and a celebrated stage actress, does right by the role of Emily Dickinson. "It's a script I've wanted to do for many, many years and Cynthia was the only person I had in mind for the part," the director told me over a cup of tea, for which the waiter had forgotten Davies's request for milk.
"No milk? Then I'll be very rugged," he said taking a small sip of his tea. "When I grew up, men were equally oppressed in their own way. If someone died you had to cry somewhere else. Men did not cry. They were told by their wives 'you're not to do it.' Not oppressed as much as women, of course." His own mother was a deeply devout Catholic with a violent husband.
He discovered Dickinson as a youth listening to short biographies on Sunday morning BBC radio. He heard Claire Bloom reading Dickinson's 'Because I could not stop for Death.' "I bought a small anthology, then ten years ago I started reading her more seriously and saw she had an absolutely extraordinary life. It seems that nothing happened but that was hardly the case. It was a very rich inner life and the reason I responded was that she wanted the family to stay together forever. And I wanted my family to be like that. I wanted my family to be together forever. But of course families don't. And also I related to her spiritual quest. She acknowledges that she has a soul, but what to do if there's no God. She oscillates in her poetry. She never comes down on either side and maintains this middle line, which always implies a sense of hope without there being hope. I was brought up to about Catholic – I was very devout – I struggled with doubt – until I realized it's just a lie. It's just men in frocks. But when certainties been taken out of you, what you fill the space with? I filled it with knowledge but there's still a hole there. And it was the same for her. I think her spiritual quest was just as nerve-racking."
Now 72, Davies is regarded as one of cinema's great independent directors. He is enthusiastic and charming with a wry sense of humor that does not disguise his rigorous attitude toward filmmaking: "Much of my rigor comes from the fact that I have no budget." The director uses no storyboards, but plans every shot and camera move meticulously. He works closely with his cinematographer to get the correct, painting-inspired look: Edward Hopper and Norman Rockwell for The Neon Bible, Vilhelm Hammershoi for Sunset Song. "I had never heard of him (Hammershoi). He is like Vermeer with the light more smudged," he explains. Light has deep emotional resonances for Davies. "There is a moment on the weekends when the light strikes the house that I live in – and I can't tell you why – but I just feel utterly desolate. When my actors were performing and the sun is low and the shadows lengthen, I must try so hard not to cry because it captures exactly what I feel on those weekends." In A Quiet Passion, the natural light grows ever dimmer as Dickinson's hesitancy to interact with the world intensifies and the effects of "Bright's Disease" take hold.
The director also brings a distinctive approach to dramatizing time and the image. As he has done with his previous films, the camera in A Quiet Passion lingers on faces, inviting us to decipher the internal emotional worlds of the characters. His camera gently pans across a room, letting us observe the people and objects that populate the spaces. After all, this is the 19th century — there is no hurry to get on with things. "I'm fascinated by the way we perceive time," Davies says. "The problem with cinema is it that it is always in the present. When you cut, the implication is always that you are moving to the next thing that happened. If you dissolve, it suggests that time is passing. If you dissolve and cut back, then where are you? I find that endlessly fascinating. There is a line in T.S. Eliot's Four Quartets: "For the roses / Had the look of flowers that are looked at." It's a wonderful idea of perception. Through the act of perception – of an object or time – we become changed because we realize it is our own perception. I find that just fabulous."
The director read four biographies on Dickinson; the details of her life that he remembered became the basis for his screenplay. He was not only fascinated by her genius; she was more than a a reclusive artist. She was a woman who, in her way, battled against the extraordinary challenges the era presented to her sex.
"I think she was afraid of the world – understanding it," he argues. "We don't know what it was like. Sex was something that was never discussed and she must have been terrified. If you got pregnant you could die. If you got ill there were no painkillers. Imagine being in pain all day every day and yet still writing poetry, three volumes of letters, baking and doing gardening. It's quite extraordinary how courageous these people were and how hardy they were. You look at them and at 50 and they look about 80. And for her, without recognition, to have the courage to keep on. And I think that's absolutely heroic."
Davies trusts his actors to give truthful performances: "I say just don't act. We may not know something or why we sense something but it is impossible to think of nothing. The actors open their hearts for you and you've got to open your heart to them. It has to be mutual. But you must eliminate mannerisms. I tell them – just don't be reluctant. All those little moves on the face, the way the light hits the face – all those things, tell you something. The lens of the camera doesn't lie and if what is in front of it is a lie and not the narrative truth – we will know." He gives the film's character actors abundant material to work with; there are some delightfully expressive (and truthful) faces here.
The script of A Quiet Passion is filled with highly amusing scenes of prudery and decorum, episodes that provide a humorous contrast to Dickinson's resolute iconoclasm. The idea is to lighten pathos with a beneficently humane humor: "We have to have compassion for our fellow human beings and if we can't – I don't know what we're here for."
---
Tim Jackson was an assistant professor of Digital Film and Video for 20 years. His music career in Boston began in the 1970s and includes some 20 groups, recordings, national and international tours, and contributions to film soundtracks. He studied theater and English as an undergraduate, and has also has worked helter skelter as an actor and member of SAG and AFTRA since the 1980s. He has directed three feature documentaries: Chaos and Order: Making American Theater about the American Repertory Theater; Radical Jesters, which profiles the practices of 11 interventionist artists and agit-prop performance groups; When Things Go Wrong: The Robin Lane Story, and the short film The American Gurner. He is a member of the Boston Society of Film Critics. You can read more of his work on his blog.