Arts Fuse critics select the best in film, dance, theater, music, and author events for the coming weeks.
By The Arts Fuse Staff
Film
The 16th Annual Boston Turkish Film Festival
through April 2
Museum of Fine Arts, Boston, MA
Turkey produces vibrant films that receive far too little distribution in this country: many of the movies in the festival this year are North American and US premieres (18 to be exact). Q&A sessions with a selection of the directors will follow film screenings. According to Erkut Gömülü, founder and director of the event, 20 percent of the entries in this year's program are by women filmmakers. Complete schedule.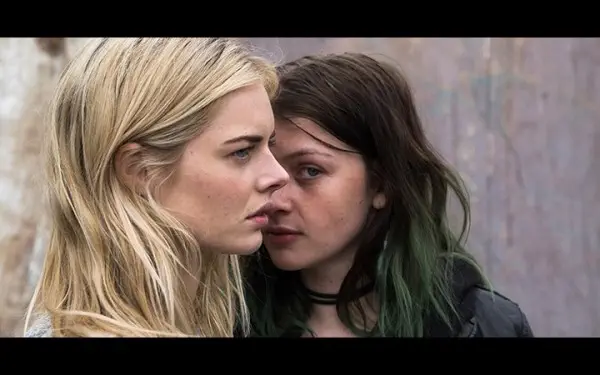 ReelAbilities Film Festival
through April 6
Various venues
ReelAbilities Film Festival promotes awareness and appreciation of the lives, stories, and artistic expressions of people with disabilities. These are always uplifting films focusing on the lives of powerful people in this line-up. The opening feature was an Academy Award nominee. A sample includes:
Life, Animated – March 29  at 6:30 p.m. at the Museum of Science
Discussion, reception and book signing to follow with Ron Suskind, film subject and Pulitzer-Prize winning journalist and author.
Notes On Blindness –  April 3 at 7 p.m. at the Brattle Theater
In 1983, after many decades of deterioration, writer and theologian John Hull became totally blind. To help him make sense of the upheaval in his life, he documented his experiences on an audio cassette. The result is a poetic and intimate story of loss, rebirth, and transformation. Skype Q&A to follow with directors James Spinney and Peter Middleton.
Marathon: The Patriots Day Bombing – April 6 at 7 p.m. at the Somerville Theatre
Using never-before-seen footage, this documentary focuses on the emotional and physical recovery of the individuals whose lives were forever changed by the Boston Marathon bombing. Discussion to follow with film subjects Patrick Downes and Jessica Kensky, moderated by Boston Globe reporter Eric Moskowitz.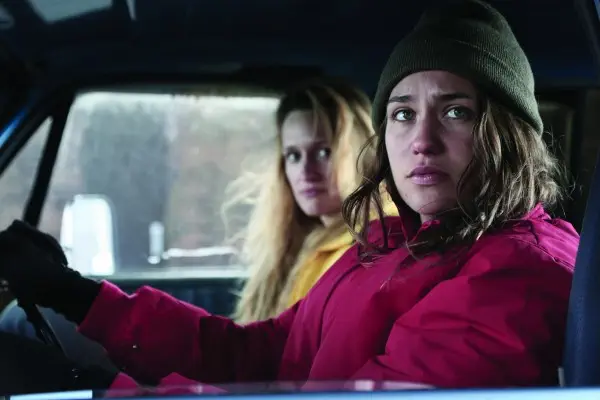 Wicked Queer: Boston LGBT Film Festival
through April 9
Various Venues
This is one of Boston's great movie festivals: screening rooms around the city present over 40 narrative, documentary, and short films that explore LGBT life.
A few of the highlights this year:
Signature Move
Thirty-something immigration attorney Zaynab is balancing her work, love life, and taking care of her conservative, TV-obsessed mother. A drunken night with the bold and assertive Alma leads Zayneb to question just how to come to terms with her mom, her love life, and her new-found obsession with Lucha-style wresting. Director Jennifer Reeder and star Sari Sanchez will be in attendance. Ticket includes admission to an after-party at EMPIRE.
The Guys Next Door
The celebrated film portrait of Erik and Sandro, a gay married couple whose friend Rachel is a surrogate for their two daughters. Rachel, who is in her 40s, is married to Tony and they have three children. Together, they form a unique extended family. With special guests, directors Amy Geller and Allie Humenuk.
Free CeCe!
On her way to the store with a group of friends, "CeCe" McDonald was attacked and while defending herself a man was killed. After a coercive interrogation, CeCe was incarcerated in a men's prison in Minnesota. An international campaign to free CeCe garnered significant support from media and activists, including actress and executive producer Laverne Cox. Cox used this platform to explore the roles race, class, and gender played in CeCe's case. CeCe emerged not only as a survivor, but also as a leader. Guests are Jac Gares (director) and Cece McDonald
Notes on Blindness
In conjunction with the DocYard. In 1983, writer and theologian John Hull lost his sight. In order to help himself make sense of this traumatic upheaval, he began documenting his experiences on audiocassette.
The BU Cinematheque: An Evening With Stephen Schiff.
April 7 at 7  p.m.
Room 101, 640 Commonwealth Ave., Boston, MA
Formerly a film critic and staff writer for The New Yorker, Schiff went to Hollywood to write True Crime for Clint Eastwood and a remake of Lolita, then moved to New York to become executive producer and writer for the award-winning FX TV series,The Americans. At BU, Schiff will show two episodes of The Americans he wrote,  narratives that dramatize the violence-prone lives of Russian spies ( and married couple) passing themselves off as US citizens in the 1980s.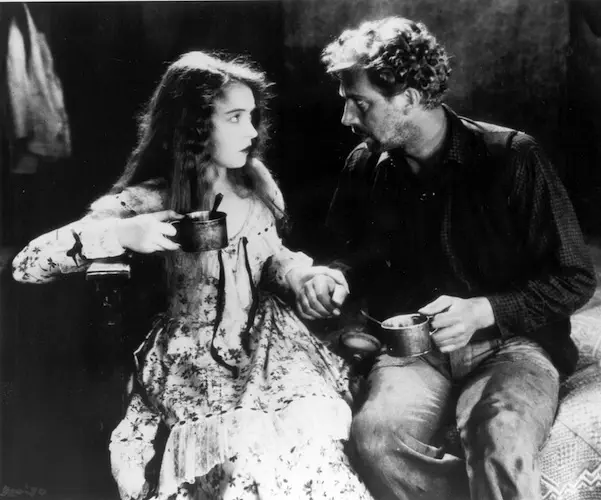 The Wind
April 9 at 2 p.m.
Somerville Theater, Somerville, MA
One of the great silent films will be presented in 35 mm! When Letty Mason (Lillian Gish), an emotionally fragile woman from Virginia, relocates to West Texas, she finds herself unsettled by the ever-present wind and sand. The entire film was shot in the Mohave Desert, under conditions of great hardship and difficulty. This was probably the first "Western" that tried for truth as well as dramatic poetry. One of its masterstrokes, which looks far less self-conscious than any description of it may seem, is the moment when Letty hallucinates in terror at the sight of the partially buried body of her attacker. A white stallion appears in the dust storm as an omen of doom. No one would deny that The Wind is a great work of art. (Source: The Guardian)
— Tim Jackson
---
Dance
Five Pieces
April 6-9
Farkas Hall
Cambridge, MA
The Harvard Dance Project presents its spring concert Five Pieces, including choreography by Ohad Naharin, William Forsythe, Michelle Dorrance & Melinda Sullivan, and Jill Johnson, as well as new works by Harvard Dance Project student dancers. The performance is supported in part by the Blodgett Distinguished Artist Program and the Bromley Innovation Fund for Dance at Harvard University.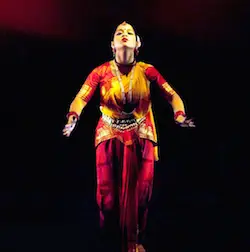 Devi
April 7 at 8 p.m. and April 8 at 3 p.m.
Boston University Dance Theater
Boston, MA
Triveni Ensemble's Devi uses three classical Indian dance styles to tell stories of Hindu goddesses. The line-up: "Bhairavi, the fierce warrior, Saraswati, patron of knowledge and the arts, Lakshmi, bestower of fortune, and Parvati, the embodiment of love and devotion." All proceeds from this production will go to Pratham, an organization committed to improving children's education in India.
Taking Flight
Through April 9
Sanctuary Theatre
Cambridge, MA
Commonwealth Award-winner José Mateo revives three of his ballets from the past two decades: Reverie (2003), The Last Circus (1999), and The Even and the Odd (2016). The tone of these piece range from the romantic to the bizarre.
— Merli V. Guerra
---
Theater
Our American Hamlet by Jake Broder. Directed by Steven Maler. Presented by the Commonwealth Shakespeare Company at the Sorenson Center for the Arts at Babson College, 19 Babson College Drive, Wellesley, MA., through April 2.
The world premiere of a script "based on the true story of Edwin Booth, the leading Shakespearean actor of his day and the brother of John Wilkes Booth. Less than one year after President Abraham Lincoln's assassination by John Wilkes Booth, Edwin decided to perform Hamlet on Broadway, a role he had performed in the past to great acclaim. A huge crowd turned up for the performance — but it wasn't clear whether they were there to see the actor perform, or to exact their revenge." The impressive cast includes Will Lyman and Maureen Keiller and the playwright, Jake Broder.
Mrs. Packard by Emily Mann. Directed by Emily Ranii. Produced by Bridge Repertory Theater and Playhouse Creatures Theatre Co, NYC at Multicultural Arts Center, 41 Second St E. Cambridge, MA, through April 9.
A regional premiere of Mann's doc-u-drama: "Illinois, 1861. Proclaimed insane by her husband, Elizabeth Packard is committed against her will to the Jacksonville Insane Asylum. An astonishingly accurate chronicle of true historical events, this stunning American drama follows one woman's struggle to fight for her life and, in the process, right a system gone wrong."
Chill by Eleanor Burgess. Directed by Megan Sandberg-Zakian. Staged by the Merrimack Repertory Theater at the Nancy L. Donahue Theatre, 50 East Merrimack Street, Lowell, MA, through April 16.
The world premiere of a "new bittersweet drama about all life throws you between 18 and 28. The play follows four Massachusetts teens across a decade of change in America, and is inspired by the real-life experiences of playwright (and Brookline, MA native) Eleanor Burgess."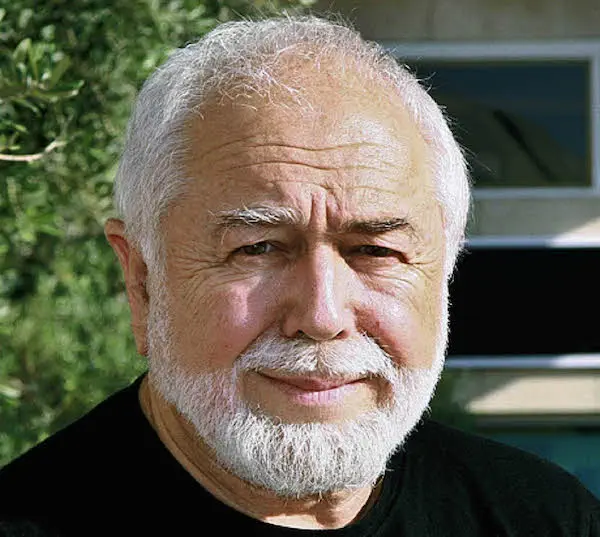 Sinners by Joshua Sobol. Directed by Brian Cox. New Rep and Boston Center for American Performance presents in association with Greensboro Arts Alliance & Residency/Mirror Theater at theatrelab@855, 855 Commonwealth avenue, Boston, MA, through April 2.
A production of a play by the renowned Israeli playwright and novelist. "Layla, a married English professor, has an affair with one of her married students, Nur. Out of fear that the oppressing authorities would find out and kill them both, Nur decides to confess, claiming that Layla seduced him." Directed by actor Brian Cox, who gave one of the finest Shakespearean performances I have ever seen — in Debra Warner's amazing Titus Andronicus.
Everyman by Carol Anne Duffy. Directed by Danielle Fauteux Jacques. Staged by Apollinaire Theatre at Chelsea Theatre Works, 189 Winnisimmet St., Chelsea, MA, April 7 through May 6.
"One of the great primal, spiritual myths, Everyman asks whether it is only in death that we can understand our lives. A cornerstone of English drama since the 15th century, this new adaptation was presented by the National Theatre in London in 2015."
Paradise by Laura Maria Censabella. Directed by Shana Gozansky. Staged by the Underground Railway Theater, a Catalyst Collaborative@MIT Production, at the Central Square Theater, April 6 through May 7.
The world premiere of a new play "about a Muslim-American teenager in the Bronx who wishes to pursue her passion for science and her mentor Dr. Royston, a mysterious scientist forced to teach high school biology." Starring Barlow Adamson and Caitlin Nasema Cassidy.
Barbecue by Robert O'Hara. Directed by Summer L. Williams. Produced by the Lyric Stage Company of Boston at 140 Clarendon Street, Copley Square, Boston, MA, April 7 through May 7.
A comedy that deals with the members of the O'Mallery family as it gathers "in their local park to share some barbecue and straight talk with their sister. They are the kind of family that comes to an intervention armed with a Taser, even though their own downward spirals rival hers. But that's only the beginning as familial and cultural stereotypes are stripped away."
The Who and the What by Ayad Akhtar. Directed by M. Bevin O'Gara. Staged by the Huntington Theatre Company at the Calderwood Pavilion at the Boston Center for the Arts, through May 7.
In this drama from Pulitzer Prize-winning author Akbar, "the brilliant novelist Zarina is writing about women and Islam when she meets Eli, a young convert who bridges the gap between her modern life and traditional heritage. When her conservative father discovers her controversial manuscript, they all must confront the beliefs that define them."
Franklin by Samantha Noble. Directed by Stephanie LeBolt. Staged by Boston Playwrights Theatre at 949 Commonwealth Avenue, Boston, MA, through April 2.
"The Franklin expedition to the North Pole in 1845 sought the Northwest Passage and instead found ice, starvation, and insanity. For three years, modern-day underwater archaeologist Caroline has been searching for Franklin's second ship, but time is running out. Two crews, two ships, and one 200-year-old mystery."
Coyote on a Fence by Bruce Graham. Directed by Daniel Bourque. Staged by Hub Theatre Company of Boston at the First Church Boston, 66 Marlborough Street, Back Bay, Boston, MA, through April 15.
"Can you be innocent though proven guilty? Inspired by actual events, the script tells the story of two men living on death row under vastly different circumstances. Young Bobby Reyburn is a likable, illiterate member of the Aryan Brotherhood who committed a horrific crime. John Brennan is an educated, arrogant writer whose crime may actually be deemed a favor to society. Who deserves to die?"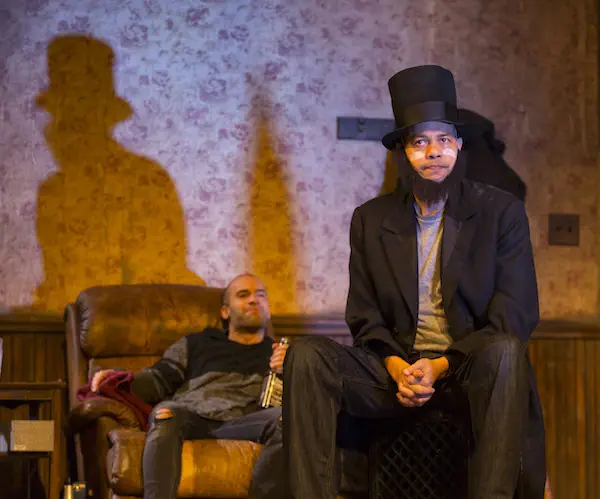 Topdog/Underdog by Suzan-Lori Parks. Directed by Billy Porter. Staged by the Huntington Theater Company at the Boston University Theater, Avenue of the Arts, Boston, MA, through April 9.
The script is "a darkly comic, deeply theatrical fable about family wounds and healing bonds. Lincoln and Booth are brothers: best friends and bitter rivals. Lincoln, a former 3-card monte hustler, works as a Lincoln impersonator in a shooting gallery; Booth is an aspiring grifter. He tempts his brother to get back in the game, but the consequences could be deadly. Suzan-Lori Parks made history as the first African American woman to win a Pulitzer Prize for Drama in 2002 with Topdog/Underdog." Arts Fuse review.
— Bill Marx
---
Jazz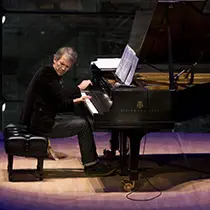 Brad Mehldau
April 2 at 7:30 p.m.
Sanders Theatre, Cambridge, MA.
With limitless technique and a self-challenging imagination, pianist Brad Mehldau has been a major figure almost since his emergence as part of Joshua Redman's quartet more than two decades ago. This World Music event will be a solo concert, featuring "the Boston premiere of his newly commissioned work, Three Pieces After Bach, along with several canonical pieces from The Well-Tempered Clavier and other selected compositions."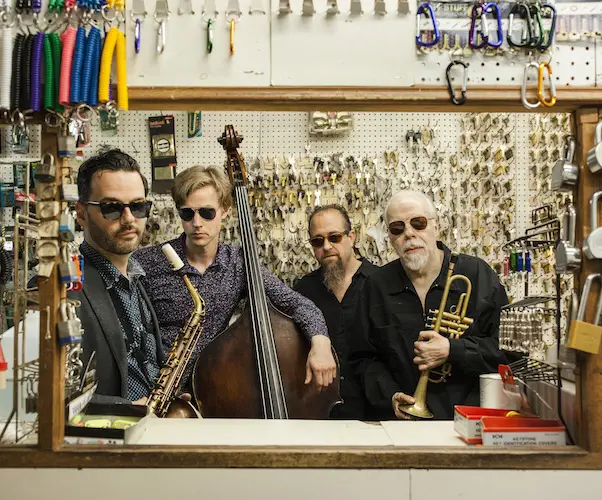 Hush Point
April 2 at 8 p.m.
Outpost 186, Cambridge, MA.
Trumpeter John McNeil's Hush Point (now three CDs in, with the latest, Hush Point III, on Sunnyside) has always featured his compositions front and center and a soft-spoken two-horn counterpoint that recalls, by turns, Chet Baker and Gerry Mulligan, Lee Konitz and Warne Marsh, or Ornette Coleman and Don Cherry. These days, McNeil's foil is the fine alto saxophonist and composer Jeremy Udden. You can expect maybe a tune by Udden and a standard or two. You can also expect sublime, transparent textures and easy swing (lots of brushwork from drummer Anthony Pinciotti; the bassist is Aryeh Kobrinsky).
Linda May Han Oh
April 5 at 7:30 p.m.
Regattabar, Cambridge, MA.
The bassist and composer sometimes billed as Linda Oh (when playing with Dave Douglas and Joe Lovano, among others) is now performing as a leader under her full name. Born in Maylasia and raised in Australia, Oh has been a player of depth and invention since her earliest solo recordings after arriving on the New York scene. She's celebrating the release of her upcoming Walk Against Wind. Joining her will be alto saxophonist Greg Ward, guitarist Matt Stevens, pianist Fabian Almazan, and drummer Rudy Royston.
Darrell Katz and Odd Song
April 6 at 8 p.m.
Lilypad, Cambridge, MA.
The fine composer Darrell Katz convenes a subset of the Jazz Composers Alliance, plus other friends, for his OddSong project — "blues, contemporary chamber music, Jazz, tango, collective improvisation, world music, and more." The band includes saxophonists Lance Van Lenten, Rick Stone, Phil Scarff, and Melanie Howell Brooks (who doubles on baritone and bass clarinet); Helen Sherrah-Davies on violin and piano; Vessela Stoyanova on vibes and marimba; and singer Rebecca Shrimpton. In addition to Katz, the program will include music by Sherrah-Davies.
Grace Kelly
April 8 at 8 p.m. and 10 p.m.
Scullers Jazz Club, Boston, MA.
The late, great alto saxophonist Phil Woods, describing Grace Kelly's talent, said, "It's not any one thing. She's got the whole kit." The former wunderkind, now 24, continues to grow as saxophonist, composer, and singer, as evident on her latest, Trying To Figure It Out, released last year at this time. The band will include bassist Julia Pederson, keyboardist Julian Pollack, and drummer Bryan Carter.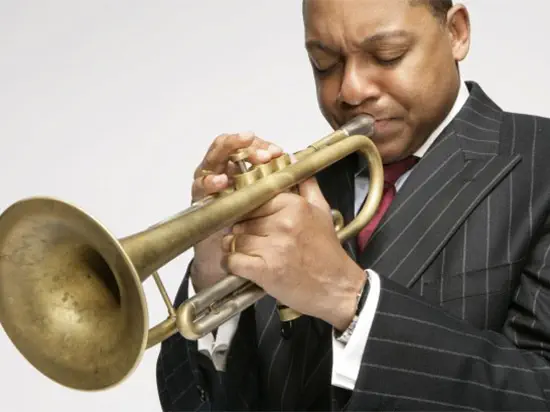 Jazz at Lincoln Center Orchestra
April 9 at 5 p.m.
Symphony Hall, Boston, MA.
The outfit fronted by trumpeter Wynton Marsalis in this case pays tribute to the centennial of drummer/bandleader Buddy Rich, featuring music Rich played with his own bands and those of others (they included Oscar Peterson and Lester Young). The featured player and composer will be JLCO drummer (and longtime Marsalis bandmember) Ali Jackson, whose "Living Grooves: A World in Jazz Rhythm," will be featured in the program's second half.
Donny McCaslin/Kneebody
April 9 at 8 p.m.
The Sinclair, Cambridge, MA.
Having broken out to a wider audience through their work on David Bowie's final album, tenor saxophonist and composer Donny McCaslin's formidable electrified group comes to agreeable rock den the Sinclair — Jason Lindner on keyboards, Mark Guiliana on drums, and Nate Wood on bass. Wood also happens to be the drummer for big-deal rockist jazz guys Kneebody, who are the headliners.
— Jon Garelick
---
Classical Music
Boston Symphony Chamber Players
April 2 at 8 p.m.
Jordan Hall/New England Conservatory at 30 Gainsborough Street, Boston, MA
Additional performers include soprano Elizabeth Fischborn and pianist David Deveau. The program includes pieces by Jolivet, Lerdahl, Prokofiev, Crozier and Brahms.
Leonard Bernstein's Mass
Presented by the Boston Conservatory
April 7-9, 8 p.m. (with 2 p.m. matinees on Saturday and Sunday)
Boston Conservatory Theater, Boston, MA
Bernstein's controversial masterpiece – a meditation on the "crisis of faith" in the modern world – comes to Boston for four rare performances at the Boston Conservatory Theater. Eric Stern conducts.
Moonlight (and a) Serenade
Presented by Boston Musica Viva
April 8, 8 p.m.
Pickman Hall, Cambridge, MA
BMV's season finale features the world premiere of Yehudi Wyner's Concertino (featuring Geoffrey Burleson), plus music by Barbara White, Richard Festinger, and Ronald Perera.
Across the Universe!
Presented by Pro Arte Chamber Orchestra
April 8, 8 p.m.
First Baptist Church, Newton Centre, MA
David Angus conducts Pro Arte's last program of the season. Haldan Martinson is the soloist in Barber's Violin Concerto, which is framed by Howard Frazin's In the Forests of the Night and Mozart's Jupiter Symphony.
— Jonathan Blumhofer
String Masters Series: Roger Tapping, Viola
April 9 at 8 p.m.
At Boston Conservatory's Seully Hall, 8 Fenway, Boston, MA
Other performers include pianist Peter Frankl soprano Janna Baty. On the program: Brahms: Two Songs for Voice, Viola, and Piano, op. 91; Sonata in F Minor, op. 120, no. 1; Sonata in E-flat Major, op. 129, no. 2; Schumann, Märchenbilder, op. 113
— Susan Miron
---
Rock, Pop, and Folk
​
Martin Barre
April 2 (show at 6)
Shalin Liu Performance Center, Rockport, MA
As one of the two constants in the otherwise ever-changing line-up of Jethro Tull, guitarist Martin Barre was essential to the sound of what was probably the most popular progressive rock group of the 1970s. With that band's leader now touring under his own name, Barre has assumed center stage himself by playing handfuls of shows throughout the United States in recent years. On April 2, he will bring his unmistakable sound to Rockport's Shalin Liu Performance Center.
King Gizzard & The Lizard Wizard with ORB and Stonefield
April 2 (doors at 7, show at 8)
Royale, Boston, MA
This multi-genre-spanning Australian septet has never gone 12 full months without a new release: the band claims that it will crank out five albums this year. Flying Microtonal Banana came out in February, so that's one down, four to go. On April 3, ORB and Stonefield will join the band for an Australian triple-bill at Royale.
Peter Wolf with The Roy Sludge Group
April 8 (doors at 7, show at 8)
The Cabot, Beverly, MA
Longtime Beantown fixture Peter Wolf is booked to treat a North Shore audience to J. Geils Band classics, solo favorites, and some choice covers at The Cabot in Beverly, MA.
Judy Collins
April 8 (show at 8) and April 9 (show at 5)
Shalin Liu Performance Center, Rockport, MA
Judy Collins will draw from more than two dozen albums worth of material during a weekend visit to Rockport, which will include a Saturday evening performance and a Sunday afternoon matinee.
Will Butler with Jo Firestone
April 11 (doors at 8, show at 9)
The Sinclair, Cambridge, MA
That band that Will Butler is in—you know, Arcade Fire—released the DVD The Reflektor Tapes in January and has finished recording its new album. Apparently not wanting to tire himself out in advance of what will reportedly be a massive world tour with those guys and gals, Butler has a date at The Sinclair that appears to be a one-off and not part of a series of shows. Comedian Jo Firestone, who toured with Butler in 2015 and directed the video for his 2016 song "Friday Night," will open.
Rock & Roll Rumble Preliminaries
April 2-4, April 6-8 (doors at 8, shows at 9)
ONCE Ballroom, Somerville, MA
After spending 2011-2015 at the dearly departed T.T. the Bear's Place. this celebrated Boston tradition returns for the second consecutive year to ONCE. Twenty-four acts will compete this week to advance to the semi-finals on April 14 and 15. From there, the winners proceed to the finals on April 21. The most recent last bands standing have been Worshipper, Zip-Tie Handcuffs, Godddam Draculas, and Eddie Japan, while past champions include The Dresden Dolls, Bleu, and Gang Green, and, in 1983, 'Til Tuesday.
— Blake Maddux
---
Roots and World Music
Music of Brazil
April 2
Arts at the Armory Cafe, Somerville, MA
This acoustic double-header includes Brazilian vocalist Sofia Krigertrio's Solos de Ave trio plus violinist Elinor Speirs' Brazilian violin collective.
Ray Benson & Dale Watson
April 5
Bull Run, Shirley, MA
Asleep at the Wheel lead singer Ray Benson teams up with fellow Austinite Dale Watson to perform some of their honky tonk favorites.
Gospel tribute to OB Gray
April 9
Prince Hall, 24 Washington, Street, Dorchester, MA
Local moving company owner OB Gray has long been a supporter of the traditional gospel scene. Now the scene pays tribute to him with an afternoon that includes Missisippi's Wings of Faith as well as Boston's own Clarence Thompson Jr. and the New Spirits.
— Noah Schaffer
---
Author Events
Stephen Burt
The Poem Is You: 60 Contemporary American Poems and How to Read Them
In conversation with Chloe Garcia Roberts
April 3 at 7:30 p.m.
Harvard Book Store, Cambridge MA
Free
April may or may not be the cruelest month, but it is definitely National Poetry Month, so it might be the right time to discover some contemporary poets. Burt, a poet, critic, and Harvard professor of English will read and discuss his new anthology of sixty poets and commentaries on their. The selection was chosen to appear to experts and novices alike; it includes well known names such as Claudia Rankine and Louise Gluck along with writers  just coming into prominence.
Roseann Sdoia
Perfect Strangers: Friendship, Strength and Recovery after Boston's Worst Day
April 5 at 7 p.m.
Porter Square Books, Cambridge MA
Free
It's safe to say that nobody would like to relive the day of the Boston Marathon Bombing. But Roseann Sedoia, one of the seriously injured, has an important story to tell, not only about the trauma she suffered, but the inspiring and unexpected help she received from complete strangers during her ordeal.
Lloyd Schwartz
Little Kisses
introduction by Gail Mazur
April 6 at 7 p.m.
Harvard Book Store, Cambridge MA
Free
The Pulitzer Prize winning classical music critic and UMass Boston professor will read from his latest collection of poems. Schwartz's poems investigate small but personal losses — the death of an old friend, his mother's Alzheimer's, the misplacing of a precious gold ring — with his distinctive blend of reverence and hope.
Camille Paglia
Free Women, Free Men: Sex, Gender, Feminism
April 6 at 7 p.m. (Doors open at 6:30)
Brattle Theatre, Cambridge MA
Free
The always-provocative feminist — who  feminists love to hate — comes to Cambridge to read from her new collection of essays, which are drawn from her previous books, weighing in on everything from '60s hedonism to drag queens and political correctness.
Gish Jen & Q.M. Zhang
The Girl at the Baggage Claim & Accomplice to Memory
In conversation with Celeste Ng
April 7 at 7 p.m.
Brookline Booksmith, Coolidge Corner MA
Free
In this wide-ranging panel three highly esteemed women will discuss their work. Jen is a novelist whose latest book addresses the relationship between East and West in a deeply interwoven global economy. Zhang's memoir mixes fiction, memoir, and historical investigation to investigate the circumstance behind her father's leaving China, a story that, because of political  censorship, is in danger of being lost.
— Matt Hanson