BODYTRAFFIC seems to be invested in a relentless likeability.
BODYTRAFFIC, sponsored by World Music CRASHarts, at the Institute of Contemporary Art, Boston. March 10 through 12.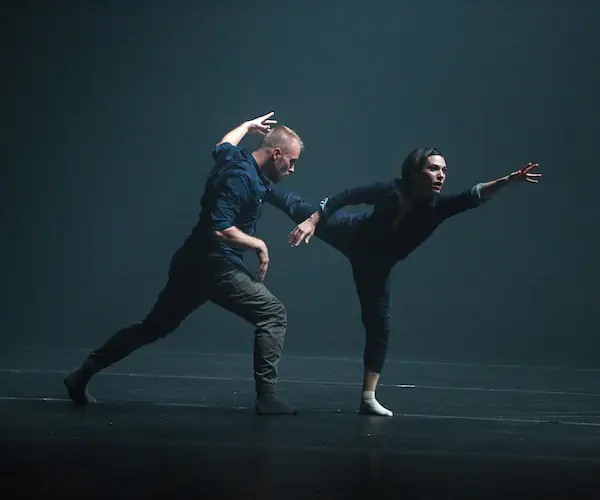 By Marcia B. Siegel
BODYTRAFFIC company from Los Angeles (they seem to insist that their name be written in capital letters) brought four dances by different choreographers to the ICA last weekend. The company mixes modern dance and mime with more contemporary movement styles including hip hop, break dancing, and contact improvisation. Three of the four dances were accompanied by diverse musical selections, mostly popular songs and world music. All of them applied mime gestures, mugging, speech or vocalizations to indicate character. And most of them addressed the audience directly at some point. None of these devices are new in dance, but collected into one evening they made the company seem invested in a relentless likeability.
Maybe it was due to the programming. All four pieces involved "relationships" and groups versus individuals, defined by coercive behaviors as well as companionable ones. Unlike traditional modern dance languages that were built on the personal movement styles of the choreographers or dancers, these works seemed to have little regard for the particular expressive weight of any individual move or phrase pattern. Without being molded in a single dance technique, the body becomes a malleable instrument that can be manipulated in almost any sequence of parts or propelled in an infinite number of speeds and intensities. The BODYTRAFFIC dancers were so accomplished at this and so well rehearsed that they could look mechanical, unmusical. Long stretches of eccentric movement were relieved by mime jokes and circusy skits.
The program opener, Richard Siegal's The New 45, has been around for nearly a decade, morphing to suit the dancers of various companies he works with. It's set to an abbreviated tour of jazz styles: Oscar Peterson, Clark Terry, Benny Goodman, and calypso. The dancers, Guzmán Rosado and Tina Finkelman Berkett (a co-founder of BODYTRAFFIC), skim the various rhythms and moods of the songs to derive dance moves. With twitchy hips and fluttery fingers Berkett imitates the squiggles and squeals of a bebop singer. Rosado snatches some gestures from the obstreperous family in Harry Belafonte's "Mama Looka Boo Boo." Eventually they dance together to a souped-up "Get Happy."
Expanding on familiar gestures has been a device for making dance ever since Ruth St. Denis twirled her skirts in the early 1900s. So has the habit of absorbing the musical gesture into body movement. Berkett and Rosado returned in Anton Lachky's Private Games: Chapter One. Here they were joined by three other fictitious characters who danced to a Haydn symphony, a Bach solo violin, Drums of the World, the Serbian percussionist N.J. Zikovic, and one B. Biskupstungna, who may be Icelandic, but in the absence of any program information, my Internet search didn't yield anything on him/her/it.
The musical mixture induced jittery collective moves and some "character" bits from Rosado, who emitted his own sound effects. Rosado later became Berkett's henpecked husband, dutifully executing moves at her command. Later Matthew Rich introduced him as his husband and put him through a similar routine.
Victor Quijada contributed Once again, before you go to the program. Set to a post-minimal score by Jasper Gahunia, the dance pitted four men stalking each other with monster steps and push-pull gestures. When Berkett appeared, they all ganged up to lift and shove her around. She danced with some if not all of them, and the dance ended in a long, strangely intimate but strenuous duet for her and James Gregg. Where the other choreographers exaggerated pedestrian gestures to come up with danceable movement, Quijada seemed to be basing his vocabulary on expanded hip hop and contact improvisation moves, with stretched-out timing and sudden stops at tangled positions you wouldn't normally catch.
Joshua Peugh's A Trick of the Light added a more blatant effort at comedy. The three women wore formals from the 1950s and the men sported sporty clothes. Once again, the music was old pop songs, and the humor was based on ludicrous costumes, mugging, and pratfallish surprises, along the lines of vintage Carol Burnett. It ended with some lukewarm jokes with props—a rope attached invisibly in the wings that pulled someone offstage, a duet performed by a man and woman in their underwear.
By the time a mirror ball dropped from behind a tinsel curtain, I felt I'd been in the theater for days.
---
Internationally known writer, lecturer, and teacher Marcia B. Siegel covered dance for 16 years at The Boston Phoenix. She is a contributing editor for The Hudson Review. The fourth collection of Siegel's reviews and essays, Mirrors and Scrims—The Life and Afterlife of Ballet, won the 2010 Selma Jeanne Cohen prize from the American Society for Aesthetics. Her other books include studies of Twyla Tharp, Doris Humphrey, and American choreography. From 1983 to 1996, Siegel was a member of the resident faculty of the Department of Performance Studies, Tisch School of the Arts, New York University.