Iranian Director Asghar Farhadi's most stringent judgments generally fall upon members of his own sophisticated, worldly cohort.
The Salesman , directed by Asghar Farhadi. Screening at Kendall Square Cinema, Cambridge, MA and Avon Cinema, Providence, Rhode Island.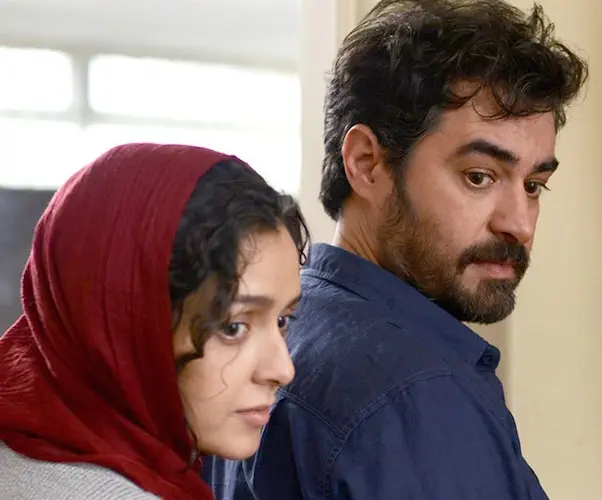 By Betsy Sherman
The screenplays of Iranian director Asghar Farhadi often hinge on a quest for the truth about what has happened at a particular moment. In The Salesman—an Oscar contender for Best Foreign Film—such a moment is set up like this:
A couple has hastily settled in to a new roof-top apartment after having been forced to evacuate their former dwelling. The wife is at home; the husband will arrive any minute with the groceries. She buzzes him in (she assumes it was him), leaves the door slightly ajar for his convenience, and heads to the bathroom to take a quick shower.
The matter of what happened in between the wife stepping into the shower and the husband's arrival home—and who it was that entered, caused injury to the wife, and then fled, leaving blood on the stairs—will test the ethical foundations of a family, and will somehow intertwine with Arthur Miller's Death of a Salesman.
That there's a realm of the unknowable here puts The Salesman in the company of Farhadi's Academy Award-winning A Separation, and his other fine films such as About Elly. He's a scrupulous chronicler of ethical dilemmas. Farhadi's most stringent judgments generally fall upon members of his own sophisticated, worldly cohort. Within Iran's restrictive society, these are the people who have options. Through the professions and the arts, they may try to push boundaries and expand discourse—but what are their personal blind spots, the limits of their empathy? In the new film, he and his male protagonist wrestle with societal codes about what can and can't be talked about, and with the way vulnerability can trigger primitive responses.
Emad (Shahab Hosseini) and Rana Etensami (Taraneh Alidoosti) are a young couple who live modest, fulfilled lives. He is a literature teacher who has a relaxed rapport with the boys in his class. He tries to widen their world view, sometimes using books that aren't approved by the administration. Emad and Rana are in a theater troupe that's about to open Death of a Salesman, Miller's drama of delusion and unrealized hopes. They play the leads, Willy and Linda Loman. As we see them in rehearsal, we hear that officials may still censor, or shut down, their production. They forge on.
Their composure is tested by the events that open the film, as what appears to be an earthquake in their old apartment turns out to be the result of the excavation going on next door. Looking at the cracks in the walls, Emad voices his frustration about the haphazard development of modern Tehran. The action will return to this visibly crumbling building for the tense, brittle dénouement.
There are a couple of bubblings early on in the narrative that raise issues about women's sensitivity (perceived by onlookers as oversensitivity) in matters of propriety and privacy. First, the troupe rehearses the scene in which Willy's son Biff makes a surprise visit to his hotel room and sees a hooker there. The actress—body covered, as per custom and the law, but wearing a scarlet coat as code of the harlot—rankles when a cast member giggles at one of her lines, feeling his laugh casts aspersions on her. Then, when Emad is sharing a taxi, the older woman next to him interprets his distracted bit of what we might call "man-spread" as a deliberate molestation. This makes Emad's student, also in the cab, upset at the woman's disrespect. Emad reframes it for him, saying, "A man behaved badly to her in a taxi once."
Then comes that pivotal moment. Emad arrives with the groceries and calls out to Rana (we see only his horrified reaction as he looks into the bathroom). Neighbors have taken Rana to the hospital; Emad witnesses her face being stitched. External wounds may heal, but the psychological wound grows. Rana tries to continue on in the play, but freezes. She can't stand being touched. She insists on going back to the old apartment so she can use that shower. Emad tries gingerly to ask what exactly happened, and for a description of the assailant. She simply cannot risk talking about it, and she refuses to let him call the police.
Emad has some clues—objects left behind in the struggle—and becomes obsessed with the desire for revenge. He will seek to inflict a shame for a shame, a ruptured relationship for a ruptured relationship. In the process, he comes in contact with a class of people who have few options, people not too distant from the ones he and Rana have been playing on stage.
The Salesman uses the element of absence to powerful effect. Among the most important characters are two that we don't see or hear. A woman named Ahoo had been evicted from the rooftop apartment. Her belongings remain, waiting to be picked up. She has a child, whose crayon drawings adorn one bedroom's wall, and whose bicycle figures into the story. The neighbors imply that Ahoo was a prostitute ("She had a wild life"), and that the intruder must have been one of her clients. The gossips among them wonder why Rana left the door open that evening. Another absence is the child that Emad and Rana plan to bring into the world, possibly into that apartment. In a sweet scene, they rehearse parenthood, inviting over for dinner the son of a cast-mate. Not coincidentally, the little boy's mother is the divorced actress who plays Willy Loman's out-of-town floozy.
Shahab Hosseini won the Best Actor award at Cannes for his gripping, brooding performance as Emad. Taraneh Alidoosti is affecting as well, her Rana growing more fragile as the pain of the assault is compounded by the trauma of the hurtful perceptions surrounding her victimization. Important as well are Babak Karimi and Farid Sajjadi Hosseini, playing fallible men instrumental in the calamity. Director Farhadi and his team create a rich visual strategy, with links between the theater set and the couple's dual living spaces. There's a tactile sense of materials, not least of which is the latex old-age makeup used by the real couple to transform into the fictional couple. Every wrinkle tells a story, and their removal may leave traces that can't be scrubbed.
---
Note: Vahdat Yeganeh, founder and director of the Boston Experimental Theatre Company, will moderate a post-screening panel — on Sunday, February 19 at 2 p.m. at Brookline's Coolidge Corner Theatre — with Somy Kim, associate professor at Northeastern University, and Sheida Dayani, a preceptor in Persian in the Department of Near Eastern Languages and Civilizations at Harvard University and an interpreter for film director Asghar Farhadi. The film opens at the Coolidge Corner Theatre on February 17.
---
Betsy Sherman has written about movies, old and new, for The Boston Globe, The Boston Phoenix, and The Improper Bostonian, among others. She holds a degree in archives management from Simmons Graduate School of Library and Information Science. When she grows up, she wants to be Barbara Stanwyck.