An Arts Fuse regular feature: the arts on stamps of the world.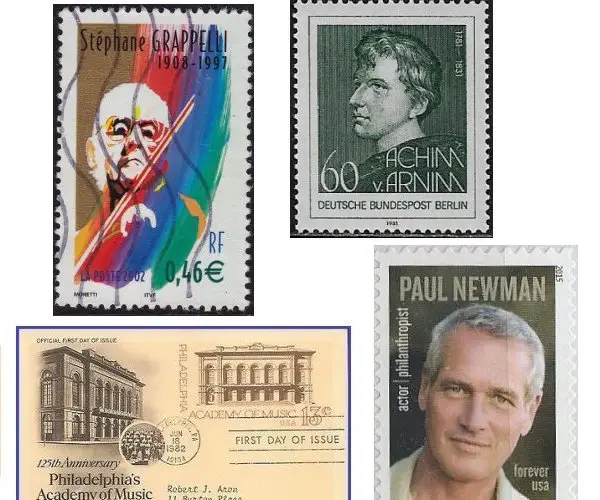 By Doug Briscoe
Another full house for today's Arts on Stamps of the World, as we mark the birthdays of Stéphane Grappelli, German poet Achim von Arnim, French sculptor Jean-Baptiste Pigalle, Belgian soprano Marie Sasse, Dutch-born painter Kees van Dongen, Estonian illustrator Günther Reindorff, and American actor Paul Newman. Other January 26 anniversaries include the opening of the Philadelphia Academy of Music, the première of Richard Strauss's Der Rosenkavalier, and the death of English painter Thomas Hudson.
Stéphane Grappelli (1908 – 1 December 1997) was in all probability the most famous of all jazz violinists. His father Ernesto, an Italian living in France, was a teacher and translator who contributed articles to local journals. One of these was a piece on Isadora Duncan, and when Ernesto was called up to join the Italian army in World War I, he enrolled Stéfano, as he was then known, in Duncan's dance class and entrusted his son to her care, thereafter committing him to an orphanage until Ernesto was demobilized. He was so disgusted with his experiences in the Italian military that Ernesto immediately dragged Stéfano to city hall, buttonholed two strangers as witnesses, and had the boy nationalized (as Stéphane) as a Frenchman. Having been exposed to good music while under Duncan's care, Grappelli began to play the violin at 12 and was a busker at 15. During this period he encountered jazz for the first time. It was in 1931 that he met Django Reinhardt (see our Arts Fuse piece of just three days ago), and when they met again in London three years later, they formed the Hot Club (Quintette du Hot Club de France), one of the first all-string jazz bands. Grappelli went on to perform on hundreds of recordings with the most distinguished artists of the jazz and classical worlds and played into his eighties.
One of the salient personalities of German Romanticism, Achim von Arnim was born Carl Joachim Friedrich Ludwig von Arnim (1781 – 21 January 1831). His most celebrated accomplishment is the publication of the three-volume folk song collection Des Knaben Wunderhorn (The Youth's Magic Horn), on which he collaborated with Clemens Brentano. This work was the inspiration for a great many song settings, most notably the eponymous cycle by Mahler. Arnim, son of a Prussian royal envoy, rubbed elbows with the literary lights of his day: Ludwig Tieck, Goethe, Schlegel, Germaine de Staël, the Brothers Grimm… He had begun, though, as a student of law, science, and math, and his first writings were articles for science magazines and a somewhat metaphysical Theory of Electrical Phenomena. He actually earned a degree in medicine, but having decided on literature never practiced. His wife Bettina, the sister of Clemens Brentano, was also a distinguished writer among her many other accomplishments (but we'll defer speaking of those until her birthday, which is in April). His collected works, poems, plays, etc., fill twenty volumes.
Although he had a very difficult time getting into the Académie Royale, Jean-Baptiste Pigalle (1714 – 20 August 1785) developed into a sculptor whose talents were much in demand. Some of his more admired works include a 1776 statue of Voltaire and tombs for the Comte d'Harcourt and Marshal Saxe. His "Infant with Cage" (1750), now in the Louvre, was chosen for a 1955 semi-postal stamp issue, i.e., one that would be sold with a surcharge, in this case to support the Red Cross. Unfortunately, Pigalle's name has for decades been most commonly associated with the Paris district notorious for its "adult" entertainment. Even during World War II, American GIs renamed it "Pig Alley". Earlier, however, the district had been home to a community of artists that included Toulouse-Lautrec, van Gogh, and Picasso.
Marie Constance Sasse (aka Sax, Saxe, Sass) was born on this date in 1834. She studied at the Ghent Conservatory and in Milan and made her debut in Venice as Gilda in Rigoletto in 1852. Following her success as the Countess in The Marriage of Figaro in Paris, she worked under Berlioz and Saint-Saëns in a production of Gluck's Orpheus and Euridice, though it seems she initially mistook Berlioz for Gluck himself, who had been dead for over 70 years. She was at the Paris Opéra in the decade 1860-70 and was selected by Wagner for the Paris première of Tannhäuser. Sasse also worked with Verdi for a revival of The Sicilian Vespers and created the role of Elisabeth de Valois in his Don Carlos. In 1865 she was sued by Adolphe Sax, the inventor of the saxophone, who objected to her use of the name "Sax," so she changed it to "Saxe", whereupon a wag suggested she might now be sued by "le Roi de Saxe" (the King of Saxony). She also created the role of Sélika in Meyerbeer's L'Africaine. She retired in 1877 and died 8 November 1907, apparently without having left any recordings of her voice.
When he was sixteen, Kees van Dongen (1877 – 28 May 1968) entered the Royal Academy of Fine Arts in Rotterdam, where he met his future wife the painter Augusta Preitinger. They lived in Paris, where van Dongen took part in the controversial Salon d'Automne exhibition of 1905 with such other Fauvists as Matisse and Derain. Paris was the residence of the family until the outbreak of the First World War, when they happened to be visiting Rotterdam and were stranded there, unable to return to Paris until 1918. Thereafter, van Dongen was much in demand as a portrait artist and painted Sacha Guitry and Maurice Chevalier among others. He became a French citizen in 1929 but lived in Monaco in his final years. The New National Museum of Monaco holds a large collection of his work. The Belgian stamp depicts his work "The Violinist" of 1920, now housed in the new Musée La Boverie in Liège, which just opened last May.
Although we celebrate here the arts on stamps, it's rather rare for us to salute graphic designers of stamps themselves. One such figure was Günther-Friedrich Reindorff (1899 – 14 March 1974), an Estonian illustrator of German descent. Born Gyunter-Fridrikh Germanovich Reyndorf in Saint Petersburg, he designed not only many postage stamps but also currency, both banknotes and coins, military insignia and medals, bookplates, etc., particularly in the late 1920s and early 30s. He also illustrated books. Not himself the subject of a stamp design, he can of course be represented by a couple of examples of his work like these early Soviet stamps of 1921 and 1922.
Paul Newman (1925 – September 26, 2008) not only gave some of the finest performances in American cinema, but was also a great philanthropist, having co-founded the now famous Newman's Own brand of food products, from which all profits go to charity. (I particularly recommend the Orange Mango Tango fruit juice.) Newman's Own has donated over 460 million dollars as of last year. Newman also co-founded the Safe Water Network and the SeriousFun Children's Network. He is one of a number of iconic American film stars to be honored in an ongoing series of postage stamps, this one from just two years ago.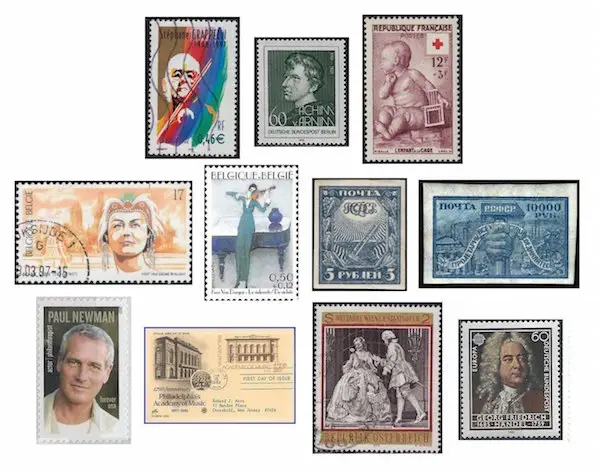 The Academy of Music in Philadelphia, built in 1855-57, is the oldest opera house still being used for its original purpose in the United States. An inaugural ball was held on January 26, 1857, but the first musical performance (of Verdi's Il trovatore) was not given until February 25. The building was the home of the Philadelphia Orchestra from its founding in 1900 until 2001. Gounod's Faust, Wagner's Flying Dutchman, and Mahler's Eighth Symphony all had their American premières at the Academy. The United States issued this postal card (not shown to scale) as part of a series on historic preservation.
The popular Richard Strauss opera Der Rosenkavalier, loosely based on works by Molière and Louvet de Couvrai, with a new libretto by Hugo von Hofmannsthal, had its first performance on 26 January 1911 at the Königliches Opernhaus in Dresden. Our stamp showing the Presentation of the Rose scene comes from a 1969 set from Austria commemorating the centenary of the Vienna State Opera. Shown in the image are Christa Ludwig as Sophie and Anneliese Rothenberger as Octavian.
We don't know the date of birth of English painter Thomas Hudson (born 1701), but he died on this date in 1779; nor has a stamp been released for him, but this German one shows a detail from Hudson's famous portrait of Handel. Born at an unknown location in Devon, Hudson was greatly successful as a portraitist in London in the decade 1745-1755.
---
A graduate of the University of Massachusetts with a B.A. in English, Doug Briscoe worked in Boston classical music radio, at WCRB, WGBH, and WBUR, for about 25 years, beginning in 1977. He has the curious distinction of having succeeded Robert J. Lurtsema twice, first as host of WGBH's weekday morning classical music program in 1993, then as host of the weekend program when Robert J.'s health failed in 2000. Doug also wrote liner notes for several of the late Gunther Schuller's GM Recordings releases as well as program notes for the Boston Classical Orchestra. For the past few years he's been posting a Facebook "blog" of classical music on stamps of the world, which has now been expanded to encompass all the arts for The Arts Fuse.