From Tina Pelikan, Director of Publicity at ECM Records:
John Abercrombie, one of the great improvisers, died on August 22, after a long illness. He will be much missed, for his sensitive musicality, his good companionship, and his dry humor which enhanced many a session. He leaves behind an extensive discography which will be studied as long as people continue to play jazz guitar.
John made his first recording for ECM, the appropriately-titled Timeless, in the summer of 1974, with his lifelong friend Jack DeJohnette on the drums and Jan Hammer on organ. Over the next four decades, he was active as leader, co-leader and sideman on dozens of ECM projects. A creative writer of jazz tunes, John also loved to play freely as much as he loved to play standards. Many of his albums combine all of these resources, unified by his fluid, silvery tone and improvisational eloquence. In conversation he would speak of his enduring fondness for Jim Hall and Wes Montgomery, primary influences, and also of the liberating examples of Ornette Coleman and Jimi Hendrix; Bill Evans's sense of lyricism was also of crucial importance to him.
Abercrombie led a number of very fine bands, and he was particularly proud of his last quartet with Marc Copland on piano, Drew Gress on double bass, and Joey Baron on drums. This quartet released two albums, 39 Steps and Up and Coming, the latter just released in January 2017.
Highlights in his recording career were many and include the Gateway trio albums with Dave Holland and Jack DeJohnette, the duo albums with Ralph Towner, the New Directions albums (with DeJohnette, Lester Bowie and Eddie Gomez), Jan Garbarek's Eventyr, Charles Lloyd's The Water Is Wide, Collin Walcott's Grazing Dreams (where John and Don Cherry play together), Enrico Rava's The Pilgrim and the Stars, Kenny Wheeler's Deer Wan … the list goes on.
John died peacefully at Hudson Valley Hospital outside of Peekskill, NY, in the presence of his family.
---
Here is Ken Bader's Arts Fuse interview with Abercrombie, among the musician's last, from earlier this year.
"I don't play constant moving eighth notes like a lot of players. Generally, I try to float across the rhythm, not really dig into the rhythm."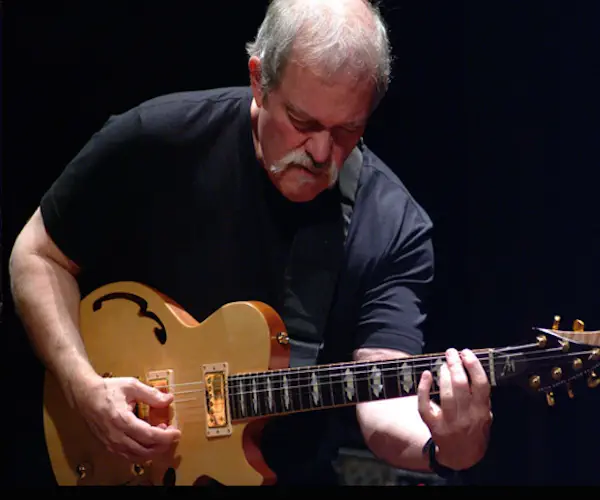 By Ken Bader
Jazz guitarist John Abercrombie has explored an astonishing variety of styles and sounds on his journey to the delicate, meditative music he plays with his current quartet. As Abercrombie told me by phone from his home in Putnam Valley, New York, that journey began in the 1950s.
I grew up listening to rock 'n' roll on the jukebox and the car radio. I would hear Chuck Berry, Elvis Presley, Bill Haley & His Comets, Fats Domino… I liked the sound of the electric guitar, so I wanted to play it.
The reason he wanted to play it had nothing to do with jazz.
It had to do with finding something I could do that would give me an identity. I didn't like sports that much, and I wasn't a great scholar; I didn't fit in with the high school cliques. So I found music, and that got me into playing with garage bands.
Then came Abercrombie's musical epiphany: He heard jazz.
A friend of mine played me a Barney Kessel record, and I kind of flipped out. I said, "Wow, this guy bends notes, and he does double stops like Chuck Berry does, but he's a lot more sophisticated and his music sounds a lot more complicated."
It was certainly more complicated than anything Abercrombie's guitar teacher in Greenwich, Connecticut, could show him. So, in 1962, Abercrombie enrolled at the Berklee College of Music. In Boston, Abercrombie developed his chops through formal studies and informal jam sessions, one of which led to a future cult classic.
One day I went to a jam session to play and this fellow named Monty Stark was there. He was a vibraphonist, and he started to play. I said, "My God, this guy's amazing!" He said, "I work for WGBH, and I'm working with Hoagy Carmichael." Hoagy Carmichael's son was helping to organize a show, using children's songs his father had written.
So Monty Stark asked me to be part of a band (the Stark Reality) and record these songs. They were all really corny and simple, and Monty re-harmonized them and changed them around. We played everything with a more contemporary rock beat and wah-wah guitar.
The result was The Stark Reality Discovers Hoagy Carmichael's Music Shop. Mojo called the album "one of the most prized 'funk' artifacts of all time," combining "Hendrix-stoned guitars, heavily fuzzed vibraphone and Bitches Brew rhythms." Rolling Stone called it "as playful as it is wild… as fantastic as it is frazzled." I call it the most psychedelic children's album ever made.
In 1970, Abercrombie moved to New York to join Chico Hamilton's band.
My first apartment was on East 4th Street between First and Second avenues, and my rent was $68 a month. In those days, working with Chico earned me enough money to pay my rent, eat, and live in New York.
Around that time, jazz players were starting to incorporate funk, rock, and R&B into their music. Abercrombie followed suit.
I met Mike and Randy Brecker and joined a band of theirs called Dreams, which was a fusion band. Then I started to play a different kind of music. I started to play with a wah-wah pedal and a fuzz tone.
As jazz fusion grew more popular, Abercrombie found himself playing to larger and larger audiences. One night, when the band he was in shared a bill with the Doobie Brothers, Abercrombie asked himself, "What am I doing here?"
I realized after years of playing with (drummer) Billy Cobham and some of these high-powered fusion units that I really was missing the reason I started to play jazz. It had nothing to do with playing a million miles an hour or really loud. It had to do with swinging and playing songs with nice harmonies. So I decided I wanted to make a break from that. I hooked up with (drummer) Jack DeJohnette and then began meeting European musicians and playing free music and folk music…
Nowadays, John Abercrombie plays mostly "chamber jazz," an improvised blend of jazz, folk, and classical. Abercrombie has a soft, light touch, a warm tone, and a recognizably mellow style, which he describes as "a little floaty."
I have good time, but I don't play constant moving eighth notes like a lot of players. Generally, I try to float across the rhythm, not really dig into the rhythm.
Abercrombie's current quartet, which includes pianist Marc Copland, Drew Gress on double bass, and drummer Joey Baron, is featured on the group's second album, Up and Coming.
This recording is about how we play as a band. I really see this as a playing record more than a compositional record. Although I think the compositions are really good, what's more important for me on this recording is the way we interact and dialogue and play together.
Abercrombie composed five of the eight tracks on Up and Coming. They range in mood from the sprightly "Flipside" to the oddly titled opening track, "Joy."
This has got to be the saddest song I've ever written in my life. It's dripping with grief and pathos. So I started to think about what to call it — "Grief"? "Sorrow"? And then I thought, why don't I just do the opposite? Since it's so sad, why don't I call it "Joy", because there's great joy in sadness sometimes.
The one song from Up and Coming that neither Abercrombie nor Copland wrote is Miles Davis' "Nardis."
I had this idea about how to record it. I was going to make it all one mode, because it's a very modal tune; it hangs around a certain sound. So I figured I like this sound, which is what we call a Spanish Phrygian mode — very Spanish-y sounding. I wanted to keep the first part of this tune in this mode and then use the bridge as it's written. So we started to play it like this in the studio, and it just wasn't working. And (producer) Manfred Eicher said, "What is it you want to do with this tune?" I said, "I had this idea about a Spanish mode…" And he said, "Why don't you just play the song?" So I played the first two notes. That's why you hear the guitar all by itself. I wasn't stating any kind of tempo. Then, before we got to the bridge, I started to play it in tempo, and everybody was right there. From then on, we just played the tune.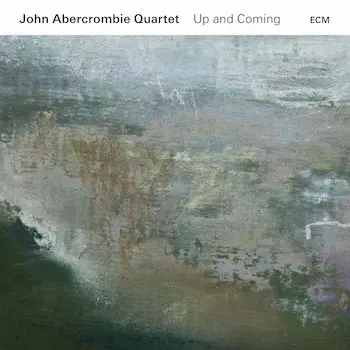 Abercrombie still performs in Greater Boston from time to time. He says he enjoys returning to the city, because it brings back good memories — of Berklee, his first gigs, going to shows by jazz giants, and, once, even meeting one.
I was playing in Paul's Mall, and I was with a bassist named Rick Laird. We're taking a break and go out into the alleyway behind the club and have a refreshment of the smoking kind. We turn around and standing to our right is (Thelonious) Monk, wearing his hat, his raincoat… He doesn't say a word. We look at him and offer him some of our herbal refreshment. Monk nods his appreciation, takes it from us, smokes the entire thing, and then thanks us and walks away. And Rick said to me, "Man, he just smoked all of our joint!" I said, "Yeah, but it was Monk. We got a chance to hang out with Monk!"
---
Ken Bader has been a Senior Editor for NPR, WBUR, and WGBH.