If tourists, especially retired Americans, come here for the fishing, the golf, the grand hotels, the real estate, why not also for an interesting lineup of movies?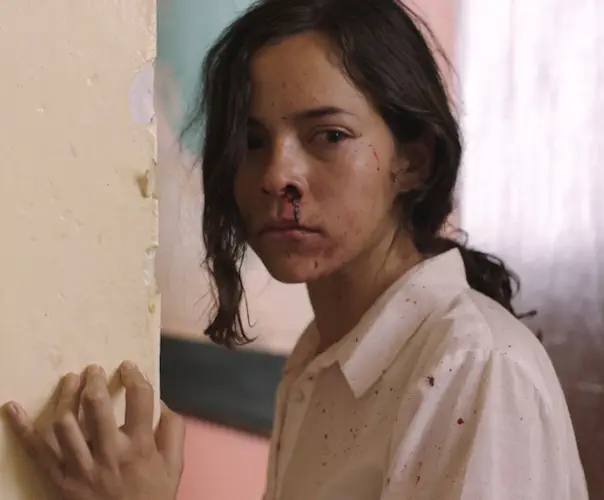 By Gerald Peary
How do you go from no film festival in 2011 to a world-class festival in only five years? Or at least, from no festival to a credible candidate for the best film festival in Mexico? That's the formidable ambition of the Los Cabos International Film Festival, situated in a sun-filled resort town on the Southern tip of Baja, California. If tourists, especially retired Americans, come here for the fishing, the golf, the grand hotels, the real estate, why not also for an interesting lineup of movies? But more than luring the local citizenry, why not make the Los Cabos Fest a magnet for serious critics and international filmmakers, and a meeting and networking place for industry from North and South America?
Such a festival is forbiddingly costly, even with funding from cultural wings of the Mexican government. But Los Cabos has managed to do remarkably well attracting "in kind" contributions from the private sector. For the 5th Los Cabos Festival November 9-13, Aeromexico gifted several hundred free roundtrip flights, including mine. I stayed at one of the half-dozen luxury hotels which offered rooms and food gratis to Festival guests. Every meal I ate in a local restaurant was on the house because of the Festival. And so on. For the record, I was a member of the FIPRESCI international critics jury. But there was glamour too at Los Cabos 2016: A-List American directors Oliver Stone and Julie Taymor, the former admired in Latin American for making Salvador, the latter adored in Mexico for having directed Frida. Also Italian global presence, Monica Bellucci.
Ms. Bellucci, given a Lifetime Achievement Award, lived out her superstardom. After delivering a short "Gracias" speech to the gathered about the magic of cinema crossing borders, she learned (this was the rumor going around) that her private plane was unavailable for her next stop, Mexico City. Somehow, four festival guests were bumped from a commercial flight so that The Matrix Reloaded actress could have those seats for her entourage. A hairdresser? A toy poodle? A boyfriend?
The Los Cabos Fest gave locals a first look at some well-regarded 2016 American films like Little Men, Manchester by the Sea, and Morris from America, though the aging US ex-pats lined up especially for Woody Allen's Café Society. But—surprise!—there are lots of native Mexicans living also in the Los Cabos vicinity, and the mandate of the Festival is to be, as it should, a showcase for Mexican cinema. That began with a fine tribute to the very talented Mexican cinematographer, Rodrigo Prieto, who went from filming Amores Perros at home to making Lust, Caution and Brokeback Mountain for Ang Lee and The Wolf of Wall Street for Martin Scorsese.
My three-person jury was charged with picking a best Mexican film among six candidates in the Mexico Priméro section. From what I can determine, Mexico is experiencing a renaissance of young filmmakers, and thus we had a lot to choose from. Our favorites were the two films directed by women. Our prize went to Lucía Carrera's Tamara and the Ladybug, the tale of a retarded lady living alone in a Mexico City slum who steals a baby for companionship. This tender humanist work proved that there still is vitality in Neorealism. Our unofficial runnerup, María José Cuevas's Bellas de Noche is an affectionate documentary portrait of once-famous Mexican showgirls—stars of burlesque and "B" melodramas—who are still persisting in their big-hipped, plastic surgery glitter in their 70s or more. I'm sorry our jury was restricted to one prize but very pleased that Bellas De Noche won the Los Cabos Audience Award.
The Official Competiton? The jury gave its prize to Andrea Arnold's gritty road movie, American Honey, which opened to excellent reviews this fall in the USA. It's a good film but I wish that something a little more obscure had been picked instead, a production which could have used the 200,000 pesos ($10,000 American) prize money and the recognition. I might have opted for Gabe Klinger's impressively artsy, Porto, with a touching farewell performance by the late Anton Yechlin. Or, the splendid Mexican entry, The Untamed, Amat Escalante's transgressive horror erotica in the surrealist vein.
What finally distinguished Los Cabos for me was the enormous effort by artistic director, Alonso Aguilar Castillo, and his hospitable staff to keep his festival guests happy, in the loop, invited to every party, dinner, boat ride, whatever. That doesn't always happen to festival juries. As a result, I met lots of interesting people, including some delightful Mexican screenwriters and filmmakers. We shared our sadness over the death of Leonard Cohen and our misery about Trump's election. We joked—or was it a joke?—that this would be the first and last time we'll ever hang out because of The Wall.
---
Gerald Peary is a retired film studies professor at Suffolk University, Boston, curator of the Boston University Cinematheque, and the general editor of the "Conversations with Filmmakers" series from the University Press of Mississippi. A critic for the late Boston Phoenix, he is the author of nine books on cinema, writer-director of the documentaries For the Love of Movies: the Story of American Film Criticism and Archie's Betty, and a featured actor in the 2013 independent narrative Computer Chess