"Being an independent musician is kind of like having an organic farm. Instead of shooting for the moon it's about growing bit-by-bit."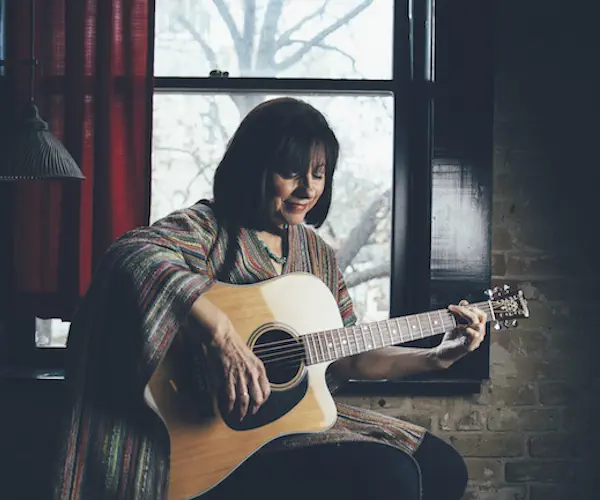 By Noah Schaffer
Long before "Americana" became a standard radio format and award show, Tish Hinojosa embodied the genre. Drawing on a distinctive approach to storytelling, the clear-voiced San Antonio-bred singer/songwriter amalgamated folk, pop, country, and Mexican music. She garnered record deals with A&M, Warner Bros. and Rounder. Like many of her Austin peers, she enjoyed a loyal Boston fan base that frequently turned out for her shows at Passim and Johnny D's.
Somewhere along the line, Hinojosa largely dropped out of sight. Marriage brought her to Germany, where she recorded 2014's underpublicized LP After the Fair. Divorce landed her back in Austin, where she's now rebuilding her career — a process she admits is taking longer than she expected. She'll be returning to Passim on Monday (November 7), and recently spoke with the Arts Fuse.
---
Arts Fuse: Although you appeared at Passim last year it had been many years since you'd previously been in town. Where had you been doing during that time?
Tish Hinojosa: Fom 2004 until three years ago I was living in Germany. I had toured in Europe quite a bit before that and thought I'd give living there a chance. I had always wondered what it would be like living there. I found it was funky. Maybe in Boston you're used to a being in a smaller geographic area, but when you're from Texas you kind of assume you'll have more space and a car. So in Europe I had a bike and rode the train a lot.
It was a wonderful time and expanded my horizons, which is where my last record came from. I recorded it in Berlin. At first I was going back to Texas to record, but then I thought, why shouldn't I record where I'm living? It was produced by Moe Jaksch, a well-known producer in Germany who had played in my band. It has a different flavor from a lot of my other records.
AF: One of the big calling cards for Texas music is a sense of authenticity. Were you worried about losing that by using Germany musicians?
Hinojosa: I know a lot of artists who tour Europe and hire European musicians and all that thing and the important ingredient is to find European musicians who have toured in the US, or especially who have been to Texas, then they often have a real feel for what the music is like.
Luckily, Moe is someone who had toured with American bands and was familiar with my musical language … I don't really like to go out there as just a Texan musician. I'm not a cowgirl, I'm not that Texas! I didn't even know country music until I was in my 20s and was hired to be a backup singer by Michael Martin Murphy. When I grew up, San Antonio was just a city. We were listening to '60s pop music and Mexican radio. I don't have a Texas accent. [Murphy] took me under his wing and introduced me to Nashville, where I was starting out as a songwriter — that's the reason my early music is more country. And that's why my records really vary. I've made two all-Spanish records, some bilingual children's records, some are more country, some are more folk. It all comes back to my upbringing as a Texan but not a country girl.
AF: Did living in Europe give you any insight into why American roots music is so popular there — including singer/songwriters who are big in countries where English isn't always a first language?
Hinojosa: I think Europeans are really fascinated by the American Southwest. They love the Flying Burrito Brothers and Gram Parsons and Townes Van Zandt, who was really popular in Europe in his later years. They love the acoustic guitar and the storytelling that comes from the Southwest.
AF: You're appearing here on Election Eve, and on your last album you recorded a Spanish-language version of Woody Gurthrie's "Deportee." That's a song that hasn't even been out of date since he wrote it in the late '40s. Do you think it has taken on more significance because of the rhetoric we've heard in this election cycle?
Hinojosa: Well, I hope that people are listening to it again. There are other versions in Spanish, but mine has a particular twist because it's sung from the perspective of the workers. The story never died. I've done work with the United Farm Workers, and my song "Something in the Rain" is about the plight of farm workers and their exposure to pesticides. They're receiving the worst we can dole out just so we can have food on our tables. And it's not just Mexicans — a lot of new immigrants find themselves starting at the bottom, doing the dirtiest labor for the least pay.
The great thing is that there have been a lot of improvements since the '60s. And there's even a monument to the workers that were being deported back to Mexico who died in the plane crash [which Guthrie's song is about]. He wrote about how their names weren't even mentioned in the news coverage of the crash, and now there is a monument to them that has their names engraved in it. It's a real lesson about how immigrants are not stealing jobs, they're just doing jobs. I know a lot of people on welfare who wouldn't want to do that work.
AF: What's it been like reintroducing yourself to American audiences?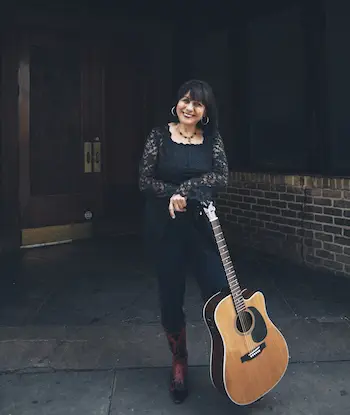 Hinojosa: I kind of thought I'd fall right back in but I discovered that with ten years away can really have an impact. The nice thing is that a wonderful crop of new singer/songwriters have come up, so for me it's a pleasure reconnecting and rediscovering my old audience and also getting to meet and play with new musicians.
It is a little bit humbling. When I left I had a bigger name than I came back with. Sometimes I think that I used to play better clubs than I've been playing — and of course I'm not talking about Passim! But you know, even in the '90s when I was at the top of my game and performing a lot and on the road 150 days a year while raising my children I'd sometimes have a really big gig. But most of my shows were always at small theaters and clubs. Being an independent musician is kind of like having an organic farm. Instead of shooting for the moon it's about growing bit-by-bit.
AF: Will your next recording project be a homegrown one?
Hinojosa: Yes, I'm hoping to make an album with [Tex-Mex accordion legend] Flaco Jimenez. He's played on many of my records and we've recorded about four songs together so far. It will be traditional Tex-Mex music and some really great songs that people think are traditional but were actually written by San Antonio songwriters from the border area. It should not be confused with Tejano, another Tex-Mex genre which is a lot flashier, usually with synthesizers and big lights. Conjunto and Tex-Mex is more like what you'd hear at the icehouse on a Sunday afternoon with the accordion and bajo sexto.
I've also re-recorded my Homeland LP because it's been out of print for 15 years, and those were the songs that put me on the map. I had a hit in Korea on that album, and Linda Ronstadt recorded one of the songs. So it was really frustrating that my fans couldn't purchase it. It was originally recorded in LA, but this version is a bit more organic. But we used the same engineer we used 27 years ago! One funny thing is that when A&M released it they were also putting out records by [David Wilcox and Zachary Richard] and they wanted a sub-label for it, so they called it "A&M/Americana." I think that was one of the first times that term was used for American roots music.
---
Over the past 15 years Noah Schaffer has written about otherwise unheralded musicians from the worlds of gospel, jazz, blues, Latin, African, reggae, Middle Eastern music, klezmer, polka and far beyond. He has won over ten awards from the New England Newspaper and Press Association.