Ballerina Lise wonders whether romance has a necessary relation to long-term happiness, but the heart of this version is what it means to go for broke and bet on love, or art, or both.
An American in Paris. Music and lyrics by George Gershwin and Ira Gershwin, book by Craig Lucas inspired by the motion picture, set and costumes by Bob Crowley, musical score adapted, arranged and supervised by Rob Fisher, directed and choreographed by Christopher Wheeldon. At the Wang Center, Boston, MA, through November 6.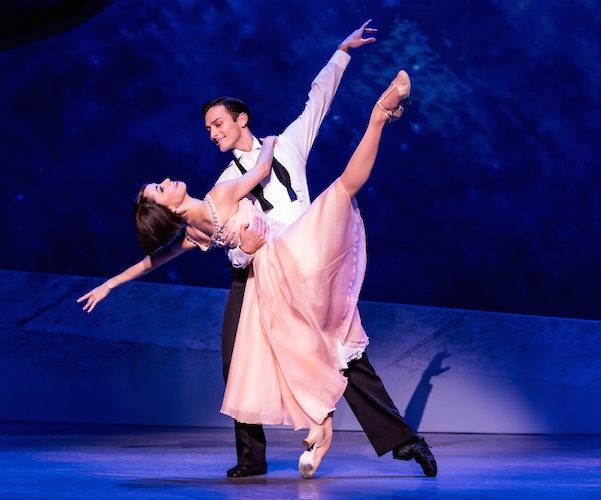 By Debra Cash
There's no splashing fountain but plenty of fireworks in the touring version of Christopher Wheeldon's Tony-winning retelling of the 1951 Gershwin musical An American in Paris. The original Technicolor vehicle for Gene Kelly and a dewy teenaged Leslie Caron culminated in a central ballet that ran 17 minutes long and put the dancers in a backlot environment riffing on images inspired by French artists that included Renoir and Toulouse-Lautrec. At the time, that production number was the most expensive ever filmed. In the period following World War II, the film implied, the glories of European culture were available for American delectation and self-improvement.
British ballet choreographer Wheeldon had a delicate task. In 2005, he created a one-act American in Paris ballet for New York City Ballet. For this hugely more challenging job, he not only had to grapple with the legacy of Vincente Minnelli's film, he needed to make its inherent aw-gee cultural encounter make sense.
With the help of Craig Lucas' book, which moves the setting to a 1945 where wartime trauma and secrets still smolder, imaginative if sometimes dizzying decor, and fresh, first-rate orchestration played by crackerjack musicians in the pit, the reboot emerged triumphant, first on Broadway and now on tour. An American in Paris is what lyricist Ira Gershwin might have called "embraceable." While ballerina Lise wonders about nature of romance, and whether it has a necessary relation to long-term happiness, the heart of this version is what it means to go for broke and bet on love, or art, or both.
An American in Paris opens with a montage of American GI turned aspiring painter Jerry Mulligan (Garen Scribner, in the Kelly role) on his first day in the City of Light. With him, we take in the architecture and the bicycles; memories of the recent Nazi occupation are banished by a pink Parisian dawn. Bob Crowley, who won the Tony for his decor and costumes, evokes time and place with a deft hand, always keeping the focus on Paris as a city of infinitely shifting atmosphere.
Jerry grew up with composer friend Adam Hochberg (Etai Benson) a kind of George Gershwin stand-in, and they make friends with the rather uptight Henri Baurel (Nick Spangler, the most persuasive singer in the production) who has at least one secret, which is a yen to be a song and dance man. Every one of the men falls for Lise (Sara Esty), and they explore their feelings through a deep dive into the Gershwin brothers' songbook.
Wheeldon, a first-time Broadway director (although he choreographed Sweet Smell of Success in 2002), makes American in Paris a danced-through musical: even the sets, rolling around in different configurations, got rhythm. He has been quoted as saying that Gene Kelly was one of his childhood idols, and I'm willing to bet he spent hours watching Kelly's movies –including Singing in the Rain and Brigadoon — before he started rehearsals. An American in Paris is studded with Kelly quotes. It's not just the split-collar jersey Jerry Mulligan wears, it's the twisty footwork, the leading-with-broad-American-shoulders assertion, the cheerful pratfalls and overall, a no-harm-done masculinity. Scribner, who appeared in the just-closed Broadway cast after a career with the San Francisco Ballet Nederlands Dans Theater I, is lankier than Kelly and, in truth, a more appropriate love object for a young ballerina. (It's impossible to believe that, with Lise, Kelly's Mulligan was in love for the first time.)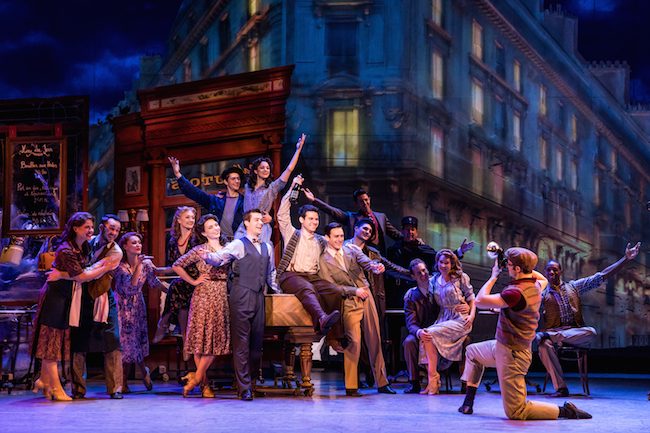 It's an easier transition to move from memories of Leslie Caron to the touring Lise, Sara Esty, who danced with Miami City Ballet and was an alternate Lise on Broadway. In rehearsal scene designed to echo Degas pastels, she is a sinuous orchid among a room of ordinary carnations; in the duet with Scribner that declares her feelings, American jazz becomes a shorthand for rapturous surrender to both a man and modernity. Emily Ferranti as arriviste arts patron Milo Davenport, along with Gayton Scott and Don Noble as Baurel's conventional upper crust parents who turn out to have their own secrets, offer sympathetic performances.
Much has been made of Wheeldon taking up the mantle of the late Jerome Robbins, who coached him when he was a young dancer in New York. The association is probably unavoidable. Both were A-list choreographers of classical ballet working with leading companies (Robbins with New York City Ballet, Wheeldon with both NYCB and the Royal Ballet) who found success as A-list Broadway choreographer/directors. But I think the connection goes beyond the c.v.s and the ways dance is always searching for successors to its leading lights.
An American in Paris has a lot in common with the choreographic imagination of Robbins' Fancy Free and On the Town, images of mid-century American mores featuring soldier boys who had fought against blatant evil returning home to discover an awareness of the world's complexity. Robbins, of course, was of that generation himself. Wheeldon, born in 1973, looks back through both history and the art that history produced. Like the best of Robbins, An American in Paris is enriched by vignettes drenched in implied character. Even the people around the periphery — a salesman moving a mannequin, a waiter checking out a table — are designed in their motion. An American in Paris floats up from a sense of a life lived among other lives, each of which might have their own stories to share.
---
Debra Cash, a founding Senior Critic and Board member of The Arts Fuse, is Executive Director of Boston Dance Alliance.