"Theater is my pathway to sanity," Melinda Lopez explains. "Everything I write, everything I create as a writer and an actress, is deeply personal for me, and by expressing it, I stay sane."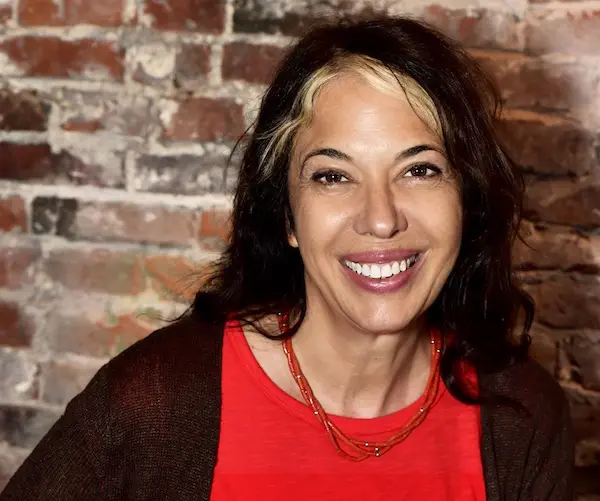 By Robert Israel
Melinda Lopez understands that choosing a life in the theater – answering a calling – is a career where passion and heartbreak come hand-in-glove.
Lopez, 51, is a Boston-based playwright, actress, and a theater professor at Boston University and other colleges. Her new work, a one-woman show that she wrote and stars in, is entitled Mala (at ArtsEmerson's Liebergott Black Box Theatre, October 27 through November 10). The script chronicles Lopez's struggles with the demands of her own life and career while caring for her Cuban-American mother, who is about to enter a hospice facility. She calls the play both "funny and wrenching." Yet it is more than that. It can be seen as a testimonial to Lopez's struggles to survive in the theater, and her commitment to persevering despite often overwhelming odds.
Ten years ago, Lopez penned another show, Sonia Flew. It was produced at Boston's Huntington Theatre Company, directed by the late Nicholas Martin. It was showered with accolades. It won the Eliot Norton award in 2005 for the season's most outstanding script. One local critic exclaimed that Lopez and Martin made "beautiful music together." There was big talk about the show moving to New York, first to off-Broadway and then, possibly, onto Broadway itself.
But the show traveled from Boston to Chicago, where it got shot down. Chris Jones, chief theater critic for the Chicago Tribune, thought it was "overwrought" and opined: "the dialog is stilted and too pat." Variety performed the coup de grace, dismissing the play as "a melodramatic muddle."
The reviews took their toll. Lopez retreated to write Mala and to work on other projects. Time passed. She joined the cast of appropriate at the SpeakEasy Stage Company in Boston and was highly praised for her performance of a pivotal role in Branden Jacobs-Jenkins' play. At the time, stunned by the roller coaster nature of a career on the stage, Lopez wrote on her Facebook page: "This is so hard! Why do people do this?"
I asked her that very question.
"The short answer to that question," Lopez replies, "is that I would shrivel up and die unless I did theater. There's no other reason. Because when it's good there's nothing else like it. It's holy. And it gives me a sanctified feeling."
When pressed further, she adds that her calling as a theater person gives her "lots of space" to write, to raise her teenage daughter, to read and rehearse, and to create. And there's more.
"Theater is my pathway to sanity," she explains. "Everything I write, everything I create as a writer and an actress, is deeply personal for me, and by expressing it, I stay sane."
Indeed, that is what I noticed about her performance in appropriate: she was not so much acting the role of Toni as channeling it. Toni – a divorced mother whose dysfunctional family meets amid the detritus of a house about to collapse — is at once strong and vulnerable, and Lopez performed the role with dignity, pathos, and a sense of stubborn spirit. Toni was a woman we all knew, maybe even someone from our own family. Lopez infused the role with an indelible authenticity.
"What makes theater compelling, why we seek it out as audiences and why I pursue it as a career is that it strikes a universal chord because we're all human, and it makes us look at our common humanity," Lopez says.
But what happens when critics fail to see all that humanity, and trounce a play because it lacks that common thread?
"Part of growing up, maturing as an adult, is that you can't please everyone," Lopez responds. "That's when the heartbreak comes in. They are standing there with a very large megaphone and they can say whatever they want and drown you out."
The late director Martin used to descry what he called "angry critics who do not love the theater." When I interviewed him some years before he died he raged on about the New York critics, in particular, who had the power to kill a show he was convinced they hadn't even understood.
"I wish critics and playwrights and actors shared the same skin and realized that what we are all doing is collaborative," Lopez said. "That we have a relationship, that we need one another, and that to tell the truth doesn't mean one has to be cruel."
Lopez believes that her new play, Mala, is "an incredibly funny play, even though it deals with life's solemnities. I feel at this stage in my life, 80 percent of the people I know are going through it, too, with their parents. It's a topic – growing old and infirm – that we just don't talk about. We don't want to confront it. But it's going to happen to all of us, eventually. And that's why we come to the theater. We find relief through laughter. It's a story about a very willful mother and her very willful daughter, and how they come to terms with one another."
In addition to teaching, raising her daughter, writing and performing, Lopez is working on a translation of Federico Garcia Lorca's Yerma for the American Conservatory Theatre in San Francisco. He described the script as a "poetic tragedy" in which a woman, obsessed with having a child, commits a horrific crime. The forces of life and death square off in stalemate.
"Yes, it's hard, this particular life of ours," Lopez says. "But it's sure better than staying home and watching Hulu!"
---
Robert Israel writes about theater, travel, and the arts, and is a member of Independent Reviewers of New England (IRNE). He can be reached at risrael_97@yahoo.com.