Conductor Benjamin Zander and his band were at their collective best performing Tchaikovsky's Symphony no. 6, emotionally invested in the piece to the hilt.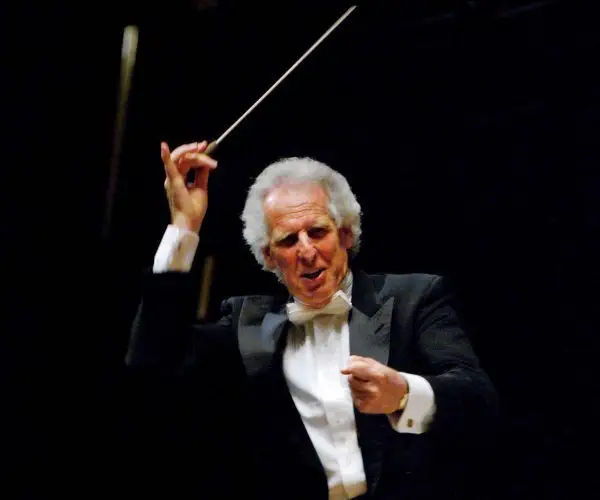 By Jonathan Blumhofer
It may have been about ten days early, but there was something of Halloween to be found – one way or another – in each piece on the Boston Philharmonic Orchestra's (BPO) season-opening program heard this past weekend.
Tchaikovsky's Symphony no. 6 (Pathetique), for instance, is famous for its death-haunted final pages. On Sunday afternoon at Sanders Theater, they faded into a shuddering oblivion, but not without first putting up quite a fight. Indeed, if there's one big takeaway from this weekend's Pathetique, it was the totally unsentimental approach with which conductor Benjamin Zander tackled the warhorse. In his hands, this is music fully caught up in life, not death. It embraces its challenges in turn, as they come up, fearlessly.
Accordingly, nowhere in Zander's interpretation did the music linger. Quite the contrary: tempos moved, sometimes at a breathtaking clip. More than a few moments over the first half of the third movement, for one, seemed about to careen out of control. In the coda of the first movement, the orchestra marched unrelentingly ahead, not once looking back on one of Tchaikovsky's most touching musical statements. Even the wrenching finale was propulsive.
And the Symphony's momentum wasn't just physical: most of the time, it was emotional, too. Thus, the second movement danced nimbly but its underlying intensity grew by bounds as the music proceeded. Sunday's finale was fearsomely passionate. And much of the first movement – notably the development – crackled.
As a performance, it featured Zander and his band at their collective best, emotionally invested in the piece to the hilt. The playing was almost flawless, some tentative phrasing and articulation at the beginning of the first movement and sour intonation in the brass chorale near the end of the finale its only really questionable moments. There were a number of fine solos – principal bassoon Hazel Malcolmson, principal clarinet Jan Halloran, and bass clarinetist Hunter Bennett were each terrific – but, really, Sunday's Pathetique was an ensemble triumph. It's always a great sign, for instance, when when you see whole string sections swaying in their seats as they play. That's what the Vienna Philharmonic does, after all. So did the BPO strings through page after page of the Symphony on Sunday.
And special mention should also be made of Zander's attention to dynamics in the Sixth's third movement: too often, Tchaikovsky's various gradations of forte (f, ff, fff, ffff) seem to be an afterthought. But, on Sunday, the BPO actually took pains to observe them and the dramatic payoff was terrific. Ditto (in the opposite dynamic direction) for the devastating closing pages of the finale.
Preceding this life-embracing take on Tchaikovsky's death-addled Pathetique was Sergei Rachmaninoff's Rhapsody on a Theme of Paganini. Here's a piece that conjures up plenty of devilish imagery: regarding the violinist, his wickedly difficult Caprices, Rachmaninoff's fiendishly challenging piano writing, and those hard-to-miss iterations of the Dies irae that pock several of its variations, to name a few. It's a score that takes a daring (not to mention capable) soloist and orchestra to do it justice.
And, as locals probably already know, Ya-Fei Chuang is a pianist of that caliber. She plays sensitively, with warm, rounded tone. Her technique is excellent, articulation precise, and her playing marked by a strong sense of the musical line. All of those qualities suit Rachmaninoff's music, generally, and, in the quiet and slow variations of the Rhapsody on Sunday, Chuang's performance shined like a lodestar.
The introduction of the Dies irae theme in Variation 7 was perfectly weighted and beautifully voiced. She brought a sort of Lisztian flair to the eleventh variations. And her account of the famous eighteenth was one of the finest I've ever heard: soulful, floating, lost in reverie.
But when the music got fast and loud, things didn't always click. Sometimes Chuang was simply covered by the orchestra. At other points it seemed as though she might have been holding back her projection a bit. Oddly, there wasn't always a sense of rhythmic electricity in her playing (like in the twenty-fourth variation). The result was a bit quirky and not entirely satisfying: this Rhapsody sounded, at times, like a piece for orchestra with a piano somewhere in its midst rather than a showpiece for solo piano and orchestra.
For their part, Zander and the BPO didn't always seem to be on the same page as Chuang. The Rhapsody started off tautly enough, but episodes of hesitation and imbalance cropped up enough to rob the music of some of its wit and panache. Yes, there were lovely moments to be had in Sunday's performance – the eighteenth variation was, for me, the high point – but the whole thing paled in comparison to Stephen Hough's spectacular rendition (with the BSO) in 2009 and Daniil Trifonov's superb recording from last year.
More successful was Lera Auerbach's Icarus, a ten-minute-long tone poem receiving its local premiere. The piece may not have set out to depict that myth literally – Auerbach's note claims that the title came after she finished the piece and, besides, "all [her] music is abstract" – but, whatever: the music certainly suits the tale of reckless ambition and death, and it's wonderfully engaging stuff to boot.
Cast in two sections, the first part of Icarus opens with driving, low-string riffs that are punctuated by snap-pizzicatos. A lyrical solo violin melody offers a brief contrast, but it's soon swallowed up by motoric, driving episodes and stern brass proclamations. The second movement offers no break in intensity, but does slow the tempo down a hair. In it, violin and cello solos give way to a prominent part for theremin, an instrument whose eerie, disembodied-voice-like tone is, in this context, both striking and effective. The music moves higher and higher in register (Icarus nearing the sun?) before a big collapse, and the piece ends with fragments of motives heard earlier seeming to float off into the ether.
The BPO, led here by assistant conductor Benjamin Vickers, certainly seemed to have fun with Icarus. And why shouldn't they have? It's brilliantly scored. The string solos – featuring concertmaster Jae Lee and principal cello Rafael Popper-Keizer – were impressively played. Thorwald Jorgensen nailed the theremin part (and gave an informative demonstration of the instrument in the lobby at intermission). As a piece, Icarus offers its share of musical and harmonic challenges but its course is clear, its aim true. It may meander a bit getting to its double-bar, but, once it's done, there's no feeling that the music's argument wasn't compellingly won. That's not an accomplishment to be taken lightly.
Perhaps the success of Icarus this weekend (it got a hearty round of applause from Sunday's audience) will encourage Zander and the BPO to program more music like it by living composers in the future. There's certainly plenty from which to choose – and for all times of year and seasons.
---
Jonathan Blumhofer is a composer and violist who has been active in the greater Boston area since 2004. His music has received numerous awards and been performed by various ensembles, including the American Composers Orchestra, Kiev Philharmonic, Camerata Chicago, Xanthos Ensemble, and Juventas New Music Group. Since receiving his doctorate from Boston University in 2010, Jon has taught at Clark University, Worcester Polytechnic Institute, and online for the University of Phoenix, in addition to writing music criticism for the Worcester Telegram & Gazette.