The intellectual and emotional intelligence of the evening's docket stands as a conspicuous example of exemplary programmatic creativity on the Boston Symphony Orchestra's part.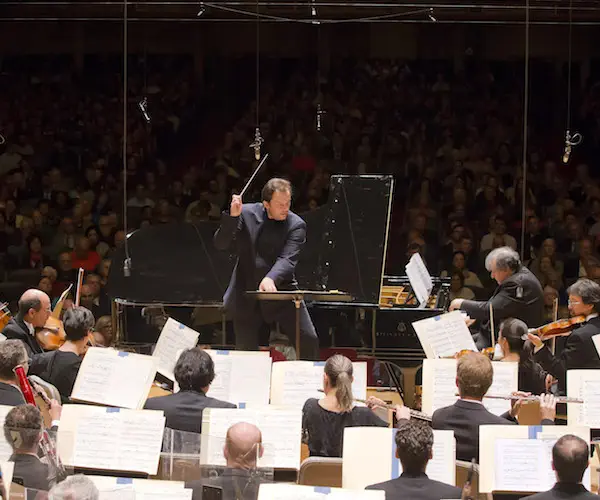 By Jonathan Blumhofer
Who was the biggest star at Symphony Hall on Thursday night? Maybe it was Jörg Widmann, the German composer whose piano concerto, Trauermarsch, received its local premiere. Or it might have been Yefim Bronfman, the pianist whose Herculean technique and easy command of the most prodigious of musical challenges never ceases to amaze. Perhaps it was the Tanglewood Festival Chorus (TFC), which sang a stirring Brahms Requiem without once flagging. Then, again, it might have been Thomas Hampson who, at sixty-one, has lost none of the tone, power, or focus of his mighty voice. There are plenty of options from which to choose, each of whom shone in their own right.
For Widmann, Thursday evening marked the first performance by the Boston Symphony Orchestra (BSO) of any of his music. It likely won't be the last: BSO music director Andris Nelsons is a big champion of Widmann's and, on the merits of Trauermarsch, it's not hard to see why. Widmann's music, though it's thoroughly contemporary in nature, offers many touchstones to the standard canon; it gives the orchestra much to do; and it keeps an energetic conductor like Nelsons abundantly busy coordinating things. There's much in it, then, for both performers and listeners to appreciate.
That said, Trauermarsch ("Funeral March") makes for a peculiar introduction to Widmann's large body of work. Expressively, it's almost unrelentingly grim, seething in anger and pain. Winds shriek, strings slash, the brass screams. Even its most hopeful moment – if it might be called that – a simple, diatonic tune over a pulsing accompaniment, doesn't provide solace, quickly disintegrating into a furious outburst that marks the climax of the piece. Essentially, it's an exercise in existential musical nihilism: all ends in death, decay, and ruin.
But that doesn't make it an ineffective piece of music. Quite the contrary. There's an honesty and conviction to Widmann's viewpoint that's compelling. And, when it's expressed with such directness in the music, it's a hard one to argue with.
Trauermarsch begins with two notes – G-flat and F – played by the solo piano and echoed in the orchestra. This falling gesture (which shortly turns into a chasmic descending leap in the orchestra) and a tattoo of dotted rhythms heard early on throughout the ensemble are its main building blocks. The latter are continuously varied, played by the keyboard, brass (with or without mutes), and col legno strings, among others. As the piece proceeds, virtuosic solo passages are subsumed into the orchestral fabric and various solo instrumental voices respond to the piano's commentary. Near the end, a pop-like melody leads, unexpectedly, to a furious climax before the piece ends softly, its emotional energy spent.
Bronfman, whose spectacular, kinetic performance of Bartók's Piano Concerto no. 2 last November continues to loom large in my memory, played Trauermarsch's solo part with a measure of brilliance but mostly a controlled, savage energy. There are plenty of delicate moments over the opening and closing pages, plus some striking, Rachmaninoff-like episodes dotting Trauermarsch's middle section. In his hands, though, none were more impressive than the fearsome chords near the end that spoke with terrific power and more than held their own with the orchestral outburst occurring simultaneously. It was a remarkable display of sheer strength that was, at the same time, executed with pristine musicianship.
For his part, Nelsons led the BSO in a gritty accompaniment that offered lots of color, especially from the percussion section (which included a pair of water gongs). Like most first performances of complex new pieces, this one seemed a mite under-confident; no doubt by Saturday, the BSO will have a stronger handle on all of Trauermarsch's nuances.
If the somber mien of Trauermarsch left one a bit chilly at intermission, the Brahms German Requiem that followed fit like a snug, fluffy blanket on a cold winter's night; indeed, Thursday's was a great performance of this familiar score.
The biggest reason for this owes to the excellence of the TFC's singing throughout the evening: it was warm, focused, and perfectly blended. Excellently prepared this week by Lidiya Yankovskaya and singing with the music in front of them (a departure from the John Oliver days of total memorization), the Chorus sounded notably confident and, even if enunciations of certain words (like "getröstet" in the first movement) were, to begin, questionable, the group gained in Germanic fluency as the piece progressed.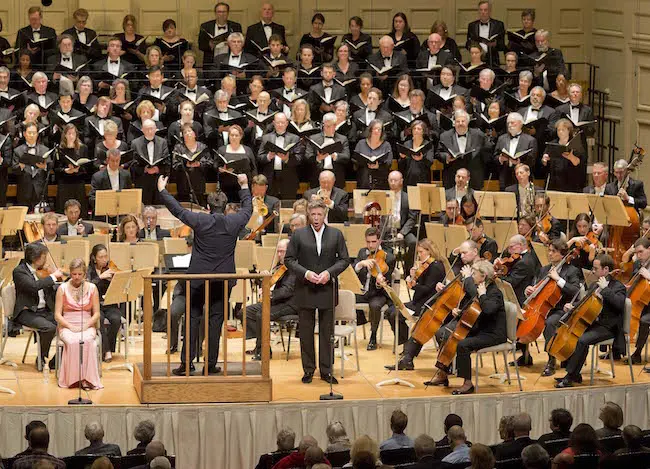 As seems to be his wont in music that addresses the Infinite, Nelsons opted for spacious tempos throughout the Requiem. In general, they were about as slow as you can get away with without sounding deliberate; only in the "Denn du hast alle Dinge geschaffen" sections of the sixth movement, which slowed the music down a further hair, did his interpretation come across as somewhat mannered. Still, apart from some muddiness in the "Die Gerechten Seelen" fugue of the third movement, textures between orchestra and voices were remarkably clear and precise throughout. The smooth balances between winds, brass, and chorus were likewise commendable.
As for the night's soloists, Camilla Tilling sounded a bit pinched in the high parts of "Ihr habt nun Traurigkeit," though she found a secure footing in the middle of that movement.
The biggest highlight of the night, from my seat, was Thomas Hampson, who simply owned the Requiem's baritone solos with an authority I've rarely encountered in this piece. His voice – its upper reaches, especially – may have lost some of its velvety smoothness over the decades. But that hardly matters: it's more than made up for with an intensity of tone, projection, and intonation that's staggering. I've never heard the responsorial "Herr, lehre doch mich," for instance, sound more like an operatic scene than it did on Thursday. And, for the vigor of his solos in the "Siehe, ich sehe euch ein Geheimnis" section of the sixth movement, Hampson may as well have been St. Paul addressing a scribe, so concentrated and powerful his execution of Brahms's writing.
It was, in sum, an affecting, often downright lovely, take on a piece that offers comfort to those in mourning. And it fit – smartly – with what preceded it. Indeed, in one of the striking moments of the night, the opening phrase of the Requiem's first-movement text, "Selig sind, die da Leid tragen" ("Blessed are they that mourn"), seemed to be addressing Widmann's Trauermarsch as much as any sorrowful souls in Thursday's audience. It was a demonstration of the intellectual and emotional intelligence of the evening's docket, which stands as a conspicuous example of exemplary programmatic creativity on the BSO's part. Whoever came up with it – not to mention the musicians who carried off the concert – have earned themselves a well-deserved pat on the back.
---
Jonathan Blumhofer is a composer and violist who has been active in the greater Boston area since 2004. His music has received numerous awards and been performed by various ensembles, including the American Composers Orchestra, Kiev Philharmonic, Camerata Chicago, Xanthos Ensemble, and Juventas New Music Group. Since receiving his doctorate from Boston University in 2010, Jon has taught at Clark University, Worcester Polytechnic Institute, and online for the University of Phoenix, in addition to writing music criticism for the Worcester Telegram & Gazette.