Despite the play's challenges to contemporary sensibilities, this is a galvanic production that stirs the spirit and demands that we reflect on what the script says about our own time, our own struggles.
The Plough and the Stars by Sean O'Casey. Directed by Sean Holmes, staged by the Abbey Theatre (Dublin, Ireland), at the American Repertory Theatre, Loeb Drama Center, 64 Brattle St., Cambridge, MA, through October 9.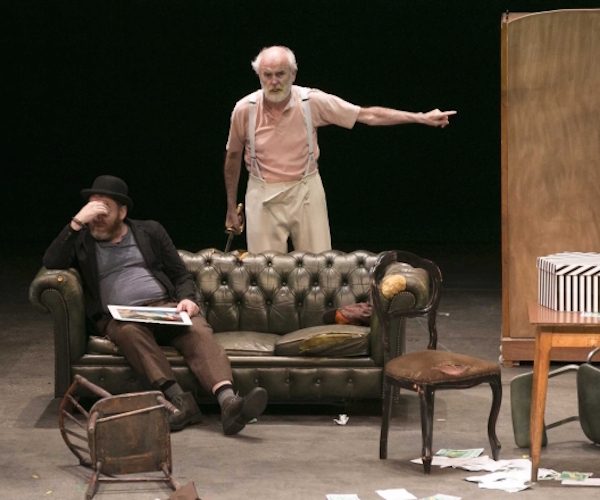 By Robert Israel
When the late African-American playwright Lorraine Hansberry was asked to name the greatest influence on her work, she responded: Sean O'Casey.
"The point in O'Casey is the wonder of the nobility of people," Hansberry said in 1959. "It is this dimension of people's humanity that he imposes on us."
Playwright O'Casey (1880-1964) had an uncanny ability of weaving history, pathos, poetry, and song into a hearty dramatic stew. One can see why his scripts inspired Hansberry to write A Raisin in the Sun, a play that captured the heartbeats and aspirations of a black family struggling to maintain its dignity in a society that would just as soon trample on its dreams.
In The Plough and the Stars, staged by the Abbey Theatre in Ireland, the very artistic institution that first staged it in 1925, we are given the same sprawling vision of trampled-upon people whose obdurate spirit cannot – will not — be extinguished.
The production is sprawling – it features a cast of 14. The set is minimal, stark, modernist: it transports us to the years 1915-1916 while at the same time keeping us firmly anchored in the present. The players are marvelous and bring a randy joy to their work, punctuating O'Casey's dialog with merry jigs that set their limbs a-dancing, their arms a-flailing, and their heads titled back in laughter and tears.
Be forewarned: the production is aurally challenging. The Irish brogue, though offering a rich sonic rhapsody, is often difficult to decipher. There are lines that are lost in all the trumpeting speeches that aim high but then wander off into the rafters. These blurred and slurred speeches lose their power to transport as they plummet earthward. When audience members are able to hang on and  ride along with the full throttle of the dialog, they are swept away. But, once the thick accent kicks listeners off, long passages pass by incomprehensibly.
When we are caught up in the dialogue, we are transported to the Clitheroe flat in Dublin, where we meet a family and their friends trying to keep their heads above water in the everyday affairs of life. Yet the challenges to normality are formidable. It is the time of the Easter Rising – an uprising against the British that was quelled — but not before the conflict introduced carnage into the streets of Dublin. Those violent scenes are graphically portrayed in the production – in words and in images.
A century later, we feel the ache of these same struggles for life, liberty, and personal dignity, omnipresent in our own land and overseas. What makes this production compelling (I urge you to see it before these performers head off to complete the final stretches of their worldwide tour) is how O'Casey yanks us into his pitiless vision — at times subtly, sometimes grabbing our lapels – by exposing his characters' aches, dreams, and, yes, their blood.
"God almighty give me patience," says Peter Flynn (James Hayes), repeatedly, as the others in the flat thwart him from donning his resplendent uniform. He's an elderly man, rail-thin, whose eccentricities add a needed layer of satiric hilarity to the otherwise often grim proceedings.
Or listen to the character Fluther Good (David Ganly) — rotund, robust, and eager to quaff pints of bitters — as he repeatedly spits out the word "derogatory" (I noted at least 15 occurrences). Sometimes he slings it out in jest, when he feels particularly put-upon by the others. But he also sputters the word to express how he feels he is being treated by society at large. For Fluther and his mates, being disrespected, put down in a crude and demeaning manner, whipped and diminished, becomes too much to bear. He wears the deep scars of being treated derogatorily like a red badge of pain.
The play shows us a sex-stereotyped world. The women are long-suffering and emotional, the men eager to embrace jolly delusions, all-to-ready to drink and fight. It is in O'Casey's women that the pulse of humanity throbs; when they are injured, fecundity itself seems to be endangered. A memorable instance of this intimation of primal murder occurs during the final agonies of Bessie Burgess (Hilda Fay) as she faces death. O'Casey is warning us that life is radically fragile, a theme of pending extinction that resonates just as strongly now as it did 100 years ago. Kate Stanley Brennan, who plays the role of Nora Cliteroe, also moved me with her powerful portrait of a woman who wants to perpetuate life through the birth of a child and who is living in a time when the price of giving birth is too costly, too risky.
Despite the play's challenges to contemporary sensibilities, this is a galvanic production that stirs the spirit and demands that we reflect on what the script says about our own time, our own struggles. O'Casey's drama of what he witnessed during a turbulent period of rebellion a century ago remains strikingly relevant — we continue to ignore his scathing perception of self-destruction at our peril.
---
Robert Israel writes about theater, travel, and the arts, and is a member of Independent Reviewers of New England (IRNE). He can be reached at risrael_97@yahoo.com.