About Clarence & Me looks tenderly … perhaps too tenderly …at some pertinent contemporary issues.
Theater for the New City's Dream Up Festival, 155 First Avenue, New York, NY, through September 18. About Clarence & Me, directed by Walter Jones, on September 3, 4, and 6.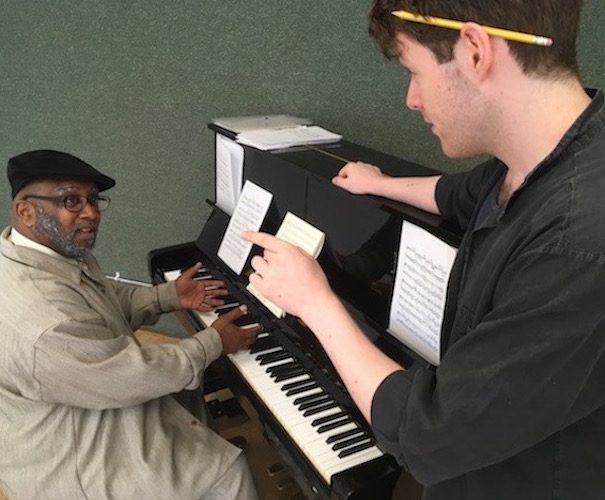 By Paul Dervis
Over the course of its 36 years Theater for the New City, an East Village landmark for the avant guard, has produced plays that have received 43 Obie Awards and a Pulitzer Prize. The venerable institution kicks off its 7th Annual Dream Up Festival with the world premiere of About Clarence & Me, a two-hander penned by the team of Walter Jones and Scott Hiltzik. It is a tender piece…at times too tender. But it manages to address several issues that are pertinent to our lives today.
Sam is a struggling young pianist and composer. To make ends meet, he brings students into his tiny Los Angeles flat, which is filled with ratty furniture, aside from a beautiful grand piano. Sam is running as fast as he can, and his overbooked life makes him a less than adequate boyfriend to Diane, whose presence in the play is confined to her constant phone calls to a maxed-out Sam…
Into Sam's life wanders Clarence, a geriatric African American student. He insists that he wants to learn the keyboards, yet he is effusively reluctant to listen to anything Sam attempts to teach him.
Thus begins an eight year relationship between two very different characters — a connection that at times is strained, at times intimate. Sam is brusque with Diane; Clarence is solicitous of his aging and in-firm wife. If you suspect that Sam has more to learn from Clarence than the other way around, you would be right.
As a student, Clarence is a bull in a china shop. He bangs on the keys too hard and improvises when Sam demands that he try to focus. Still, it is clear Clarence has a song in his head and that he senses that time is running out. He needs to get that song out while he, and more important, his wife, is around to hear it.
Slowly, Clarence learns. As the years pass, his hands become steadier even as he becomes frailer — his legs begin to give out and his body starts breaking down.
And then his wife passes.
Now very elderly, Clarence is ready to perform to an audience. Sam puts him into a recital, clearly intended for young newbies, but Clarence doesn't care. He is ready for his big day, and he shines. This tune is his final love poem to his deceased wife. And it is quite affecting.
The play should have ended then. Alas, the writers kept on churning out copy. The play keeps banging away at sentiment, taking us to a place that we knew (or would that be feared?) it was going. The last fifteen minutes of the script are not only unnecessary, but undercut the piece's earlier emotional power.
Yet About Clarence and Me is still a treat. It takes on a number of current issues, the struggles among the races to communicate, the discarding of the elderly, and the price paid for neglecting love.
Playwrights Jones (script) and Hiltzik (music) met on a Greyhound bus out of New York bound for Boston. As they talked about lives, arts, and music, they realized that they had a project to collaborate on.
DeMone, in the role of Clarence, has more than a little Redd Fox in him. He stumbles with comic force across the stage, belts out most of his lines, and wears his feelings: not on his sleeve, but etched on his face. At times the performer may go way over over the top, but then one figures…well, that would be Clarence, an over-the-top kinda guy.
Max Roll, as Sam, takes the opposite approach. He is minimal. Sometimes he is so subtle that he becomes difficult to fantom. The actors, as well as the characters, make for an odd couple. And that is the point. Out of this mismatch can come a fragile but moving human connection. Maybe we should make this play required viewing in the world of 2016 politics.
Also, this week I went to the Manhattan Repertory Company's Short Play Festival on 42nd Street. I was impressed with a couple of the offerings. The absurdist play Useless Remedies grapples with husband/wife relationships and extremely poor parenting. Neither parent is what he or she appears to be. At first, the daughter seems to the edgiest member of the family — but she turns out to be the only one that's close to normal. Written by Mark U Alvarado, the script could use a bit of trimming and more spontaneous craziness. Yet, under the able hand of director Mary Tierney, the production was nothing if not entertaining.
Also on the bill that evening was a hilarious salute to the 1950s that revolves around three middle-aged women and their obsession with mahjong. The choreography of the piece was inventive; the high energy performances intoxicating. Entitled Impoverished, the piece felt as if it had been inspired on the spot.
---
Paul Dervis has been teaching drama in Canada at Algonquin College as well as the theatre conservatory Ottawa School of Speech & Drama for the past 15 years. Previously he ran theatre companies in Boston, New York, and Montreal. He has directed over 150 stage productions, receiving two dozen awards for his work. Paul has also directed six films, the most recent being 2011's The Righteous Tithe