Conclusion: Woody Allen is, and long long has been, an aged fart.
Café Society, directed by Woody Allen. At Kendall Square Cinema, Cambridge, MA, Coolidge Corner Theatre, Brookline, MA, and AMC Loews Boston Common 19.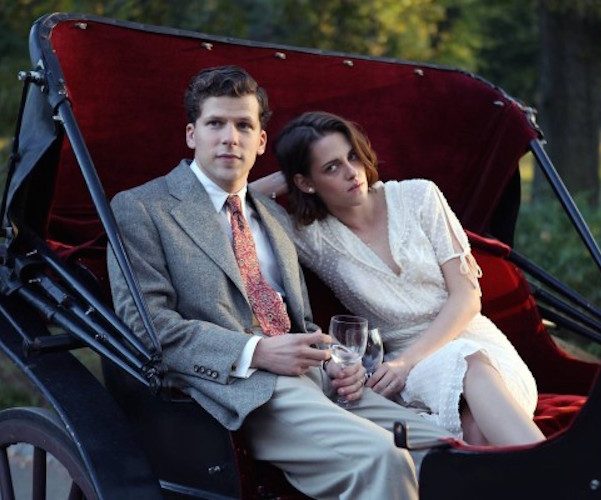 By Gerald Peary
Maybe as an octogenarian, Woody Allen can be forgiven for residing so obstinately in the musty American cultural past, as evidenced once again in Café Society, situated in Beverly Hills and the Bronx in the 1930s. But Allen has been a nostalgist forever, sticking to Dixieland music on his clarinet, wallowing in big band jazz and the clever lyricism of Cole Porter, fetishizing Hollywood studio movies of the 1930s and 1940s alongside the 1950s Janus catalogue of world cinema classics: Wild Strawberries to La Strada to Rashomon. There is no love for Miles Davis, John Coltrane, Ornette Coleman, or interest in their innovative sounds. Comedy begins with Chaplin and Keaton and ends with Sid Caesar. Movies? There's certainly no championing of young American filmmakers or even of Allen's own 1970s generation of Altman, Scorsese, Coppola. Too new!
Conclusion: Woody Allen is, and long long has been, an aged fart; and Café Society, starting with Allen's own lazily written and tiredly performed voiceover, is the retro movie of a filmmaker enmeshed in cobwebs. One reviewer summarized it perfectly: "Not terrible."
As often in his oeuvre, Allen starts his movie with Jewish life borrowed, like a cup of sugar, from Clifford Odets's 1930s stage hit, Awake and Sing. A family is shoved together in a lower middle-class New York apartment, bickering and gobbling food at a table in the kitchen and, for dreamers among them, scheming for a better life. In residence are Rose Dorfman (Jeannie Berlin) in her Molly Picon plain dress and her husband, Marty Dorfman (Ken Stott), a fat man squeezed into a John Garfield undershirt. One son, Ben (Corey Stoll), is an unapologetic Jewish gangster with a knack for thrusting enemies into quickly drying cement. The other son, the darling lad with prospects, is Bobby (Jessie Eisenberg). Although long distance calls are lethally expensive, Rose telephones her brother, Phil, in Hollywood. Phil (Steve Carell) is a powerful agent, and maybe he's got work for boychik Bobby?
Bobby, who has hardly drifted from the Bronx, arrives in golden alien LA. Like most characters back then, in 1930s dream-factory pictures, he rents an apartment which, though a production designer's dream, makes no sense that he could afford. So big, so furnished! In the most embarrassing, inept, clichéd scene in Café Society (why wasn't it deleted?), he calls up a hooker who (stop me if you've heard this one) turns out, like him, young and innocent. Candy's on her first job and — what else? — she's Jewish like Bobby! Oy!
Anyway, Phil hires Bobby to be a kind of floating office helper and, as he's family, a confidant. Bobby goes to Phil's fancy parties, he mingles with caricatured Hollywood types who spout caricatured one-liners. He falls crazily in love with Phil's gorgeous secretary, Vonnie (Kristen Stewart). She's a nice girl from the Midwest who is disillusioned with LA glamour and loves unpretentious restaurants and romantic walks on the beach. Though Vonnie delights in hanging about with Bobby, she warns him off. There's a boyfriend she is serious about, a journalist who is always on the road.
The boyfriend? He's not a journalist. He's…. I won't give it away, though it's fairly early in the picture. This meeting of Vonnie and her mysterious amour is one of Café Society's only sustained scenes of tension and drama. Less successful is when Allen tries to raise the stakes on his movie by injecting, in a most heavy-handed way, Moral Issues. Bobby also has a sister, Karen, in New York, who is intimidated by a coarse, bullying neighbor. She asks her gangster brother if he can help. The neighbor disappears. And then there's lots of somber talk about whether Karen is responsible. Snores! Crimes and Misdemeanors it's not, though that's obviously the film which Allen is trying feebly to mimic.
Can we jump to the ending of the movie, poignant intimate shots of our lonely, unfulfilled protagonists on New Year's Eve? I won't spill the plot, tell you how they got there. But you can feel that Woody Allen has made his whole movie for the final poetic moments. Unfortunately, they feel a cheat, manipulated, asking you to care suddenly about characters who probably hadn't meant much of anything earlier. To quote Tess in Tess of the d'Urbervilles: "Too late! Too late!"
Disinterested in the story, you might glance around the frame and notice that Café Society is beautifully lit and shot by the maestro cinematographer Vittorio Storaro. Jesse Eisenberg is twitchy and ineffective as Bobby, especially when he is supposed to grow in the second half of the film and become an adult. However, Café Society does have two stellar performances: Steve Carell as Phil, the guilty, plagued Hollywood agent and Kristen Stewart as Phil's love-doomed secretary. In a recent Facebook posting, screenwriter-director Paul Schrader raved about Stewart as our generation's Marlene Dietrich. I don't agree with the Dietrich analogy, but the Twilight chick has evolved into one of the best actresses around, rising here way above the creaky mediocrities of Woody Allen's Too Late Period.
---
Gerald Peary is a professor at Suffolk University, Boston, curator of the Boston University Cinematheque, and the general editor of the "Conversations with Filmmakers" series from the University Press of Mississippi. A critic for the late Boston Phoenix, he is the author of nine books on cinema, writer-director of the documentaries For the Love of Movies: the Story of American Film Criticism and Archie's Betty, and a featured actor in the 2013 independent narrative Computer Chess.