The performances by Ange Dargent and Théophile Baquet could not be better, and it's their authenticity and abandon that make this film a fine addition to the coming-of-age canon.
Microbe and Gasoline, directed by Michel Gondry. Screening at the Kendall Square Cinema, Cambridge, MA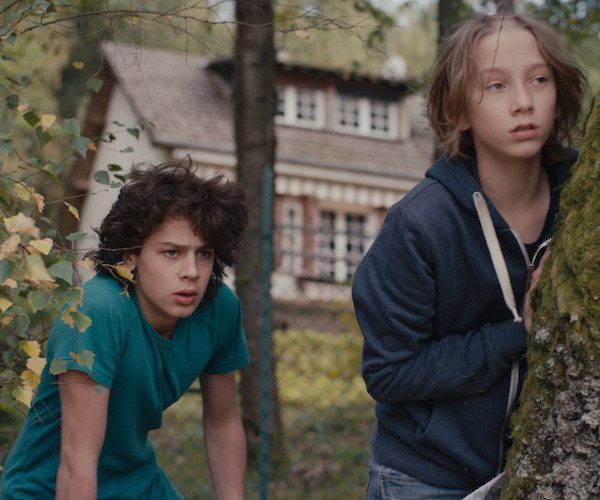 By Peg Aloi
There has been little question of Michel Gondry's extraordinary talent as a filmmaker since his acclaimed and well-loved speculative fiction about love and loss (written by Charlie Kaufman) The Eternal Sunshine of the Spotless Mind. The film's dreamy visuals and down-to-earth approach to a very surreal concept placed it in many film critics' lists of top ten films of the decade, if not the century thus far.
Gondry has continued to make films that have attracted little notice and scant box office rewards (Be Kind Rewind and Mood Indigo, from 2008 and 2013 respectively). But the French filmmaker's most recent project has an  arthouse appeal that may well put him back in the spotlight, at least among traditional cinephiles who enjoy a good coming-of-age yarn. Microbe et Gasoil is a story of friendship and adventure, trodding the well-worn path of French stories of teenage angst, a genre that has generated some of the films one is required to watch in contemporary French cinema classes: Truffaut's L'Argent de Poche (aka Small Change, 1976), Diane Kurys' Diabolo Menthe (aka Peppermint Soda, 1977), André Téchiné's Les Roseaux Sauvages (aka Wild Reeds, 1994), and even darker fare such as Catherine Breillat's A Ma Souer! (aka Fat Girl, 2001). The films by Truffaut, Kurys, and Téchiné are set in the 1960s, and despite its contemporary setting, Gondry's movie has a vintage feel that echoes this period.
Daniel and Theo (played with fearless natural charm by Ange Dargent and Théophile Baquet), are the unlikeliest of friends. They meet in school shortly after Theo arrives as a new student who immediately disrupts the class with his antics. They get the nicknames Microbe (because of Daniel's small size) and Gasoline (because Theo's clothes smell from his constant tinkering with cars) from schoolmates. Despite Microbe's relative popularity among girls in a platonic sense, he's somewhat neurotic about his place in the social framework — he admires Theo's confidence and seeming sexual maturity. Both boys are preternaturally smart and talented: Daniel is an artist and musician and top student, and Theo has an easy confidence and verbal wit that makes him the center of attention, although, alas, not in a way that endears him to the "popular" kids, who make fun of him. They share their drawings, musical compositions, and general despair over not being sure who they are or what they want to do in the world. Daniel's mother (Audrey Tatou) is a single mom doing her best, but embarrasses her son with her frank discussions about sex. Theo's family situation is more harsh and unstable, but his self-sufficiency and reckless courage in every situation brings Daniel out of his existential shell.
I had the opportunity to talk briefly on the phone with Gondry during his publicity tour, and mentioned how much his film reminded me of Peppermint Soda (a story of two teenage girls who become friends, struggling with difficulties at home and fitting in among their schoolmates). He sounded pleased, and said "It's funny to hear you say this, because I tried very hard to echo this film, and most of the people I was working with had never heard of it." Gondry also mentioned that Microbe et Gasoil was based in part upon his own experiences of childhood, and feelings of trying to be true to his own creative identity: "I was a lot like Daniel (Microbe) and the issues he has in his life and the difficulties I had at that age are not that different from the same issues I have now. But at that time, I only had a simple vocabulary for expressing them, and in making this film it forced me to go more directly to the heart of the problem; and so the conversations he has really reflect the issues I was having when I was his age."
The centerpiece of the film is the boys' decision to build a car out of junk parts (something Theo is already gifted at) and take it on a cross country trip. The car is a wonder of mechanical ingenuity and artistic whimsy. Alas, the necessary legal papers prove elusive, which  means the boys can only drive it on back roads. Along the way they meet obstacles and opportunities, challenges they are determined to approach with artistic aplomb. It's a fitting metaphor: the road trip that is only possible when approached in an unconventional way. The scene where they're collecting parts and building the car is uplifting and rather funny. Gondry mentioned that the actors' energy reflected their own pleasure in building the car: "They were not even acting at the time, they were genuinely excited." Indeed, this episode seems calculated on some level to evoke the sense of lightness and excitement that is particular to fourteen year olds whose every thought and action teeters between the need to be oneself and the impossibility of pleasing everyone around us. Daniel and Theo's unconditional acceptance of each other, even as they squabble and blame each other when things go awry, means they come out on the other side of their journey with an understanding that what they've done is a profound achievement for anyone, much less two disaffected teens.
The performances by Dargent and Baquet could not be better, and it's their authenticity and abandon that make this film a fine addition to the coming-of-age canon: an Everyteen story whose heroes are nothing if not distinctive. Ultimately, the film's tendency to focus less on emotional processes or epiphanies means the plot is not about dramatizing character growth: this seems unusual for a coming-of-age film. Both Daniel and Theo are changed by their friendship and adventure, but we're not bombarded with music, monologues, or montages designed to elicit empathy and pathos. Gondry's film is less a didactic scrapbook than a moving collection of snapshots, captured with clarity and affection.
---
Peg Aloi is a former film critic for The Boston Phoenix. She has taught film studies for a number of years at Emerson College and is currently teaching media studies at SUNY New Paltz. Her reviews have appeared in Art New England and Cinefantastique Online, and she writes a media blog for Patheos.com called The Witching Hour.