A vital part of Susan Graham's appeal is her winning personality; she makes a recital hall audience happy to be here before she sings a note.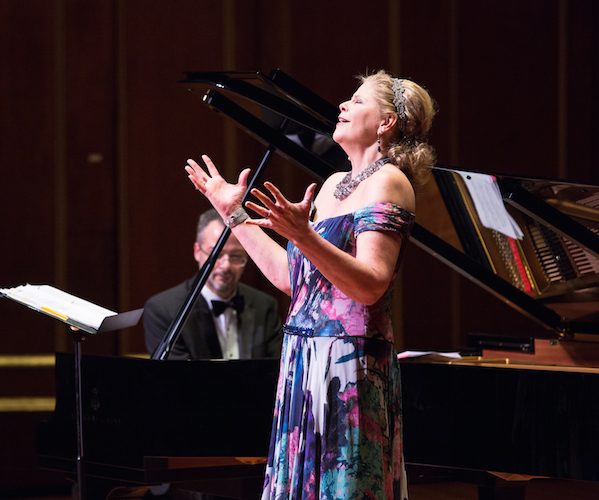 By Susan Miron
The much-admired (and much-loved) mezzo-soprano Susan Graham thrilled her many Boston fans on Friday night in Jordan Hall with her clever program, gorgeous singing, and charisma. Presented by the Celebrity Series of Boston, she last appeared on this series in 2013 with her friend, soprano Renée Fleming, and the few who were there have forgotten her alluring encore, "La Vie en Rose." (It's on You Tube) Strutting across the stage with a cigarette hanging from her lips, she sat down at the piano and accompanied herself, first in French, then English. It was a glorious moment in Symphony Hall that I will remember, always.
Friday's innovative program fleshed out the story of Schumann's famous song cycle Frauenliebe und -leben, which is made up of an eight-part story that chronicles a woman's love and life. Each Schumann song was paired with a like-themed neighbor, chosen from songs penned from 1600 to 1961 by composers in seven languages. Graham greeted the audience with the news that she had "exploded" the Schumann song cycle, but that it was going to be a worthwhile explosion. Frauenliebe und -leben has taken quite a bit of critical flack in recent years, having been deemed sexist by some critics, demeaning to women because it is about a female who puts her male lover at the center of her life. But, as Graham points out, the woman is a maid who was strong enough to "get" her man, for whom she doubtlessly worked and yes, worshipped. Voilá! A triumph!
A superstar in the world of opera and recitals, Graham was dubbed "America's favorite mezzo," by Gramophone. She first gained attraction by way of her early "trouser" roles and because of her affinity for French repertoire. Her French is a thing of beauty. Originally from Texas, she has become even more beautiful with age (she is in her fifties), but it is the power of her winning personality that is a vital part of her appeal: she makes an audience happy to be in attendence before she sings a note. Her sympathetic, excellent pianist for the evening was Bradley Moore.
The poetry of Frauenliebe und -leben was penned by the French aristocrat Louis Charles Adelaide de Chamisso de Boncour (a.k.a. Adelbert von Chamisso) when he was nine (!). The first of the Schumann songs, "Seit it in gesehen" (Love comes in at the eye), was followed by Edvard Grieg's dramatic "Møte" (in well-pronounced Norwegian, I can attest!) and then it was back to German with Richard Strauss's lush "Seitdem den Aug in mines schaute" (Since your eyes first looked into mine). The latter ends with the line "My whole life was overflowing through one glance," a sentiment that summed up all three songs.
Schumann's "Er, der Herrlichste von allen," (He, the most wonderful of all) has the crazy-with-admiration chambermaid singing "I, lowly maid… Only the most worthy woman of all may your choice favor…. He, the most wonderful of all, So gentle, so good. Lovely lips, sparkling eyes, Clear mind and firm resolve, So gentle, so good!" Next came Shakespeare's Sonnet No. 18, "Shall I compare thee to a summer's day?," the text set to music which I hadn't known, but loved, by Sir John Dankworth (1927-2010), followed by a one-minute song by Ned Rorem set to a poem by Walt Whitman. More infatuation: Gabriel Fauré's (1825-1924) "Chanson d'amour (Song of Love) "I love your eyes, I love your face…" and Ture Rangström's (1884-1947) "Melodi" (Melody) in Swedish: "You simply walk across the meadows, and every spring becomes alive…" Graham made the infatuation of each youthful character as real and as palpable as can be.
In Schumann's song #3, "Ich kann's nicht fassen nicht glauben" (I cannot grasp it, cannot believe it) our besotted narrator wonders "how from everyone, has he raised and chosen poor me?" Is our maid dreaming? Edward Grieg's song "Jeg elsker dig" (I love you), with a text from Hans Christian Andersen was followed by another song from Fauré, "Au bord de l'eau" (At the Riverside), in which the singer hopes "lone, the two of us, facing all that grows weary/ Not to grow weary, To experience love while everything passes away/ Never to change!"
Graham was glorious in Schumann's song #4, "Du Ring an meinem Finger" (You, ring on my finger), in which the heroine sings of serving her man and living for him, transfigured in his glance, and in Mahler's "Rheinlegendchen" from Das Knaben Wunderhorn (Rhine Legend). The solo piano had a important part in Joaquin Turina's "Los dos meiedos" from Poema en forma de canciones (The two fears). It was a thrilling listening experience: Turina (1882 – 1949) is a composer one doesn't hear often enough and Graham, singing in Spanish, did the song justice.
Schumann's song #5, "Helft mir, ihr Schwestern (Help me, sisters)" was echoed by two other Schumann songs in which a happy bride addresses her mother. Ravel's buoyant "Tout gai!" (Everyone is happy!) from his popular Five Greek Songs ended the first half, and it was a wonderful choice.
Henri Duparc's (1848-1933) "Phidlylé" and Claude Debussy's (1862-1918) gorgeous, erotic "La chevelure" from Les chansons de Bilitis preceded Schumann's sixth song, "Susser Freund, du blickest" ("Sweet friend, you look at me") in which the woman tells her husband she is pregnant. I have heard the Debussy many times, and Graham's interpretation was one of the very best.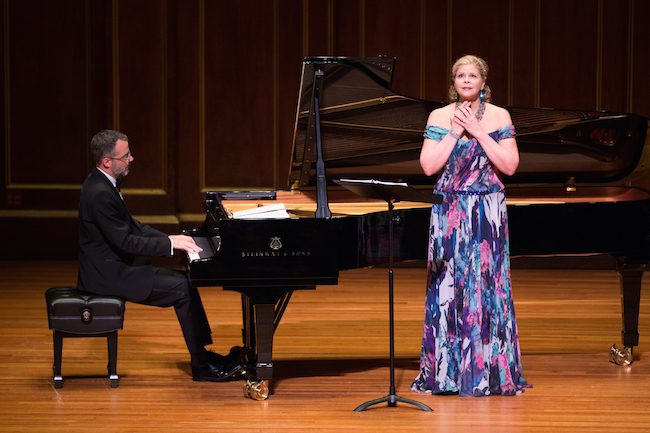 A song cycle with even a smattering of French songs wouldn't be complete without a charmer by Francis Poulenc (1899-1963), here we are given "Le carafon" (The Baby Carafe), which Graham sang with whimsy and sweetness. In Pyotr Ilyich Tchaikovsky (1840-1893)'s "Lullaby," Graham sang a baby to sleep, in Russian, no less: "I've hired as nannies for you The Wind, the Sun, and the Eagle." A beautiful rendition. Richard Strauss's lovely "Wiegenliedchen" (Cradle song) was followed by Schumann's "An meine Herzen, an miner Brust" (On my heart, on my breast) — all was joy, delight, happiness, and rapture.
Profound heartbreak follows. Hector Berlioz (1803-1869) "L'Absence" from Les Nuits d'eté (which Graham has recorded and performed countless times) broke my heart: "Come back, return, my well-beloved; like a flower far from the sun." Her singing was glorious. "Oh! muerte cruel!" from La maja dolorous (Oh cruel death!) by Spanish master, Enrique Granados (1867-1916) was, by any measure, violent, dramatic, loud, low, and memorable — pain was etched into Graham's face. Roger Quilter (1877 -1953) is a composer I was not familiar with, but I loved his treatment of "How should I your true love know?" from his "Four Shakespeare Songs" (text from Hamlet).
Schumann's poignant "Nun hast du mir den ersten Schmerz getan" ("Now have you caused me my first pain") was the last grief-stricken plaint, but it was no less full of sorrow than the others in this set. In fact, it was somehow sadder than the others, perhaps because it is the finale to the singer's journey through an evening's worth of over-the-top Romantic emotion. The Schumann song cycle ends with a long and shattering piano solo.
In this day of obligatory encores, a singer can use his or her choices to prolong the audience's emotional workout. Graham and her excellent pianist did so, giving us two gorgeous encores: Reynaldo Hahn's "À Chloris" and Rodgers and Hammerstein's "Hello, Young Lovers" from The King and I. The Hahn is Graham's "favorite song" and to hear her sing it is a privilege. (It's on You Tube). The Hammerstein was a nod to the show in which she made in her musical theater debut in Paris last year.
---
Susan Miron, a harpist, has been a book reviewer for over 20 years for a large variety of literary publications and newspapers. Her fields of expertise were East and Central European, Irish, and Israeli literature. Susan covers classical music for The Arts Fuse and The Boston Musical Intelligencer. She is part of the Celtic harp and storytelling duo A Bard's Feast with renowned storyteller Norah Dooley and, until recently, played the Celtic harp at the Cancer Center at Newton Wellesley Hospital.