Live, the experience of a cosmic rhythm with every stroke is both more intense and more intriguing than on record.
Creative Music Convergences, Concert 1, April 7 at 7:30 at Paine Hall, Harvard University, Cambridge, MA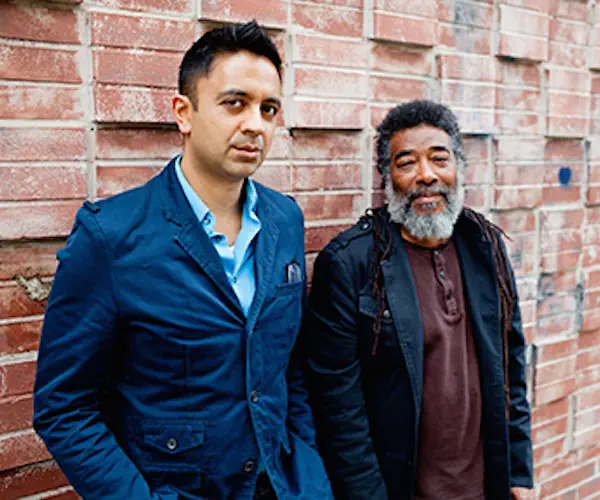 By Michael Ullman
Pianist Vijay Iyer is not only one of the most remarkable pianists in the jazz and "creative music" world today. As he announced to a packed crowd in Paine Hall Thursday night, he is also the Franklin D. and Florence Rosenblatt Professor of the Arts at Harvard University. As such, he was invited to put together a mini-festival of improvising musicians. The concert on Thursday night was the first of four. It opened, appropriately enough, with Iyer and trumpeter Wadada Leo Smith playing a version of their recent recording, a cosmic rhythm with each stroke. (Arts Fuse review). Smith is currently the Eileen Southern Distinguished Visitor at Harvard.
Live, the experience of the piece is both more intense and more intriguing than on record. One has a better sense of the deliberate interactions between the two improvising musicians when you have the opportunity to watch Smith as he carefully listens to Iyer's rumblings in the bass of his grand piano, waiting for the moment to either make a dramatic or half-swallowed entrance. Their set began with a electronic pulse and then a series of high, bell-like tones. (Iyer is an expert in electronics and the use of programmed sounds.) In Harvard University's Paine Hall, one could better appreciate the way electronic sounds were integrated into the performance — not seamlessly, but coherently. These vibrations could be startling, and in the space could be magical. In the second section, we heard, but just barely, a series of high, glassy sounds that seemed to be sprinkled across the stage like glitter. In contrast, Iyer's piano provided a solemn, meditative mood. Smith contributed his clarion tone from time to time. But he also added mere squeaks, cries and whispers, or grumbled with a rasping tone, always somehow in close contact with the pianist.
The second set was a trio led by flutist Nicole Mitchell with Tomeka Reid on cello and Mike Reed on drums. Among her other distinctions — she regularly wins polls as a flutist — Mitchell has served as the first female president of AACM, Chicago's musical collective. (Wadada Smith was one of the early members.) At Harvard on Thursday night she chose to celebrate the compositions of other well-known Chicago musicians; she played a half dozen of their compositions. (The program listed 7 pieces, and she warned us that she wasn't playing them in the given order.)
Listed first, though played second, was Anthony Braxton's "Composition 23B," which he introduced in his debut album for Arista in 1974. It's a driven, perhaps slightly manic, piece whose main melody is a series of even eighth notes that the drums seem to be driving like frisky sheep. Braxton's version is humorous; Mitchell's was surprisingly swinging. The trio opened with violinist Leroy Jenkins's "Clowns." (Jenkins recorded the composition in 1978 as "The Clowns" on Space Minds, New Worlds, Survival of America.) Cellist Reid, a major talent in her own right, played a throbbing phrase with heavy vibrato, which was answered by Mitchell's flute.
Throughout, the trio interacted with bright intelligence and sensitivity. Mitchell used electronics to amplify or modify her flute sound, or to double her voice. She was in charge technically, whether flutter tonguing, playing wildly angular lines, or breathy interjections. There was variety in the line-up of tunes as well. The group played a chatty version of Ed Wilkerson's "Light on the Path" over Mike Reed's buoyant conversational drumming. He's a resolutely light-handed drummer who uses feather-weight sticks. At times he put what looked like a paper plate on the snare as if further to muffle the sound. He is sharp and bright, always a welcome part of the general musical conversation. In its set, Mitchell's trio celebrated the Chicago tradition of jazz, a body of music which she has mastered.
---
Michael Ullman studied classical clarinet and was educated at Harvard, the University of Chicago, and the U. of Michigan, from which he received a PhD in English. The author or co-author of two books on jazz, he has written on jazz and classical music for The Atlantic Monthly, The New Republic, High Fidelity, Stereophile, The Boston Phoenix, The Boston Globe, and other venues. His articles on Dickens, Joyce, Kipling, and others have appeared in academic journals. For over 20 years, he has written a bi-monthly jazz column for Fanfare Magazine, for which he also reviews classical music. At Tufts University, he teaches mostly modernist writers in the English Department and jazz and blues history in the Music Department. He plays piano badly.
---