Javier Perianes proved himself one of the elite pianists of our day, playing with deep, inward focus, serene lyricism, glowing tone, fervent expression, and captivating concentration.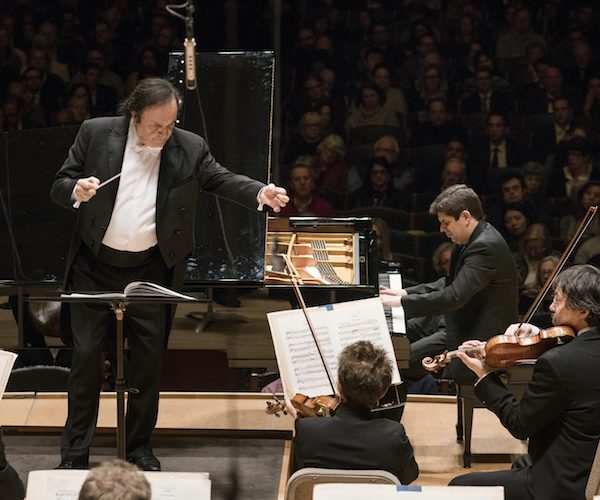 By Jonathan Blumhofer
If you like thematic programs, there wasn't much about which to quibble in the Boston Symphony Orchestra's (BSO) latest subscription series. There were related pieces by Ravel – the Rapsodie Espagnole and its immediate predecessor, the one-act opera L'heure Espagnole – in between which came (for the first time in nearly seventy years) Manuel de Falla's Nights in the Gardens of Spain. And, if you like to hear an orchestra at (or near) top form, there was again much to please in the combination of the BSO with one of its finest regular guest conductors, Charles Dutoit. The ensemble's always played well for Dutoit, but this year, in which (by comparison to recent seasons past) their playing has seemed consistently reinvigorated, there was an extra sheen to the performance and, at times, a greater depth of expression in it, too.
Ravel's L'heure Espagnole shares a bit with the later L'Enfant et les sortileges (conducted by Dutoit at Symphony Hall just over three years ago) not the least of which is how much material it packs into just under an hour: an extraordinary, sumptuously-orchestrated score; brilliant vocal writing; passages of delicious parody; and plenty of laugh-out-loud moments, among them.
Based on the play by Franc-Nohain, L'heure tells the tale of Concepcion, the wife of a clockmaker, who, while her husband is out checking the town's clocks, is visited by two paramours: the young poet, Gonzalve, and the banker, Don Inigo Gomez. They are transported to her room (and back again) while hiding in clocks carried by the muleteer, Ramiro. After both leave her unsatisfied, Concepcion invites the strapping Ramiro upstairs for a tryst. All ends happily, even after Concepcion's husband, Torquemada, returns.
As Concepcion, Daniela Mack ably conveyed the growing frustration of her character with her would-be lovers and her growing attraction to Ramiro. But she sang the role straightly enough that the fact that Ravel was parodying operatic conventions throughout it was never lost. Mack's account of "Oh! la pitoyable aventure" offered a brief moment to demonstrate her instrument's impressive power and agility and she made the most of it. Surely, she's a singer to watch.
Ramiro isn't given much to sing that isn't recitative-like – he's a simple man, after all, not given much to conversation, as the opera's opening scene makes clear – but Jean-Luc Ballestra sang his character's several interactions with Concepcion and Torquemada with force and a pleasing, rounded tone.
Benjamin Hulett's Gonzalve mugged a bit for the crowd (and got the intended laughs for his efforts) while convincingly conveying the poet's rhapsodic spirit and misdirected romantic affections. David Wilson-Johnson, who (among other things) was one of a memorable duo of cats in the BSO's L'Enfant in 2012, proved a fine Don Inigo, singing with clarity and knowing wit.
The relatively small role of Torquemada was written for a specific type of high, nasal voice called "Trial" and credit is surely due Francois Piolino for making the part sound as appealing as it did here. He delivered his scenes straightforwardly and cleanly, drawing much humor from the situation in which the hapless (and oblivious) clockmaker finds himself.
The BSO and Dutoit reveled in the music's sly allusions to Wagner, Massenet, Debussy and others. Habaneras and waltzes pulsed with vital energy and the sweeping colors Ravel conjured in the music – from the ticking clocks in Torquemada's shop (represented by amplified metronomes) to the prominent glissandos for trombones and strings, squawking bassoon, tuba and trombone solos, and so on – glowed.
In the Rapsodie, which opened Saturday's concert, a similar lucidity characterized the orchestra's playing. I can't recall having heard the violin arpeggios of natural harmonics at the end of the first movement sounding with sharper bite or the cello glissandi in the finale cutting through the orchestral fabric with more precision than they did this weekend. And the score's several solos, beautifully led by Robert Sheena's dulcet English horn, sang with (often) languid elegance.
No, Dutoit's account of this piece was remarkably light on its feet, seeming to almost float in the air from time to time (as in the dreamy opening movement), yet also driven by a fierce rhythmic exactitude, especially in "Feria." It says something of the BSO's focus that not even the obnoxious ringing of a cell phone (inexplicably not silenced until the patron walked out of the hall) in the Rapsodie's most delicate moment at the end of the third movement caused this performance to flinch.
Happily there were no such distractions during the subsequent Nights in the Gardens of Spain. Making his BSO debut, pianist Javier Perianes delivered a strongly idiomatic account of the score, drawing impressive warmth and tonal clarity especially from the upper registers of his keyboard. Some of the bigger climaxes in the instrument's lower range were covered by the orchestra but, on the whole, Perianes proved an attentive, willing partner in the action of the piece, which is less a piano concerto than a score for orchestra with obbligato piano.
Dutoit and the BSO highlighted, but didn't overemphasize, the Iberian gestures that connect Nights in the Gardens of Spain with the Ravel selections. The second movement danced with lissome energy and the finale, for all its sumptuous beauty, packed a rich dose of nostalgia and melancholy.
In some ways, though, it seemed a pity that Perianes be the soloist in such a lovely but unflashy work. He is, after all, a pianist who, when he's on stage, you simply can't hear enough from. So it was more than welcome when, following a big ovation, Dutoit guided him back to the piano bench and helped plant him on it for an encore, on Saturday Chopin's Nocturne in E minor, op. 74 no. 1.
And here, in about four minutes, he proved himself one of the elite pianists of our day, playing with such deep, inward focus; serene lyricism; glowing tone; fervent expression; and captivating concentration that a near-capacity crowd at Symphony Hall in the first week of March became utterly still and absorbed in his performance. Not many musicians can pull off something like that, period. Perianes did it in a solo piece and in a venue that's not always friendly to such things, especially in the middle of the winter. It was, perhaps, the first time I've heard an encore trump a programmed work. That's something you can't (or at least shouldn't) take for granted. May the BSO bring Perianes back to Boston now, early and often.
---
Jonathan Blumhofer is a composer and violist who has been active in the greater Boston area since 2004. His music has received numerous awards and been performed by various ensembles, including the American Composers Orchestra, Kiev Philharmonic, Camerata Chicago, Xanthos Ensemble, and Juventas New Music Group. Since receiving his doctorate from Boston University in 2010, Jon has taught at Clark University, Worcester Polytechnic Institute, and online for the University of Phoenix, in addition to writing music criticism for the Worcester Telegram & Gazette.