Okada's play makes a powerful point today given that skepticism has become the default stance for young adults who are shellshocked by post-recession economic restructuring.
Sonic Life of a Giant Tortoise: youth is not the only thing that's sonic by Toshiki Okada. Translated from Japanese by Aya Ogawa. Directed by Danielle Fauteux Jacques. Presented by Apollinaire Theatre Company at Chelsea Theatre Works, Chelsea, MA., through March 13.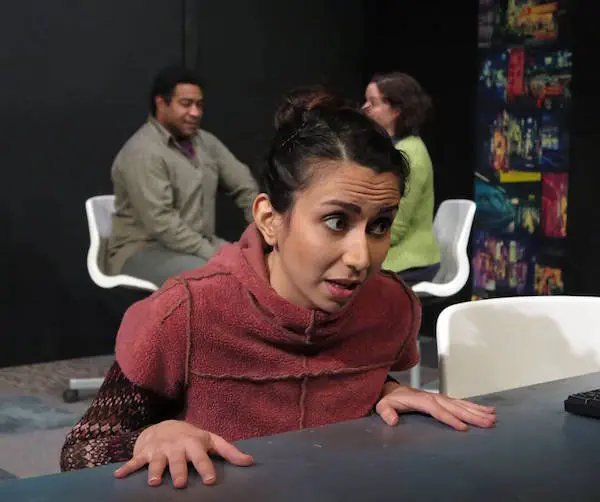 By Ian Thal
There is an ancient Japanese legend about a young fisherman named Urashima Taro who rescues a turtle from a group of cruel children and it invited to the Dragon Palace under the sea. There it is revealed that the turtle Urashima rescued was actually a beautiful immortal princess. The fisherman and the princess marry but Urashima grows to worry about the welfare of his parents and begs to return to his hometown. The princess reluctantly sends him off with a box meant to protect him, but he is warned never to open it. Urashima returns home to discover that three centuries have passed in his absence.
Distraught, he opens the box. A wisp of smoke escapes and he becomes elderly and frail. So her husband would live forever, the princess had placed his old age in the box. In Japanese popular culture, the legend is often cited to express feelings of dislocation, the 'Rip Van Winkle' effect.
Urashima's tale, told in the Chelsea Theatre Works lobby by way of a mural by production dramaturg Veronica Haakonsen, sheds light on Toshiki Okada's play Sonic Life of a Giant Tortoise. The script is (chiefly) a monologue spoken by an unnamed Tokyo office worker, who is portrayed by a cast of five actors. (Having multiple actors play one role is one of Okada's signature devices.) As the audience members slowly take their seats, each actor enters one by one, sit at his or her office workstation, and begins to type. They stare into an invisible computer screen; the audience stares back. For several minutes, the percussive tapping on keys fill the room, while each performer's attitude portrays a different psychological aspect of our unnamed narrator: Trip Venturella embodies contemplation, Paola Ferre, intensity, Quentin James, bemusement, Deniz Khateri, neurosis, and Becca A. Lewis, anxiety.
Eventually, one performer (Venturella) speaks, telling us that he is about to tell us a secret he has never revealed – that he hopes for a way of life better and more meaningful than the one he currently lives as one of many Tokyo office drones. Other voices take their turn and communicate. Are the actors different parts of the same psyche? Or do they represent the shared discontent, the parallel lives of quiet desperation felt by an entire generation? One dreams of one's girlfriend being dead – not out of hostility, but that tragic loss and her memory would give his life meaning.
The play's title resonates in a number of ways: there's the seminal New York band Sonic Youth, whose alternately cool and abrasive aesthetic embraced punk, avant garde experimentalism, and pop. Okada seems to take a similar approach to dramatic texts as Sonic Youth did with the rock song. The other reference is to the Galápagos Islands, where hundreds of millenia of separation from the continent of South America and from one another led to the divergent evolution of distinct species – including giant tortoises. Okada likens the Japanese to the tortoises of the Galápagos: Japan was long isolated from the rest of the world, developing its own traditions until it emerged as an Imperialist power in the 19th century. After its defeat in World War II, Japanese society hyperactively embraced both modernity and its own traditional aesthetics in an attempt to move beyond shame for its war-time atrocities.
Okada's protagonist is ambivalent about his homeland. When his (James') girlfriend invites the office worker to travel, he responds in a gently patronizing manner that contentment means staying in one's place. Another incarnation of the character asserts that Tokyo is wonderful because it embraces tradition and high-tech only to dismiss the thought as a cliché. In another segment a part of the character pines for a foreign friend who will sincerely praise the Tokyo way of life in precisely those terms. Elsewhere he doubts that foreign praise would be motivated by anything other than politeness or the quid pro quo of expectations. Even when our protagonist is invited to a fabulous dance party – the play's equivalent of Urashima's Dragon Palace – she (Lewis, in this instance) is more of a wallflower, unable to do more than sip a cocktail and have her ear chewed off by an affiable nutter who thinks humanity should never have abandoned its prehistoric hunter/gatherer existence.
Translator Aya Ogawa has admirably rendered Okada's script into vernacular, stream-of-consciousness English. But that does not solely explain the play's compelling relevance, its spot-on revelations about the ennui that also exists in contemporary American life, especially the alienation experienced by young adults who, despite their college education, have nothing to look forward to but spiritually numbing wage slavery.
Director Danielle Fauteux Jacques is deftly attuned to the play's themes. The monologue is set in the largely naturalistic setting of an open floored corporate office. Scenic designer Nathan K. Lee doesn't just nail the depressing sight of a long, grey, shared work table, but includes photo montages of the Tokyo nightlife. Corporate art directors create these travelogs to sell the notion that companies are not just profit-making entities, but integral parts of what makes the city so hip and happening. Susan Paino's costumes span the range of faux-individualism permitted our country's under-paid Millenial and Gen-X urban workforce and accessorized with entertaining light-up clothing designed for clubbing. Paino, who doubles as choreographer, also provides some illuminating physical vocabulary that expresses the inner life of our unnamed, multi-faceted protagonist with fanciful counterpoint to the mood of existential angst is during the dance-party scene.
Okada's play makes a powerful point today given that skepticism has become the default stance for young adults who are shellshocked by post-recession economic restructuring (the basis of the enthusiasm for Bernie Sanders), many burdened by what looks like a future spent paying off crushing student debt. This script gets to the existential crux of the matter: Should one choose to conform in a consumer-driven society that doesn't (as in the old days) even provide security? Or does one search for, or struggle to create, a life filled with risk whose reward is a sense of individuality and meaning? Most of our razzle-dazzle obsessed downtown Boston theaters (and theater schools) are going with a pro-consumerist program — much better for the bottom line. Theatergoers interested in taking a more rewarding but less predictable road should head over to Chelsea for a glimpse of the bitter truth.
---
Ian Thal is a playwright, performer, and theater educator specializing in mime, commedia dell'arte, and puppetry, and has been known to act on Boston area stages from time to time, sometimes with Teatro delle Maschere. He has performed his one-man show, Arlecchino Am Ravenous, in numerous venues in Massachusetts and Rhode Island. One of his as-of-yet unproduced full-length plays was picketed by a Hamas supporter during a staged reading. He is looking for a home for his latest play, The Conversos of Venice, which is a thematic deconstruction of Shakespeare's The Merchant of Venice. Formerly the community editor at The Jewish Advocate, he blogs irregularly at the unimaginatively entitled The Journals of Ian Thal, and writes the "Nothing But Trouble" column for The Clyde Fitch Report.