The best discussions are of Vertigo, with David Fincher, the most effective directorial voice of all those interviewed, leading the way.
Hitchcock/Truffaut, directed by Kent Jones. At the Kendall Square Cinema, Cambridge, MA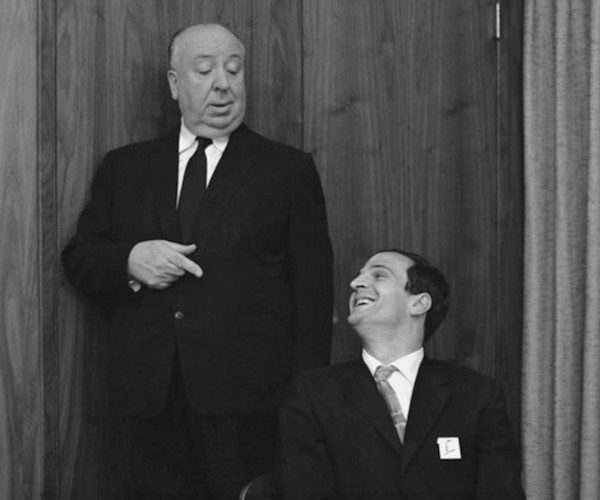 By Gerald Peary
Give the French all the credit for unveiling what should have been obvious: that filmmaker Alfred Hitchcock was far more than a chills-and-spills popular entertainer. He was a metaphysical artist whose lurid, pessimistic cinema showed mankind as creepy, perverse, and guilty as hell. He was a zealous, churchgoing Catholic with a view of life on earth as grotesque as that of his religious compatriot, Flannery O'Connor. He was an American Bresson. A Christian Kafka.
In 1958, two film critics for the Paris-based magazine, Cahiers du Cinéma, published the first book from anywhere lauding the master cineaste: Hitchcock: The First Forty-Four Films. The authors, who pushed forth the religious angle, were Claude Chabrol and Eric Rohmer, young Nouvelle Vague filmmakers. Another Cahiers critic-turned-filmmaker followed in his Hitchcock worship. In early 1962, François Truffaut wrote to Sir Alfred in the USA proposing a series of in-depth interviews covering all of AH's films. "Your letter brought me to tears," Hitch wrote back, and endorsed the project. He would put himself in Truffaut's hands, trusting the youthful film director who, at that point, had made only three features: The 400 Blows, Shoot the Piano Player, Jules and Jim.
In August 1962, Truffaut arrived in LA for a week of taped interviews at a table set up at Universal Studios. Truffaut spoke only French, so he brought along his assistant, Helen G. Scott, to translate back and forth between the two filmmakers. The rest is history: Hitchcock Truffaut (1966), the first full-length book devoted to interviewing one filmmaker about his oeuvre. Truffaut had familiarized himself with every single Hitchcock movie, starting with the early, mostly forgotten silents. He knew them as a devoted fan, a scrupulous film critic, and as a professional filmmaker. And Hitch opened up, giving as much as possible from a repressed Brit. He recalled his films backwards and forwards, remembering storyboarded shots and precise edits. A little less comfortably, he acknowledged in his work the heavy Christian themes of sin and guilt.
Hitchcock Truffaut is a wonderful book. I used it as the basic text for a Hitchcock Great Directors course several years ago, and my students found it a valuable, readable accompaniment to watching the films. But what about a behind-the-scenes documentary, also called Hitchcock/Truffaut? About the making of the book, utilizing the original tapes of the Universal Studios interviews? That's what critic Kent Jones, artistic director of the New York Film Festival, has attempted with mixed returns.
The first section of Jones's film is a primer for those aware of little about either Hitchcock or Truffaut. If you know a lot about the two filmmakers, what's on screen is so elementary, PBS boring, not helped by Bob Balaban's schoolmarm narration. A slow pedantic reading of the most obvious commentary. And then there are de rigeur soundbites from more than half-a-dozen contemporary filmmakers, American and French, marveling at the wonders of Hitchcock. What they say is too short and clipped and adulatory to be insightful.
And some of the voiceover is questionable. A scene from the British The Man Who Knew Too Much (1934) concludes with Balaban telling us that Hitchcock was called to Hollywood. But that didn't happen until after The Lady Vanishes (1938) four years later. This voiceover about AH: "He made some of his best works in the 1940s. But in the 1950s, he soared." Didn't he "soar" already with three superb 1940s films, Rebecca, Shadow of a Doubt, Notorious?
Hitchcock/Truffaut finds itself with a section on acting in Hitchcock movies. There's an arresting discussion of how Sir Alfred managed such complicated Freudian-bent characterizations while disrespecting the thespian craft, insisting, and not tongue-in-cheek, that "actors are cattle." Director David Fincher described it best, this tension in which Hollywood's finest performers—Cary Grant, Ingrid Bergman, Montgomery Clift, etc.—are "under the iron umbrella of 'This is what the next 3 1/2 seconds are about.'" Slaves to AH's rigid storyboards. As example: Hitch complained that Clift dared question him on I Confess (1953) about looking up in the air on a shot: "An actor was going to interfere with my geography."
Director Jones focuses his attention in the last act of his documentary on three Hitchcocks, The Wrong Man (1957), Vertigo (1958), and Psycho (1960). I am very glad of the attention on The Wrong Man, surely AH's most underrated film, and his most Kafkaesque. A Hollywood The Trial. The best discussions are of Vertigo, with David Fincher, the most effective directorial voice of all those interviewed, leading the way. "What I love about Vertigo is it's so perverted. So perverted," says the Zodiac and Fight Club filmmaker. "It's a movie direct from [Hitchcock's] umbilicus to his unconscious." Hitchcock himself said the on-screen angst wasn't about him but a reflection of Jimmy Stewart's Scotty: "You are dealing with the point of view of an emotional man."
About the interviewed filmmakers: Fincher, James Gray, and Arnaud Desplechin are excellent. There's too much Martin Scorsese, not enough Peter Bogdanovich, and both Richard Linklater and Paul Schrader are more interesting than what they say here. Wes Anderson is a total waste. And let's get PC: it's amazing in 2015 that all the interviewees are white male directors. It surely would be interesting what an African-American filmmaker would offer about the white white AH world, or a woman filmmaker about Hitchcock's overt obsession with the Male Gaze.
A final note: Jones doesn't alert us that a prurient sentence we hear on the soundtrack from the prudish Hitchcock about Vertigo is one that Hitchcock Truffaut, the book, seemingly edited out. I checked my copy. It's about the delirious moment that Scotty is standing in the apartment of Judy (Kim Novak), waiting anxiously for plain Judy to finish dressing in the bedroom, transforming her identity, returning as sensual Madeleine Said Hitch: "And while he was looking at that door, he was getting an erection."
A final final note: if the interviews were done in 1962, how does the book, published in 1966, include sections on The Birds (1963) and Marnie (1964)? Was there a second LA trip?
---
Gerald Peary is a professor at Suffolk University, Boston, curator of the Boston University Cinematheque, and the general editor of the "Conversations with Filmmakers" series from the University Press of Mississippi. A critic for the late Boston Phoenix, he is the author of nine books on cinema, writer-director of the documentaries For the Love of Movies: the Story of American Film Criticism and Archie's Betty, and a featured actor in the 2013 independent narrative Computer Chess.