If anyone needs more evidence that graphic memoirs are the equal of purely literary ones, Invisible Ink closes the case for good.
Invisible Ink: My Mother's Secret Love Affair with a Famous Cartoonist!! by Bill Griffith. Fantagraphics Books, 208 pages, $29.99.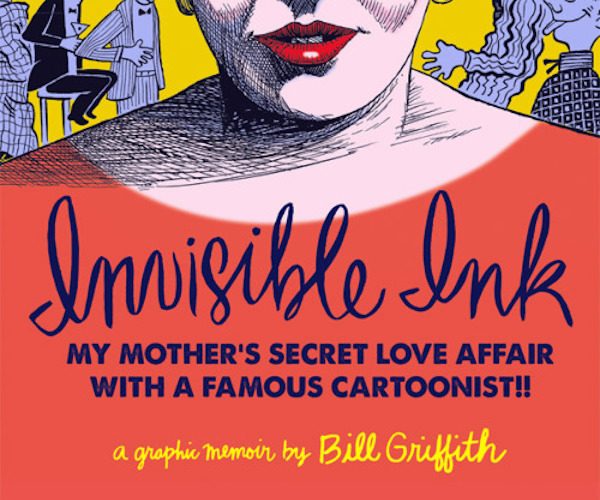 By Milo Miles
Bill Griffith is the '60s Underground Cartoonist who made it. He achieved the apex aspiration of every cartoonist as he was growing up when his "Zippy the Pinhead" became a nationally syndicated newspaper strip in 1986. That's only the executive summary of his career, though. Back in 2011, Fantagraphics published a sumptuous reprise of his voyages below the straights of America called Lost and Found: Comics 1969–2003. And now Griffith has come out with the graphic memoir that had hovered around his work for more than 20 years. Yet it's about so much more than that subtitle.
Let's get some technical evaluation out of the way. Art-school training or whatever, Bill Griffith commands not only the finest graphic chops of any of the original undergrounders, but up there with anyone who has ever done comics. He could draw Prince Valiant as well as Snuffy Smith and knock off satirical takes on Jack Kirby in his spare time. Griffith, however, is a pictures and words and story immersive—he knows better than (too) many if you don't nail the language and the characters, all the dynamic ink lines in the bottle aren't going to save the work.
So it pains me to report my first impression 45 years ago was that Griffith was a lame-o. He first gained attention from Underground Comix fans with Young Lust, X-rated send-ups of the dreadful "Teen Romance" comic books. A smaller ripple came from his deeply ugly misanthropic amphibian character, Mr. the Toad. Even carefully represented in Lost and Found, the Young Lust pages fail to arouse my funny boner. Adding pornography to Stan Lee's hack youth fantasies seems gratuitous as putting dirty words into bad nursery rhymes. And while erotic-drawing charges come in many voltages, Griffith does not come up with any sparks outside of what was generated from Hieronymus Bosch to Robert Crumb. His only other dud project for me is the Toadettes, a spin-off of Mr. the Toad. I could never decide what they were supposed to be—the mindless masses? green-skinned dropouts? ambiguous personas part of the plan?—and the jokes were too slight to puzzle out the solution.
Small stuff, in retrospect. Cast-offs in Lost and Found because the anthology includes every breakthrough comic (signs and portents of fine futures) from Griffith's vault. I would tout the following:
Mr. the Toad in "A Fine Way to Die" (1971). The tale where Toad advances from a freaky-creepy jerk into more of an existential loose cannon—has his ass handed to him and gets to eat it, too. (Also, the only literally non-gut-wrenching story in the notorious Thrilling Murder Comix.)
"Zippy the Pedigreed Pinhead" in "A Fool's Paradise" (1973). Here "Zippy" becomes absurdist master Zippy the Pinhead for all time. Must start throwing in treasured Griffith quotes now: "Yow!! I'm on an island!! I'll give it a NAME!! I'll call it Chicago … No … Ah … PHILADELPHIA!!!"
"The Toadettes and Claude Funston" (1973). I know, Toadettes. But this strip also formalizes the personality of "Griffy," the sproing-haired incarnation-creation of the artist himself.
"Mr. Toad's Rise to Fame" (1973). Toad and Zippy paired in their completely developed forms in a still-hilarious account of conquest and immolation during a career doing what has to be called "performance art stand-up comedy." An amazing foreshadowing of the Hollywood hi-jinks Griffith goes through to land a done deal on a Zippy the Pinhead movie, recounted in the priceless Introduction, "Thinking Inside the Box," a kind of professional-life autobio.
"Hoppy's Dude Ranch Disaster" (1973). Griffith's finest lampoon of TV Westerns. Hey—the hookers are actually sexy! "Why it's .. the sunuvvabitch Lone Ranger!" "Exposin' himself!!!"
"Commedia dell' Zippy" (1976). Putting a fine selection of Griffith cast regulars—including Sgt. Bilko—into Italian masked street theater for frolic and fumetti.
"The Toad and the Madman" (1976). Griffith's loosest and most penetrating incorporation of the original "shitr" man, Alfred Jarry, into the ebon flow of nonsense.
"… Under Observation" (1979). Here Griffy comes into full power, peering through his hilltop megatelescope at the fools and foilbles hopping like fleas on the hot brick of the '80s. Grew into a long-running and always entertaining series of caustic social-commentary stories.
"The Pin Within:" From the Zippy Daily 12.30.91 to 2.8.92 (1993). For devoted "Zippy" followers, this was a unexpected but welcome jolt. The strip abruptly turned autobiographical (in a funhouse-mirror way), delving into Griffith's boyhood, his parents, the roots of his art, and familial neurosis. The tone was more raw confessional than dramatic presentation, but plainly a blip that eventually burst into Invisible Ink.
Appearing more than 20 years ago, the daily strips established that Griffith's parents—his father in particular—remained mysteries to him. The Generation Gap still yawned, no more crossed or closed than ever. Invisible Ink begins with Griffith mulling over the gap he faces today with the electronic-media/smartphone universalis, when an old-fashioned snail mail letter reminds him (as he approaches 70) that now is the time to take another stab at resolving those Mom-and-Pop mysteries.
His father grew up without a father, attending an always-ailing mother, and his mother was raised by a pair who were "not parental types." So James and Barbara Griffith had no good family prototypes to model themselves on when adapting to life in 1950s Levittown, New York. The fateful year was 1957. James was shafted by the Army to which he had devoted his life when he was demoted from Captain to Sargent simply because WW II had generated a budget-busting excess of officers. Given the sudden financial constraints, it was not a surprise when Barbara took a job in NYC as secretary for the then-well-known cartoonist and pulp crime writer Lawrence Lariar. The secret surprise was that she soon started a 16-year love affair with this hard-hustling, lowbrow-culture eclectic who looked like Mitch Miller. (In an eerie touch, a self-portrait of Lariar hung in Griffith's parent's bedroom!)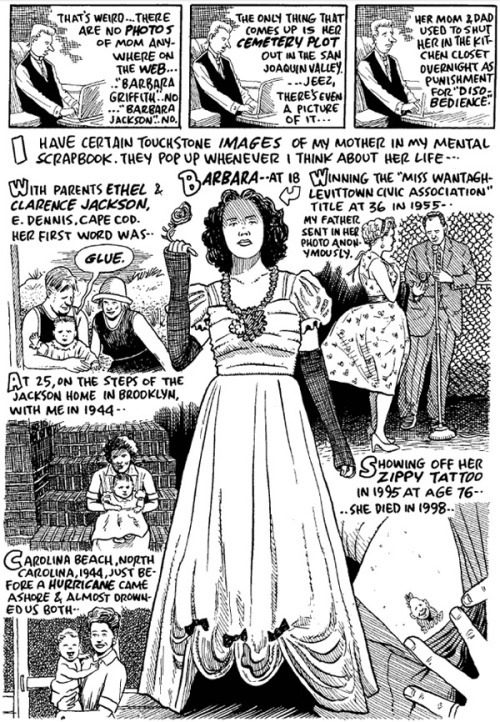 Prompted by hints and indirect clues in his mother's diaries and her unpublished novel, Griffith researches Lariar's papers, which were donated to Syracuse University. (Griffith gets in a good little dig when he notes that there is no explanation why Lariar donated his papers to that particular institution and that this is the first time anyone has checked them out to look at them.)
What follows is Griffith's detailed and fascinating graphic kaleidoscope of his mother's hidden life in 1960s New York, filled with precise street scenes and explorations of Lariar's cartoon techniques and how-to-draw books. The climax is a superb sequence where Griffith, on his way to an Allen Ginsberg poetry reading, almost encounters his mother out on a date with Larier—they are on their way to a Pete Seeger concert. Sadly, James Griffith becomes more and more bitter and stymied as time goes by. Invisible Ink confirms that if a parent decays into the use of verbal and then physical abuse, the chances of a child ever being able to understand him or her is almost nil. "In your dreams," mocks Mr. the Toad at Griffith, who then shows how close and how far he is able to approach his father, even in the subconscious.
James is killed in a tragic bicycle accident in 1972. Barbara blurts out an admission of her affair to Griffith and his sister. She then approaches Larier as an available single woman—with wrenching results.
Griffith reflects that "My mother & father really were happy together – during those few years I was too young to remember …" and wonders how they grew so irrevocably apart. It may be too facile an answer, but I can't help think of the freedom James and Barbara would have found if they had been members of Griffith's generation rather than their own. Both would have enjoyed more avenues and options. They could have had sexual relations, even kids, without automatic ironclad marriage requirements. James could have roamed the West. Barbara could have lofted into the world of arts, theater, parties, and Boho vivant without feeling that she had to keep these pleasures sealed away. She was an amazing person, snared in the wrong era.
If anyone needs more evidence that graphic memoirs are the equal of purely literary ones, Invisible Ink closes the case for good.
---
Milo Miles has reviewed world-music and American-roots music for "Fresh Air with Terry Gross" since 1989. He is a former music editor of The Boston Phoenix. Milo is a contributing writer for Rolling Stone magazine, and he also written about music for The Village Voice and The New York Times. His blog about pop culture and more is Miles To Go.