Cinemax's turn-of-the-century hospital show is struggling in the ratings. Let's hope it finds its audience. The series has consistently proved to be smart, imaginative, and intensely compelling.
The Knick. Friday nights at 10 p.m. on Cinemax. Created by Jack Amiel and Michael Begler.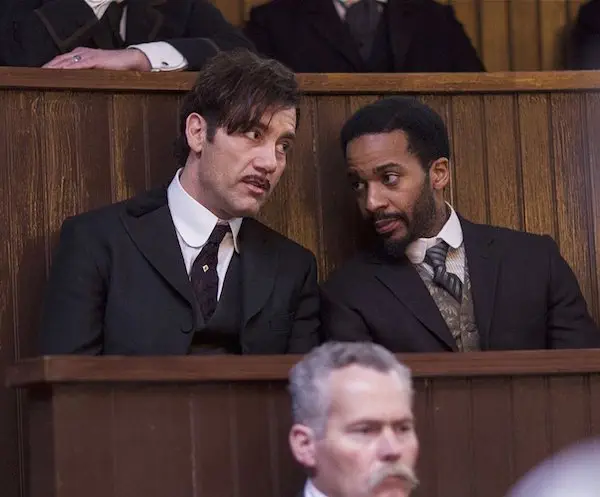 By Alissa Darsa
[**Note: Light spoilers on season one follow.]
Cinemax's hospital drama The Knick hasn't quite found its audience yet. But let's hope it does, because so far the show, set at the turn of the century and named after the famed Knickerbocker Hospital in New York City, combines the life-or-death trappings of a medical thriller with the pedigree of a period piece. The show has proved to be smart, imaginative, and intensely compelling, delivering gritty realism and stylized shocks in equal measure. Created by Jack Amiel and Michael Begler, with veteran film director Steven Soderbergh at the helm, season two premiered to dismal ratings: a paltry 269,000 people tuned in according to ShowbuzzDaily (compare that to the 7 million-plus viewers for HBO's Game of Thrones).
Of course, The Knick's Friday night time slot doesn't help. (This so-called 'graveyard' or 'death slot' has spelled doom for countless series, including Firefly, Prison Break, and Raising Hope.) Though it hasn't drawn viewers, The Knick has earned plenty of critical praise, notably for its stars, which include Clive Owen as the drug-addicted, arrogant chief of surgery John Thackery. The Knick has won a Peabody Award, several Satellite Awards, and an Emmy, in addition to its Golden Globe nomination. But, alas, the series continues to remain slightly under the radar of many avid TV watchers.
Though its marketing (or lack thereof) isn't doing the show any favors, I also have a feeling that The Knick may simply be too perverse (not to mention bloody) for some—topics have ranged from syphilis to infanticide and, most recently, eugenics. Add to that the fact that the show's events take place just before the full-scale installation of electric lights. The Knick's gloom is unrelenting: shadowy characters haunt shadowy corners, opium dens are deep red, tenement buildings are a pallid tint and festooned with typhoid-ridden immigrants.
Season one opens on a cesarean section—a risky and dangerous procedure in 1900—and the subsequent suicide of the hospital's chief of surgery after the death of both mother and baby. Once Owen's Thackery is hired for the position, the Knick takes on a black surgeon, Dr. Algernon Edwards (André Holland), at the request of the head of the hospital's social welfare office, Cornelia Robertson (Juliet Rylance). His appointment grows into a major source of ongoing tension, if not outright hostility. This 'circus' (Thackery's nickname for the hospital) is driven by aggressive anti-heros; even new-surgeon-on-the-block Edwards (a Harvard graduate who repeatedly demonstrates his exceptional medical skills while battling rampant racism) has a pugilistic streak, often seen after work hours picking bar fights and intimidating the other residents of his apartment building. Thackery's cocaine habit (supplemented by his opium addiction) means regular injections of the drug into his toes—all his other veins have been terminally abused. Then there are the racist doctors, the sexist administrators, an Irish Catholic nun peddling abortions as a side business, and a messy interracial affair between Edwards and Ms. Robertson.
Despite the show's ambitious and sometimes sprawling subject matter, its many thematic threads are skillfully interwoven. Though not all are given equal weight or screen time, none feel sloppily executed or like afterthoughts. A highlight of season one was the race riots, incited after a white police officer was accidentally stabbed and killed by a black man defending his wife. Anger sweeps through the streets of New York; the protestors break down doors and destroy much of the hospital; the frantic doctors and nurses scramble to protect endangered lives. Racism is not merely a 'relevant' gimmick, but an issue that is explored deeply and fully—it is a disease in the social fabric.
Admittedly, the interracial relationship (and subsequent complication) comes off as expected. Still, both Holland and Rylance give very good performances as a couple whose passion, given their backstories, is understandable. The sleaziness of the hospital's head administrator, Herman Barrow (Jeremy Bobb), also feels a bit ham-fisted. Not only does Barrow dip into the struggling hospital's nearly empty coffers to cover his own debts, he steals from his wife to pay his prostitute. There is a tendency for The Knick to take full measures when half measures would do. For example, the rat-stomping scene halfway through season one felt unnecessary—it was aggressively grungy, like something out of a gothic horror novel, At this point, the audience gets it: this place is harsh, it's dirty, and it's dangerous. A man slipping in the guts of rodent he's just stamped to death is overkill. Still, the show's passionate commitment to its urban environment, its embrace of the pulpy, sleazy, messy world of New York City circa 1900 is what makes it work. And full credit must be given to the show's design team, who have painstakingly rendered every detail, from the squalor of New York's Lower East Side to the richly costumed tycoons who patronize the hospital.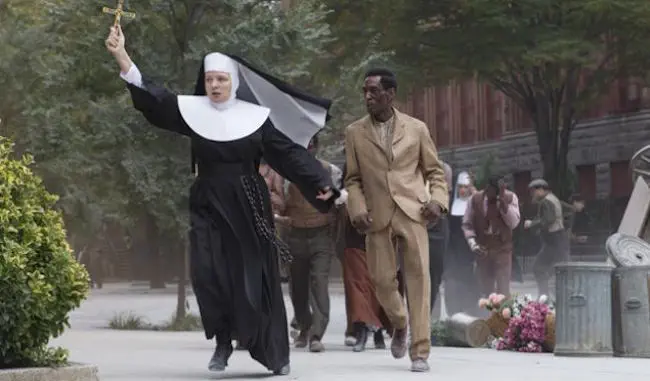 The acting is also excellent. Alongside strong leading performances from Owen and Holland, Eric Johnson as the rather hateful, ambitious Dr. Everett Gallinger breathes three-dimensionality into what could easily be a two-dimensional character. Michael Angarano, as Dr. Bertram "Bertie" Chickering, Jr., is very smartly cast as the singular "good guy" of the bunch. Early on, Chickering stakes his romantic claim on Lucy Elkins (Eve Hewson), a nurse and West Virginia native. But Lucy, adeptly portrayed by Hewson, is fascinated by the dark and unpredictable Thackery. Another series high point is the unlikely alliance between the foul-mouthed Irish ambulance driver Tom Cleary (Chris Sullivan) and the sharply witty Sister Harriet (Cara Seymour). Their strange friendship provides a few of the show's rare light-hearted moments; this odd coupling is genuinely intriguing to watch.
The Knick is gruesome, grim, and certainly not for the faint of heart. But for those who can stomach its unflinching approach to the facts of life, the show is both engrossing and surprisingly informative: a window into the possibilities and deficiencies of American medicine and society on the cusp of the 20th century. Here's hoping it gets off life support.
---
Alissa Darsa is a writer, editor, and educator. In addition to her work for The Arts Fuse, she has previously written for online arts news site artnet News. She received her MA from NYU's Steinhardt School of Education in media, culture, and communication, and her BA from Ithaca College in art history and theater. She enjoys reading, cooking, and podcasts about pop culture.