I missed the trademark orange Dynel wigs and the zany non sequiturs of the past, but Karen Krolak and the crew were still playing with fractured language and flaunting their unusual designs.
"Misplaced/Displaced" by Monkeyhouse at Multicultural Arts Center, Cambridge, MA, October 23 and 24.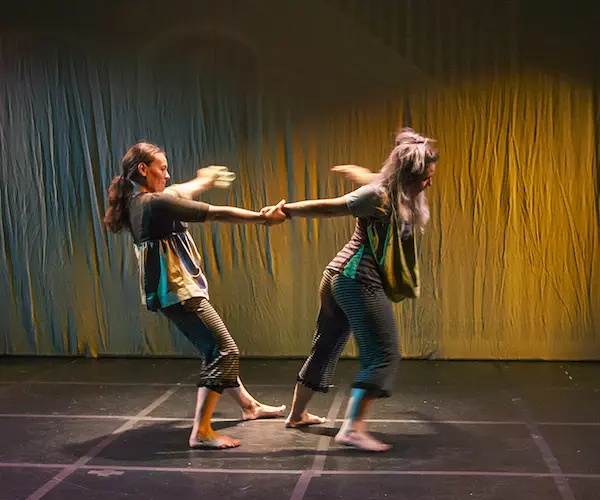 By Marcia B. Siegel
Monkeyhouse's program of 10 short dances last weekend at the Multicultural Arts Center was entitled "Misplaced/Displaced," and it seemed to have a common theme of exploring how people connect. Or don't. The floating group of dancers headed by Karen Krolak is celebrating its 15th anniversary this year, carrying on its concert and community work despite serious setbacks. I hadn't seen the company in some time, and I wasn't prepared for the somber tone of this performance. I missed the trademark orange Dynel wigs and the zany non sequiturs of the past, but Krolak and the crew were still playing with fractured language and flaunting their unusual designs in MAC's elegant space.
Saturday evening's concert began with a contemporary take on the Salem witch trials, Project 7.19, choreographed by Nikki Sao Pedro-Welch. Five women shrouded in gray gather in a dim light (lighting for the show was by Jason Ries), with a terse note on a screen behind them announcing the date of the 1692 persecution mania. Later the screen notes how many women were put to death or tortured for presumed blasphemies. The dancers are seized with fits. One of them seems to be reading something from a handheld device. She curls into a ball on the floor, and the others surround her with a ring of stones, perhaps as protection against whatever magic powers she's concealing. The overhead screen asks: "1692–2015 Have we really changed?"
Nikki Sao Pedro-Welch credited the dancers with collaborating in the creation of this dance, and everything that followed also depended on reciprocal talents. Little dance vignettes conveyed metaphorical relationships through the physical give-and-take of gymnastic maneuvers. In Linger, Elyssa Berg and David Aranjo wore stretchy jerseys and prevented each other from straying too far by grabbing a piece of clothing. Aisha Cruse and Sam Mullen were permanently attached at the ankles by what could have been a skein of pink pantyhose in Connexa (choreographed by Sarah Feinberg and Sao Pedro-Welch). And in Mullen's dance Standing, Cruse and Nicole Harris seemed drawn together but impeded by Krolak's contrasting costumes: a shawl of heavy-looking ropes on one dancer and a blue shift with lighter ropes draped on the shoulders of the other.
Krolak and Harris co-choreographed and danced what I assumed was a two-part duet, Tesei De Gozaimasu and Kintsugi that involved partnered gymnastics and a disputed coffee mug. Both parts were accompanied by the British post-Beatle band Waltz in the Shallow End. They sang, "Give us something to believe in" and "What we need is a mountain range."
Only Krolak's solo Hiraeth II named a single initiator, and I soon understood why she acted alone. The piece was essentially a monologue on how Krolak believes in conquering mountain ranges. She entered, nearly in the dark, from one side of the dance platform. She was talking, mic-less, and I could hardly see or hear her as she made her way slowly around the edge of the platform. Occasionally she got up on an upholstered footstool, the kind your grandmother might have had. Still talking, she propelled the footstool by giving her whole body little shoves from side to side.
By the time she got to one corner, I could make out that she was talking about her brother and his stellar football playing. The story went on to tell about how he went from football to running after an injury, and how Krolak learned to run marathons from him. And, later, how she herself switched from dance to gymnastics when she was in college after an injury in a car crash. She illustrated the monologue with minimal moves. Even though limited, she was determined to dance, she said, and her brother encouraged her: "If you want it, go get it."
But as the dance went on, she told of a terrible, uncanny coincidence, the death of the same brother and both parents in a car accident three years ago. This taught her, once again, she said as she very slowly made her way out along the edge of the platform, that she could get over the hurdles. (After the accident there was still another adversity, the loss of the company's home base when the Springstep building in Medford was sold from under their feet.)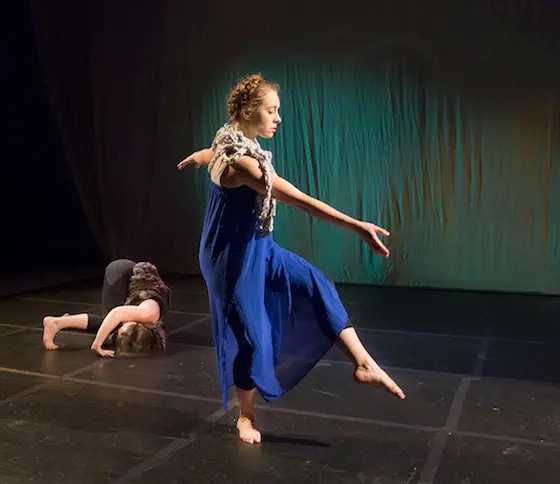 The evening got a little lighter after that, with two more solos. Aisha Cruse danced another monologue by Amelia O'Dowd. (O'Dowd and Krolak made the movement for 2002's Clinquant.) When the lights came on, you saw two bare feet sticking out from under what looked like a pile of rags. The person under the rags thrashed and slid around on the floor. She was telling some kind of story, but she was talking so quietly the only thing I understood was when she shouted LOVE! Maybe it was a story about a failed affair.
By that time I had realized that the striped garment covering Cruse's upper body was a man's shirt, buttoned up her back and scrunched around her midriff. She stood up and, facing away from the audience, twisted the shirt into the right position. Still talking, she buttoned up the shirt and was starting to embrace thin air as the lights went out.
Krolak choreographed and designed Drouken/Relentless Reins (1999), another magical vision. Nicole Harris emerged from the darkness under an umbrella festooned with long strips of tinsel. As she moved, the tinsel glittered and blossomed in the light.
The program ended with Barry Duncan's palindrome poems, projected on a scrim behind an almost invisible Sao Pedro-Welch and spoken by an invisible man and a woman. The readings went on for a long time, and it was so dark I couldn't identify the dancer's exact movement, but she kept moving. I thought at one point she might have been doing Krolak's minimal choreography backward, but I couldn't see it clearly enough. The longest poem began and about-faced with the words "reversing past mistakes difficult. . ."
---
Internationally known writer, lecturer, and teacher Marcia B. Siegel covered dance for 16 years at The Boston Phoenix. She is a contributing editor for The Hudson Review. The fourth collection of Siegel's reviews and essays, Mirrors and Scrims—The Life and Afterlife of Ballet, won the 2010 Selma Jeanne Cohen prize from the American Society for Aesthetics. Her other books include studies of Twyla Tharp, Doris Humphrey, and American choreography. From 1983 to 1996, Siegel was a member of the resident faculty of the Department of Performance Studies, Tisch School of the Arts, New York University.