Both dances may limn our own Age of Anxiety, and the modern ways it manifests within us.
Katie Workum and Kimberly Bartosik at MASS MoCA, The Hunter Center, North Adams, MA, on October 24.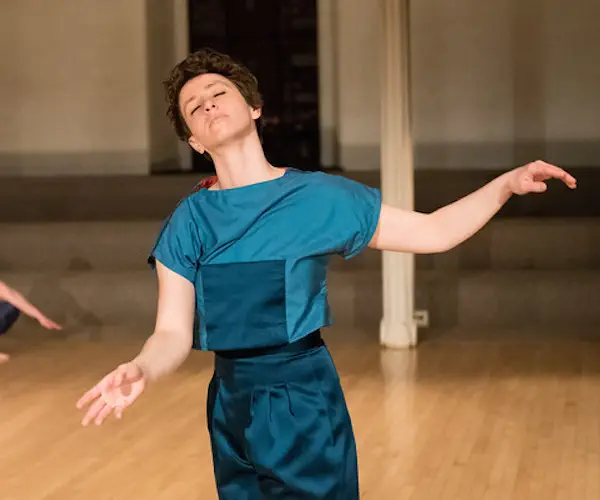 By Janine Parker
Choreographers Katie Workum and Kimberly Bartosik shared a program last Saturday night at MASS MoCA, but it wasn't because their evening's respective dances, Black Lakes and Ecsteriority4 (Part 2), share aesthetic or compositional similarities. Refreshingly, MoCA and co-presenter Jacob's Pillow Dance avoided the infernal marketing trend of forcing a programmatic theme.
Indeed, for me, the resonance of the pairing turned on the vastly different ways the two women explored the few commonalities the program's works shared. An obvious similarity is that each piece is a trio, Workum's for three women, Bartosik's for two men and one woman; the subtler connection was the way in which the pieces dealt with, in fact, connection. And, particularly in Bartosik's dance, disconnection. For all that, the two pieces and their creators are decidedly not from the same mold, the very differences keep lining up in my memory, side-by-side, after seeing them back-to-back.
The dances may limn our own Age of Anxiety, and the modern ways it manifests within us: Workum's group, in Lakes, often interact with a physical passive-aggressiveness, while Bartosik's dancers in Ecsteriority4 flail and fling with an edge that traffics frequently in panic. A kind of lethargic-yet-pushy weight-sharing and -manipulating floorwork in Lakes encounters a wild and grappling cousin in Ecsteriority4 (Part 2).
Lakes is a performative exploration of the "Authentic Movement" (AM) style created in the 1950s, in which a dancer, eyes closed, moves as instinctually as possible, while one or more "witnesses" observe. Workum's program note—which begins by gently warning readers that it contains potential "spoilers"—indicates that each performance of Lakes is, essentially, a one-time event, as the various parts aren't pre-set. Instead, she and her cast mates Weena Pauly and Eleanor Smith improvise upon the AM explorations they've worked on together for the past two years.
Thus, Lakes is kind of an uberdance, a performance that underscores that old "dance is ephemeral" chestnut: not only do the movements of the dancers "disappear" as soon as they continue on through space, but the specific dance itself will not be repeated. Workum, of course, isn't the first choreographer to examine this idea in a concert dance, but the question arises as to whether AM's meditative, private, really (even if others are present) practices are intruded upon when put into the performative realm. I don't know; it's a question. What stays in the studio and what gets shared in public?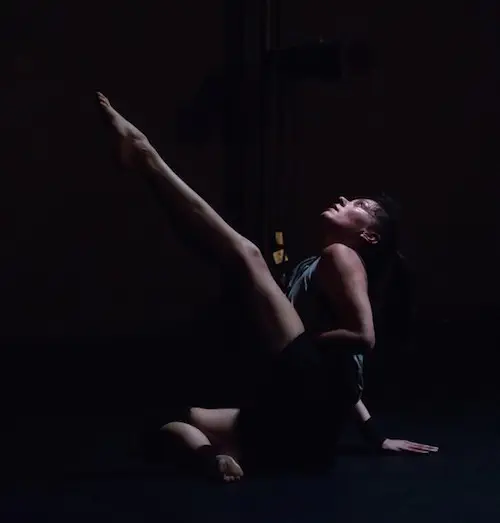 Is it interesting to watch, all of this improvisational meditation? Often, yes (but occasionally, no). For me, curiosity was generated by wondering how various groupings would evolve, or perhaps, devolve. The three, often with their eyes closed, or at least downcast, seem to be sleepwalking—or drugged—particularly in the partnering sections, where they dully yet stubbornly press forward against another body, which itself yields with a kind of harumphing, forced to cede. Because the piece is composed of a series of either tasks or games—I'm assigning these categories based on the energy or mood that the dancers projected variously—the experience doesn't unfold with the "usual" flow of a dance, but in segments, some whose grooves did match up organically, while others began or ended abruptly, as if the dancers themselves were bored with the experiment. When sequences seemed to drag or a repetitive movement exploration outstayed its welcome, one could at least focus on the terrific chops of Workum, Pauly, and Smith, who fully inhabit even the (mindfully) awkward, stumbling moments.
Neither dance is in a hurry to make viewers easily settle into their "worlds." Workum even risks boring her viewers; the first several minutes of the nearly hour-long piece feature her languid solo. Now dreamily, now listlessly moving about, she may be "marking," practicing something to be executed full-throttle at another time, but even the least energized marking is usually much more dynamic than this. There's no music either, for quite a while, save for random bits of ambient sound from sound designer James Lo's score. Toward the end, the sounds coalesce and shape together into the kind of haunting melancholy that recalls Angelo Badalamenti's music, which was used to great effect in David Lynch's movie Mulholland Drive. The dance, indeed, ends so evocatively and in such a way that I wished that were the beginning. I appreciate that Workum is approaching dance-making from a different place, and yes, new thinking is good for both creators and audience. What felt for me like a series of exercises may be for others a more fluid experience.
In great contrast, the first quarter of the half-hour-long Ecsteriority4 (Part 2) is more than full-throttle—it goes by at warp speed. The agitated movement is heightened by the often-piercing soundtrack, designed by Bartosik and featuring excerpts from Animal Collective's "Untitled." Bartosik's program note explains that the dance is a "reflection on loss and violence…Being uncomfortable is ok. It makes you feel alive." Here's a good place for me to state that I think the dance is excellent, compelling—I was always wanting to see what was around the next corner. But the only serious discomfort for me, and I'm not being facetious, came at those times when the music (an otherwise provocative choice that supports Bartosik's vision) was played at a hostile volume.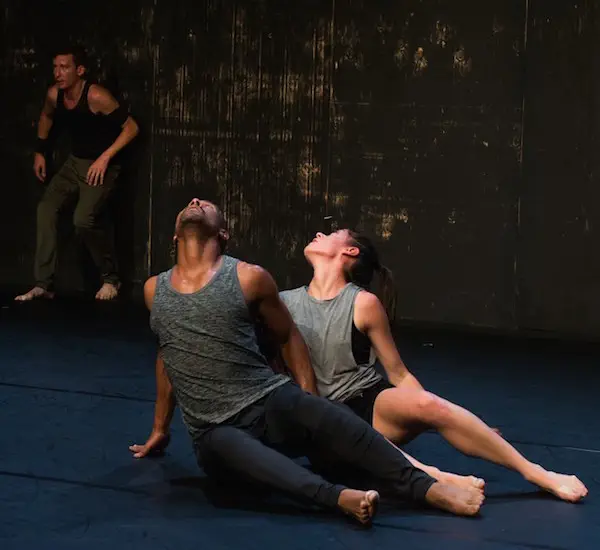 Still, though the dance itself didn't make me uncomfortable, by no means does it mean that Bartosik—and her glorious dancers, Dylan Crossman, Burr Johnson, and Melissa Toogood (just last week she won a Bessie Award for outstanding performance for her various appearances throughout New York)—failed to convey all kinds of pain. Indeed, though they often break into athletically loping sprints encircling the stage, the dancers often seem miserably trapped; they even appear, at times, to be trapping each other, here and there, against a wall, or on the floor. In partnering sections, they skitter over and under each other with a kind of pawing freneticism which edges into occasional brutality that may be accidental, like collateral damage in a war zone. My point is that the interactions among the three dancers, though indeed threaded with difficulty, appear to be more marked by the anger, desperation, and sadness of a faltering relationship(s) than by "violence."
Besides, these dancers are too gorgeous, too physically full-bodied, too riveting to be uncomfortable to observe; sure, the argument could be made that Bartosik's movement itself—which is likewise rich, captivating—could go off the edge if she really wants her viewers to squirm, but that's her call.
Ecsteriority4 (Part 2)'s thrillingly fevered states become more so with the shifts in tone and pitch throughout the dance, which are few, but masterful and subtle. This softening is also, amidst all the frantic struggle, a welcome release. During one wave of tenderness (such as it is here), Toogood pins first one man, then the other, against the wall, with her foot. And in the more-or-less upright sections, the three dancers create their own visual rhythm and lyricism in Bartosik's powerful yet lush phrases.
Near the end of the piece, Roderick Murray's lighting design dims to the point of near-darkness, so that only glowing bits of limbs can be picked out of the murk. The dance takes on a new charge that, for a while, is beautiful, mystifying: Toogood and Crossman's duet on the floor is seemingly motored more by sensuality than by struggle. But the tussling indeed returns, Toogood and Johnson now competing for the domination of Crossman. At times the men assume what may be positions of shame, their bodies tucked up and faces partially obscured by a draped arm. Toogood dances to them, sometimes pausing near the men, hovering, contemplating, wondering, before pitching herself back into the stage, and into big movements that recall the beginning of the dance. Whereas Lakes ends in uncertain darkness—we hear feet shuffling for several moments after the lights have gone dark—Ecsteriority4 (Part 2) concludes in uncertain lightness: the stage now bright again, the three dancers stalk off in different directions, leaving their battles unfinished, their questions unanswered. One senses that they are not done with each other.
---
Since 1989, Janine Parker has been writing about dance for The Boston Phoenix and The Boston Globe. A former dancer, locally she performed with Ballet Theatre of Boston, North Atlantic Ballet, Nicola Hawkins Dance Company, and Prometheus Dance. Ms. Parker has been teaching for more than 25 years, and has a long history with Boston Ballet School. She is on the Dance Department faculty of Williams College in Western Massachusetts, where she has lived since 2003. Janine Parker can be reached at parkerzab@hotmail.com.